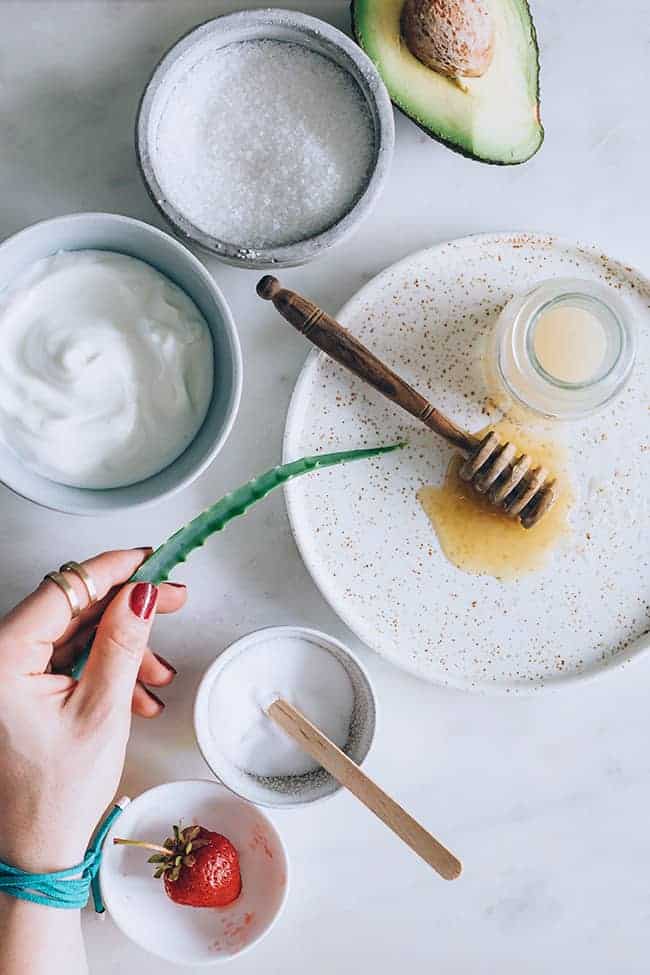 There is nothing I love more than an ingredient list that is minimal, especially for beauty recipes! You can't get more simple than single ingredient recipes–read on and you'll see just how many beauty needs can be met with only one natural ingredient.
Apple Cider Vinegar For Hyperpigmentation
In a bowl or small cup, pour in one tablespoon of raw, organic unfiltered apple cider vinegar. The malic acid from the apples can help lighten pigmentation and sunspots. Dip a cotton round in the cup and then gently swab over your face in circular motions. Avoid the eye area. Tingling sensations are normal, however, if you feel burning you can dilute the apple cider vinegar with water. Leave the peel on for 5 minutes and then rinse off with warm water.
Avocado For Wrinkles
Whenever you use an avocado there's always a little bit of pulp leftover on the inside of the skin. This pulp has the most concentrated amounts of vitamins, and they are known to increase your body's own production of collagen, perfect for the wrinkle prone area around your eyes. For this eye treatment, scrape the leftover pulp out of the avocado skin using a spoon. Apply it directly onto your orbital rim (that's the socket area around your eye). Lay down and relax for 10-15 minutes while this vitamin-rich part of the avocado hydrates your skin, then rinse with warm water to remove.
Baking Soda For Bug Bites, Sunburn + Sore Muscles
Baking soda is a simple ingredient to add to your next bath to soothe and detoxify the body after a hard workout or a long day. Add 1/2 cup to your bath to neutralize irritants like bug bites or sunburns and help wash away oil and perspiration.
Honey For Cellulite
Start with clean, dry hands and apply a thin layer of honey to the area of skin with cellulite (about 2 teaspoons). Drag your hand back and forth in each direction, lifting your hand off your skin with each pass. Each time it will be more and more difficult to lift your hand away from your body. You can increase pressure throughout the 5-10 minute massage, however beware that if you use intense pressure bruising might result. Expect some redness as you've just forced blood circulation to increase to this area. The blood brings nutrients and oxygen and takes away toxins from the tissues and muscles. Rinse with warm water.
Aloe Vera For Sunburn
Fresh aloe vera is our go–to for sunburns, and just the other day I cut open a leaf to scrape out the gel for my daughter's sunburn. If you have an aloe vera plant, take one of the outer leaves and slice down the center to get to the pulp. You can scrape it out with a fork or a spoon. Apply directly to the sunburn. Pure aloe vera can also be purchased to soothe sunburned skin.
Yogurt For Dehydrated Skin
With just a few tablespoons of full-fat plain Greek yogurt you can make a gentle, moisturizing facial mask. Apply the yogurt to clean skin and relax for 10-15 minutes while the lactic acid and probiotics work on your skin cells.
Strawberries For Whitening Teeth
Don't rush through your snack the next time you are devouring some fresh strawberries. They act as natural teeth whiteners and plaque removers. You can mash up a strawberry and apply directly to the teeth for several (no more than 5) minutes or combine it with baking soda for more dramatic results.
Sea Salt For Exfoliation
The next time you need a quick exfoliation of the body or hands, just grab a small bowl of sea salt and hop in the shower. Concentrate on rough areas like knees and elbows for a few extra seconds.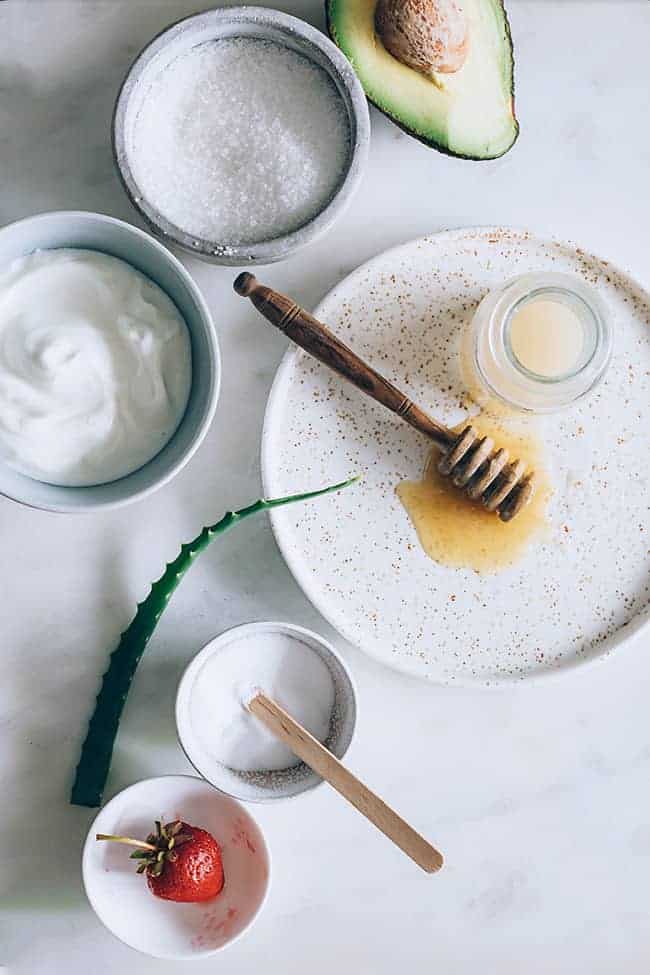 Photos by Ana Stanciu
3