Natural living is not just about food or body lotions. It's about everything we get in contact with. One thing that's often overlooked: our nails. It may seem that they're not as sensitive as skin, but they actually are.
You know that strong smell nail polish tends to have, the one that sometimes makes you cough or even get a little dizzy? The chemical fumes from inhaling it can cause damage to your kidneys, liver, and even reproductive hormones in the long term.
Should I switch to non-toxic nail polish
?
Short answer: Yes.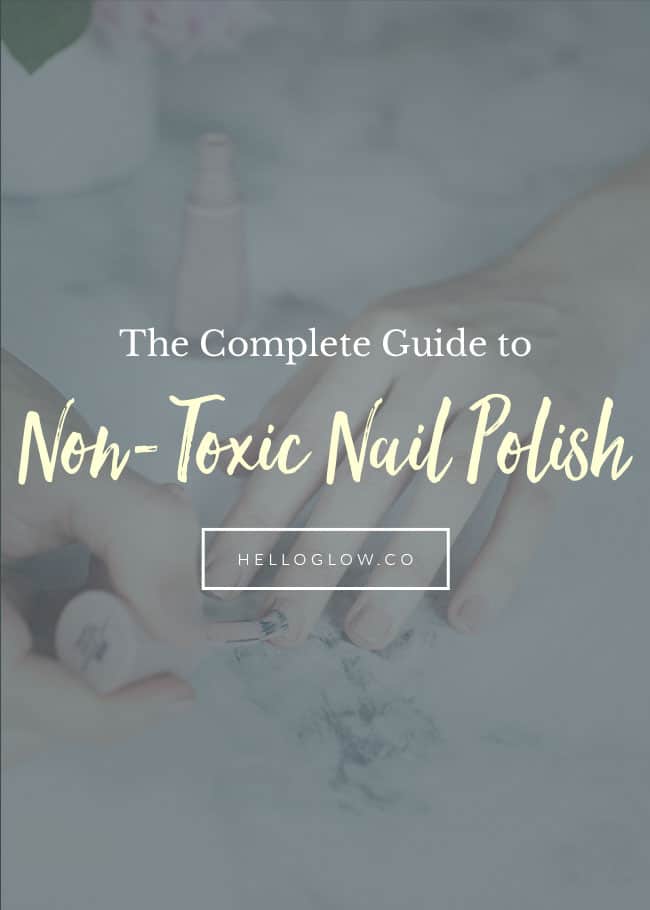 It may seem like you're not really exposing yourself to the toxic fumes found in conventional nail polish, but you are—every time you're applying a coat of varnish. Your nails are porous, absorbing the toxins directly into your body. Plus, you're not wearing a gas mask when applying it either!
While the practice of coloring nails goes back thousands of years to ancient China and Egypt, the very early formulations contained natural ingredients such as beeswax, gelatin, or henna. Even the first commercial formulations, which appeared in the 1920s, were made with the likes of lavender and bergamot oil. Non-toxic nail polish is doable, available, and even affordable. If you're worried that non-toxic brands will be hard to apply or chip quickly, guess what? They're equally (if not more) long lasting and beautifully colored.
Nail Polish Ingredients to Avoid
In order to make colorful polish adhere to the nails and stay there for as long as possible, conventional nail polish contains an array of ingredients that have been identified as harmful to users. Some labels, however, will read "3-free", "5-free", and "7-free." What does this actually mean?
3-free
Formaldehyde, toluene, and dibutyl phthalate are the most common toxic ingredients you will find in regular nail polish. These are used as an adhering agent, preservative, and chipping minimizer, respectively, and they've all been shown to negatively impact consumers' health. 3-free nail polish doesn't use these three ingredients, and here's why:
Formaldehyde has been linked to cancer, in addition to skin and respiratory tract infections [source]. Inhaling toluene fumes are absorbed rapidly and will initially lead to headaches and nausea, while long-term exposure can cause central nervous system depression and toxicity [source].
It's no wonder the use of both of these chemicals has been restricted in the European Union! Dibutyl phthalate (DBP), on the other hand, disrupts hormonal balance, and it may negatively impact kidney and liver function [source].
5-free
Another toxic ingredient commonly found in nail polish is camphor, which is responsible for the glossy finish of your nails but also potentially for neurological complications and even seizures [source]. Also used to create a glossy finish, formaldehyde resin causes skin reactions and irritation for some users [source]. In addition to not including formaldehyde, toluene, and dibutyl phthalate, 5-free nail polish is also free of camphor and formaldehyde resin.
7-free
Ethyl tosylamide and xylene are toxic ingredients you won't find in 7-free nail polish. The former is known as a plasticizer meant to soften the polymer in nail polish to prevent cracking, but it is known to cause skin irritation [source]. It shouldn't be used in cosmetics and personal care products—and it's banned in European cosmetics [source]. The latter can irritate the mucous membranes and causes headaches and dizziness when inhaled [source].
Other ingredients to avoid
As if that weren't enough, there are at least seven other ingredients you should try to avoid in nail polish. Parabens, silicone, colophonium, TPHP, tert-butyl hydroperoxide, organic halides, and animal-derived ingredients can all be excluded from your mani without being missed.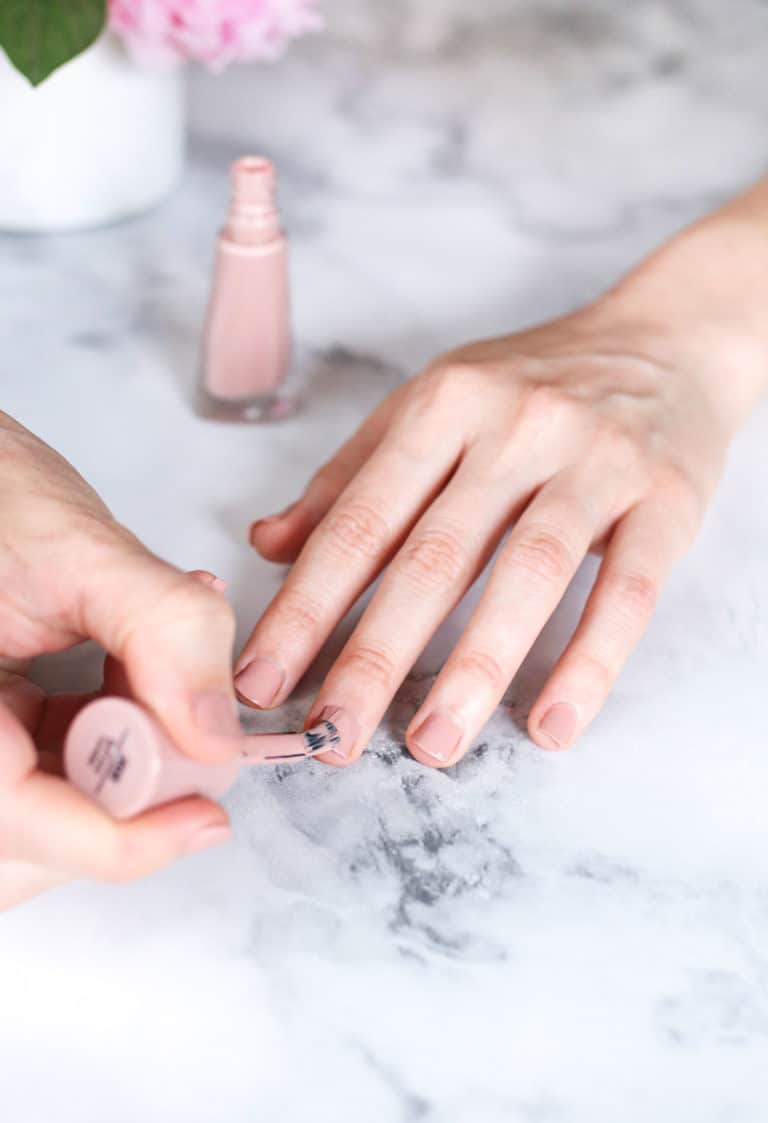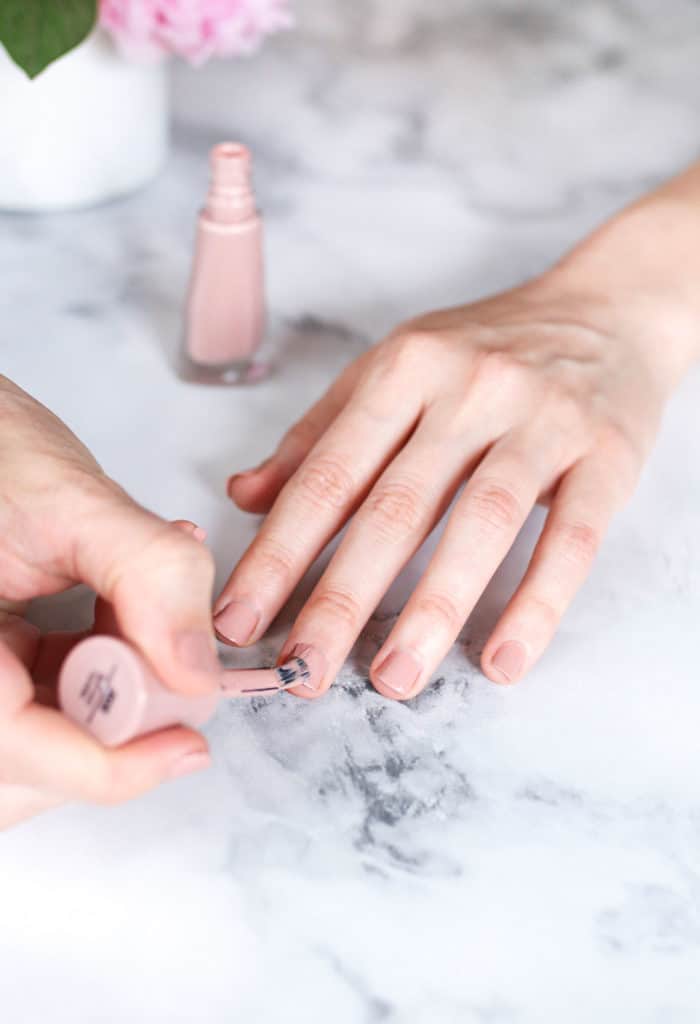 Can I make my own nail polish
?
You totally can! If you're the DIY type, like we are, take control of the ingredients and colors in your nail polish by making it yourself. Then you can even use your creative skills to artfully name the shades!
Start with a non-toxic base coat, mica powder, and empty nail polish bottles that come with metal mixing balls. Get the full instructions here, and give yourself a salon-worthy manicure at home.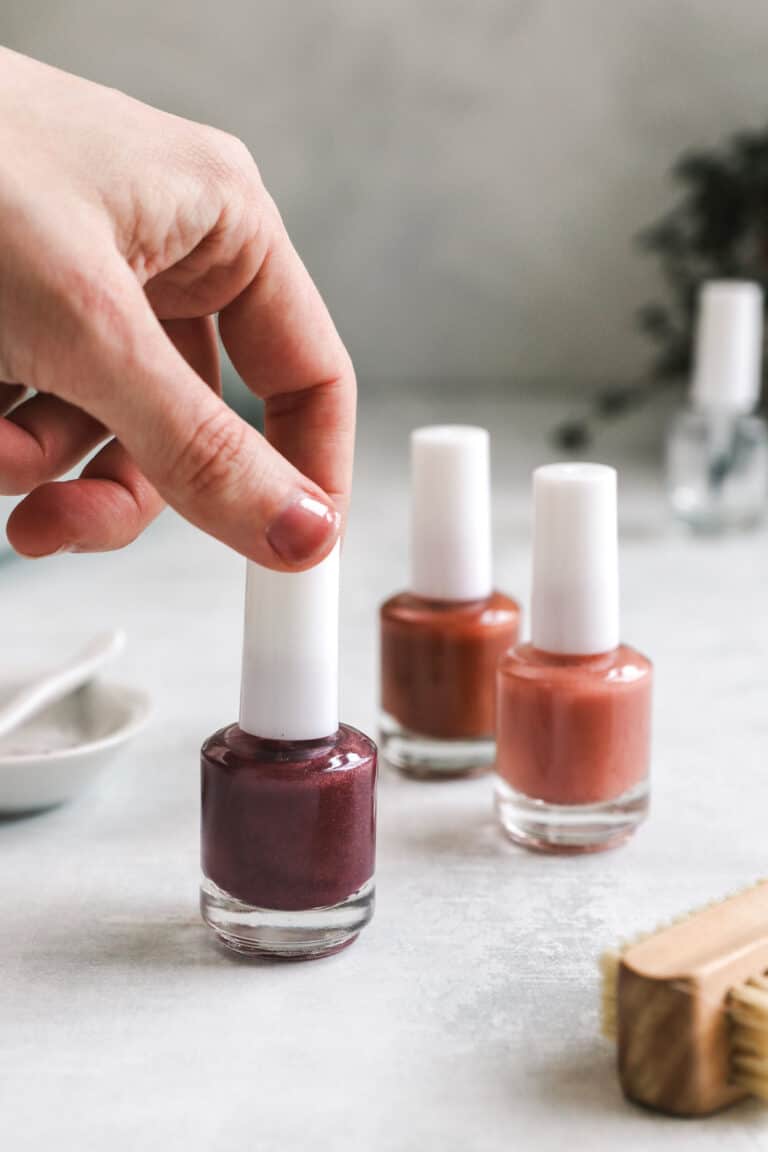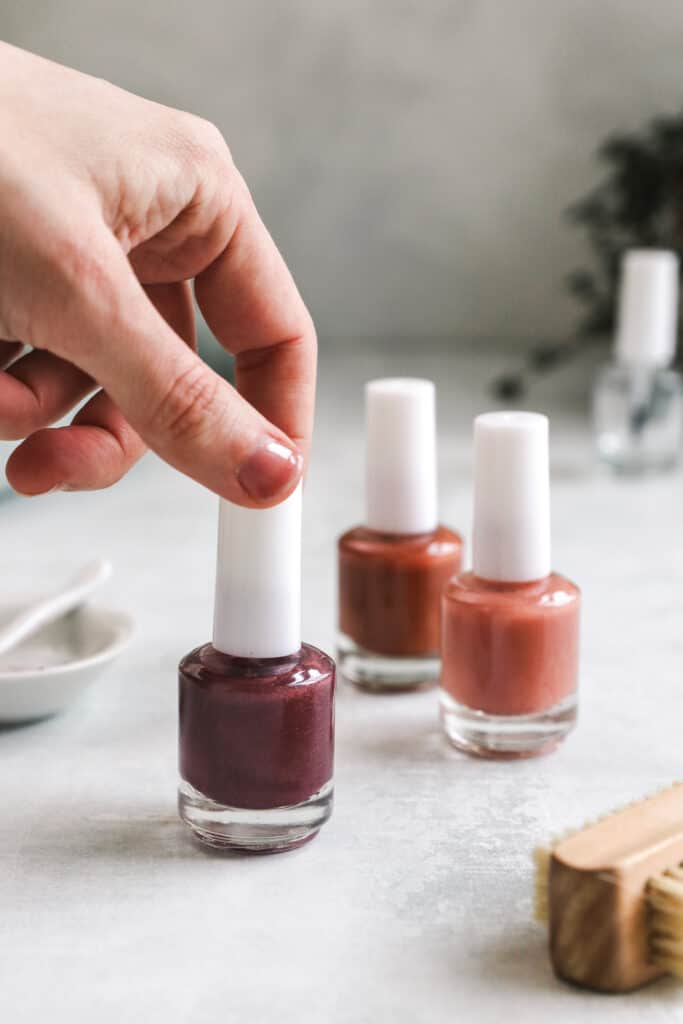 How do I safely remove nail polish
?
Coloring your nails is fun, but removing the polish never is. Taking the non-toxic route for your nails also includes nail polish remover. Acetone just won't do. It's very harsh in contact with the skin, causing redness and irritation.
Sure, it removes nail polish pretty quickly, but it also removes the skin's natural oils, leading to dryness and cracking. Combined with its potential for causing dizziness and throat irritation from inhaling its fumes, there are plenty of reasons to skip the conventional nail polish remover.
Some alternatives you can use include isopropyl alcohol, toothpaste (yes, believe it!), and hydrogen peroxide. Here's our guide to removing nail polish the safe way.
What are the best non-toxic nail polish brands
?
Fortunately, there are a few brands that choose to skip toxic ingredients, and of course, we had to try as many as we could get our hands (nails?) on. These are our favorite non-toxic nail polishes currently on the market, in some of our favorite colors for the season.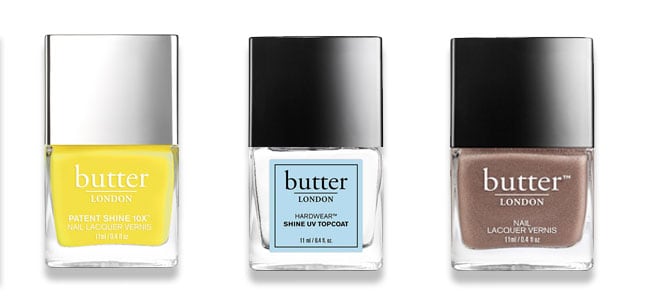 Long lasting and available in an array of pretty colors, Butter London is a classic when it comes to safe nail polishes. The varnish is formulated without formaldehyde, toluene, DBP, or parabens, and it's an industry favorite.
Pop Orange Patent Shine 10X Nail Lacquer // Perfect for spring and summer, this tangerine shade is bright, fun, and vacation worthy.
Hardwear Shine UV Top Coat // A good top coat is just as important as the actual nail polish. With this layer over it, your nail color stays put and shiny for longer.
All Hail The Queen Nail Lacquer // Add a subtle shimmer to your nails with this elegant, non-toxic nail polish from Butter London.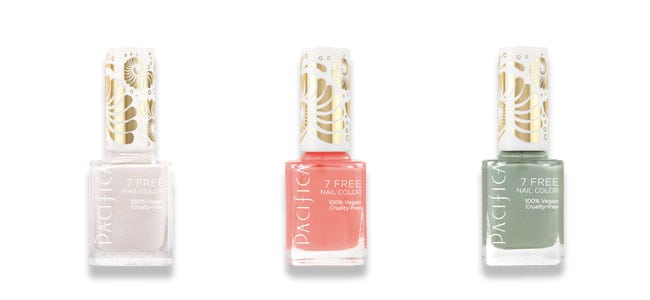 Plant Magic nail polish is formulated without parabens, phthalates (dibutyl phthalate), toluene, xylene, camphor, formaldehyde, resin, and animal-based ingredients, and it lasts longer than you would expect. We also love their custom vegan brush!
Diamond // For a neutral, natural manicure, we love this subdued shade with just a hint of shimmer.
Neon Watermelon // Warm and spring-like, this coral shade is playful and suitable for any age.
Minty // Take this minty-colored nail polish on a stroll with you in the urban jungle.

Made in the USA, super shiny, and long lasting, AILA avoids 16 harmful ingredients; it's vegan, gluten-free, and cruelty-free.
Pffff Ugggh // This shade of warm gray is neutral but chic. Like all AILA polishes, it's also made without parabens, sulfates, formaldehyde, formaldehyde resin, camphor, dibutyl phthalate, toluene, triphenyl phosphate, xylene, bismuth oxychloride, and ethyl tosylamide.
https://loveaila.com/products/bodega // There's nothing like a classic shade of fiery red to put you in a good mood! We're in awe of this one.
Tiddlywink Tea // Not only is the name of this shade fun to pronounce (can you say it quickly five times?), but it's also super cute on your nails!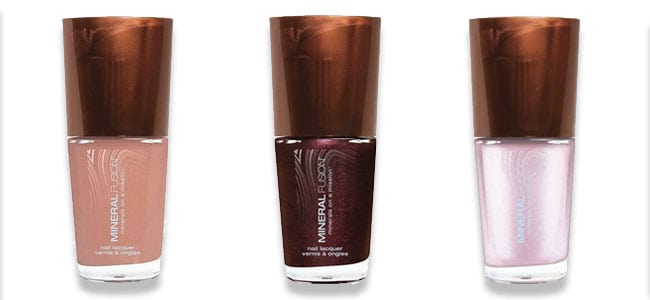 This long-lasting, chip-resistant nail polish applies flawlessly with the custom, extra-thick brush. This brand is 100% vegan, cruelty-free, gluten-free, and non-toxic, with no artificial fragrance or parabens.
Juicy Peach

// This sweet peachy shade is pretty on its own for a natural mani, but it also makes a good base for nail art!

Bedrock

// Dark and elegant, this warm tone of brown adds just enough sparkle.

Pink Crush

// Mermaid vibes on your nails—who could resist?

Zoya comes in a wide range of non-toxic options, and we especially love their matte versions.
Ana // A nude nail polish with a twist—it's matte, and it looks simply elegant!
Levi // For a maximalist look, gold glitter never fails to impress!
Sage // This super-fresh shade of green is perfect for spring! And it looks so stylish in their satin finish.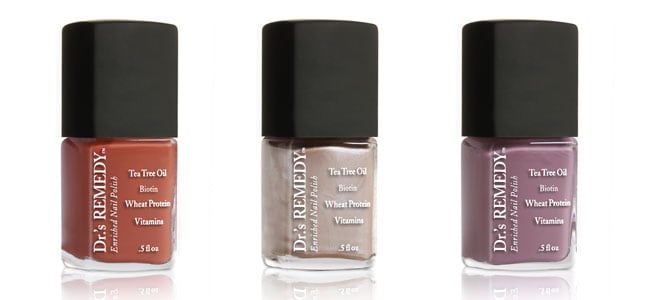 This polish is made with garlic bulb extract, biotin, tea tree oil, wheat protein, and vitamins C and E, ingredients you would never expect to find in nail polish. Plus, it's long lasting, which is always a good thing.
ALTRUISTIC Auburn // A playful burnt orange with earthy undertones. Your nails will stand out, without distracting from your outfit.
POISED Pink Champagne // This high-shine, shimmering soft pink champagne gives any manicure the Midas touch.
MINDFUL Mulberry // This juicy berry shade is stylishly tart and playful, yet sweet and classic.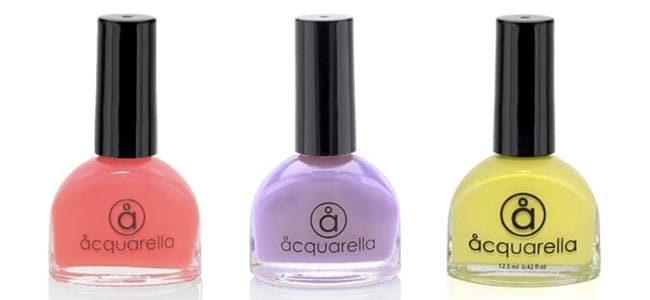 This nail polish is water-based, which makes it a safe, gluten-free option for your nails. You can totally use it on kids, too, not only because it's safe but also because of how fun the color options are.
Cameo // This fun pop of color on your nails is just what you need to brighten any look.
French Kiss // Who doesn't need a little romance in their lives?
30 Love // Fresh like lemonade, this shade is super cute for girls and moms alike.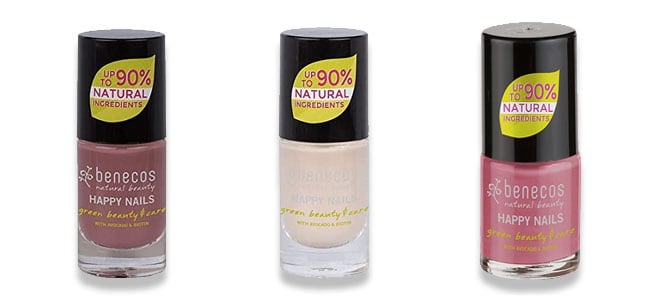 Free from toluene, camphor, phthalates, and formaldehyde, long-lasting, chip-resistant, they dry as quickly as their less healthful counterparts, and they're even vegan and cruelty-free.
Mystery // Our go-to shade for everyday wear, it's feminine without going overboard.
Sharp Rose // You can't go wrong with a natural shade like this one—especially when it's non-toxic.
Flamingo // Classic pink nails never go out of style!

A polish that's as "natural as mud" and also kid-friendly but comes in lovely, adult-friendly shades. We also love that it's very affordable!
Pom Pom Party Pink // Everything you need to know about this shade of nail polish is in its name!
Sea-Quin // Kids love mermaid-blue everything, so they're bound to love this particular color!
Shimmy Shimmy Pop // Release your inner child with all the glitter one could hope for!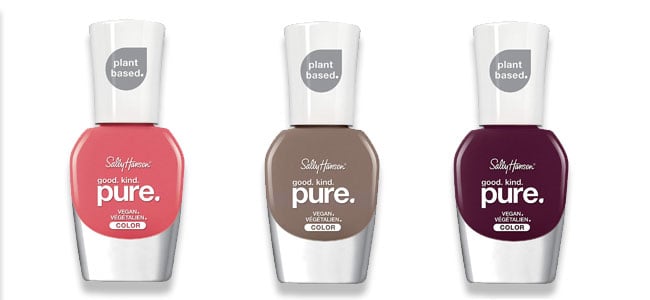 This nail polish line from Sally Hansen is not just affordable and easy to find in most drugstores in a wide range of colors—it's also free of 16 common toxic ingredients!
Fruity Papaya // Natural, plant-based, and 100% vegan, this polish comes in a gorgeous exotic red.
Raw Cocoa // This gorgeous brown comes with 100% natural, plant-based brush bristles for better application.
Beet It // Ever dreamed of wearing beets on your nails? Well, now you can, kind of...
This post was medically reviewed by Dr. Jennifer Haley, a board-certified dermatologist with extensive experience in medical, cosmetic, and surgical dermatology. Learn more about Hello Glow's medical reviewers here. As always, this is not personal medical advice, and we recommend that you talk with your doctor.
80