It seems like antioxidants are everywhere, from juices to skin creams to sunscreen. We know they're good for us, but have you ever wondered why that is?
Long story short, antioxidants are natural, plant-derived compounds that protect our cells from, and minimize the damage caused by free radicals. Free radicals are uncharged, highly reactive molecules that get produced via oxidation—which occurs when your body breaks down food, or is exposed to medications or external toxins like cigarette smoke, pollution and Ultraviolet (UV) radiation.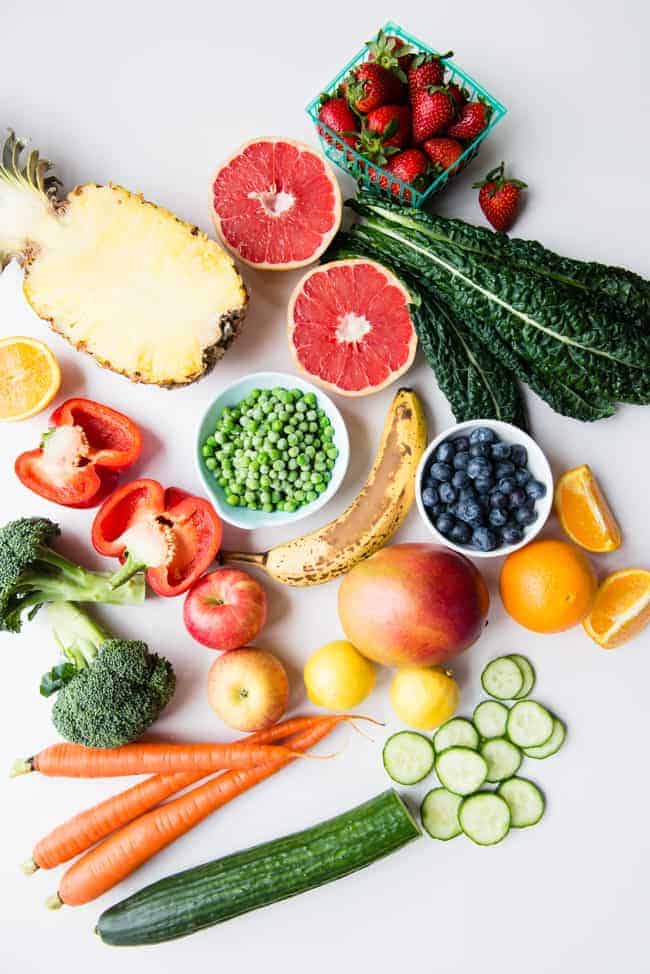 While free radicals aren't all detrimental (in fact, oxidation is necessary for life), the accumulation of free radicals—if we don't have enough antioxidants to deal with them—brings on oxidative stress. As the National Center for Biotechnology Information (the division of the National Institute of Health that specializes in molecular biology) puts it, oxidative stress "plays a major part in the development of chronic and degenerative illness such as cancer, autoimmune disorders, aging, cataract, rheumatoid arthritis, cardiovascular and neurodegenerative diseases." A.k.a., all the things we don't want.
Plants and animals all have some naturally occurring antioxidants and enzymes that minimize or repair the damage to our cells from oxidative stress, but the more we're exposed to harmful free radicals and the more they build up, the harder it is for the body to keep up.
Plant-based foods (fruits, vegetables and their juices, whole grains, nuts, seeds, herbs and spices, and even chocolate) are the best sources, although they are also found in meat, seafood and dairy. As a bonus, many antioxidant-rich foods are high in fiber, low in saturated fat and cholesterol, and good sources of vitamins and minerals.
Antioxidants are also effective when applied topically and they are just as important for skin, eyes and hair as they are for our other organs and systems, which is why you also see them in beauty products and sunscreens. (You'll often see vitamins A, C or E included in face creams and serums; zinc is an antioxidant in many sunscreens.)
Foods with High Antioxidant Content
Try to get more of these plant-based antioxidant-loaded foods in your diet:
Blueberries
Cranberries
Artichokes
Blackberries
Prunes
Strawberries
Raspberries
Apples
Pecans
Cherries
Plums
Kidney beans
Pinto beans
Potatoes
10 Types and Sources of Antioxidants—and How to Get More of Them!
There are dozens of antioxidants, and they come in many different forms and names. Some are vitamins and minerals that you might recognize, some are more obscure compounds. Here are 10 common ones, including where in nature they occur and how you can get more of their free-radical-fighting benefits, inside and out.
1. Allium sulphur
Sources: leeks, onions, garlic
Get more of it: Creamy Vegan Cauliflower Garlic Soup with Rosemary | Healthy Sweet Potato Gratin with Leeks | Homemade Garlic Acne Treatment
2. Beta carotene
Sources: pumpkin, mangoes, apricots, carrots, spinach, parsley
Get more of it: 5 DIY Pumpkin Beauty Recipes | Protein-Packed Pumpkin Pie Smoothie | Carrot Eye Mask for Wrinkles
3. Catechins
Sources: red wine, tea, apples, dark chocolate
Get more of it: Red Wine Bath Soak | Anti-Aging Green Tea Toner | Antioxidant-Rich Green Tea and Peach Julep
4. Flavonoids
Sources: tea, dark chocolate, red wine, citrus fruits, onion, apples, pomegranate
Get more of it: Dark Chocolate Honey Beauty Mask | Apple Skin Peel | Pomegranate Beauty Smoothie
5. Lycopene
Sources: tomatoes, pink grapefruit, watermelon
Get more of it: Grapefruit Detox Mask + Scrub | Hydrating Watermelon-Cucumber Slush | Easy Tomato Gazpacho
6. Vitamin C
Sources: oranges, berries, kiwi, mangoes, broccoli, spinach, peppers
Get more of it: Glowing Skin Coconut Water Smoothie | Mango Body Scrub | 3 Beauty-Boosting Berry Smoothies
7. Vitamin E
Sources: vegetable oils, nuts, avocados, seeds, whole grains
Get more of it: Grilled Pineapple with Pistachios | Beauty-Boosting Avocado-Cucumber Soup | 4 Avocado Recipes for Hair, Skin and Wrinkles
8. Cryptoxanthins
Sources: red peppers, pumpkin, mangoes
Get more of it: Vitamin C Thirst Quencher Smoothie | Pumpkin Spice Facial Scrub | Carrot Pineapple Mango Smoothie
9. Indoles
Sources: cruciferous vegetables such as broccoli, cabbage, cauliflower and kale
Get more of it: Raw Baby Kale Salad with Pomegranate Seeds, Blueberries and Oranges | Green Detox Kale Smoothie Popsicles | Antioxidant + Fiber Super Smoothie
10. Anthocyanins
Sources: eggplant, grapes, berries
Get more of it: Tangerine Cranberry Smoothie | Grilled Pizza with Eggplant, Pomegranate and Feta | Gorgeous Skin Grape Beauty Smoothie
67