Eating clean always starts out as a priority, but then all those other priorities come along: work, kids, school, relationships…happy hour, Netflix…. The key is to make clean eating sustainable, so it eventually just becomes part of your lifestyle.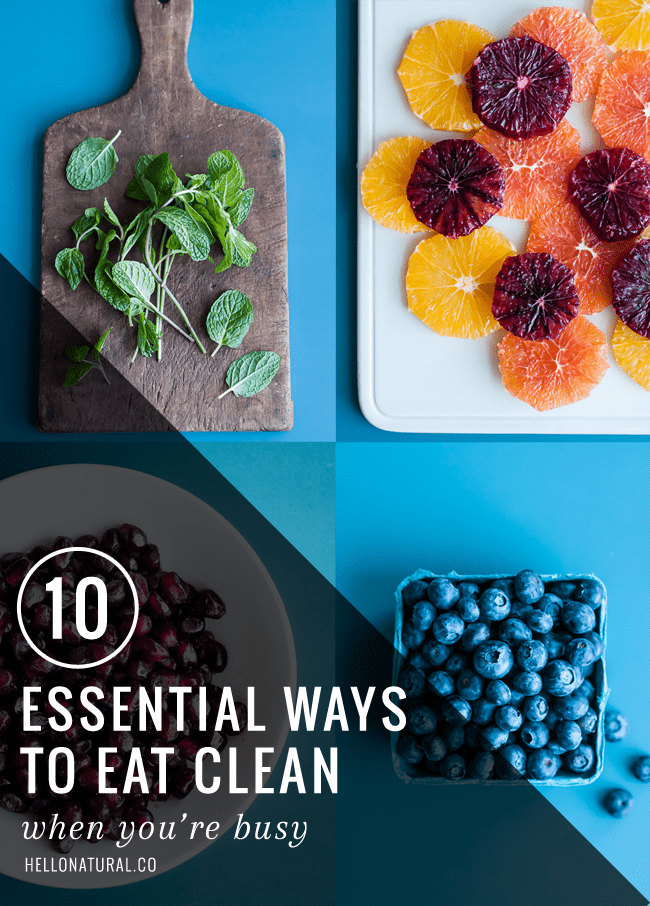 With a little practice you'll learn to love shopping for foods that are fresh, beautiful and contain the colors of the rainbow. Here are 10 easy ways to eat clean and make it second nature, especially when you're busy (i.e., always).
1. Make Breakfast Count
Start your day right with a healthy breakfast. No matter how busy you are, take a few minutes to prepare a healthy breakfast, such as a smoothie; piece of whole-grain bread with avocado, tomato, and a sprinkle of sea salt; or a nice bowl of quinoa or oatmeal with hemp seeds and cinnamon.
2. Make a Big Salad for Lunch
Try this basic formula:
Two cups of mixed greens with chopped vegetables of your choice
A clean protein source, such as chicken, fish, eggs, beans, tempeh or nutritional yeast
2 tablespoons of a healthy fat, such as sunflower seeds or avocado
Your favorite healthy salad dressing (or just some oil, vinegar and lemon juice)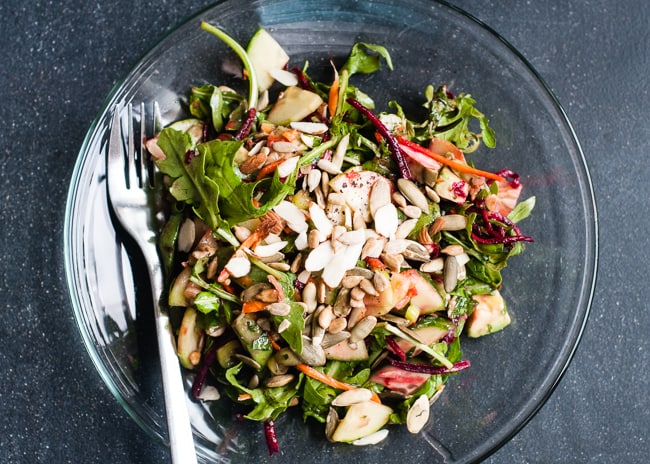 Some other recipes to try: Watercress + Quinoa Salad | Cauliflower Rice Tabbouleh Salad | Glowing Skin Salad with Detox Dressing | Raw Baby Kale Salad with Oranges, Blueberries + Pomegranates | Beet Greens and Avocado with Tahini Dressing
3. Make Big Batches of Grains
Make a large serving of brown rice or quinoa with vegetables to keep in the refrigerator. When you get home, all you have to do is reheat and add your favorite sauce, such as tamari, hot sauce or curry. Feel free to add your favorite protein.
4. Enjoy Breakfast for Dinner
Make an omelet or frittata with a huge fresh green salad.
5. Prepare Healthy Snacks
Think hummus with celery sticks, an apple with almond butter, or almonds, walnuts or pumpkin seeds in a small bag–easy to bring to work or stash in your purse or car.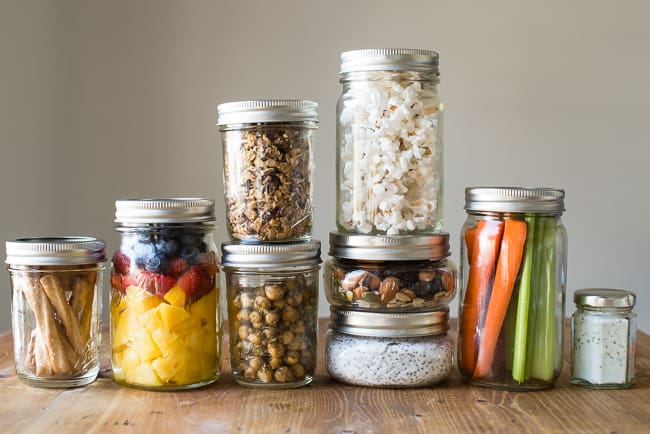 Get even more healthy snack ideas: Healthy Snacks to Pack in Mason Jars | Honey-Peach FroYo Bites | 12 Fast, Easy and Healthy Snacks | Chocolate-Chai Chia Seed Pudding
6. Keep Protein on Hand
Have pre-cooked proteins on hand in your refrigerator, like baked tofu or grilled chicken.
7. Make Ahead and Freeze
Make a bigger batch of a healthy meal (like soup, lentil burgers or veggie casseroles), and put the extra portions in the freezer to reheat later.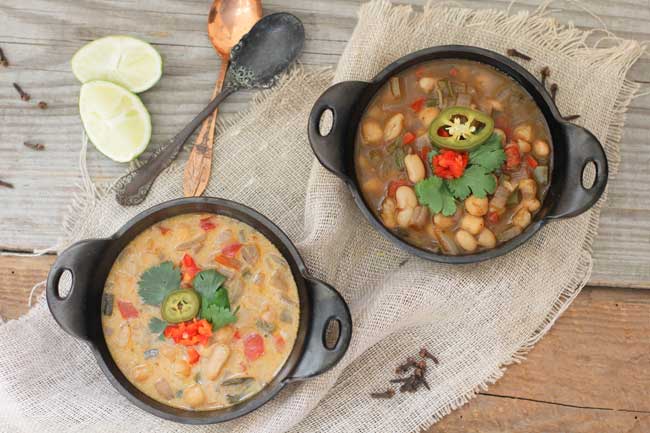 Try: Hearty White Bean Vegetable Soup | Baked Rigatoni with Cauliflower | Chickpea + White Bean Chili
8. Use Canned Fish (in BPA-free Containers)
Make salmon burgers, or use canned chicken to make a chicken salad with avocado, celery, lemon, sea salt and a dash of cumin or cayenne for a kick.
9. Pick Smart Sweets
For a sweet treat, have plain yogurt or coconut yogurt with berries and flax seeds with a cup of tea.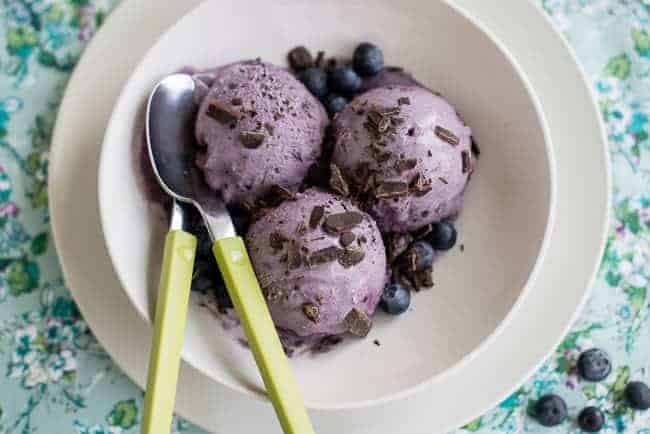 Other healthy desserts to try: Protein-Packed Pumpkin Pie Smoothie | Blueberry Chocolate Chunk Vegan Ice Cream | Strawberry Prosecco Granita | Gluten-Free Pumpkin Loaf
10. Make Smart Choices when Eating out
No time to cook? You can still eat clean! Apply the same philosophy to eating out or ordering in. At most supermarkets, you can find already cooked proteins, like chicken, salmon, shrimp cocktail or vegetarian choices to add to a simple salad. Or buy a soup from a market or health food store for an easy meal. Feel free to add extra protein, or simply have a vegetarian night.
A few options for eating out:
Chinese: Order spring beans and chicken or tofu sautéed in garlic, ginger and oil.
Italian: Get mussels in red sauce without the cheese.
Mediterranean: Enjoy a salad with falafel and hummus.
Mexican: Have a fish taco, asking them to hold the cheese and the taco shell. You can also enjoy a vegetarian meal by asking for a veggie bowl loaded with tomatoes, lettuce, beans, avocado and salsa.
Deli: Order a big salad and/or a soup like split pea or chicken (ask them to hold the rice or the noodles).
How do you keep your diet on track when you're busy?
1