We've been writing a lot about making DIY gifts for others (see: mason jar gifts, food gifts, bath salts or a beauty gift basket), but what to get the maker on your list?
Here are 10 of our favorite gifts for the DIY aficionado in your life: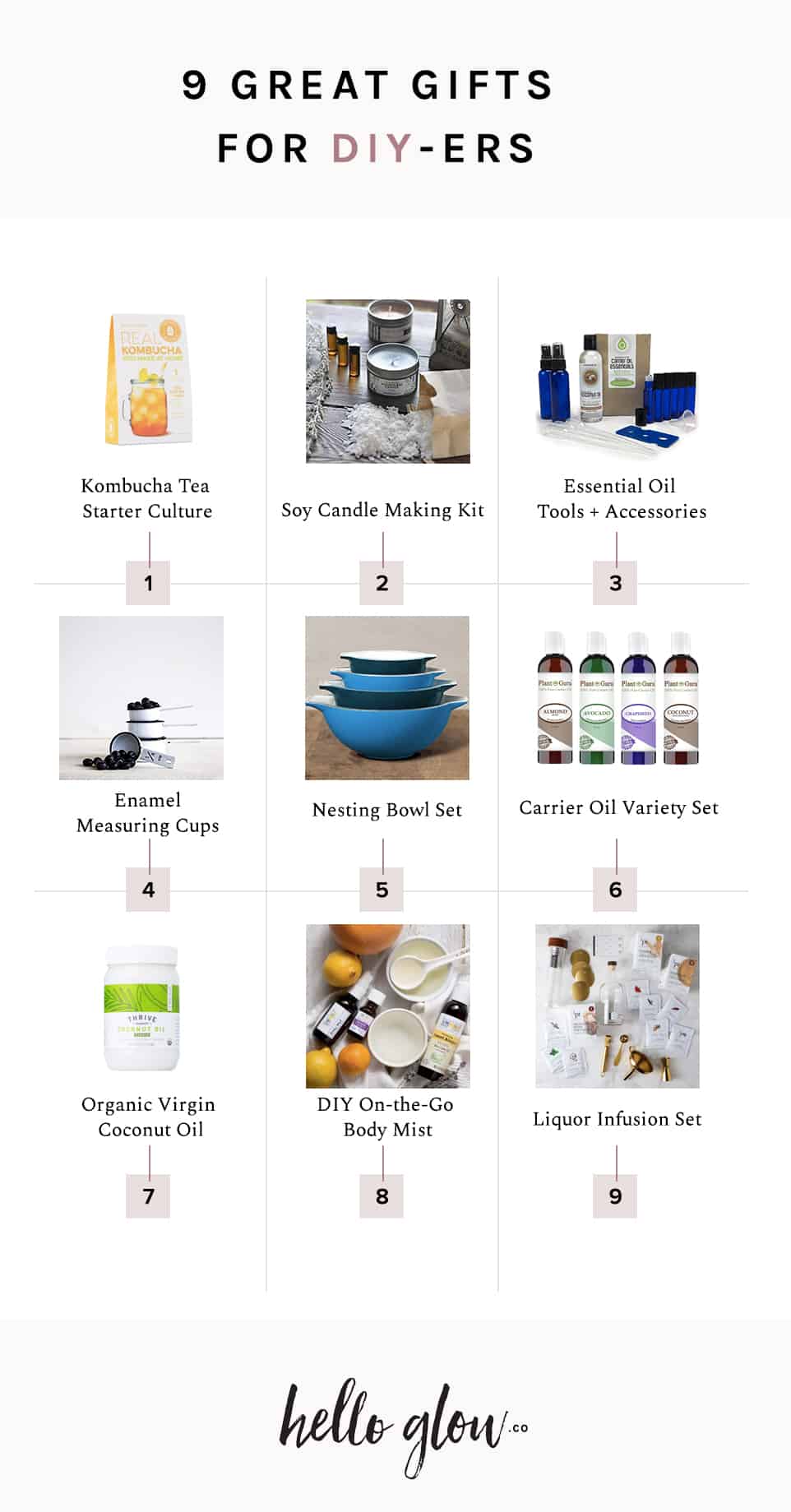 Kombucha Starter Kit
Making your own kombucha is a great way to save money on your daily probiotics, and to learn about fermentation. This kit includes a starter culture (a.k.a. the scoby, or mother). Combine it with brewed tea, sugar and water and you've got kombucha in it 7 to 30 days.
Buy it on thrivemarket.com
Soy Candle Kit
This soy candle kit has everything your DIYer needs—including wicks, wax, jars and oils—to whip up gorgeous DIY scented candles all year 'round.
Buy it on amazon.com
Essential Oil Tools + Accessories
If you have an essential oil fan on your list, this kit (complete with glass roll-on bottles and pipettes) will let them experiment with their favorite blends.
Buy it on amazon.com
Enamel Measuring Spoons
Whether your maker loves to bake, or whip up DIY bath and body recipes, these enamel measuring spoons will certainly come in handy—and the minimalist white color goes with any kitchen.
Buy it on amazon.com
Nesting Bowls
Perfect for mixing up face masks or scrubs (not to mention serving snacks and sauces), these adorable nesting bowls look as good on the shelf as they do in use.
Buy it on amazon.com
Carrier Oils Set
Grapeseed, avocado, fractionated coconut and sweet almond act as carriers for your DIYer's favorite essential oils. They can use them to make roll-ons, homemade body oils and plenty of other recipes.
Buy it on amazon.com
Organic Coconut Oil
From homemade body wash to deodorant and moisturizer, a big jar of coconut oil will come in handy for just about any DIY beauty project.
Buy it on thrivemarket.com
DIY Body Mist Kit
The DIY body mist kit is ideal for those busy ladies in your life. The easy recipe is made with water, sweet almond oil and Aura Cacia Renew Essential Oil Blend. Refill up to 5 times!
Buy it on thrivemarket.com
Liquor Infusion Set
Creating boozy concoctions at home has never been easier! Be sure to also send this infused booze tutorial for inspiration, if necessary!
But it on food52.com
5