We know that honey has plenty of uses in beauty recipes to keep our skin nourished and glowing, but did you know the health benefits of honey turn it into a powerful, liquid gold healer? Honey is loaded with antibacterial and anti-inflammatory properties and was even known as a great healing substance for ancient Egyptians [source].
From easing allergies to treating wounds, honey has been an ingredient in various healing recipes for thousands of years.
10 Healing Uses for Honey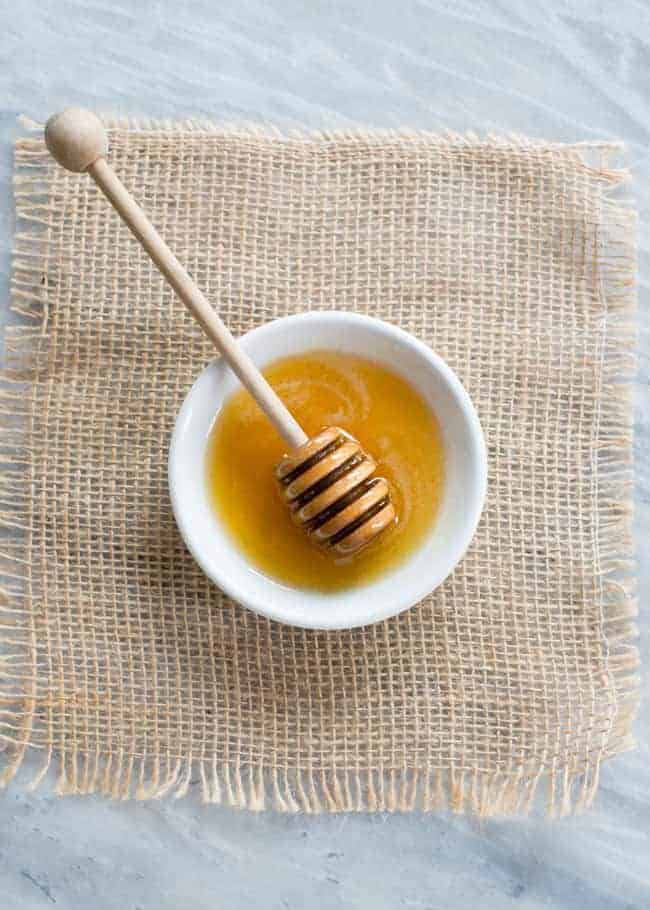 It's important to know that honey should never be given to infants under 12 months of age. Honey sometimes contains the spores of a bacteria that can multiply and create a toxin, and infants don't have the antibodies to destroy it like older children and adults do. This toxin causes a condition known as botulism, which causes increasing muscle weakness leading to paralysis. So definitely keep this in mind whenever you're reading articles about the benefits of honey.
When used properly, however, it's a great ingredient to not only keep in your kitchen cupboard, but also in your medicine cabinet. Many researchers believe that honey is extremely underestimated and underutilized, but the only way to know if it will work is to try!
1. Soothe your cough
One of the most well-known uses for honey is to treat a persistent cough due to allergies or a cold. According to a review of pediatric studies on the subject, a teaspoon of honey can alleviate a cough as it coats the throat and protects nerve endings that control coughing [source].
Save your money on cough syrup, and try out some natural honey next time you need it. Use it to make your own cough syrup or just take a couple spoonfuls at the first sign of a cough (or any illness). Your immune system will get a boost from the benefits of manuka honey's antibacterial and antiviral power. Manuka is so good for oral health that it fights plaque and gingivitis, too.
2. Get a good night's sleep
Just like when you consume sugar, eating honey produces a rise in insulin and, along with it, serotonin [source]. Among other things, serotonin has direct actions on the sleep-producing parts of the brain [source] [source]. So next time you have a hard time getting to sleep, try adding a little honey to a calming tea, or take it straight up and start snoozing.
3. Treat wounds and burns
A 2005 study published in the British Journal of Surgery found all but one of the patients who suffered from wounds and leg ulcers showed improvement after a direct application of honey to the injured skin [source]. This comes from the antibiotic properties in honey, which can heal the skin naturally and combat many major bacterial strains.
It is also a natural anti-inflammatory agent that actually helps the skin heal itself by various means [source]. So skip the Neosporin and slather honey on small boo boos.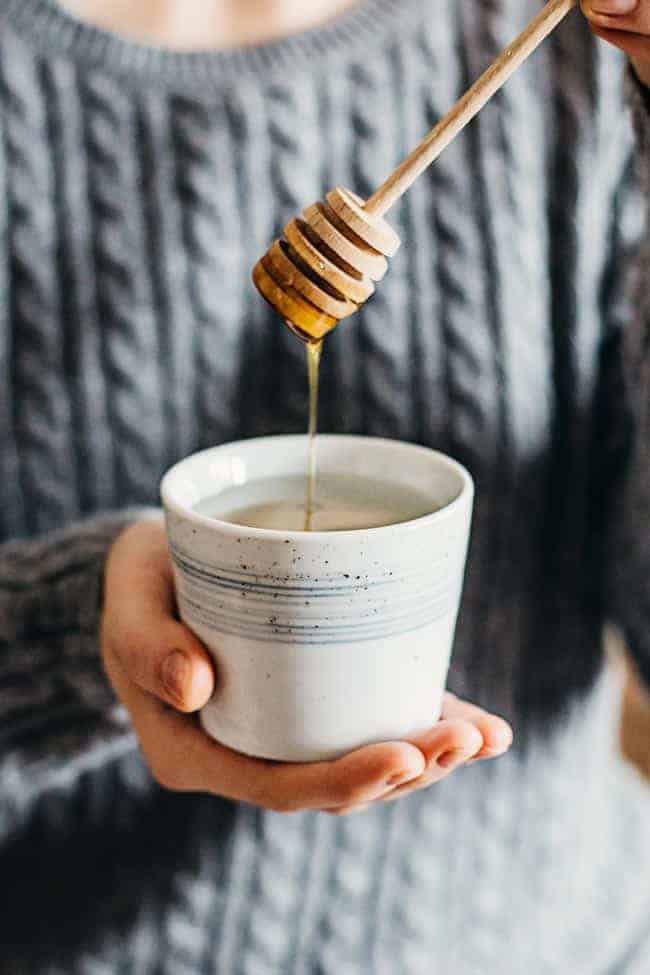 4. Boost your immunity
The antibacterial and antiviral properties in honey are thought to fight off colds and keep you healthy. And, when you feel a cold coming on, try a warming brew of 1 tablespoon of honey and 2 teaspoons of lemon juice in a 1/2 cup of hot water.
5. Strengthen brainpower
Memory fading? Or just never had a good one? Honey has been thought to potentially help improve your memory. A few studies have looked at this association, and it seems promising [source]. Although not scientifically proven, it is theorized that the antioxidant effects of honey may just play a role in preserving brain function [source].
6. Energize your body
Need a boost of energy? According to the National Honey Board, honey is rich in carbohydrates, which gives you the fuel you need to get through the day.
Carbohydrates maintain muscle glycogen, which is the most important part of keeping an athlete's energy high. There is also some speculation that the anti-inflammatories within honey make it an excellent supplement for athletic training [source].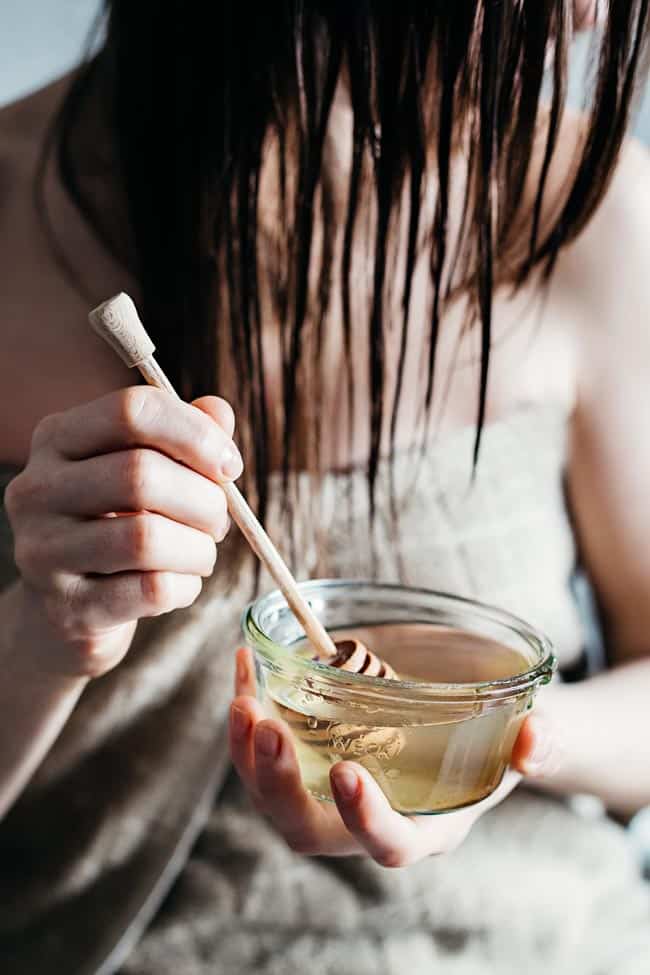 7. End dandruff once and for all
Diluted honey (honey with 10 percent water) has been shown to reduce itching and dandruff caused by an excess production of sebum on the scalp. After a three-hour application each day, many people will see and feel the healing effects of honey.
And, after weekly applications of honey, those with dandruff are likely to not relapse. In this study, there was also a side effect of an improvement in hair loss [source]!
8. Aid digestion
There's another way to heal your gut. Honey has been shown to have an antimicrobial effect on the bacteria that causes gastritis and ulcer disease, Helicobacter pylori [source].
Natural News suggests mixing equal parts honey with apple cider vinegar and dilute with water to promote healthy digestion [source]. And, when you're able to digest your meals more efficiently, you can be on a better road to weight loss as well.
A dose of about 1-2 tablespoons of Manuka honey a day can treat mild digestive upsets, indigestion and bloating. Manuka honey brings its anti-inflammatory benefits to your digestive system, and it contains a natural prebiotic, which improves digestive health by giving the gut's good bacteria an assist. Manuka honey is even being researched as a treatment for stomach ulcers and irritable bowel syndrome (IBS).
9. Calm a bug bite
With spring around the corner, so are the bugs. Luckily, honey can even be used to calm an itchy, red mosquito bite due to its anti-inflammatory properties. Further, it may even prevent infection from an irritated bite, since honey also acts as a natural antibiotic known to heal the skin [source].
10. Fight allergies
Try taking a teaspoonful of raw, locally produced honey to combat seasonal allergies. It's important to find local honey, as it is supposed to help your body adapt to the allergens in the environment around you—almost like an allergy shot. Bee pollen has also been shown to help with allergies.
11. Treat Acne + Skin Conditions
Manuka honey is a popular beauty treatment because it fights acne-causing bacteria and inflammation on the skin. It also has tons of antioxidants, balances the skin's pH, and soothes dry skin by drawing moisture from the air and into the skin.
A brightening face mask is as simple as two ingredients:
2 tablespoon Manuka honey
2 drops of tea tree oil
Combine all ingredients in a small mixing bowl. Spread a thick layer over face, avoiding the eye area.
Rest for 10-15 minutes. Read a book, close your eyes, plan your day, journal. Rinse with warm water and pat dry.
This article was medically reviewed by Dr. Gina Jansheski, a licensed, board-certified pediatrician who has been practicing for more than 20 years. Learn more about Hello Glow's medical review board here. As always, this is not personal medical advice and we recommend that you talk with your doctor.
12