When I wake up groggy and tired, I can usually pinpoint the culprit from the night before: too much time on the computer, too many episodes of Game of Thrones, or that extra glass of wine. Sometimes it's events I can't control (like a 3-year-old waking up in the middle of the night, sigh).
In general, we know what to do for a good night's sleep and an awesome morning, we just don't do it. Too often my habit is to plop down on the couch in an exhausted heap after the kids go to bed, not to prep lunches for the next day.
One of my goals for 2016 is to not only protect my valuable sleep time, but also create nightly rituals that make the following morning easier. Less rushed, more relaxed. Without giving up the zoned out 'me time' that I get from watching TV. Because good nighttime rituals protect my sleep, my skin, my waistline and my health.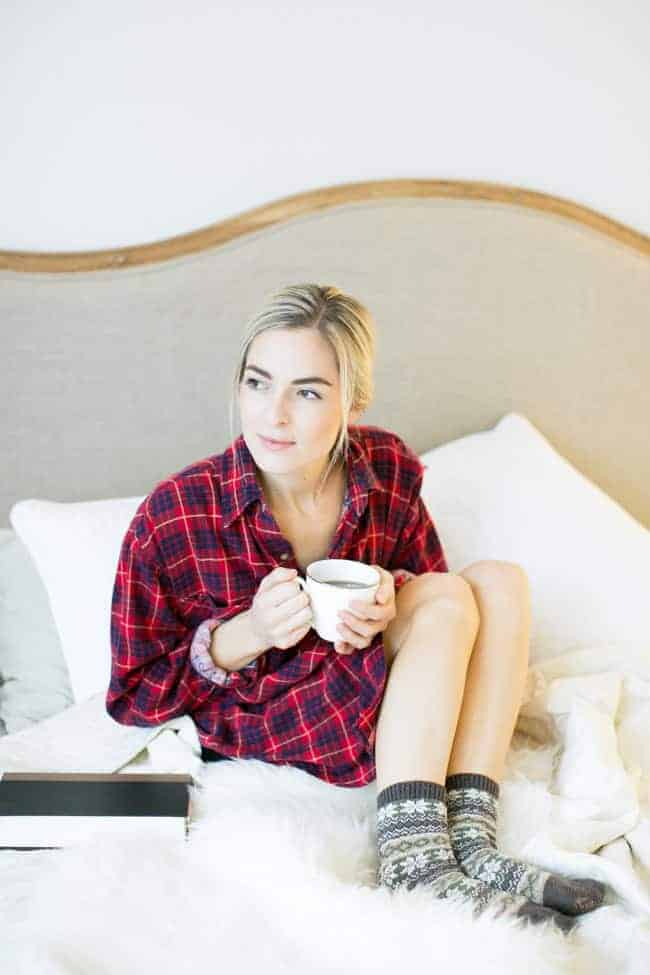 Ready to revamp your pre-sleep routine? Here are 10 easy, simple and totally doable bedtime rituals to help you fall asleep faster and wake up rested and ready.
10 Healthy Bedtime Rituals for an Awesome Tomorrow
1. Tidy up
Clutter is stressful. Take 10 minutes to pick up and put the last of dinner dishes away. When I start tidying, I have trouble stopping so a timer helps. This is a good one to put into practice before the kids go to bed.
2. Prep for tomorrow
Create a new habit of spending a few minutes of prep instead of immediately collapsing on the couch. Once you're down, it's hard to get going again. Set out your gym clothes to set the intention of getting exercise. Put together an overnight oatmeal or a make-ahead smoothie for breakfast and pack up leftovers for an easy lunch.
You'll be amazed how much this simple practice eases anxiety. I pick out outfits for 4 people on a daily basis, and it always turns into a total scramble in the morning (especially because one son prefers to 'lose' his underwear).
3. Snack
You should cut yourself off from the kitchen about 3 hours before bedtime so now is time for 'last call' if you're hungry. Greasy chips or sugary candy maybe calling you, but reach instead for a few nuts or a banana, which contain sleep-inducing tryptophan. For a dose of sleep-regulating hormone melatonin, try whole grains or cherries. To avoid derailing your healthy eating here are a few healthy bedtime snack ideas.
4. Take a bath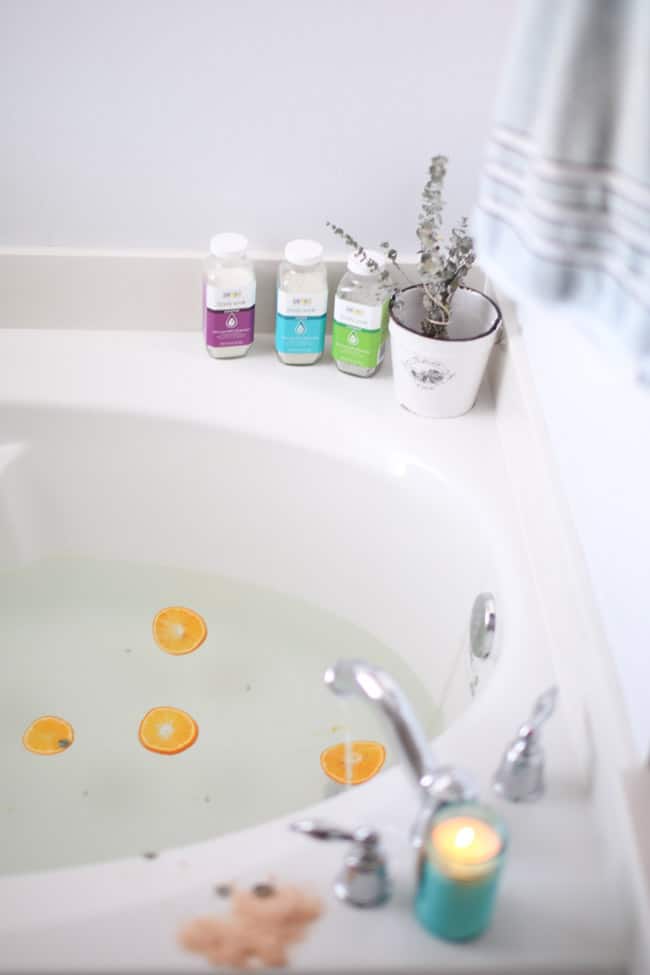 My favorite way to relax is to draw a bath (see how I'm still avoiding the TV?). At least an hour before bed turn off your TV and computer to start to wind down.
A bath can do more than just relieve stress; a nightly bath ritual can detox toxins, soothe sore muscles, help stop colds and infections and open congested sinuses. While a healing soak can be as simple as pouring in Epsom salt these Epsom salt soaks transform the experience with a thoughtful blend of functional ingredients.
For the January exercise overachievers, try a blend of sea salts, red clay and pink Himalayan salt to soothe tired muscles and an overactive mind. Pour in a 1/2 cup of the blend, light a candle and unwind.
And you don't have to soak all night. I tend to be an all or nothing kind of person, so my thinking sometimes goes, if I can't spend an hour in there then I should just skip it. But guess what, 20 minutes is good. Plenty.
5. Brain purge
You're out of the bath and in your comfy PJs. Don't let the couch and television lure you back! Read a book or start a gratitude journal. One of my resolutions is to record at least three things that I'm thankful for each day, anything from Christmas break finally being over to buying a new coffee mug.
Then I purge anything that's weighing on me and all of my to-do's for the following day. I have a running 'master list.' But don't overwhelm yourself with a million chores. Focus on just three things to accomplish the following day.
6. Tea
This usually goes with #5. A warm cup of chamomile or turmeric tea is incredibly calming and comforting. Just make sure to stick with decaffeinated teas so you don't interfere with sleep.
7. Stretch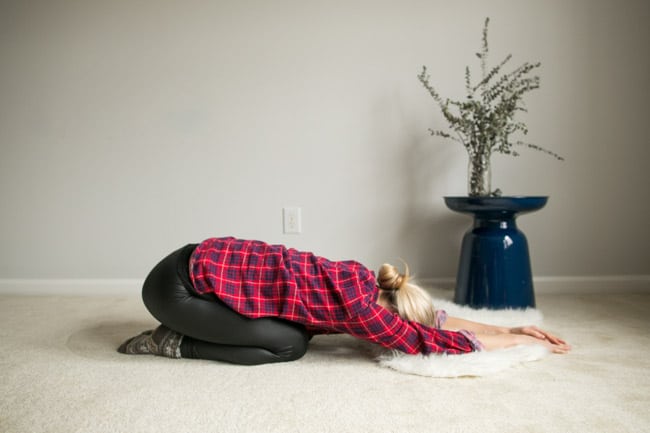 My non-meditation form of meditation is to strike a couple of simple yoga poses, like child's pose and forward bends before bed. Put your legs up against the wall or lay in dead man's pose for a few minutes. It feels sooo good I could fall asleep right there.
8. Brush and floss
When you can pick yourself up off of the floor, it's time for brushing and flossing. I'll admit it; I hate flossing. But it's not only good for your smile it's also anti-inflammatory for your whole body. Detox your dental routine with natural toothpaste and floss and make it a habit.
9. Wash your face & remove makeup
When you take the time to really enjoy your skincare routine (here's mine) it can be incredibly soothing. Self-care is how you communicate that you love yourself. So quit rushing through it, feeling guilty about taking a few minutes for yourself, or, worse, sleeping in your makeup!
10. Foot massage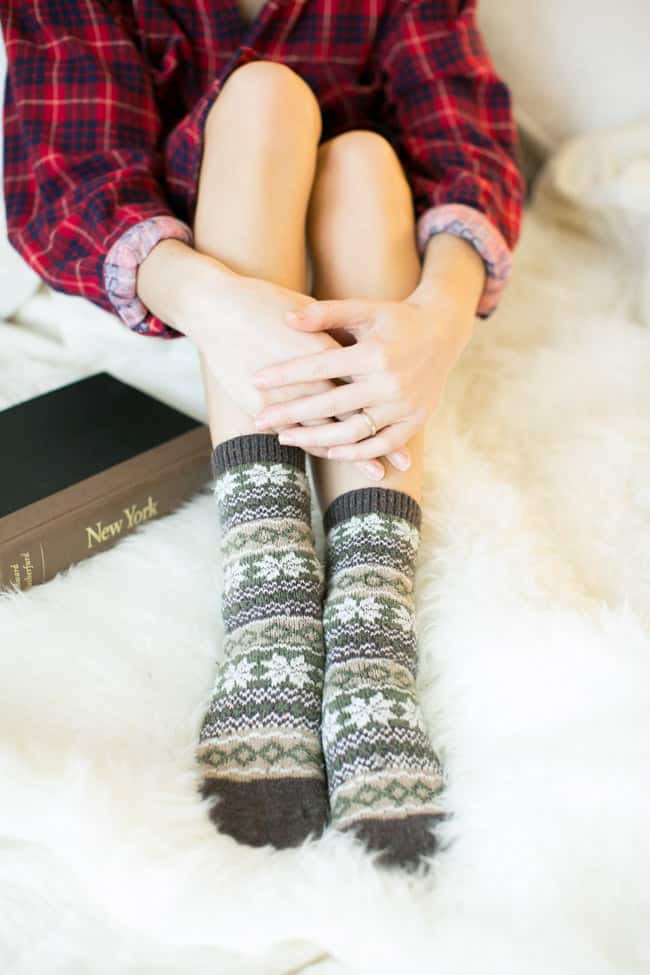 My kids pitch a fit if I try to skip their nightly foot massage with our special Dream Salve. Massaging your feet is very grounding; it helps pull you out of those endlessly looping thoughts that can keep you awake. And inhaling the soothing scents of chamomile and lavender is perfect just before bed. Lavender has been shown to ease tension, helping you relax for better, deeper sleep.
Then turn down the thermostat and turn off the lights completely and you should sleep like a baby! You'll wake up ready for an awesome tomorrow.
What's your favorite bedtime ritual?
67