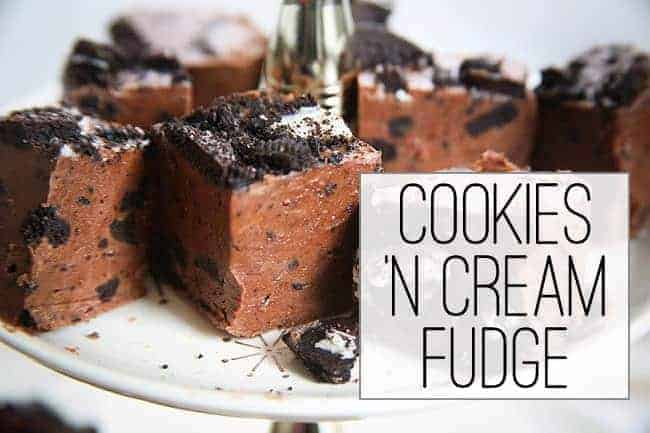 Have you done any holiday baking? Every year for Christmas my mom would attempt to make fudge and every year it would fail to "set." I thought it must be super complicated! Apparently it was my mom's inability to follow a recipe – she was known to experiment based on what she had on hand. I recall a particularly disastrous pound cake that pretty much blew up in the oven.
So this year, for mom, I made fudge. I have no idea what she did wrong all those years – how I wish I could ask! – but this recipe was amazingly easy. Too easy!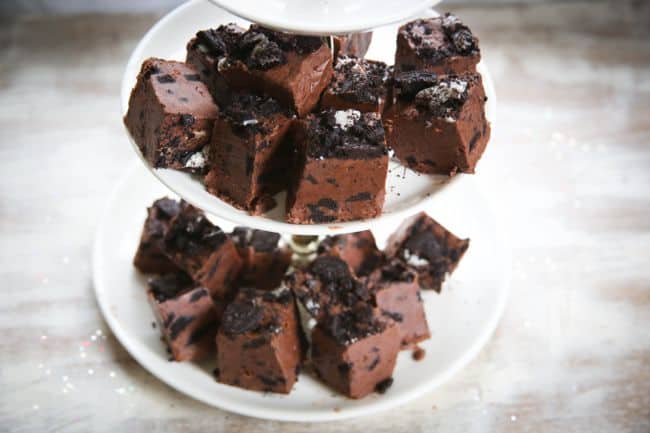 I guess I have a little bit of my mom in me because when the recipe called for 2 packages of white chocolate and I only had one, I improvised. Why not add some dark chocolate? Mom would have approved.
Cookies 'n Cream Fudge
1 cup sugar
3/4 cup butter
1 5 oz can evaporated milk
2 12 oz packages white chocolate chips
1 7 oz jar marshmallow cream
3 cups coarsely crushed Oreos
1. Grease a 9″ square pan and line it with aluminum foil, making sure the foil comes up over the edges so you can easily lift the fudge out later.
2. Combine sugar, butter and milk in saucepan. Cook over medium-high heat, stirring constantly, until it comes to a boil. Then cook 3 minutes, again keep stirring. Remove from heat and add chocolate chips, marshmallow cream, 2 cups crushed Oreos, and a pinch of salt. Stir until chocolate melts.
3. Pour fudge into prepared pan and sprinkle remaining 1 cup of cookies on top. Lightly press the Oreos into the fudge. Cover and chill until firm, about 1-2 hours.
4. Lift uncut fudge in aluminum foil from pan. Remove foil and cut into squares.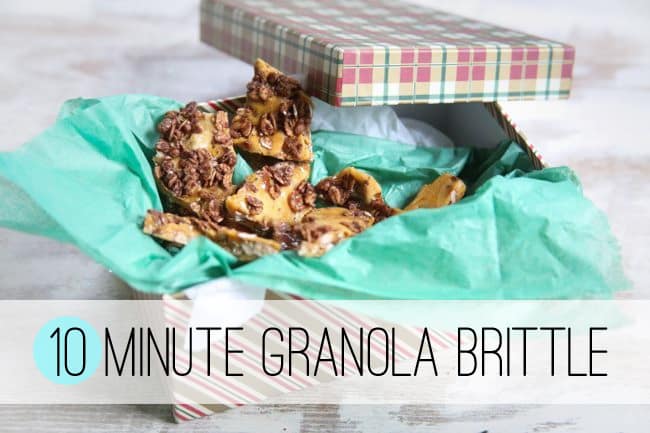 Want something even easier? This 10-minute granola brittle will knock your socks off. And you make it in the microwave! See how there's not much left in that box up there? I had to basically hide the tiny bit left to take a photo. So much for giving it as a gift. Oh, and speaking of gifts – you can't double this recipe. It won't turn out right. Just make it twice. :)
10-Minute Microwave Brittle
1 cup sugar
1/2 cup light corn syrup
1/8 tsp. salt
1 cup chopped pecans
1 Tbsp. butter
1 tsp. vanilla extract
1 tsp. baking soda
Parchment paper
3/4 cup chocolate granola (I used the brand Bear Naked)
1. Combine the first 3 ingredients in a large glass bowl. Microwave on high for 5 minutes. Stir in pecans. Microwave 90 seconds. Stir in butter and vanilla. Microwave 1 minute and 45 seconds. Stir in baking soda (and watch it bubble!).
2. Quickly pour candy onto a lightly greased baking sheet. Pour as thinly as possible without spreading candy. Cover quickly with parchment paper and use rolling pin (or wine bottle like me) to thin. Peel off parchment and sprinkle granola on top. Cool brittle completely and break into small pieces.
0