Homemade beauty products can be super simple—especially since so many remedies and recipes contain the same soothing ingredients. Load up on a few essential items, and you'll be prepared to whip up virtually any soap, lotion, hair treatment, or skin remedy.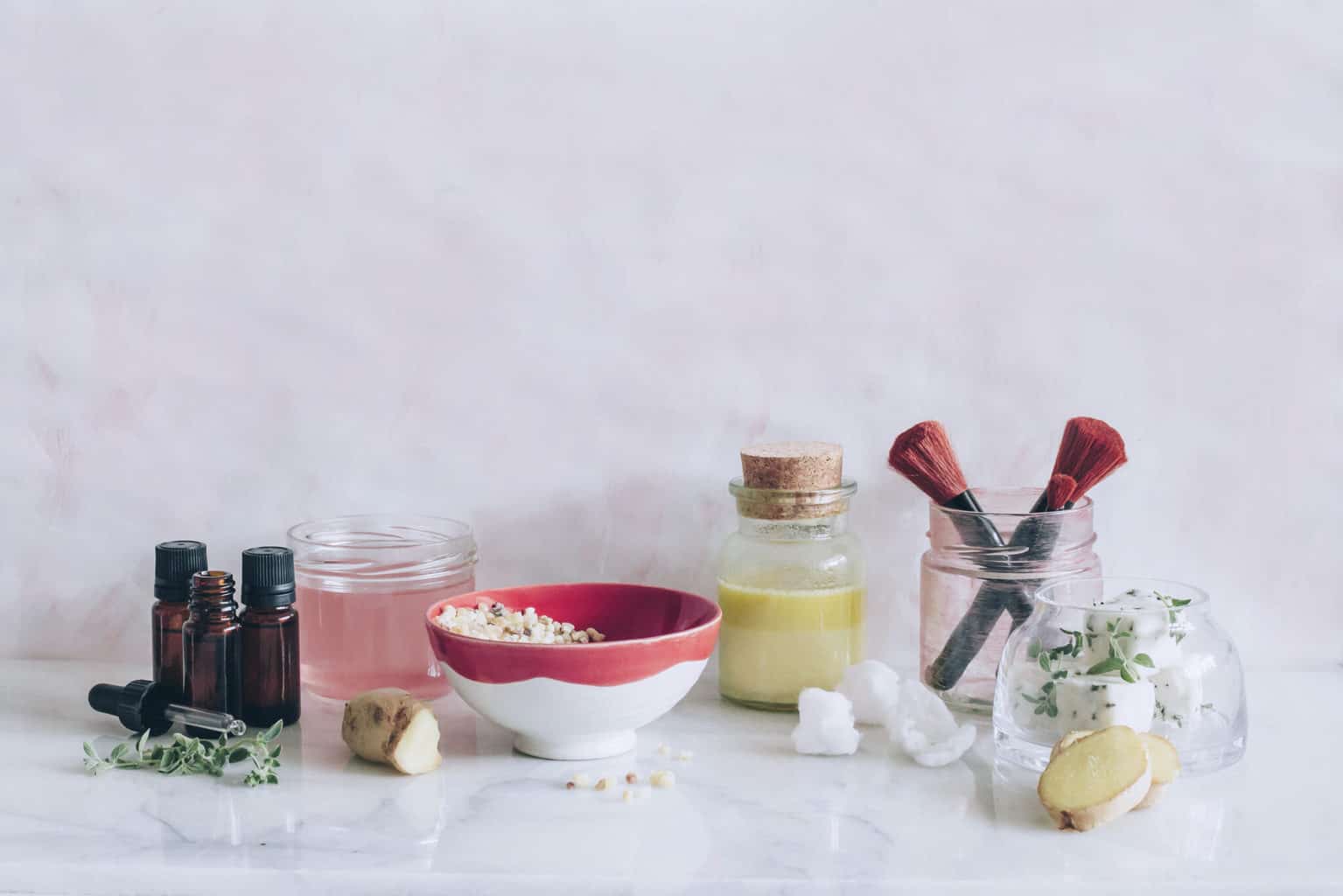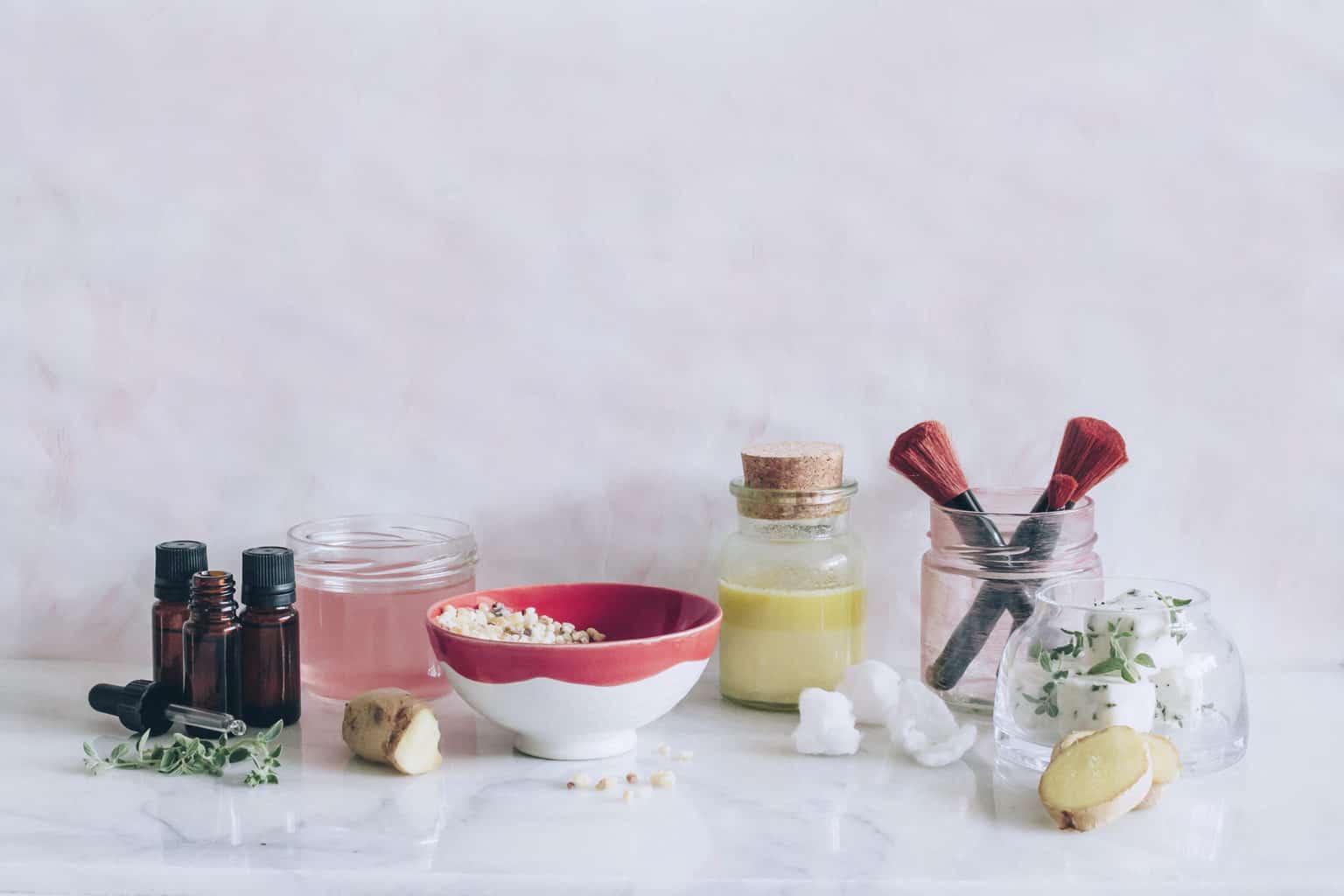 14 Must-Have Beauty DIY Ingredients
These simple ingredients are the must-haves to stock your DIY beauty pantry. Most of the items on this list have a long shelf life and easily combine with kitchen beauty ingredients like avocado, lemon, and yogurt. We always recommend buying organic whenever you can, so you won't have the addition of unwanted chemicals.
1. Aloe vera
Aloe vera gel contains a plethora of amino acids, minerals, and vitamins that benefit your skin and hair. Aloe's cooling effects work make it a tried-and-true remedy for sunburns, but it's also great for moisturizing skin, soothing itchy scalps, calming inflamed acne, and lightening skin discoloration [source].
2. Apple cider vinegar
Trusty ACV is another all-purpose beauty ingredient, full of natural hydroxy acids that gently exfoliate your skin. Applying organic ACV also delivers beneficial enzymes, proteins, and good bacteria to the skin.
Naturally antimicrobial (for the bad guys) and antiseptic [source], it also helps to balance pH levels, making it an effective natural remedy for acne, dandruff, and other skin and hair issues. Look for raw, unfiltered, organic apple cider vinegar to ensure you get all the benefits.
3. Baking soda
Baking soda basically absorbs anything it comes in contact with—which is why it does such a great job making your fridge smell fresh. That applies to beauty uses, too: placed on the skin, it helps to gently exfoliate, ease skin irritation, and absorb oil and gunk from your pores.
Add baking soda to your bath to soothe sunburns, itchy rashes, and inflammation. This inexpensive easily found ingredient also helps remove product buildup from your hair.
4. Beeswax
With its natural antibacterial and antifungal properties [source], beeswax is often used to thicken balms and salves. It forms a nice protective layer over the skin to seal in moisture, while still allowing it to breathe, making it great for healing minor irritations. It also helps give DIY products a nice texture. Vegans can use carnauba wax instead.
5. Castile soap
Castile is a plant-derived, biodegradable soap that can be used as a base for DIY beauty products like body wash, hand soap, and face cleansers.
6. Clay
Smearing clay all over your face is not a new beauty secret! Natural clay has long been known for its ability to draw out oil and impurities as well as tighten and tone your skin. Mineral-rich clays are also useful treatments for puffy skin, large pores, bug bites, and eczema [source].
Use this helpful guide to find the right clay for your skin type.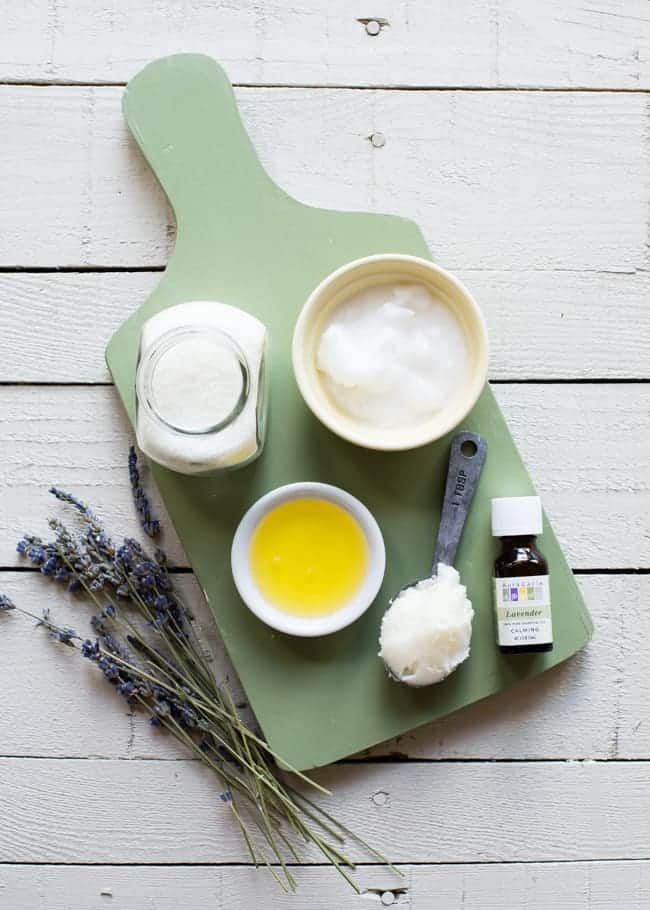 7. Coconut oil
It's no secret we love this organic coconut oil as a carrier oil. Rich in vitamin E, antioxidants, and fatty acids, it is an anti-inflammatory oil that hydrates dry skin and can help reduce the appearance of cellulite, stretch marks, and rough skin patches [source].
This all-purpose ingredient can be used for shaving cream, moisturizers, and conditioners in addition to cooking and smoothies. Make sure to buy the virgin, unrefined varieties.
8. Essential oils
Not only do pure essential oils make DIY beauty concoctions smell delicious, but they're also great for your skin. The healing and soothing properties of your favorite botanical distillations have the power to transform your skin. Try geranium for dry skin, clary sage to treat puffiness, and tea tree for acne-prone skin.
9. Honey
Honey is a panacea for any skin type—not only does it lock in moisture, but it does so while regulating the skin's natural hydration capacity and without clogging pores. This sweet stuff is naturally antibacterial and antifungal, and its ability to repair skin makes it a go-to beauty ingredient [source].
Look for raw, organic honey—it's the most beneficial for facial care and can be used on dry, sensitive, and even acne-prone skin. If you buy local, organic honey, taking a spoonful a day leading up to allergy season can help mitigate seasonal allergies.
10. Oats
Along with being a protein and fiber heavy hitter, oats are also packed with healthy fats and antioxidants that hydrate your skin. Often used in gentle cleansers, oats exfoliate dead skin while their natural saponins work to cleanse and absorb dirt and oil.
A natural anti-inflammatory that also balances your skin's pH level, organic oats make a soothing addition to baths when you have itchy or irritated skin [source].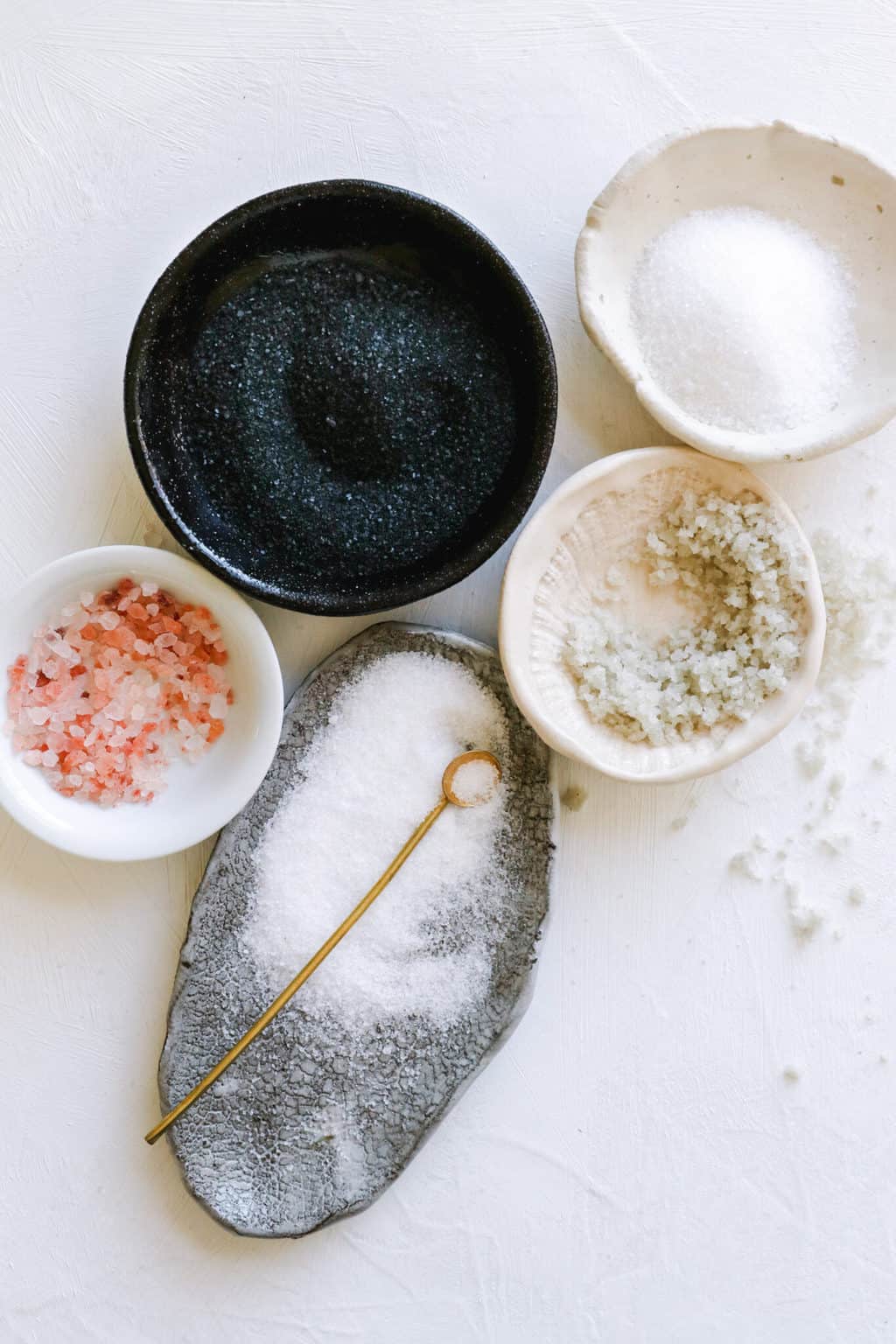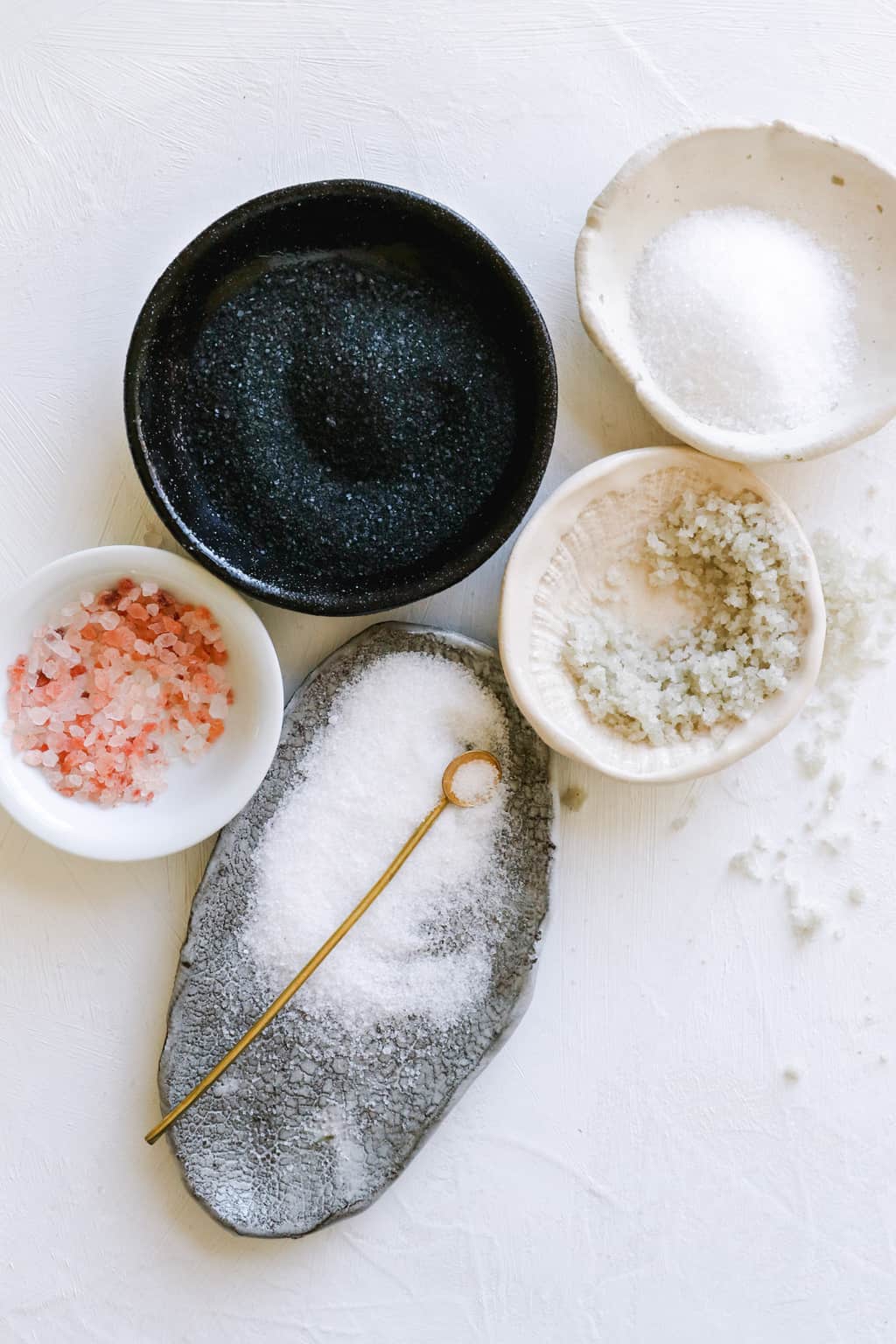 11. Salt
While great for cleansing and exfoliating, natural salts can also deliver a dose of skin-loving vitamins and minerals. Epsom salt is particularly rich in magnesium sulfate, which is essential for good health. Salt baths and scrubs allow your body to absorb these nutrients through the skin, as well as improve circulation and skin tone.
12. Shea Butter
Softer than cocoa butter, shea butter has a silky texture that's easily absorbed by the skin. Rich in vitamins A and E, it helps to restore skin elasticity, making it perfect for super-moisturizing lotions, creams, and body butters [source].
13. Tea
White, green, and black teas contain powerful antioxidants that help combat sun exposure by absorbing UV rays. And after sun exposure, tea's tannic acid and antioxidant catechins and polyphenols can help reduce skin inflammation and neutralize harmful free radicals [source]. Tea also makes fantastic hair dyes and can play a soothing role in cleansers, toners, and face masks.
14. Witch hazel
This gentle miracle ingredient fights inflammation and regulates oil production, so it's the perfect choice for anyone with oily or sensitive skin, or for treating acne, cuts, and scrapes. Commonly used as an astringent to tighten pores, witch hazel also has a cooling sensation that soothes irritated skin and calms conditions like eczema.
Look for pure witch hazel that isn't diluted with skin-drying alcohol.
Ready to start making more of your own products? Here are 15 DIY beauty products to get you going.


This post was medically reviewed by Dr. Jennifer Haley, a board-certified dermatologist with extensive experience in medical, cosmetic, and surgical dermatology. Learn more about Hello Glow's medical review board here. As always, this is not personal medical advice, and we recommend that you talk with your doctor.
153