Winter, with its icy winds and short, dark days, is the perfect time to show yourself a little TLC. Especially around the holidays, when stress seems to run a little higher than usual, it's important to take care of yourself and set aside time to unwind.
In the midst of all the holiday hustle and bustle, I like to kick back with a good book, a long hot bath and a glass of wine. Sometimes I'll even put on some music, slather on a face mask and pretend I'm at the spa for a couple of hours. It's the perfect way to beat the stress of the season and pamper yourself at the same time. To make a typical spa weekend even better, why not get together with your best girlfriends and host a girls' spa weekend at home–we'll show you how.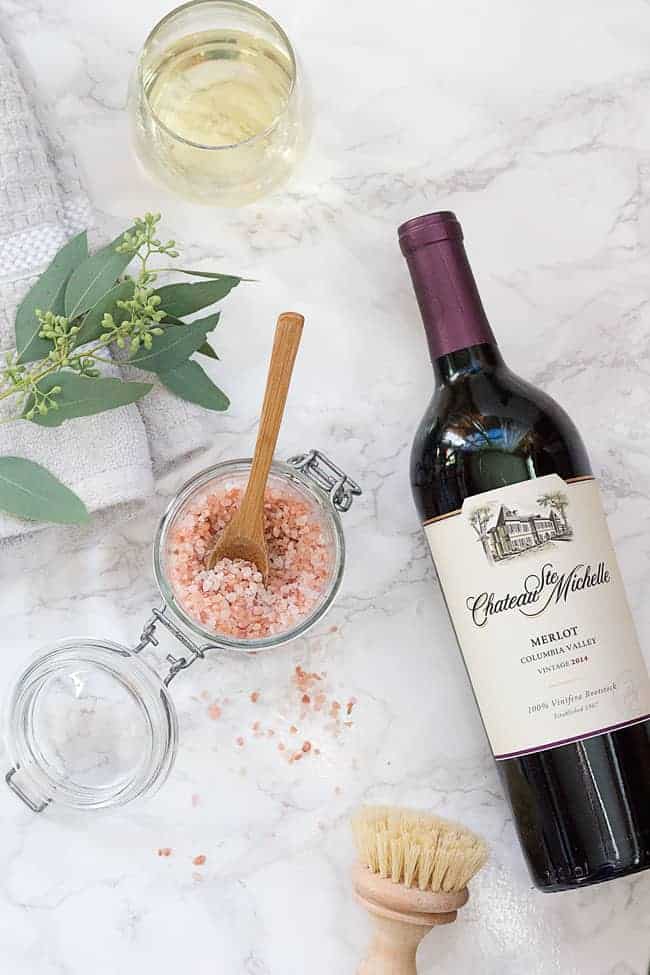 We've partnered with Chateau Ste. Michelle to bring you 10 perfect sips for a girls' spa weekend at home. Read on to learn our favorite spa rituals, their perfect wine pairings and an agenda to help you host your own girls' spa weekend this holiday season.
10 Perfect Sips for a Girls' Spa Weekend at Home
1. Diffuse warming essential oils
Start by setting the spa mood and making your home feel like the relaxing retreat that it really is. Diffusing essential oils like orange, clove and cinnamon is one of the easiest ways to make your house smell like the holidays and get that fresh from the spa feeling at home. You can either purchase an electric diffuser or simply pour a few drops of oil into a small pot of boiling water and let it simmer for an hour. Be sure to check the pot regularly to make sure the water hasn't evaporated, and refill if necessary.
Then sit back, kick your feet up and breathe while you sip on a soft, easy-to-drink red wine like Chateau Ste. Michelle's 2013 Columbia Valley Syrah.
2. Go on a gentle hike
What better way to kick off the weekend than with a gentle hike? If the leaves are still vibrant where you are, gather your girlfriends, lace up your tennis shoes and go on a nice, long leaf-peeping hike. Being in the outdoors will do wonders for your mood and a little bit of exercise will get the blood flowing.
When you're done, warm up with a glass of Chateau Ste. Michelle 2014 Columbia Valley Gewurztraminer. Packed with flavors of fruit and clove, it will help you warm up following a brisk afternoon outdoors.
3. Replenish moisture with a facial steam
After a little physical exercise, everyone will be in the mood to break out the beauty products, lotions and potions. Start with a good facial steam to help open pores, soften dry skin and allow moisturizer to soak in more effectively. Simply fill a large bowl with boiling water and add:
1 sprig fresh rosemary
2 drops pine essential oil
Drape a bath towel over your face, shoulders, and the bowl while keeping your face about 12 inches from the steam. Do this for about 15 minutes and then follow with a moisturizer while your skin is still damp.
After showing your skin some love, sip on a glass of Chateau Ste. Michelle's 2014 Columbia Valley Sauvignon Blanc. Crisp and cooling Sauvignon Blanc offers bright fruity flavors of melons and herbs which will help you feel refreshed and ready to tackle the rest of the day.
4. Remove dry skin with a peppermint lip scrub
Follow up with a refreshing peppermint lip scrub to help exfoliate dead skin cells and keep your lips feeling soft and fresh. Then follow up with a little Shea butter to lock in moisture and keep flaky skin at bay.
Supplies
1 tablespoon brown sugar
1 teaspoon jojoba oil
¼ teaspoon vanilla extract
3 drops peppermint essential oil
Small jar with lid
Combine all the ingredients in a small bowl and stir to combine. Apply to lips with fingertips and gently slough off dry, dead skin. Remove with warm water and a washcloth.
And because nothing says "pretty" quite like a rosé, sip on festive Chateau Ste. Michelle 2015 Limited Release Syrah Rosé. Flavors of strawberry and raspberry pair perfectly with an afternoon indulging yourself with homemade scrubs, lotions and potions.
5. Break out the manicures
Aside from a massage, I usually think of a manicure as the ultimate spa luxury! This one is easiest if you set up a small painting station so you can take turns soaking, buffing and painting each other's nails (especially if you're not great at painting with your non-dominant hand!).
Supplies
1 tablespoon honey
1 tablespoon olive oil
Shea butter
Lavender essential oil
Nail file
Nail clippers
Several different colors of nail polish
In a small bowl, combine honey and olive oil in warm water. Soak your hands in the water for 10 minutes. Next, take a little Shea butter and rub it into both hands. Use nail clippers to trim nails and remove any hangnails, then use a nail file to shape your nails into your desired length and shape. Apply lavender essential oil to your cuticles using a cotton swab. Finally, apply two coats of nail polish and let dry thoroughly.
Pair with a Chateau Ste. Michelle 2015 Columbia Valley Riesling — a fresh, fruity everyday wine perfect for sipping while your nails dry.
6. Curl up with a good book
A spa weekend is the perfect time to finally grab that book you've been meaning to read and crack it open. Since everyone's nails should be freshly painted by this point, why not set aside a little quiet time, grab yourself a book and read while your nails dry.
Try sipping on a glass of Chateau Ste. Michelle 2015 Indian Wells Chardonnay while you read. It's light and refreshing with hints of pineapple and butterscotch, perfect for sipping all afternoon.
7. Relax in front of a warm fire
To make it that much more relaxing, this is also the perfect time to light a fire in the fireplace. Kick back with your girls, pour some wine and zone out for an hour or two while the stress of the holidays melts away.
Pair with a full-bodied Chateau Ste. Michelle 2014 Indian Wells Merlot to further warm you from the inside out.
8. Share a healthy meal
After all the exercise and pampering, you will most likely be starving. Toss together a healthy winter salad with walnuts, dried cranberries and prosciutto and pair it with a rich, hearty Chateau Ste. Michelle 2014 Columbia Valley Merlot.
9. Hit the yoga mat
Finish off your girls' spa weekend with a gentle group yoga session to refresh your body and calm your mind. Couple your brief stretching session with mindfulness and some deep, slow breaths to really reap the benefits of your time on the mat. If you have a friend who is especially good at yoga, have her lead the session. If not, you can find a free yoga video online to help guide you.
After your yoga session, why not savor an earthy Chateau Ste. Michelle 2013 Indian Wells Red Blend.
10. Unwind with a calming salt bath soak
As the spa weekend host, you might still be feeling a little stressed, so this one is just for you! After the last guest has left, soak away the tension with a salt bath soak. If you can spare a few more minutes away from your family, steal away for half an hour, put on a little Christmas music and relax with a hot bath. You can even try adding some baking soda and chamomile essential oil to soothe chapped winter skin.
Supplies
6 parts sea salt
3 parts Epsom salt
1 part baking soda
Chamomile essential oil
Combine all ingredients and add to a warm bath.
While you soak, sip on a light, crisp wine like Chateau Ste. Michelle's 2015 Columbia Valley Sauvignon Blanc to help you cool off and feel refreshed.
5