Thanks in part to the way the Nutrition Facts labels on foods are arranged—with calories on top and vitamins and minerals on the bottom—I always kind of wrote off minerals as "nice to have" nutrients. (Seriously, what is Riboflavin and why is it in my cereal?) That is so not the case, though.
Magnesium is essential for teeth, bone, heart, kidney and muscle health, plus it helps regulate other nutrients, including copper, zinc and vitamin D. Many people don't get enough magnesium, both because we're not especially conscious of it in our diets, and because it can be depleted by consuming too much caffeine, salt or alcohol, as well as chronic stress and heavy workouts.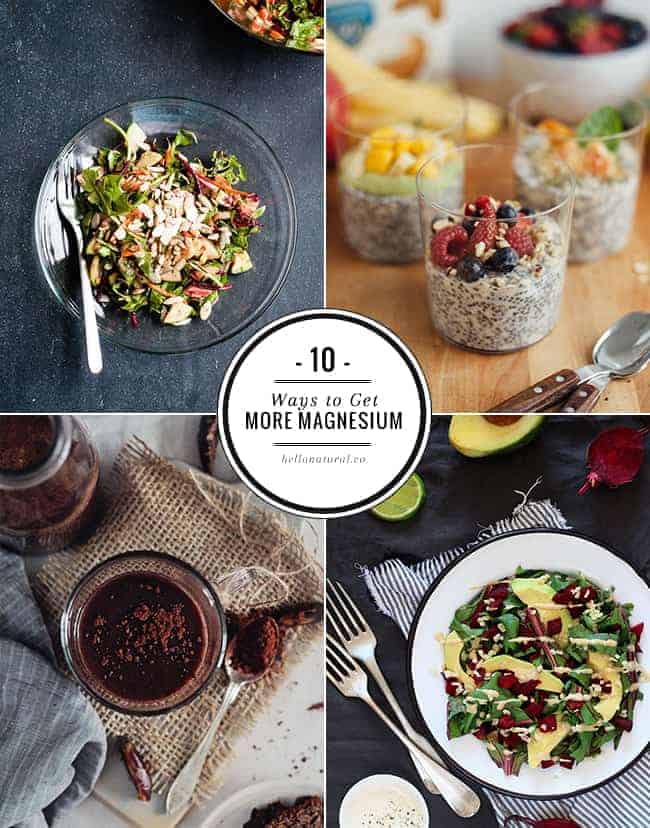 Those who suffer from insomnia and/or Restless Leg Syndrome very well might have a magnesium deficiency, as might those who experience these ailments: [source]
agitation, anxiety, irritability or depression (magnesium has been shown to treat depression in diabetes patients as well as antidepressants)
migraines
PMS
type 2 diabetes or high blood pressure
chronic nausea, constipation or vomiting
muscle aches, tics or spasms
fibromyalgia
Women are supposed to get 310 to 320 mg/day of magnesium—350 to 360 mg if you're pregnant. Supplements are an easy way to get more, however they can interfere with some common medications (like blood pressure meds and antibiotics), and there's debate over whether the body can absorb them as effectively as magnesium in food—so be sure to check with your healthcare provider before adding one in. I take a magnesium supplement to ease insomnia and have noticed a slight improvement, however I notice even more improvement when I just eat right :)
10 Best Sources of Magnesium
1. Epsom Salt Bath
Magnesium is also present in epsom salts, which can make for a soothing, relaxing bath that relieves aches and pains. Your skin soaks in all the anti-inflammatory benefits to reduce swelling and help you sleep.
2. Dark, Leafy Greens
Come on, what can't dark, leafy greens do? Spinach, kale, collards and beet greens have fiber, a little protein, antioxidants, vitamins and minerals like magnesium.
Try: Beet Greens and Avocado with Creamy Tahini Dressing (pictured above)
3. Nuts + Seeds
Pumpkin and squash seeds, black walnuts, Brazil nuts, almonds, cashews, pistachios and pine nuts are all good sources of magnesium, which can ease anxiety and depression, and give your mood a boost—in addition to the protein, healthy fats, fiber and other nutrients they provide. Make sure to always have nuts and seeds on hand to snack on. There's even an episode of Criminal Minds where the always-thoughtful Garcia brings her grieving coworker a gift basket of nuts and seeds because she hopes the magnesium will help him feel less depressed.
Try: Glowing Skin Salad with Detox Dressing
4. Blackstrap Molasses
This thick syrup is produced during the sugar-refining process, and contains all the nutrients the sugar cane plant absorbed. Blackstrap is the most nutritious molasses on the market, and contains copper, potassium, vitamin B6, magnesium, iron and manganese. It's also used as a gentle laxative and a diabetic-safe sweetener, due to its moderate glycemic index.
Try: Make sure to buy organic, unsulphured blackstrap molasses. Use a tiny amount to sweeten smoothies, baked beans, sauces, dressings or baked goods—similarly to how you'd use honey.
5. Oats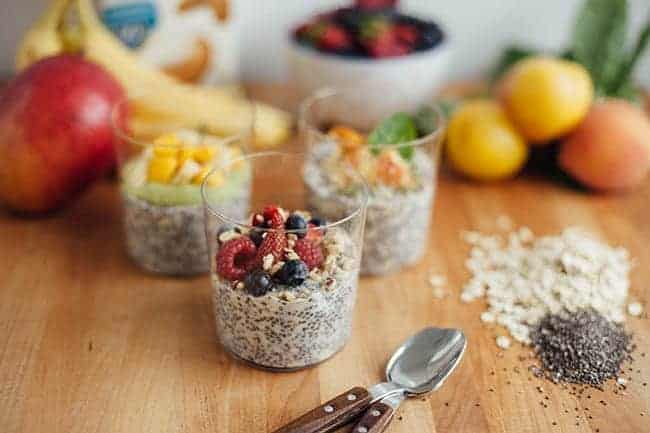 One cup of prepared oatmeal has 61 mg of magnesium; add some nuts or seeds, bananas and blackstrap molasses to it, and you'll increase that number even more. You'll also be getting protein and other minerals, plus antioxidants that help fight off cardiovascular disease.
Try: Overnight Oats with Chia Seeds
6. Bananas
This is perhaps the easiest way to get magnesium, in addition to a whole host of other minerals. Pop a banana in your smoothie to get 32 milligrams.
Try: Green Banana Cream Smoothie
7. Potatoes (with skin)
Potatoes get demonized for their starchiness, but they do have about 49 mg of magnesium (plus calcium and vitamin C) each.
Try: Eat them baked, with the skin on, topped with healthy ingredients like salsa, guacamole, greens, roasted veggies or beans.
8. Dark Chocolate
Make sure to look for chocolate with 80% or higher cacao content, which will also net you antioxidants. Add cocoa powder to smoothies, or snack on 1 ounce of chocolate at a time.
Try: Antioxidant-Rich Vegan Chocolate Shake with Raw Cacao
9. Legumes
Navy beans, tempeh and tofu (made from soybeans), black beans, pinto beans and peanuts are all great ways to get more magnesium. If you eat tofu, nigari tofu often contains higher amounts of magnesium than other varieties.
Try: Slow-Cooker Chicken with White Beans and Kale Pesto
10. Magnesium Oil
Similarly to an epsom salt bath, magnesium oil is used externally (experts recommend applying to the feet) in order to ease anxiety and insomnia, and soothe sore joints and muscles.
Try: Apply magnesium oil body spray before bed.
1