Regular charcoal is made from coal or wood, but activated charcoal is something completely different. Combined with gas or an activating agent at high temperatures, it becomes a potent natural compound you can use in all sorts of situations. It works by absorbing chemicals and reducing their toxicity, whether used internally or externally.
When it comes to skincare, activated charcoal is excellent for drawing out impurities, hence its use in hand soaps, face masks, and deodorants. It is also naturally and gently exfoliating, absorbs bacteria, minimizes pores, and levels pH. Basically, it's a miracle skincare ingredient!
10 Beauty Uses For Activated Charcoal
Want to learn more? Try it for yourself with some of our favorite activated charcoal at-home uses: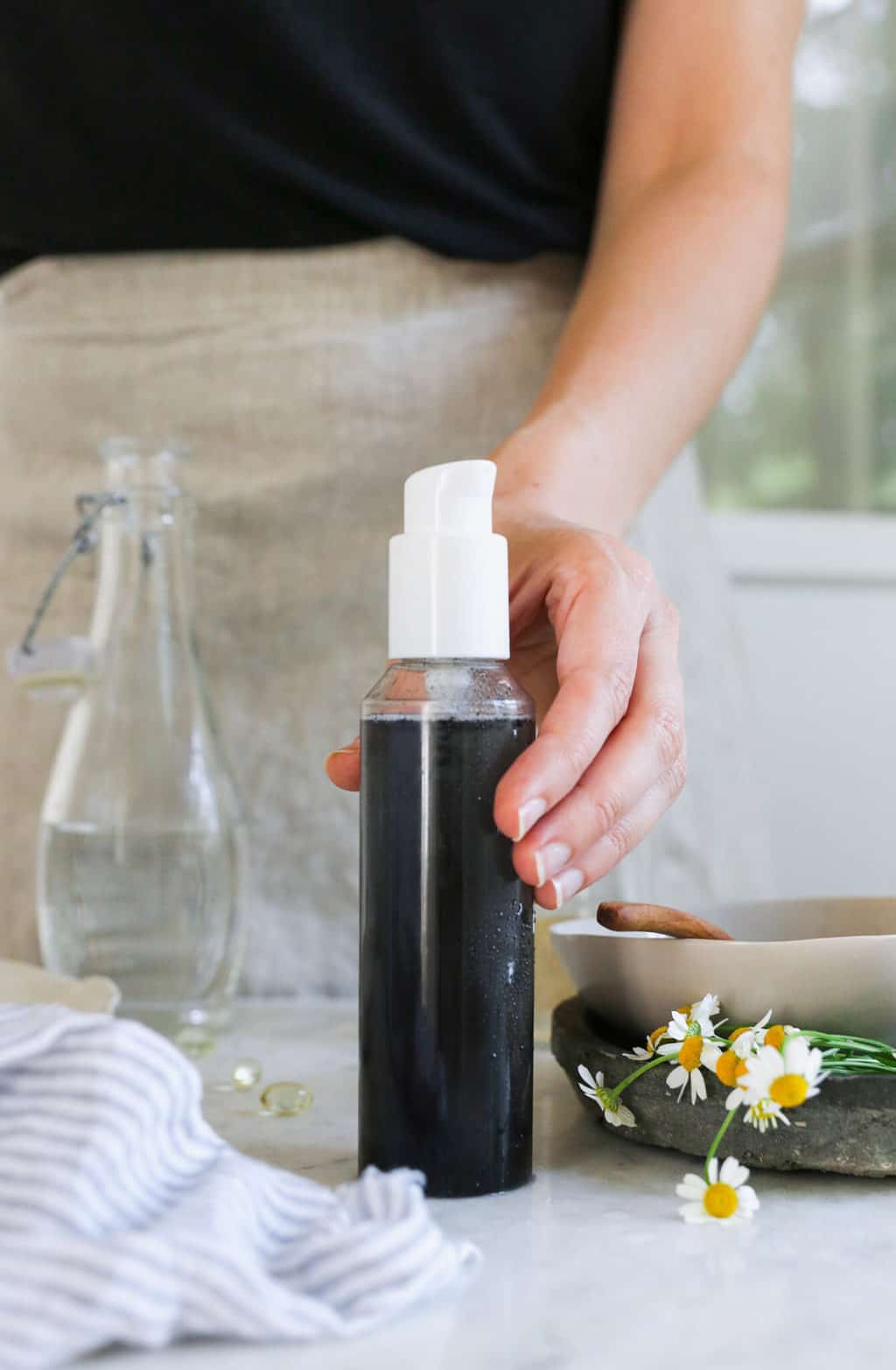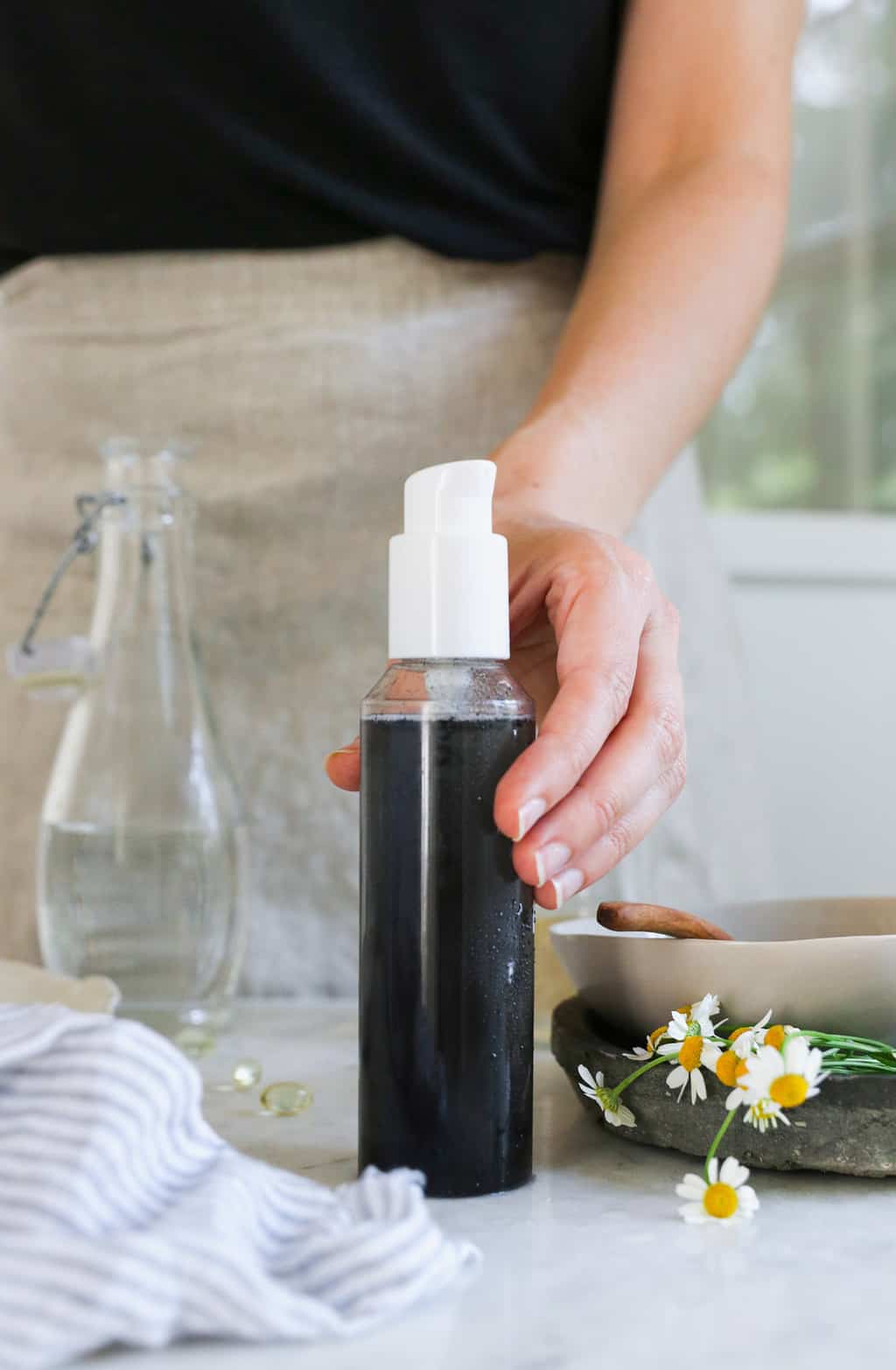 1. Cleanse Skin
Activated charcoal acts like the best vacuum you've ever heard of: this charcoal face wash absorbs excess oil and cleanses the pores in mere minutes. You can use it alone or mix it with even more detoxifying ingredients, like in this DIY detox cleansing grains + mask recipe.
2. Make Eyeliner
Using natural eyeliner is so worth it! There's no reason to put harmful chemicals around the delicate eye area when you can easily whip up a natural version using activated charcoal, aloe vera, and coconut oil. Get the recipe from Coconut Mama.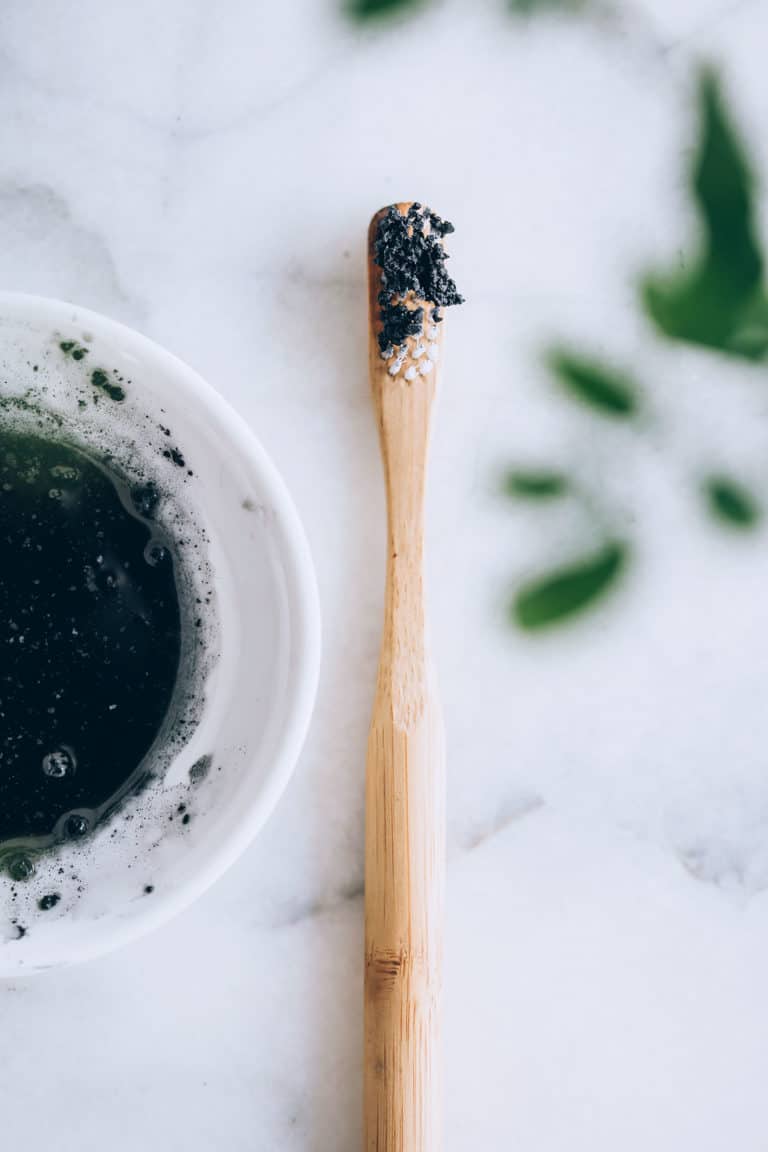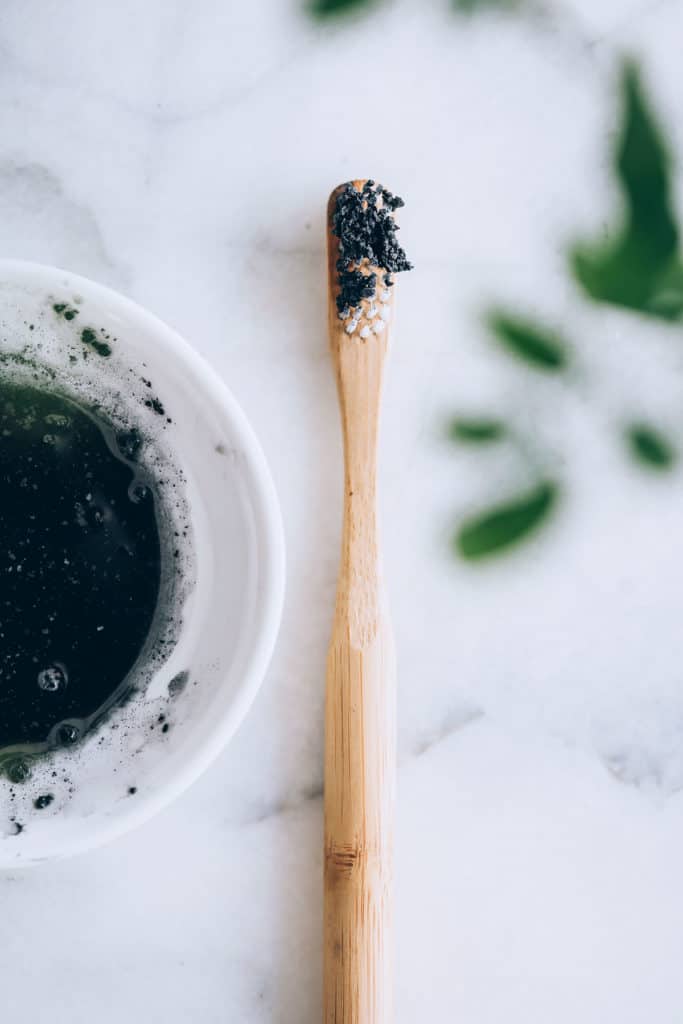 3. Whiten Teeth
This may sound counter-intuitive, but yes, black activated charcoal will make your teeth whiter! It works by changing the mouth's pH, and we've learned firsthand the impressive abilities of activated charcoal when it comes to whitening teeth [source] and scrubbing off those coffee, tea, and wine stains from tooth enamel.
To use: Try this procedure for making a teeth-whitening paste from a cosmetic dentist [source]: Open 1 or 2 activated charcoal capsules into a cup. Add a bit of water to make a paste.
Then, with your toothbrush or finger, dab (don't scrub!) the paste onto the surfaces of your teeth. Wait 3 minutes before rinsing. Use 2–3 times a week for the best results.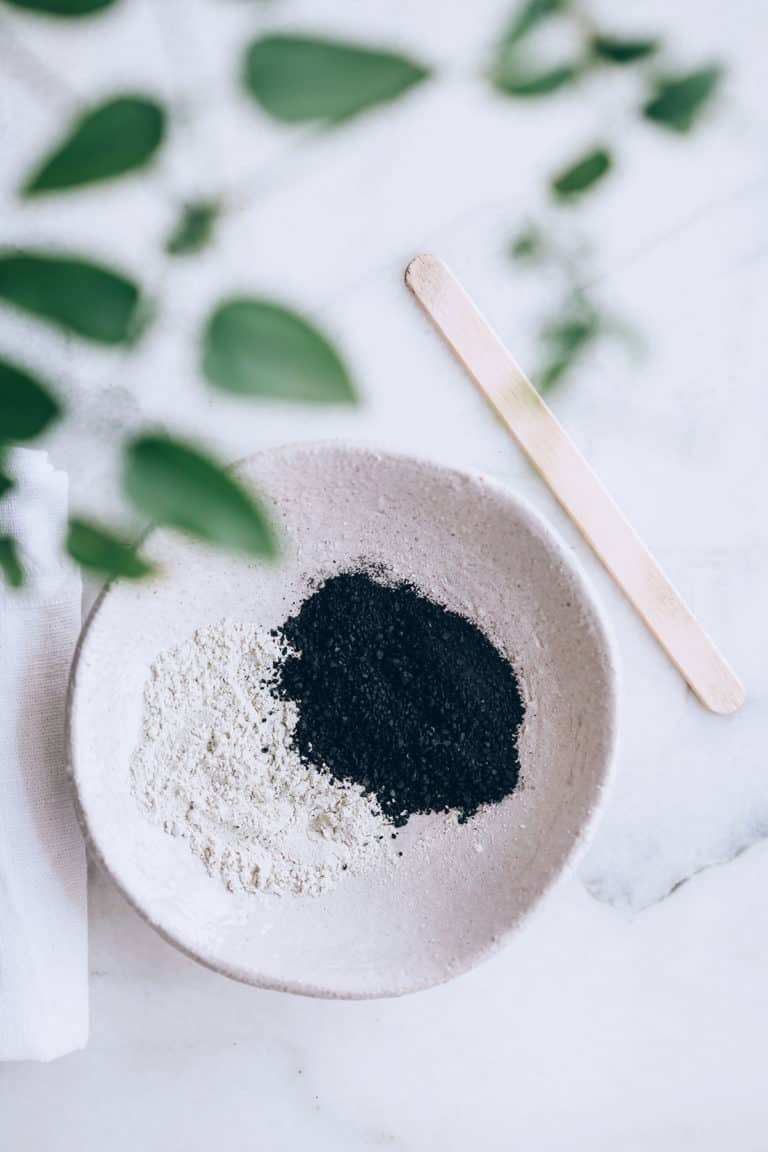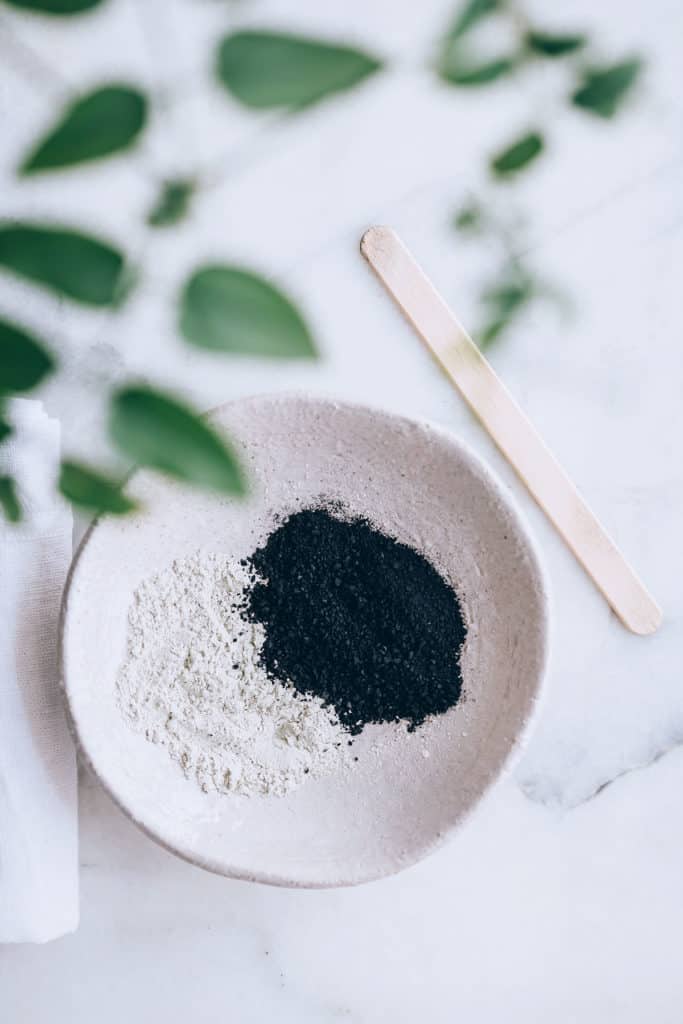 4. Exfoliate Skin
Adding exfoliation more regularly to my skincare routine was one of my biggest beauty lessons. And face scrubs are so easy to make at home!
Just break open a couple of activated charcoal capsules to mix up this face cleanser that lets charcoal work its magic on dead skin and excess oil. It will leave your skin feeling clean and refreshed like you just walked out of a spa.
To use: You'll need equal parts:
—Activated charcoal
—Aloe vera gel
—Witch hazel
—Plus 1 drop of tea tree essential oil
Combine all ingredients in a small bowl and use your fingers to mix together before applying the cleanser to skin. In circular motions, work the charcoal cleanser around your face for 1 minute.
Rinse thoroughly with warm water. Use this cleanser 1-2 times a week for optimal benefits.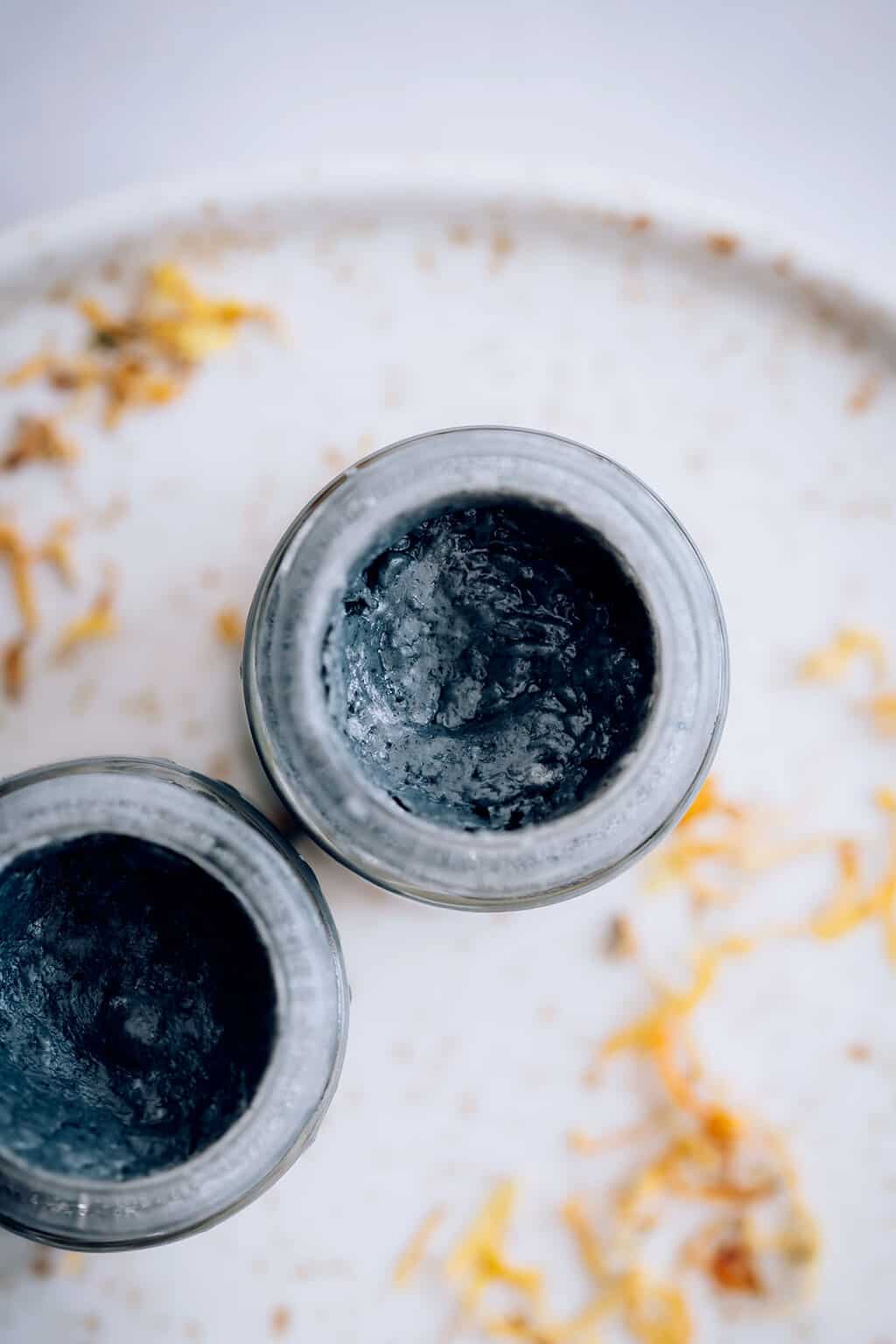 5. Relieve Insect Bites & Stings
While activated charcoal can pull out the dirt from your skin, it can also draw out the itch-causing toxins from mosquito bites and bee stings. Try this black salve recipe and cover with a bandage because it can be a little messy. You can also make a calamine lotion with similar effects—essential oils make it smell lovely!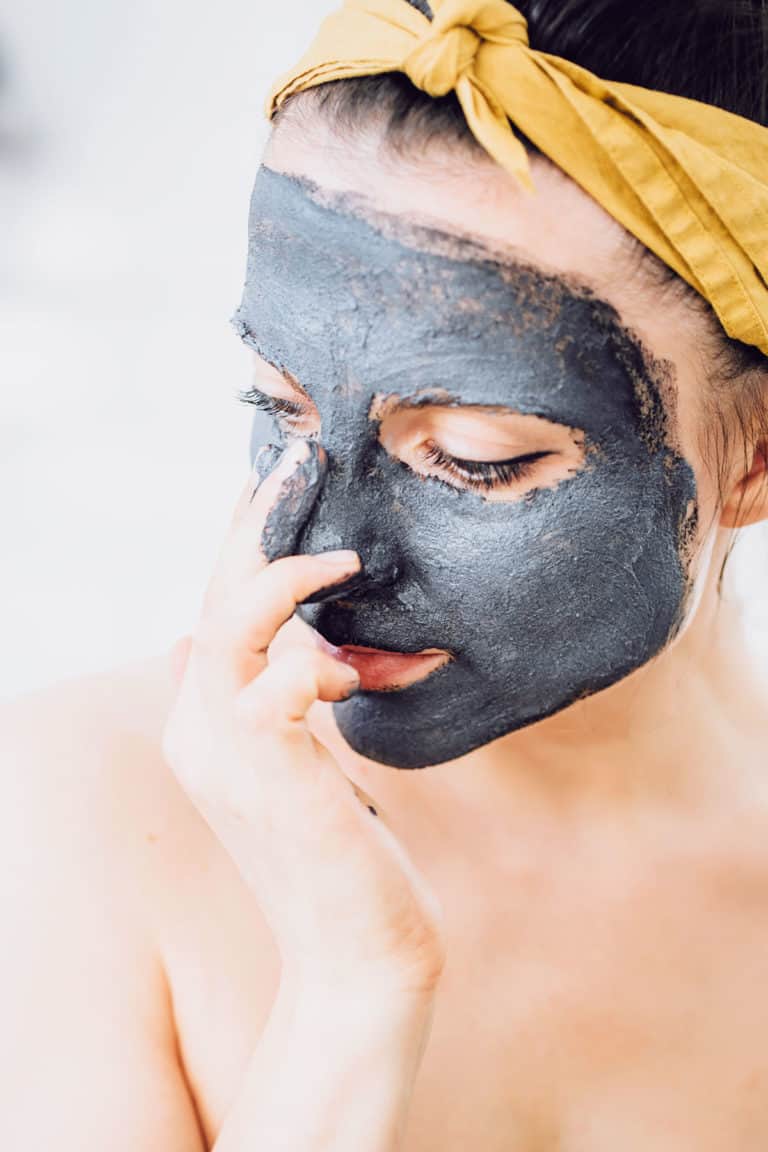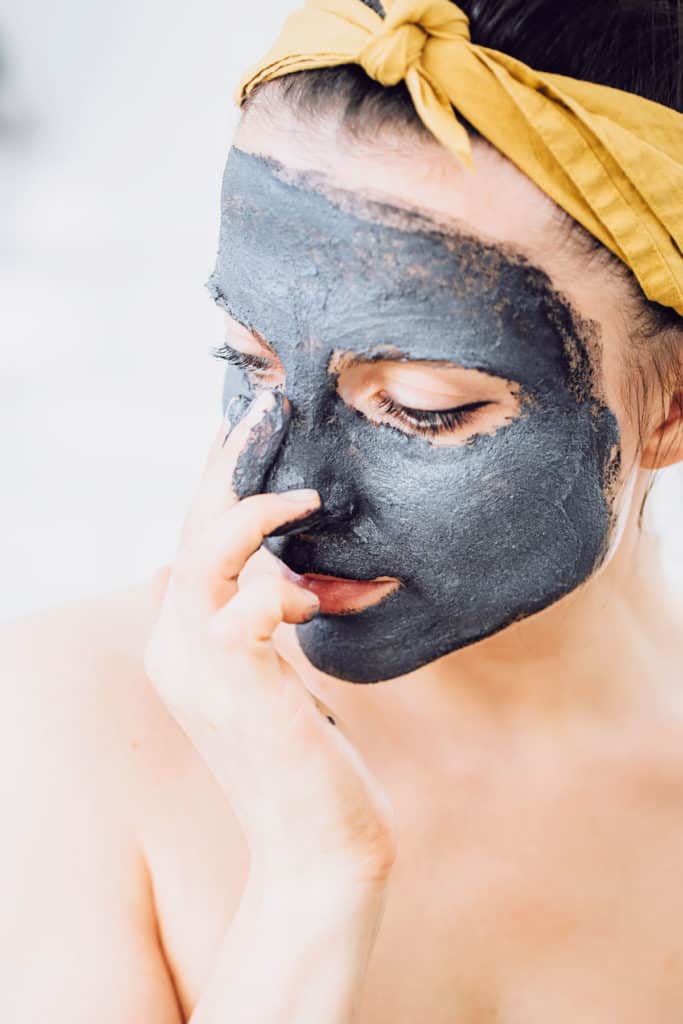 6. Clear Acne
Acne-prone skin will love a homemade activated charcoal face mask. They can be used topically or on the entire face, sucking the toxins out of the skin and helping to get it clearer faster.
A simple face mask with charcoal and clay can absorb excess oil, dead skin cells, and other impurities and help clear out clogged pores. Activated charcoal has bacteria-fighting properties [source], which can aid in preventing pimples. This mask will help calm irritated skin, get rid of topical gunk, and help keep breakouts at bay.
In fact, this is the only type of activated charcoal mask our dermatologist Dr. Jennifer Haley recommends. She cautions against some of the dangerous finds on the internet that contain glue and tear off the precious top layers of delicate skin, sometimes even causing permanent scarring.
To use: Combine a tablespoon each of activated charcoal and bentonite clay. Use apple cider vinegar to make a paste. With clean fingers, spread the paste over your face and let it sit for 15 minutes. Rinse with cool water and apply moisturizer.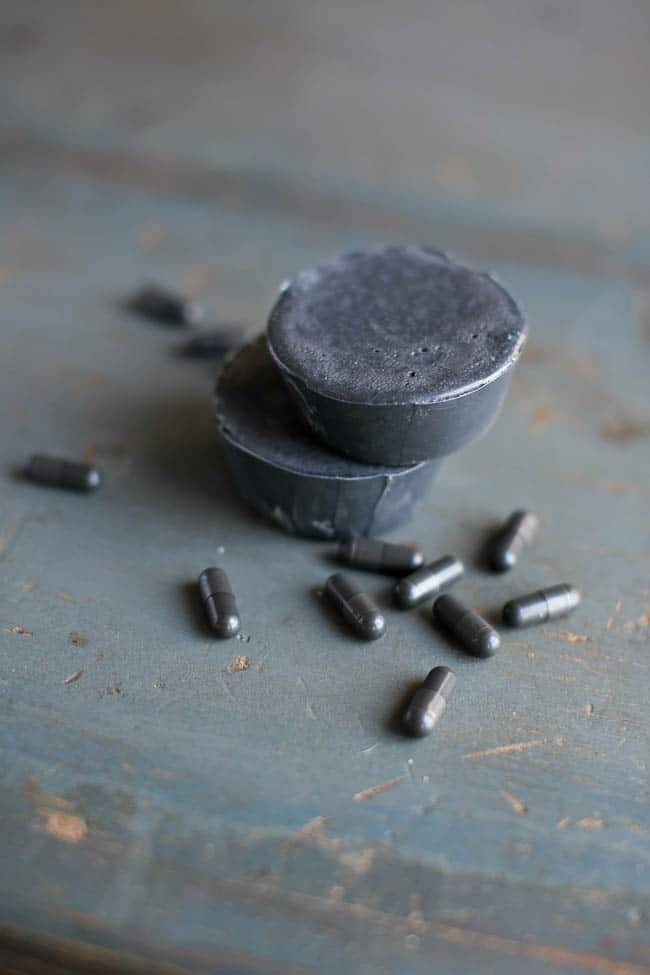 7. Make Detox Soap
Activated charcoal soap can be used on your entire body and even on your face. It's exfoliating, detoxifying, and clarifying, without drying out the skin. Try this soap recipe with tea tree oil, which adds antifungal and antiseptic properties.
8. Make Deodorant
Make your own cream deodorant by mixing 4 tablespoons of coconut oil with a combination of 2 teaspoons activated charcoal powder, ⅓ cup cornstarch or arrowroot powder, and ⅓ cup baking soda. It might be a little messy, but your armpits will thank you.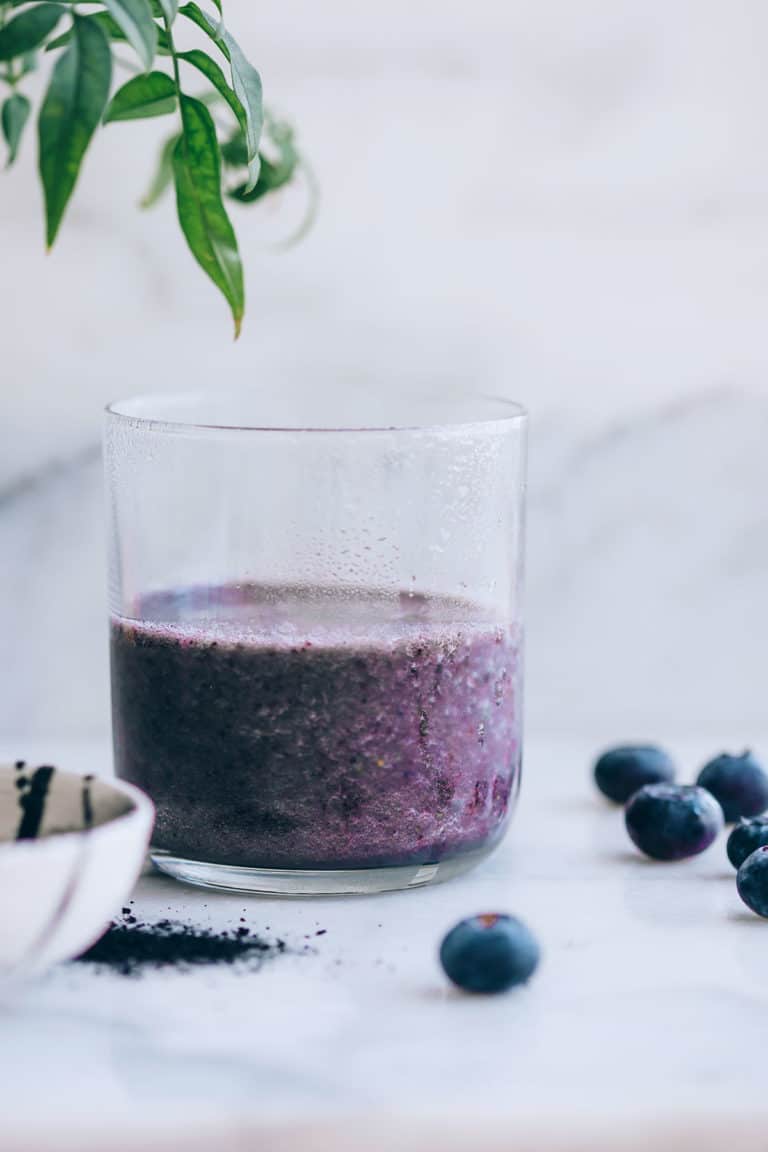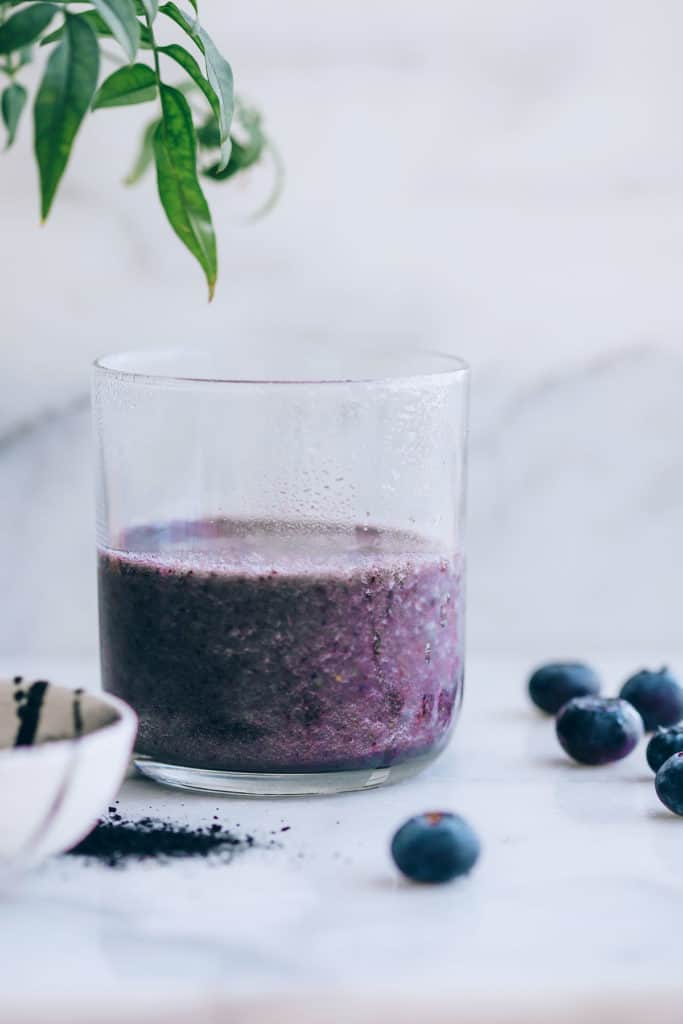 9. Soothe Upset Tummies
You've probably seen this ingredient pop up more and more in juice and smoothie recipes—and for good reason! Charcoal is a well-known remedy for absorbing toxins in the stomach. And it does wonders when it comes to beating bloat and gas.
Activated charcoal does wonders against bloating and gas, as it is an excellent absorbent of toxins from straight inside the stomach. All you have to do is add a couple of capsules to your morning smoothie—try our favorite recipe below with blueberries and spinach. Or try these stomach-soothing gummies.
To use: My go-to smoothie recipe is to combine 1 cup dairy-free milk, 1 cup frozen blueberries, ¼ avocado, and a handful of spinach. Add 1–2 charcoal capsules as needed. It's delicious, and you score skincare benefits as you sip!
Caution: If you take prescription medication, just talk to your doctor to make sure the charcoal doesn't interfere with its absorption. And when taking activated charcoal, remember to drink more water than usual, as it can cause dehydration. Water will also help flush out the toxins easier and faster.
10. Make Mascara
If ancient Egyptians made their own mascara, why don't we? This recipe from Thank Your Body is as easy as mixing activated charcoal with coconut oil, aloe vera, and beeswax, and it will not just darken your lashes but condition them too.
Not in the mood to DIY it? Here are some of our favorite charcoal beauty products:

12 Activated Charcoal Products To Get Now
1. Primally Pure Charcoal Deodorant // If you're still looking for the natural deodorant that works for you, give this one a try! Activated coconut charcoal contains added detoxifying benefits while also deodorizing and disinfecting.
2. Burt's Bees Detoxifying Sheet Mask // This affordable sheet mask is enriched with activated charcoal, which removes impurities and grime, leaving the skin invigorated and healthy.
3. Yes To Tomatoes Detoxifying Charcoal 2-in-1 Scrub & Cleanser Stick // Exfoliate and cleanse in one step with this 2-in-1 stick that's naturally formulated with tomatoes and charcoal.
4. LAVANILA The Healthy Underarm Detox Mask // This all-natural mask gets rid of underarm buildup and impurities, while speeding and easing the switch to natural deodorant.
5. Love Beauty and Planet Delight Detox Charcoal Shampoo // Restore your hair's health and help remove buildup with activated charcoal and bergamot.
6. &Sunny Charcoal Silk CBD Face Mask // Detoxify and brighten dull skin with a charcoal face mask infused with broad-spectrum hemp oil and packed with hyaluronic acid and green tea leaf extract.
7. hello Activated Charcoal Mouthwash // This fluoride and alcohol-free mouthwash is formulated with activated charcoal from sustainable bamboo, natural mint, coconut oil, tea tree oil, and xylitol to freshen and whiten.
8. BARBER PRO Charcoal Undereye Mask // Activated charcoal and volcanic ash target fine lines, wrinkles and dark circles in these undereye gels.
9. PureHeals Pore Clear Black Charcoal // Oily, combination, and acne-prone skin will benefit from this purifying, deep-cleansing peel-off pack with charcoal.
10. Eminence Organic Skin Care Balancing Masque Duo // Purify your T-zone with charcoal, and hydrate your cheeks with pomelo—this multitasking 2-in-1 mask makes it so much easier!
11. Edens Garden Charcoal Natural Bar Soap // Gently draw out impurities with a clarifying, detoxifying soap bar. Enriched with coconut oil and lavender oil, it smells lovely and restores skin's natural luster.
12. BOSCIA Charcoal Spot Corrector // This activated charcoal-based spot treatment keeps unwanted blemishes, acne, and redness at bay while effectively removing impurities.
This article was medically reviewed by Dr. Gina Jansheski, a licensed, board-certified physician who has been practicing for more than 20 years. Learn more about Hello Glow's medical reviewers here. As always, this is not personal medical advice and we recommend that you talk with your doctor.
186