We all know we're going to overdo it on Thanksgiving. It is a special occasion, after all. But there's no reason at least some of the meal can't be healthier, whether that means adding some nutritious veggies or lightening them up a bit. Here are 101 of our favorite healthy Thanksgiving sides (and healthy Thanksgiving desserts—who knew?) to try this year.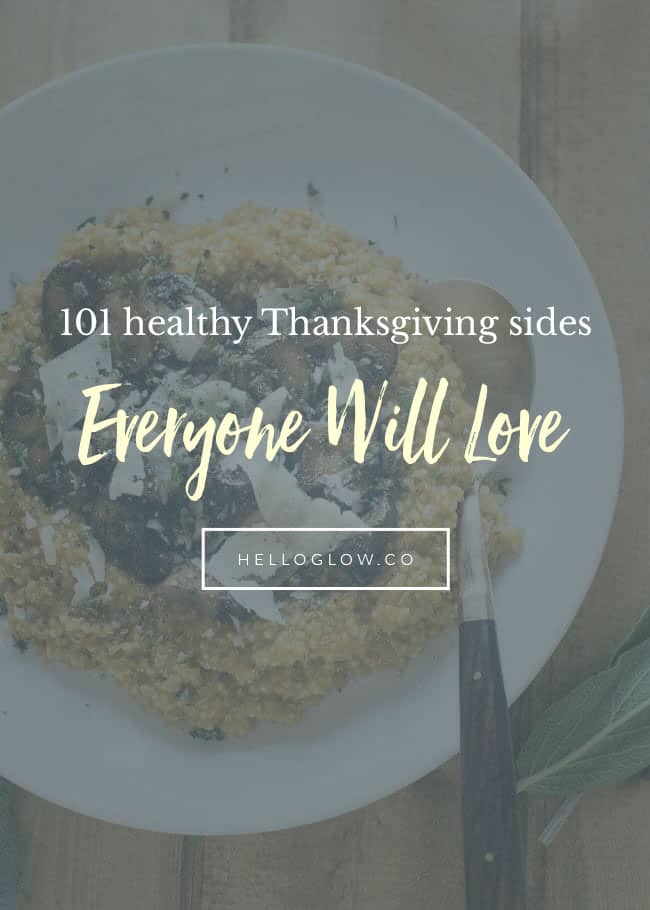 Many of these recipes are vegetarian, vegan and/or gluten-free. Just consult the handy little icons next to each one (and make sure to confirm whether it meets your dietary needs once you click through).
Casseroles, Bakes + Gratins
1. This Apple Butternut Squash and Leek Gratin from Kitchen Treaty has everything delicious for fall in one dish.
2. Creamy Quinoa and Broccoli Casserole Casserole With Crunchy Walnut Breadcrumbs from The Pretty Bee tastes indulgent, but it's packed with nutritious quinoa, broccoli and almond milk. Plus, it's vegan and gluten free!
3. Squash and goat cheese put a unique twist on this Potato Squash Goat Cheese Gratin from The Kitchn.
4. Get all the healthy qualities of cauliflower in gratin form with Cookie Monster Cooking's Cauliflower Gratin.
5. Pasta might not be traditional Thanksgiving fare, but we'll make an exception for Kitchen Treaty's One-Pot Creamy Pumpkin Pasta, full of beta carotene.
6. Mac and cheese at Thanksgiving is totally allowed, and what better way to do it than this Butternut Squash Mac and Cheese from Two Peas and Their Pod?
7. Maple Butternut Squash and Apple Casserole from Oh She Glows is a slightly sweet take on a traditional fall casserole, with curry and pumpkin seeds.
8. Okay, so there's butter, cream and cheese in this Brussels Sprout Potato Gratin from Cafe Johnsonia—but Brussels sprouts have fiber, protein, vitamin C and minerals, so it's all good, right?
9. If French-fried onions aren't your thing, this low-carb Paleo Green Bean Casserole from Holistically Engineered just might do the trick.
10. Healthy potatoes? Yep. This Healthy Potato Gratin with Herbs recipe from Food & Wine tastes creamy without the dairy.
Grains
11. This hearty baked farro risotto from 101 Cookbooks harnesses the earthy flavor and the nuttiness of farro.
12. Barley is a satisfying fall dish—make this Pearled Barley Salad with Apples, Pomegranate Seeds and Pine Nuts from Food & Wine for a subtly sweet side.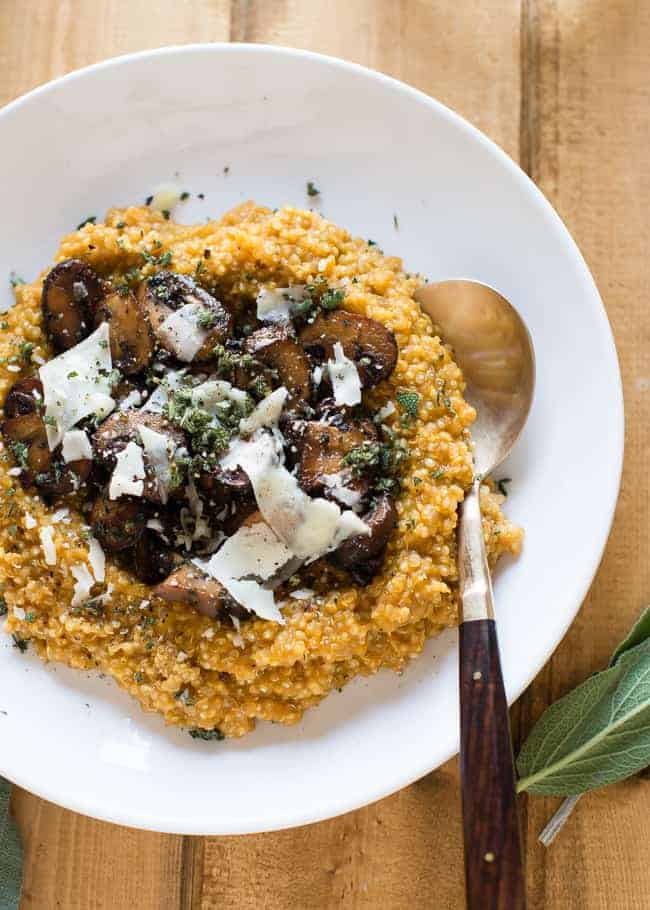 13. Quinoa makes a great easy-to-put together risotto, and this Creamy Pumpkin Quinoa Risotto from Hello Glow features vitamin A-rich pumpkin and savory mushrooms.
14. Grains replace the bread in this Herbed Wild Rice and Quinoa Stuffing from Kitchen Treaty.
15. Dried cranberries and pepitas add texture to Two Peas and Their Pod's Quinoa Salad with Butternut Squash.
16. Black and Orange Forbidden Rice with Acorn Squash and Pecans from A Spicy Perspective is a perfect holiday pilaf—and it can be made vegan.
17. Orzo makes a perfect bed for this Roasted Butternut Squash Salad from Two Peas and Their Pod.
Salads + Veggie Sides
18. Acorn Squash Stuffed with Everything Good from Hello Veggie is a pretty (and vegetarian) addition to your table.
19. Roasted Fall Salad from Beard & Bonnet is striking and packed with antioxidants.
20. Company Corn from Cookie Monster Cooking is creamy without being too filling or heavy.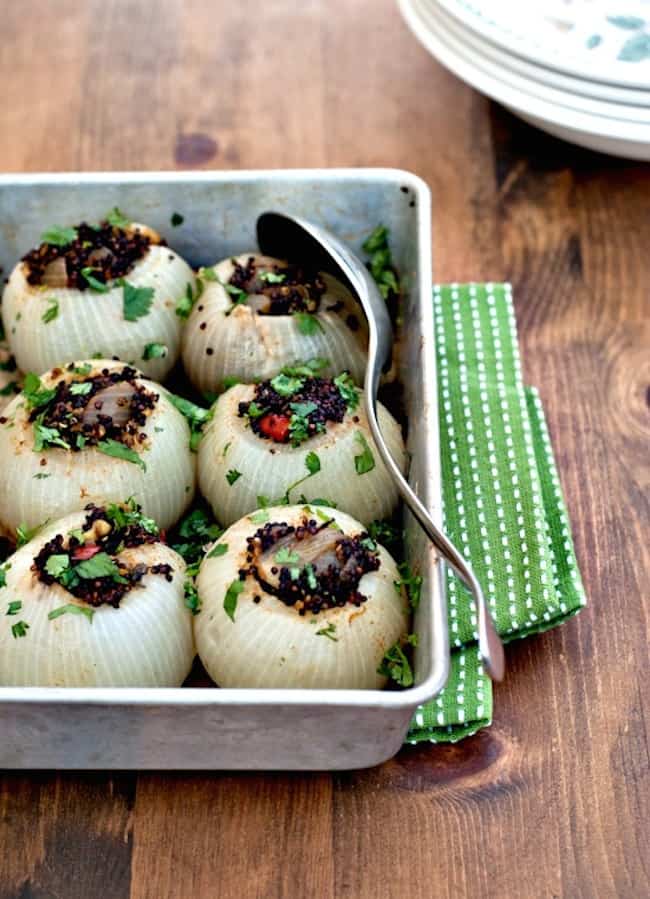 21. Roasted Onions Stuffed with Curried Black Quinoa is perfect as a tasty, earthy side, or serve it as a vegan main dish!
22. Feta and pepitas spice up this Sweet Potato Pomegranate Salad from Two Peas and Their Pod.
23. Peanuts add a nice crunch to these Honey-Roasted Brussels Sprouts from Cookie Monster Cooking.
24. Vegan Creamed Kale from Food to Glow (made using cashew cream) is a non-dairy, healthy spin on creamed spinach.
25. Roasted Carrot and Parnsip Salad with White Truffle Oil from Beard & Bonnet is totally healthy, but tastes tremendously indulgent takes to the truffle.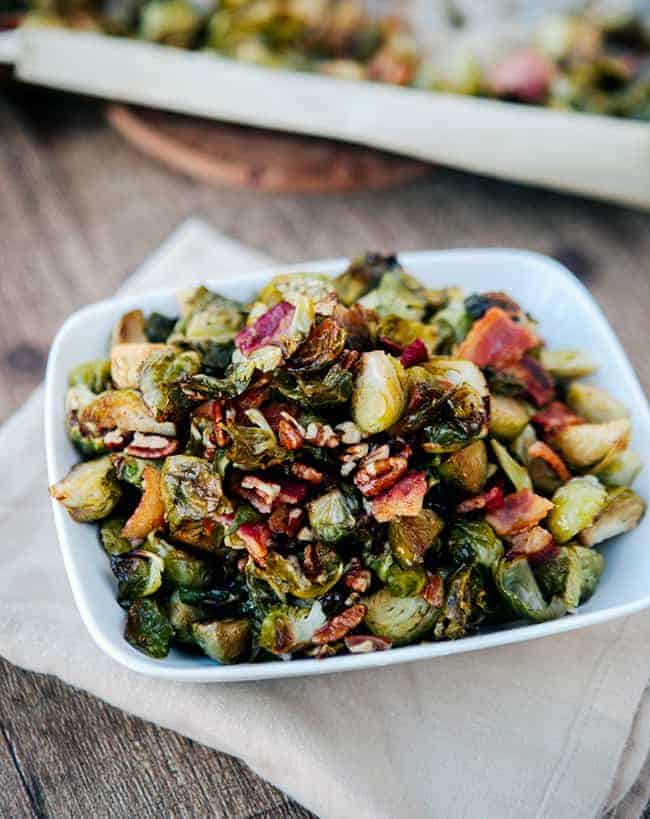 26. Roasted Maple Bacon Brussels Sprouts from Hello Glow will make a Brussels sprouts-lover out of even the pickiest eaters. (Bacon!)
27. Lentil Mushroom Walnut Balls from Oh She Glows could serve as a healthy side dish, or even upgrade them to vegan main dish status.
28. Think outside the box with this Apple, Fennel, Celery and Toasted Walnut Salad from Beard & Bonnet.
29. Cilantro adds an unexpected twist to this Roasted Sweet Potato Salad from Cookie Monster Cooking.
30. These Apple Cider-Glazed Sweet Potatoes from Connoisseurus Veg can be made in advance making them perfect for Thanksgiving.
31. Make your kitchen smell amazing with these Roasted Fingerling Potatoes and Brussels Sprouts with Rosemary and Garlic from Oh She Glows.
32. Is there anything simpler (and prettier) than Roasted Carrots? Serve this recipe from Hello Glow for a little break from all the rich comfort foods on the table.
33. Forget the bland blanched beans and make Sauteed Green Beans with Smoky Shallots from Kitchen Treaty instead.
34. Fancy up beets with this Roasted Beets with Balsamic Glaze recipe from Back to Her Roots.
35. Fancy them up even more with this recipe for Marinated Orange & Saffron Root Vegetables from Yummy Beet.
36. Shaved Brussels Sprouts with Gorgonzola from Hello Glow is a walnut- and cranberry-laced, slightly sweet veggie side dish alternative.
37. If you can't get enough of Brussels sprouts, try this Shaved Brussels Sprout Salad from Love & Olive Oil; it's mixed with crunchy apples and topped with pecorino.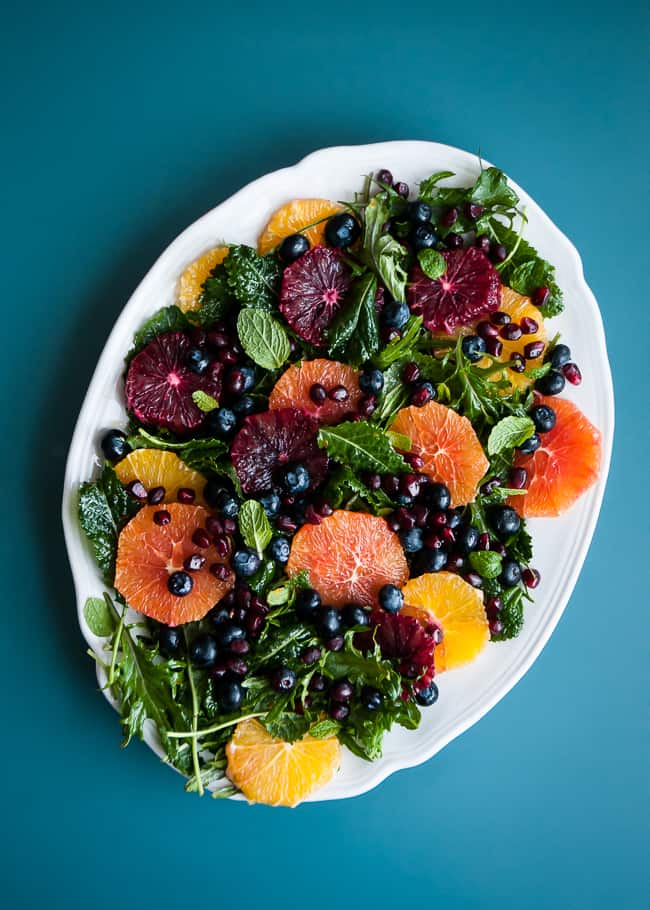 38. Pack all your favorite colorful, healthy fall and winter fruits into this antioxidant-rich Raw Baby Kale Salad with Oranges, Blueberries and Pomegranate Seeds from Hello Glow. Your guests' tastebuds and immune systems will thank you.
39. Potato, Kale and White Bean Hash from Beard & Bonnet packs plenty of protein and vitamins.
40. Mustardy Kale and Butternut Squash from Cookie Monster Cooking is super nutritious, with just the right amount of spicy mustard and saltiness.
41. Spinach Salad with Cranberry Vinaigrette from Cookie Monster Cooking is a nice, light starter with a pretty-colored dressing.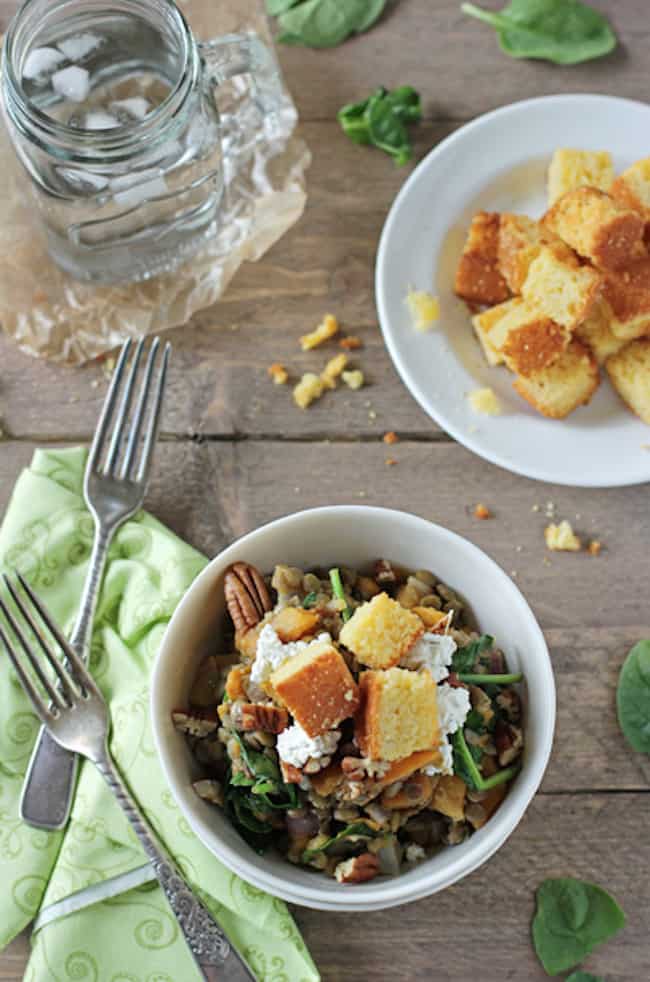 42. Satisfying cornbread croutons and crunchy pecans top this Fall Lentil Salad with Butternut Squash and Goat Cheese from Cookie Monster Cooking.
43. Incorporate some global flavor into Thanksgiving with this Roasted Red Curry Potato Stack Salad from Beard & Bonnet.
44. Beard & Bonnet's Green Beans with Red Onion, Pistachios and Herbs are a nice change of pace from plain old green beans.
45. Fennel and Maple Roasted Carrots from Food to Glow are a sweet, simple, veggie-centric side.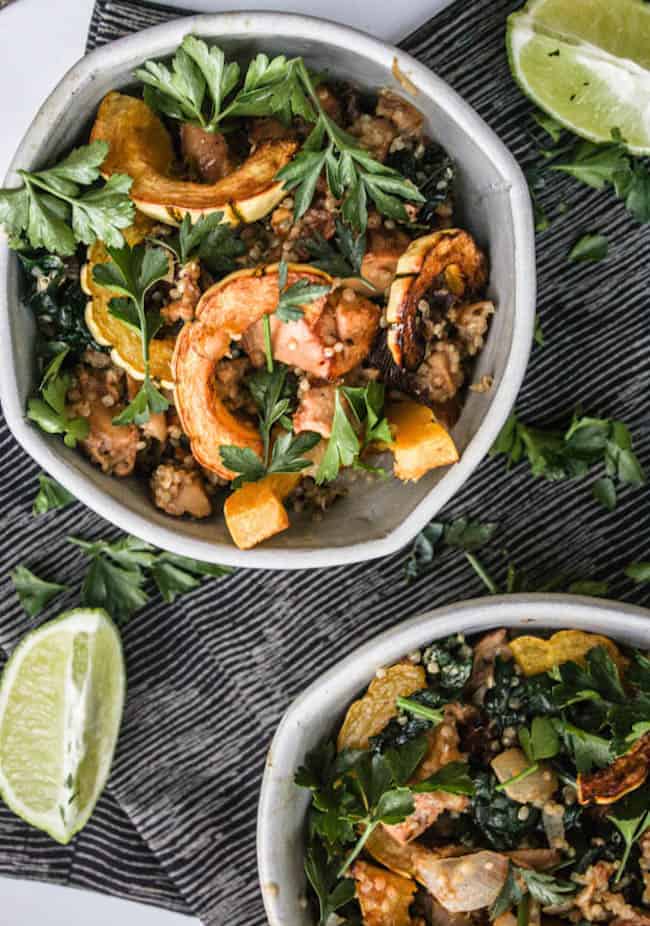 46. Dishing Up the Dirt's Chanterelle Mushroom and Kale Salad with Lime-Tahini Sauce is hearty without being heavy.
47. Golden beets and pomegranate seeds make this delicate Fall Frisee Salad from Cafe Johnsonia healthy and beautiful.
48. Have you been looking for a way to use phytonutrient-rich persimmons? Sauteed Green Beans and Persimmons from Love & Olive Oil are a great place to start!
Mashes
50. Mashed Potatoes with Kale from Marin Mama Cooks packs tons of dark, leafy greens into what's normally a decadent side dish.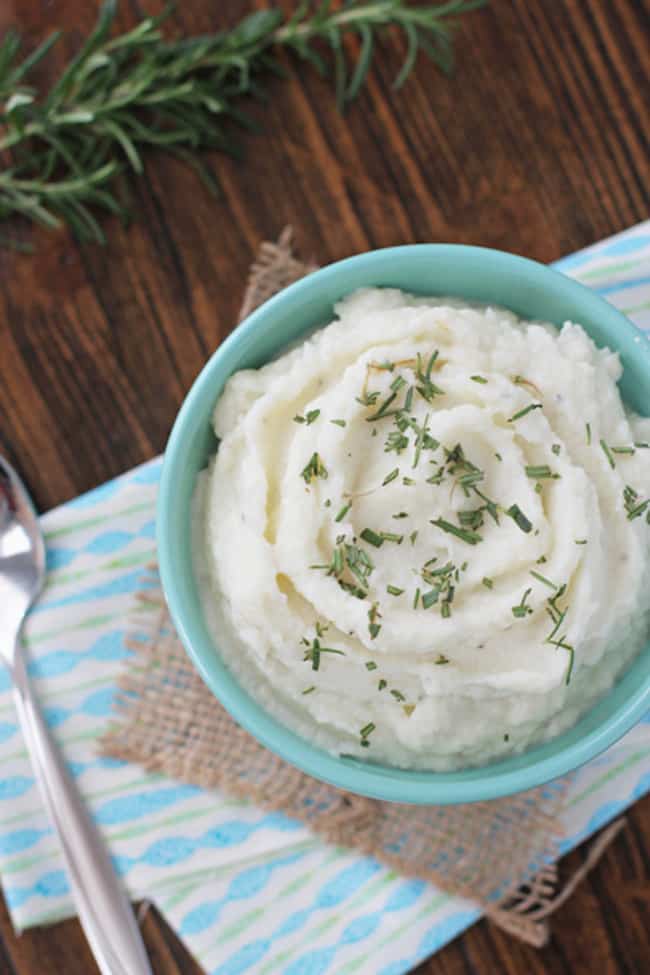 51. Who needs potatoes when you've got this Creamy Mashed Cauliflower recipe from Cookie Monster Cooking?
52. Turnip-Cauliflower Mash from Holistically Engineered is about as healthy as you can get for a mashed potato substitute.
53. Add some depth (and protein) to a classic dish with Gimme Some Oven's Hummus Mashed Potatoes. [
54. These Kale and Goat Cheese Mashed Sweet Potatoes from Veggie Belly could not be easier! The goat cheese adds a nice savory spin.
55. Rutabagas are super nutritious and this Mashed Rutabaga & Squash With Roasted Garlic from A Calculated Whisk is a simple, vegan, gluten-free alternative to mashed potatoes.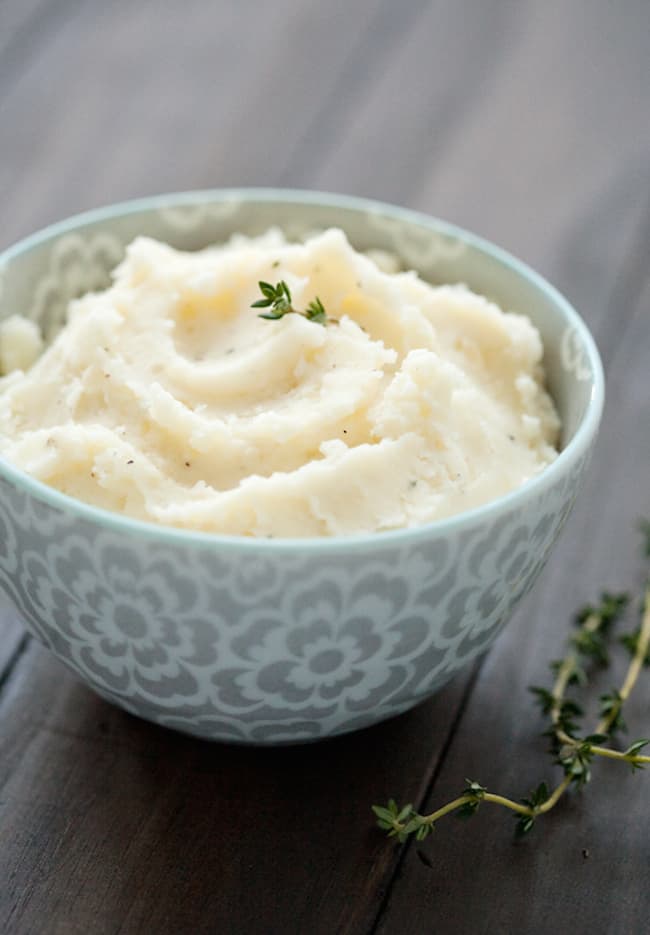 56. Goat cheese takes the place of some of the cream in these Herb & Goat Cheese Mashed Potatoes from Love & Olive Oil.
57. This slightly sweet Rutabaga & Apple Mash from Martha Stewart is a nice change of pace from potatoes. (We like to replace the cream with veggie broth to lighten it up.)
58. Roasted Garlic Mashed Turnips from Grass Fed Kitchen are quite possibly even better than mashed potatoes. And much healthier.
59. The Kitchn's Creamy Smoky Whipped Rutabaga is a yummy take on whipped vegetables—it doesn't even really need the cream cheese that's called for, by the way.
60. Pack even more pumpkin into your Thanksgiving with this Cauliflower and Pumpkin Mash from Vanilla & Spice.
Cranberries, Gravy + Condiments
61. Vegan Garam Masala Brown Gravy from Kitchen Treaty is an amazing topping for mashed potatoes.
62. Segue right into happy hour with this cognac-laced Boozy Cranberry Sauce from Livin' the Pie Life.
63. Red wine is the secret ingredient in these Raspberry Red Wine Cranberry Sauce from Kitchen Treaty.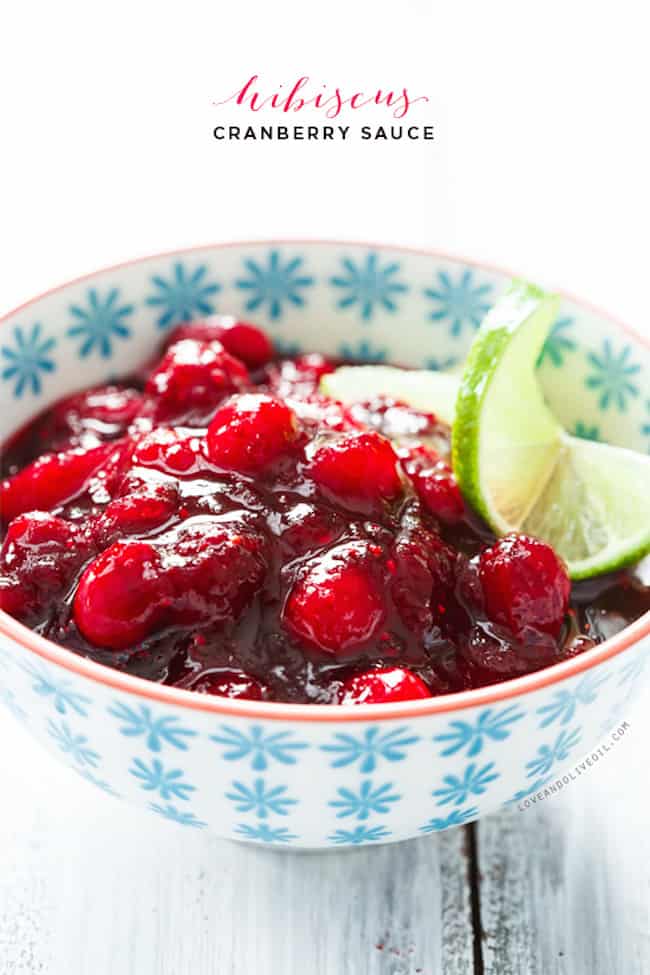 64. Hibiscus flowers and lime add a sublime floral and citrus taste to this Hibiscus Cranberry Sauce from Love & Olive Oil.
65. Easy Vegetarian Onion Gravy from Kitchen Treaty is the perfect earthy, savory accompaniment to mashed potatoes, turkey…or just about anything else on your plate.
66. This Raspberry-Balsamic Cranberry Sauce from Sweet Peas & Saffron is sweet, but not too sweet. Perfect for serving atop the turkey on your plate.
Breads
67. This Crisp Rosemary Flatbread from Epicurious is a nice alternative to rolls, and can be made two days ahead of time.
68. Pumpkin Sage Biscuits from Sweet Peas & Saffron are made with Greek yogurt to lighten them up a bit.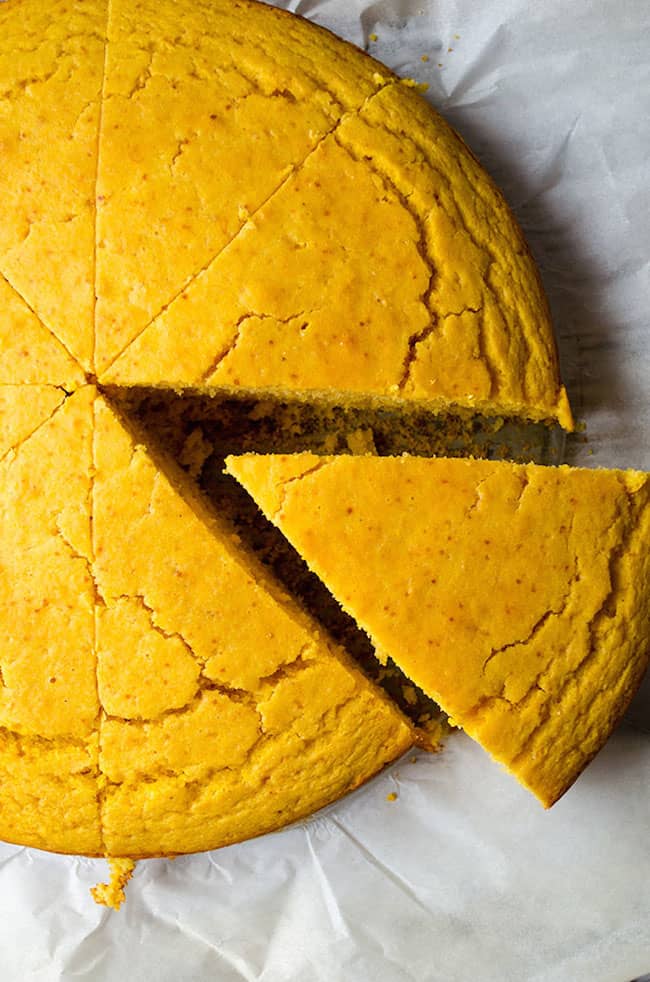 69. You know you want to indulge in some cornbread, so might as well pack some vitamin A into it with this Pumpkin Cornbread recipe from Give Recipe
70. If you're cutting out grains, these Paleo Dinner Rolls from Paleo Spirit will do the trick.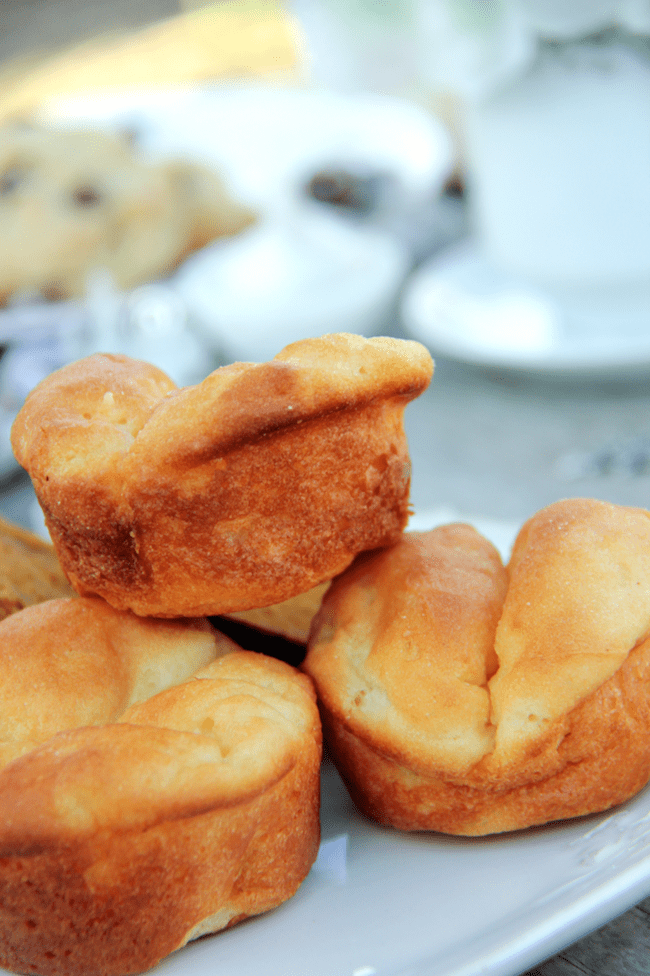 71. Hello Gluten Free's Gluten-Free Dinner Rolls are so good, your non-gluten-free guests won't even be able to tell the difference.
72. Quinoa Cornbread from Fit Foodie Finds uses healthy quinoa, Greek yogurt and almond milk.
Stuffing
73. This Apple Chestnut Cornbread Stuffing from May I Have That Recipe is packed with good-for-you ingredients like apples, celery and flax meal.
74. If classic, make-ahead and easy are your go-to Thanksgiving keywords, try this simple, traditional Bread Stuffing recipe from The Kitchn.
75. Traditional Thanksgiving Stuffing from Cookie Monster Cooking goes light on the butter, but big on veggies and flavor.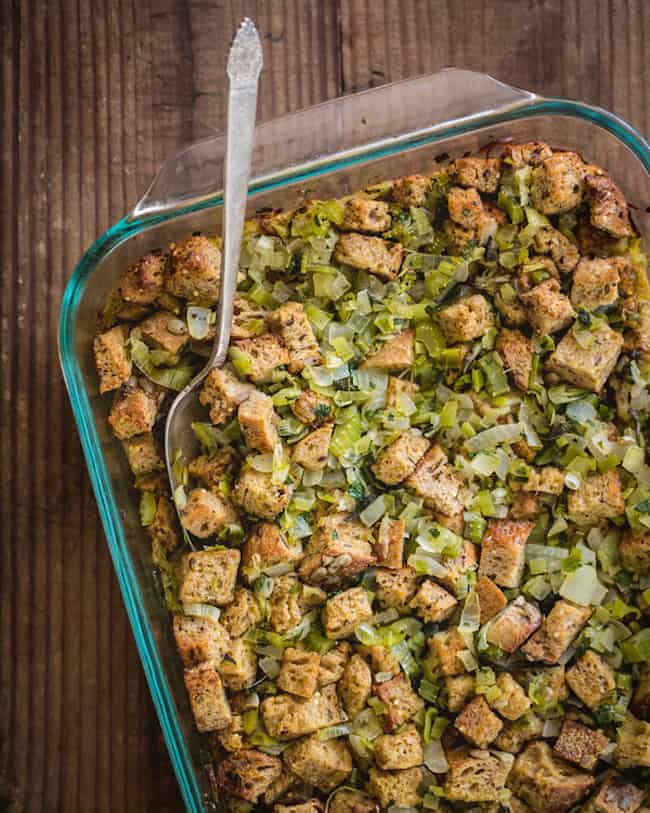 76. Whole Grain Classic Stuffing from A Couple Cooks is for people who love traditional stuffing, but just want a slightly healthier version. This one uses whole wheat bread and just a little olive oil instead of butter.
77. Pack some veggies into your stuffing with Rikki Snyder's French Bread Stuffing with Swiss Chard and Caramelized Red Onions.
78. Rosemary Whole Wheat Stuffing with Figs and Hazelnuts from Vegetarian Times adds some vegan, Mediterranean flavor to your Thanksgiving spread.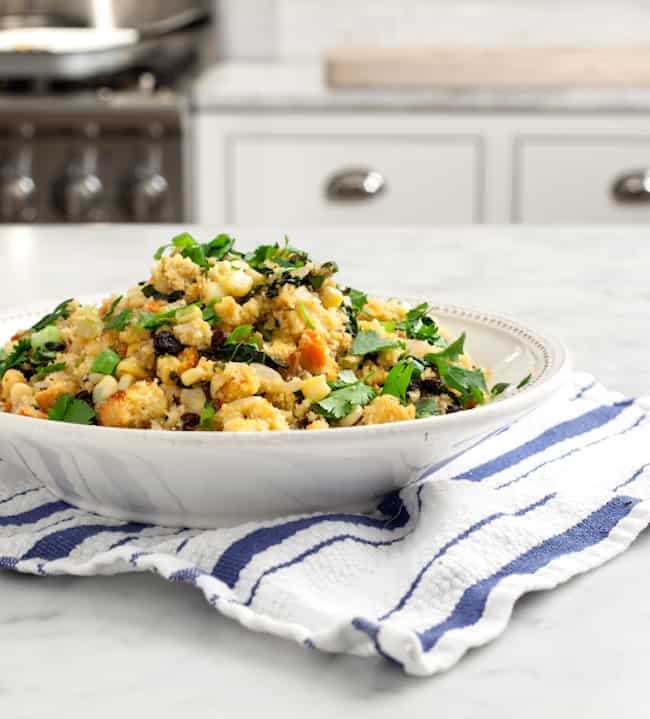 79. Spice things up with Love and Lemons' Poblano Cornbread Stuffing.
80. Butternut Squash and Kale Quinoa Stuffing from Good Life Eats leaves the bread out altogether, and is packed with healthy walnuts, celery and greens.
81. Tempeh Sausage and Kale Stuffing from Connoisseurus Veg will be a hit with everyone at the table—even the ones who eat meat!
82. Caramelized onions seem to be a theme in the stuffing world! Kitchen Treaty's Vegetarian Caramelized Onion & Chanterelle Mushroom Stuffing also sounds amazing.
83. You could make a meal out of Cafe Johnsonia's Gluten-Free Cornbread Sausage Stuffing with Leeks, Pecans and Cranberries; make sure to save room for turkey.
Desserts
84. Desserts With Benefits' Vegan Maple Pecan Pie is made with coconut oil and tofu. You can easily make it gluten free, too.
85. Wishful Chef's Healthy Mini-Pumpkin Pies are so cute! And pre-portioned, which is always helpful this time of year.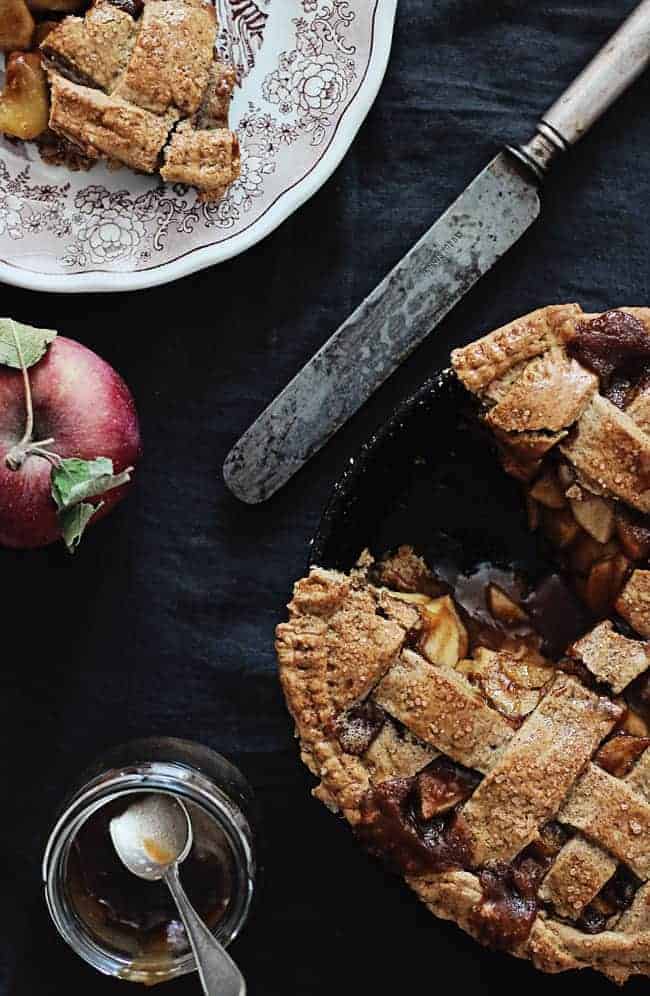 86. This Guilt-Free, Gluten-Free Apple Pie (with caramel sauce!) from Hello Glow will be the star of any Thanksgiving diner.
87. Lauren Conrad's Autumn Apple No-Bake Chocolate Tart couldn't be any easier—and it's sweetened with dates!
88. Gluten-Free Pumpkin Bars with Crumble Topping from Fit Foodie Finds will fill the pumpkin pie void, no problem!
89. Gen Y Foodie's Apple Cranberry Slab Pie is a lower-carb, lower-fat, non-dairy alternative to apple pie.
90. Coconut cream, honey and maple syrup make this Chewy Pecan Pie Brittle from PaleOMG a sweet replacement for pecan pie.
91. Who needs cheesecake when there's PopSugar's recipe for Light Pumpkin Cheesecake Mousse?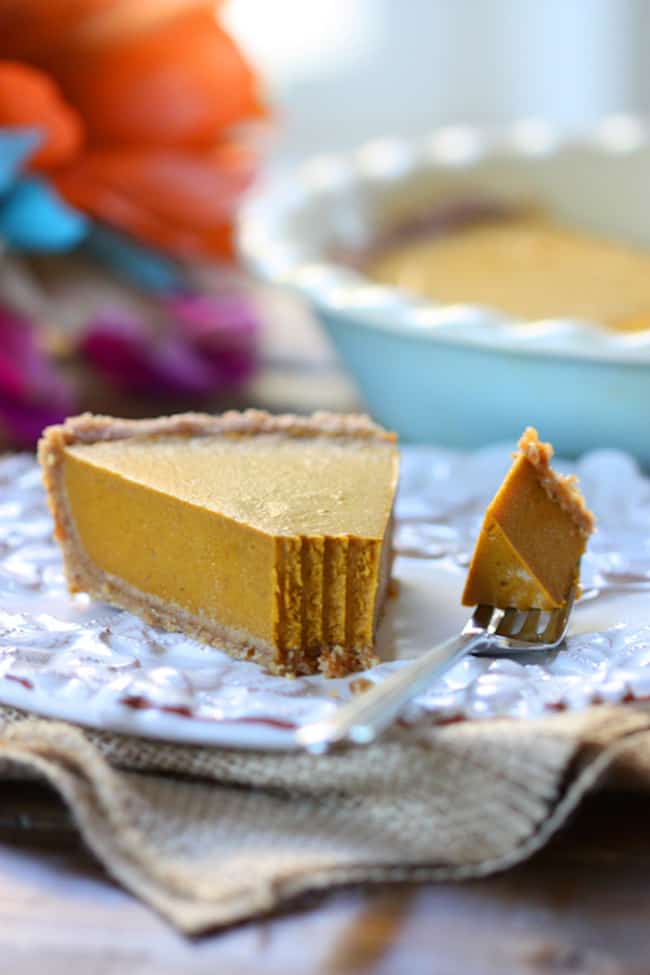 92. This Vegan Pumpkin Pie from The Spunky Coconut is not only dairy- and egg-free, it's gluten free and grain free!
93. Jessica Alba swears by this gluten-free, dairy-free Apple Banana Bread Pudding that's made even more decadent with vanilla coconut milk and chocolate chips.
94. Ginger beer is the secret ingredient in this Gluten-Free Pumpkin Loaf, topped with uber-healthy pepitas.
95. Gluten-Free Butternut Squash and Apple Crumble with Whipped Coconut Cream from Hello Glow is easily made vegan.
96. These Soft Pumpkin Cookies from Lauren Conrad can be made ahead, and they're ready in 20 minutes!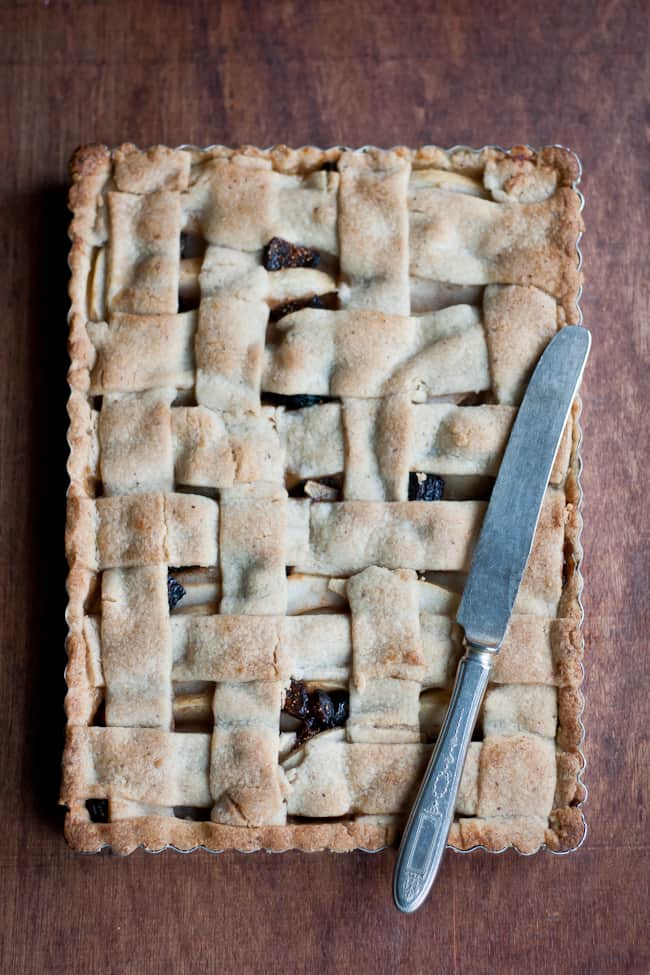 97. Hello Glow's Pear and Dried Fig Tart is an unexpected twist on a holiday dessert.
98. Spiced Carrot Mini-Bundt Cakes from Everyday Maven are cute, packed with beta carotene, and are already portion-controlled.
99. If you're trying to minimize dairy and/or gluten, these Pumpkin Coconut Milk Puddings from Simple Roots Wellness are the way to go.
100. Baked Pears with Walnuts and Honey from Skinny Taste are full of fiber, plus walnuts' beauty-boosting nutrients.
101. Coconut Cranberry Greek Yogurt Parfaits from Hello Glow are a great way to get some antioxidants and protein into your dessert.
4