You wouldn't think that one of the most versatile natural beauty ingredients would be found in your kitchen cupboard. But for about $1 a box, there are baking soda beauty uses for just about every part of the body, literally from head to toe. It can work its cleansing magic on hair, face, and feet.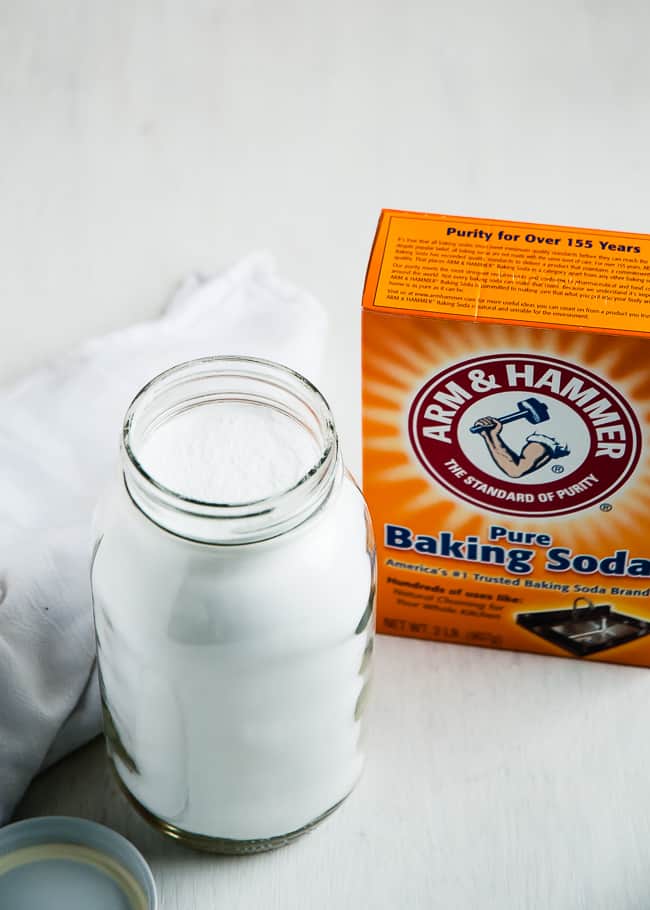 Baking soda, also known as sodium bicarbonate, is a fast-acting acid neutralizer. Coming in at a pH of 9, its mild alkalinity helps quickly neutralize itching and skin inflammation. A versatile household cleanser, baking soda also breaks up buildup, neutralizes odors, and gently cleanses and whitens—for your skin!
I keep a box sitting beside my bathroom sink to gently exfoliate my face. But that little box does a whole lot more.
Here are 15 of our favorite beauty uses for baking soda:
Jump to:
1
.
Clarifying Shampoo
In your palm, combine a quarter-sized amount of baking soda with a dollop of shampoo. Shampoo as you would normally, massaging the mixture onto your hair from roots to ends.
Give your scalp extra time and attention, and let the mixture sit 5 minutes before washing out. The baking soda helps remove any residue that styling products leave behind, so your hair is cleaner and more manageable.
2
.
Easy Two-Ingredient Body Scrub
Make a paste of 3 parts baking soda to 1 part water or oil. Rub in circular motions over your skin, starting at the feet and working your way up to exfoliate and remove dead skin cells.
3. Yellow Nail Scrub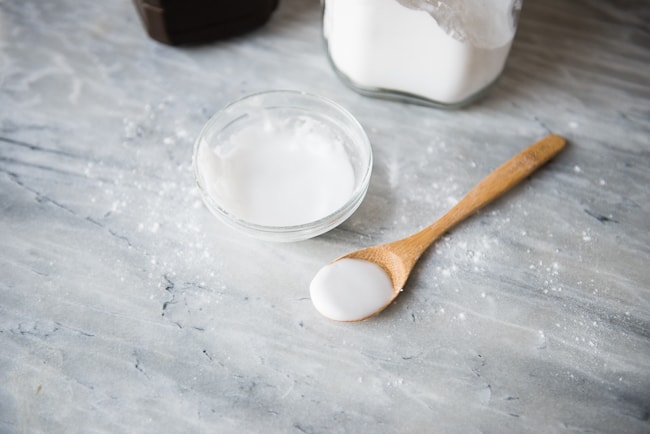 If your nails are yellow or discolored, make a paste of hydrogen peroxide and baking soda. Dip a nail brush into the baking soda mixture, and scrub your nails and cuticles. Rinse with warm water.
4
.
Natural Deodorant
Baking soda neutralizes acids and bases, which is how it deodorizes by removing odors instead of just covering them up. So dust some baking soda under your arms, or combine it with coconut oil and use as needed to stay fresh.
5. Skin-Softening Bath Soak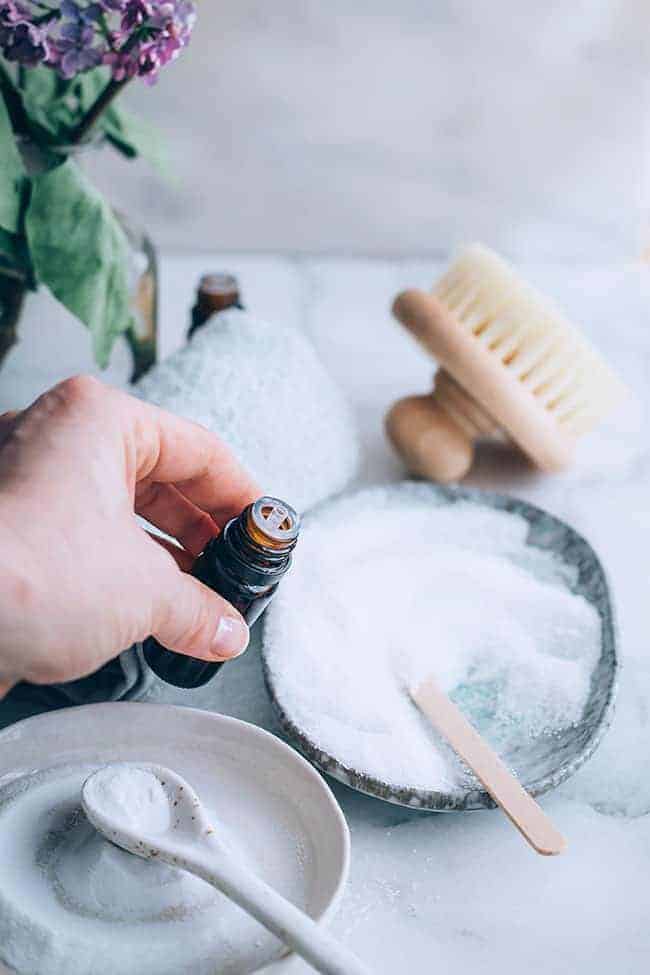 Both soothing and detoxifying for your skin, baking soda is a simple ingredient to add to your next bath after a hard workout or a long day. Add ½ cup to your bath to soften the water and help wash away oil and perspiration.
It can also provide relief to tots with tender tushies. Get creative with a fun bath bomb using baking soda.
6
.
Deodorizing Foot Soak and Scrub
Add baking soda to a basin of warm water for a soothing foot soak that also deodorizes. Apple cider vinegar [source] and baking soda [source] act to inhibit the odor-causing bacteria that lead to stinky feet.
—½ cup apple cider vinegar
—¼ cup baking soda
Add the ingredients to a basin filled with warm water and soak your feet for 10 minutes. After soaking, make a foot scrub with 3 parts baking soda to 1 part water. Add ground coffee if you've been wearing flip flops all summer!
7. Toothpaste and Whitener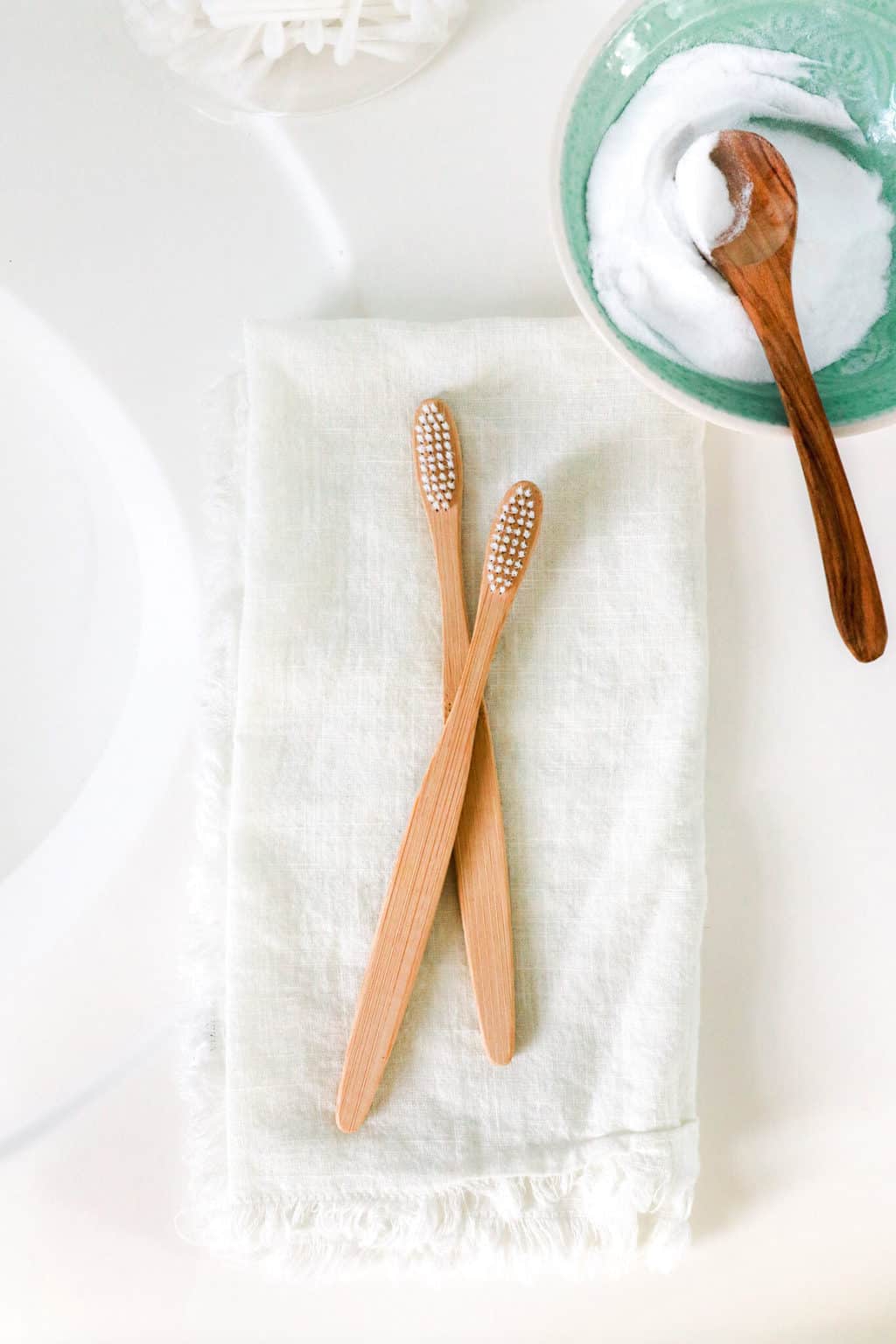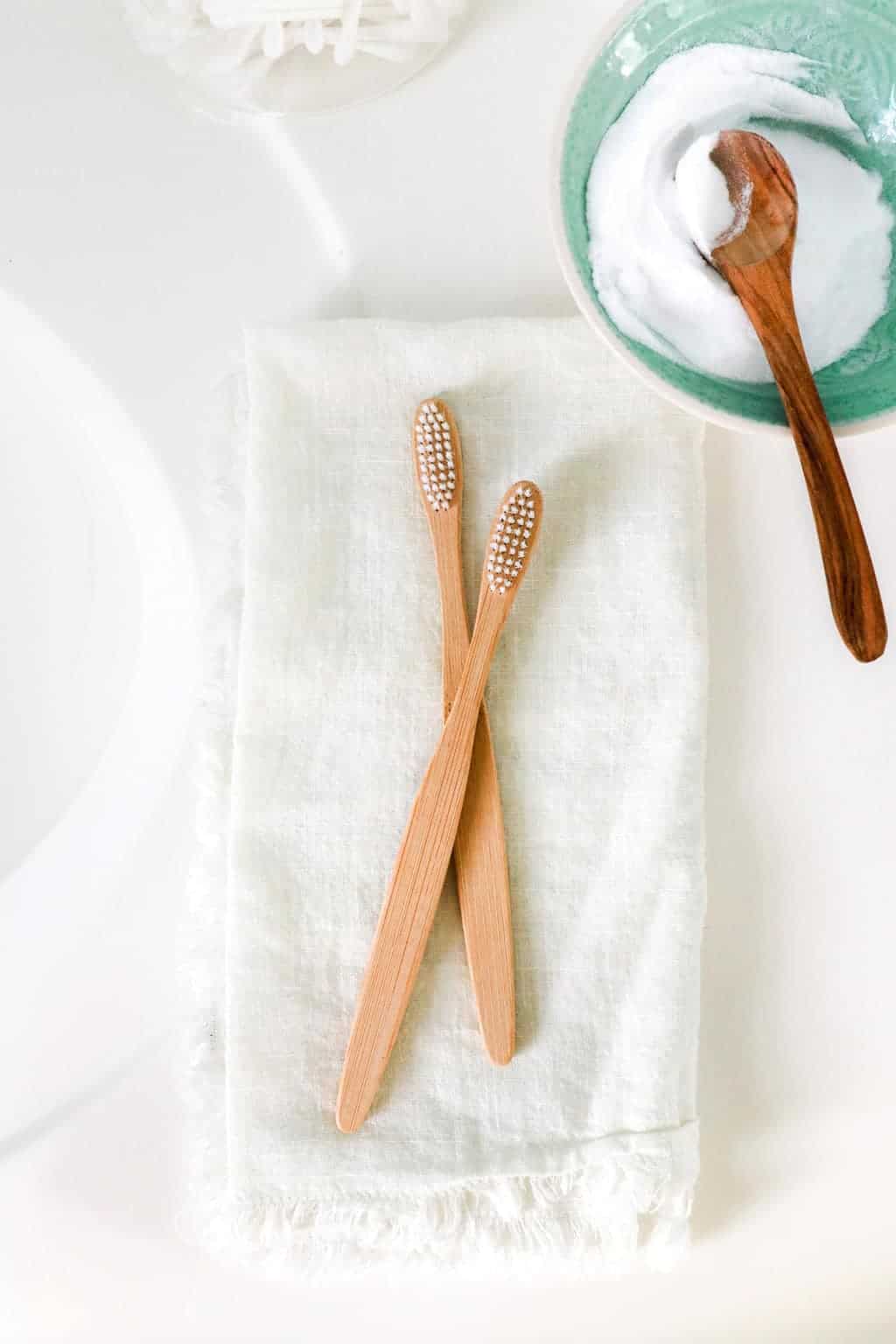 For a naturally clean mouth, brush your teeth with baking soda. It helps neutralize acids that harm enamel while also being mildly abrasive to polish teeth.
Sprinkle baking soda into your palm, dip a wet toothbrush into it, and brush. If you don't like the taste, then you can make a toothpaste gel with coconut oil and essential oils. For whiter teeth, add a mashed strawberry to your baking soda scrub.
8
.
Hair Tools Cleaner
Remove natural oil buildup and hair product residue by soaking plastic combs and brushes in a solution of 1 teaspoon of baking soda in a bowl of warm water. Rinse and let air dry.
9
.
Face Wash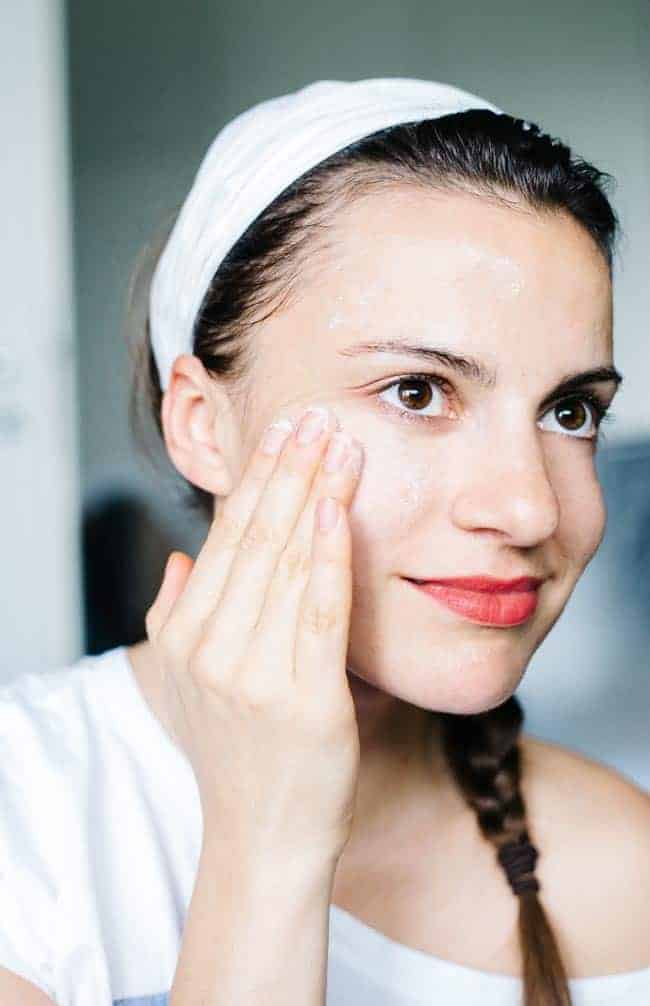 Chemical-free, natural baking soda has a super fine texture that feels like a microdermabrasion treatment at home. This easy cleanser is great for all skin types but works especially well on oily skin as it absorbs excess oil.
Mix a teaspoon of baking soda into your facial cleanser, or make a paste of just baking soda and honey. Gently move your fingers in circular motions, avoiding the delicate eye area. Rinse with warm water.
Baking soda is also easy and inexpensive to use in a face scrub.
10
.
Gentle Hand Scrub
Ditch the harsh soap and gently scrub away ground-in dirt with a paste of 3 parts baking soda to 1 part water. You can also add 3 parts baking soda to your liquid hand soap for a gentle exfoliation every time you wash your hands.
11
.
Sunburn and Bug Bite Soother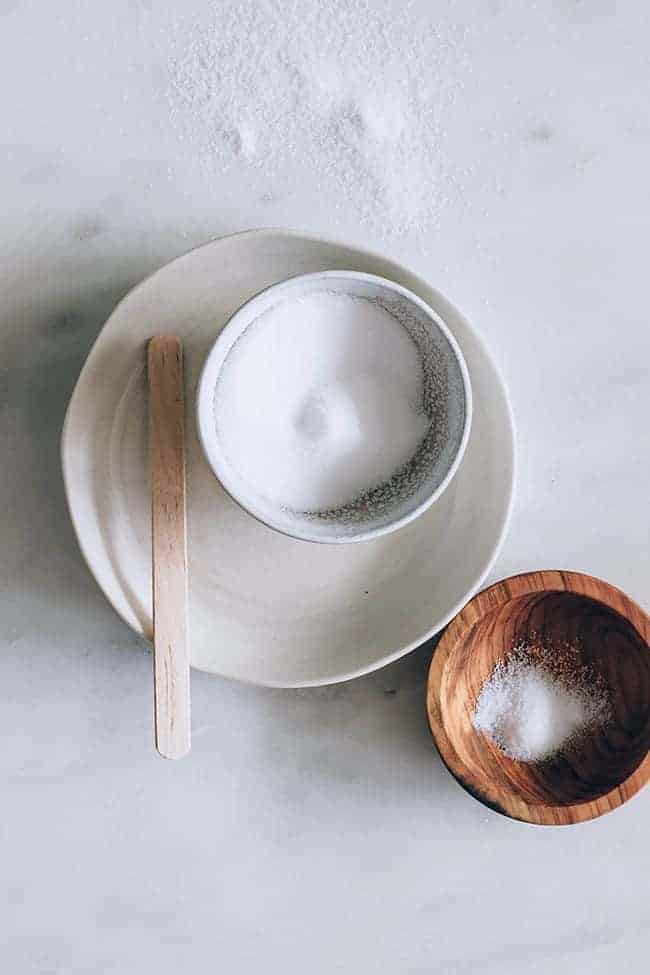 A baking soda compress can provide relief for minor skin irritations like insect bites and sunburns. In a clean container, add baking soda to water. Soak a clean, wet cloth in the mixture and apply to the affected area for 10–30 minutes.
You can also make a quick paste with baking soda and water and apply that to poison ivy, insect bites, or other itchy areas. Or combine baking soda with clay to make a simple homemade calamine lotion.
12
.
Dry Shampoo
A super effective oil absorber when you're training your hair, baking soda can help your hair feel fresher and absorb excess sebum. Try an easy DIY dry shampoo recipe with just 2 ingredients.
13
.
Brassy Hair Mask
Mix together ¼ cup lemon juice, 2–4 tablespoons baking soda, and 1 tablespoon liquid Castile soap. Apply the entire mixture to wet, clean hair, massaging it in from the roots to the ends. Let the mask sit for 20 minutes, then rinse thoroughly and wash and condition.
Note: This mask is great for highlighted or untreated hair. If your hair is colored, be warned—the baking soda and lemon juice can strip out the color as well as the green.
14
.
Shower Spa Tablets
These simple shower tablets are perfect for de-stressing, relaxation, and rejuvenation. Just add your favorite mood-boosting essential oils to 1 cup of baking soda. Then, stir in enough water to make the mixture clumpy but not runny. Pack the mixture into a mold, like a muffin tin, and let dry. Place one at the bottom of your shower to release its soothing scent.
15
.
KP Arm Bump Treatment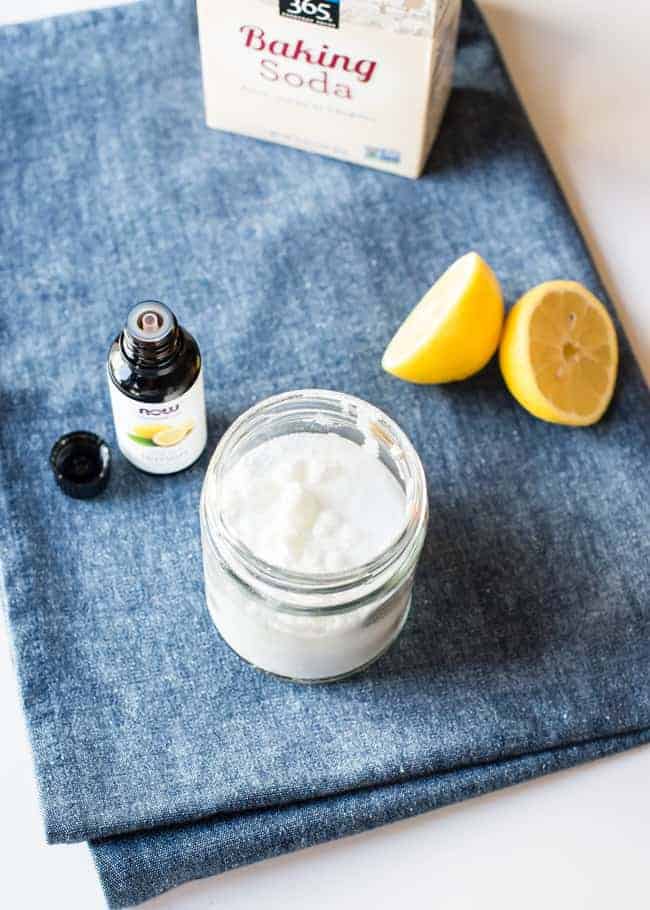 Baking soda has excellent exfoliating properties for your skin, removing dead cells and opening pores. Combine baking soda with lemon for a simple KP scrub that adds the natural citric acid from citrus to unclog pores and exfoliate skin to keep pesky arm bumps at bay.
Cut a lemon (or lime) in half and dip the flesh into baking soda. Rub onto your upper arm area (or wherever you have bumps) for 1 minute, then rinse. Use twice a week.
This article was medically reviewed by Dr. Gina Jansheski, a licensed, board-certified physician with more than 20 years of practice experience. Learn more about Hello Glow's medical reviewers here. As always, this is not personal medical advice, and we recommend that you talk with your doctor.
62