Just like we look at the ingredients in the foods we buy at the grocery store, it's important to look at the ingredients in our skincare products. Many store bought skincare products contain chemicals that can be harsh on both our skin and even our internal organs. The underarms are very sensitive areas, and easily absorb the chemicals from deodorants. Going natural with your deodorants is a great idea and one of the most important products to go green for.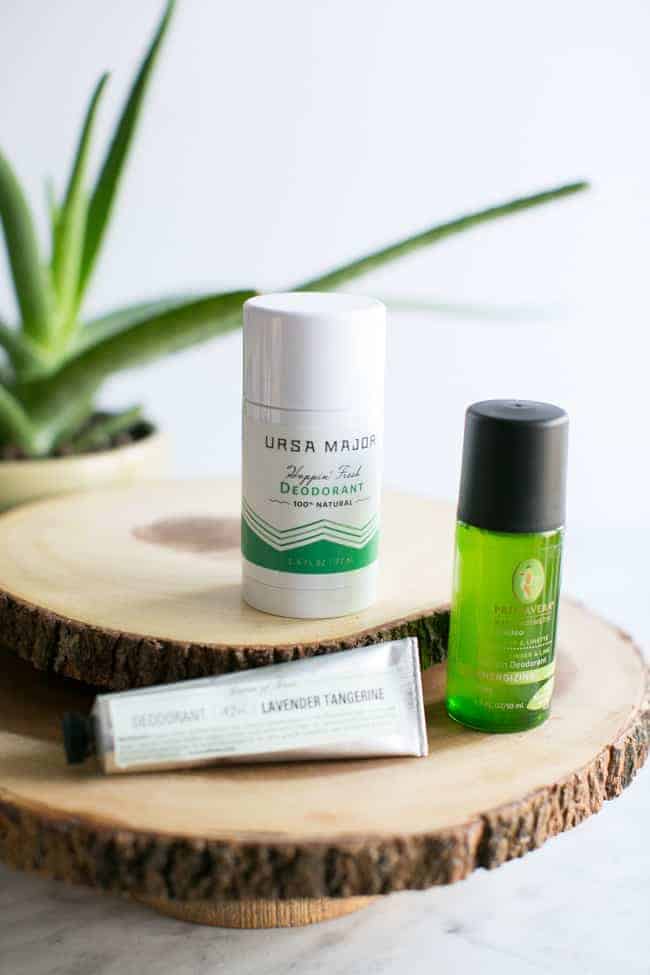 Aluminum is the most common ingredient in antiperspirants, and has been linked to serious illnesses, including breast cancer. Parabens are also common in deodorants and antiperspirants, and have also been linked to possibly increasing the risk of breast cancer by disrupting the body's natural estrogen production. Silica (a carcinogen), talc (a carcinogen), triclosan (a classified pesticide), propylene glycol (petroleum-based), and streareth-n are other chemicals that can irritate skin and pose possible health concerns.
But I know what you're thinking—do they actually work? To help you select the best possible deodorant, we've found 12 safe alternatives with glowing reviews to consider.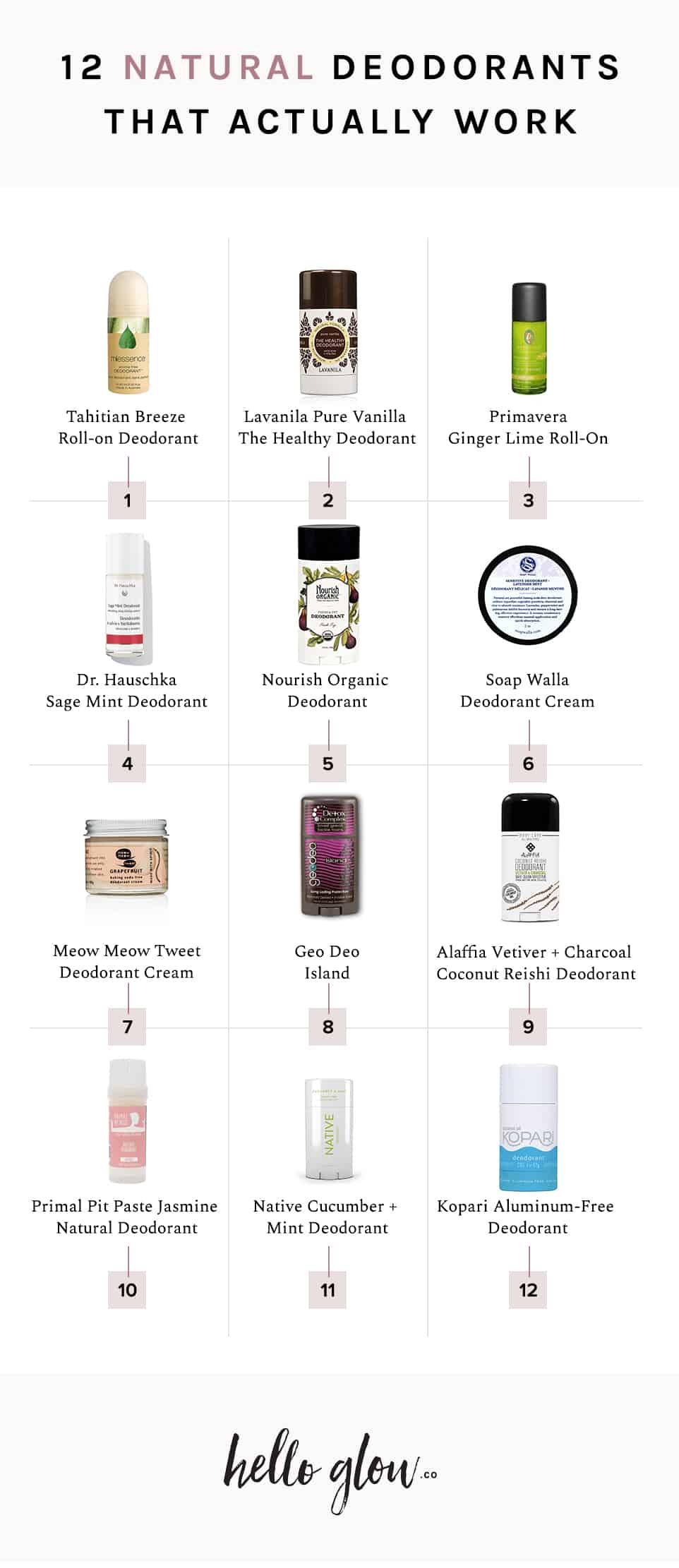 1. Tahitian Breeze Roll-on Deodorant // Based on the traditional remedies of bicarbonate of soda to eliminate odors and aloe vera to soothe, this roll-on comes in a warm floral and citrus scent, with ylang-ylang, lime and patchouli.
2. Lavanila Pure Vanilla The Healthy Deodorant // This stick deodorant refreshes with a subtle vanilla scent, and it works even through intensive workouts.
3. Primavera Ginger Lime Roll-On Deodorant // Calamondinorange extract, rich in vitamin C and citric acid, has a strong antibacterial effect, while organic Aloe Vera extract soothes and calms the skin.
4. Dr. Hauschka Sage Mint Deodorant // This gentle formulation helps adjust skin pH to discourage odor production while offering a light, fresh scent from pure sage and mint essential oils.
5. Nourish Organic Deodorant // Lightly scented with organic fig and apricot, this blend of naturally deodorizing cornstarch and vegetable protein, soothing shea and cocoa butters, beeswax and coconut oil leaves you feeling fresh all day, every day. 
6. Soap Walla Deodorant Cream // The frosting-like consistency allows for easy manual application and rapid absorption, and is ideal for all skin types.
7. Meow Meow Tweet Deodorant Cream // Designed without baking soda and clay, this recipe uses dietary magnesium and arrowroot powder to help control moisture and odor. 
8. Geo Deo Island // Naturally-derived, invisible, formulated with volcanic minerals, celandic algae, bamboo, and Vitamin E to keep you fresh, as well as safe from harmful chemicals.
9. Alaffia Vetiver & Charcoal Coconut Reishi Deodorant // Formulated with authentic coconut oil and odor-neutralizing charcoal, this invigorating roll-on deodorant features a woodsy vetiver fragrance that offers lasting protection against body odor.
10. Primal Pit Paste Jasmine Natural Deodorant // Primal Pit Paste in jasmine is a fresh, soft bouquet of springtime, with top notes of sweet jasmine and gardenia.
11. Native Cucumber & Mint Deodorant // This stick deodorant is made with notes of crisp cucumber and a dash of mint, for a refreshing and invigorating fragrance experience.
12. Kopari Aluminum-Free Deodorant // Un-junk your funk and say goodbye to nasty chemicals on your armpits! The Kopari deodorant is aluminum-free and formulated with natural coconut oil.
3