It's amazing how much a soak in the tub can do for the body and spirit. It's a great way to unwind while also getting rid of some of the toxins accumulated during the day. We're big fans of bath bombs, and they're just the right amount of fizzy fun for those rare moments of alone time and relaxation!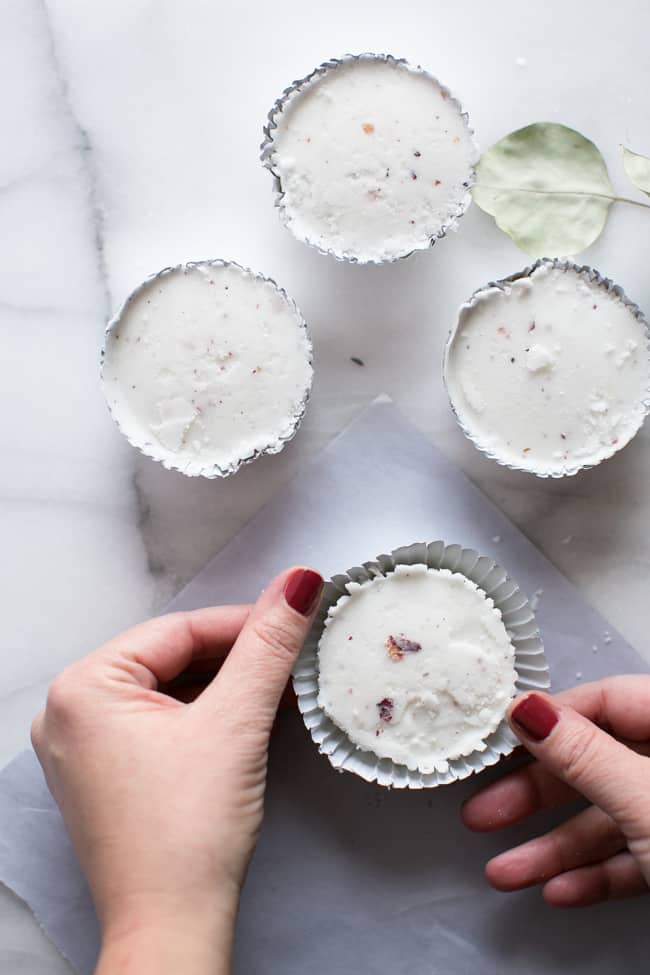 Plus, they're so easy to customize – aromatherapy blends for mom, and holiday-themed colors and shapes for the kiddos. Here are 15 of our favorite bath bomb recipes to try:
15 Fun + Fizzy Bath Bomb Recipes
The calming effect of lavender in these bath bombs will lighten your mood and relief headaches (even those caused by PMS).
Seriously, how fun are these? So fun. The recipe comes from Ina De Clercq's new book, DIY Beauty and it's inspired by Victoria's Secret PINK Popsicle Bath Bombs.
There's just something so gratifying about running a bath, popping in a bath bomb and stewing for a bit while you let go of the day. Simply drop one of these into hot running water, and watch as it transforms your bathtub into a steamy cauldron. These bombs are also packed with nourishing ingredients, skin soothing minerals and essential oils to cleanse your body and soul.
This recipe from The Makeup Dummy is scented with vanilla and cacao, and it's everything you want in your tub in the cold season.
Just when you think bath bombs couldn't get any trendier, someone finds a way to kick things up a notch. Since bath bomb ingredients haven't changed much, hidden bling makes things more interesting!
With only 5 ingredients, you can toss these colorful bath bombs together in a matter of minutes and you'll be splashing away your troubles in less than an hour! Plus, coconut oil is the secret ingredient for no breaking, crumbling or sticking.
Made with lemon essential oil, these bath bombs from Dear Crissy will rejuvenate sagging or tired-looking skin and can even help reduce blemishes.
These beauties add a tiny bit of sparkle to your bath water along with a relaxing floral scent and even a bit of natural color. It's the perfect way to decompress and make your bath a little less boring.
No need to go hunting for citric acid–these aromatherapy bath bombs are made with an ingredient you can find at any grocery store.
Bring a taste of Japan's cherry blossom season into your bath with these sakura bath bombs from Thirsty for Tea.
Learn how to make bath bombs for a fun, fizzy and fragrant bath experience. It's so easy and fun – especially when they look like colorful Easter eggs!
Essential oils are, well, essential to bath bombs! This recipe makes use of lavender oil to help you relax.
Lush bath bombs are the best, but if you're as addicted as we are, the costs really start to add up. Solution? These copycat Lush bath bombs.
Filled with healing arnica; detoxing bentonite clay; baking soda, which dissolves dirt and sweat to clear pores; skin clearing citric acid; muscle-relaxing Epsom salts; and a trio of moisturizing oils, these bath bombs are the perfect post-gym ritual to soothe body and mind.
This bomb recipe is, well, the bomb! It works every time with no crumbling or bubbling. Includes 3 of our favorite aromatherapy oil combinations for relaxing, energizing or romance.
6