I've been on a shopping hiatus since my clothes haul that covered the basics. Something about winter – with the cold and the dreariness – takes away my urge to shop for anything other than mittens and socks. It's just too cold to shed 5 layers in a tiny dressing room and freeze to death for a new pair of pants. But with warm weather on the way, I'm so ready to add some bright colors and dresses to my closet! Here's what I have my eye on for spring.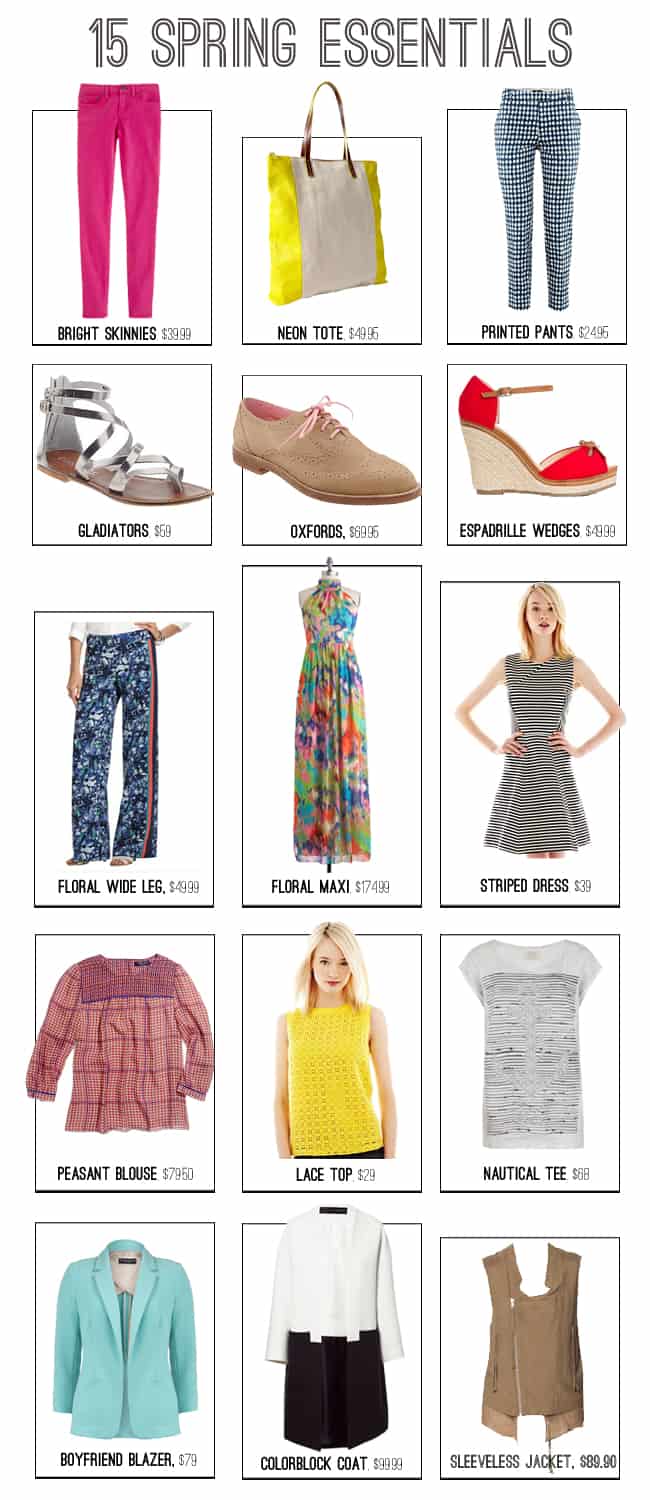 What's on your spring shopping list? Any trends that you're especially excited about? I'm determined to add a couple of dresses to my wardrobe – the floral maxi is a splurge but I love it! I'd wear it with the khaki sleeveless jacket to tone it down a bit.
1. Bright skinnies – J Crew | 2. Neon tote – Gap | 3. Printed pants – H&M | 4. Gladiators – Coconuts | 5. Oxfords – Gap | 6. Espadrille wedges – Just Fab | 7. Floral wide leg – Loft | 8. Floral maxi – Modcloth | 9. Striped dress – JCPenney | 10. Peasant blouse – Madewell | 11. Lace top – JCPenney | 12. Nautical tee – All Saints | 13. Boyfriend blazer – Dorothy Perkins | 14. Colorblock coat – Zara | 15. Sleeveless jacket – Zara
This post is sponsored by MyDeals.com where you can find personalized deals and coupon codes for popular brands like Nordstrom, Target, and Babies R Us. So if you want an AllSaints discount for the above nautical tee or want to splurge on designer shoes at Heels.com, check MyDeals before buying!
0