The lifespan of a pair of pantyhose is two months for the average woman. But if mine can make it through one day at the desk job without descending into ruin, we do a victory lap. So if they're often a single-use application or at best, a two month investment, are you just supposed to throw them away at the end? It seems so wasteful. Here are 18 uses for old tights and pantyhose, so you can reuse them if they're ruined.
Uses for Old Tights and Pantyhose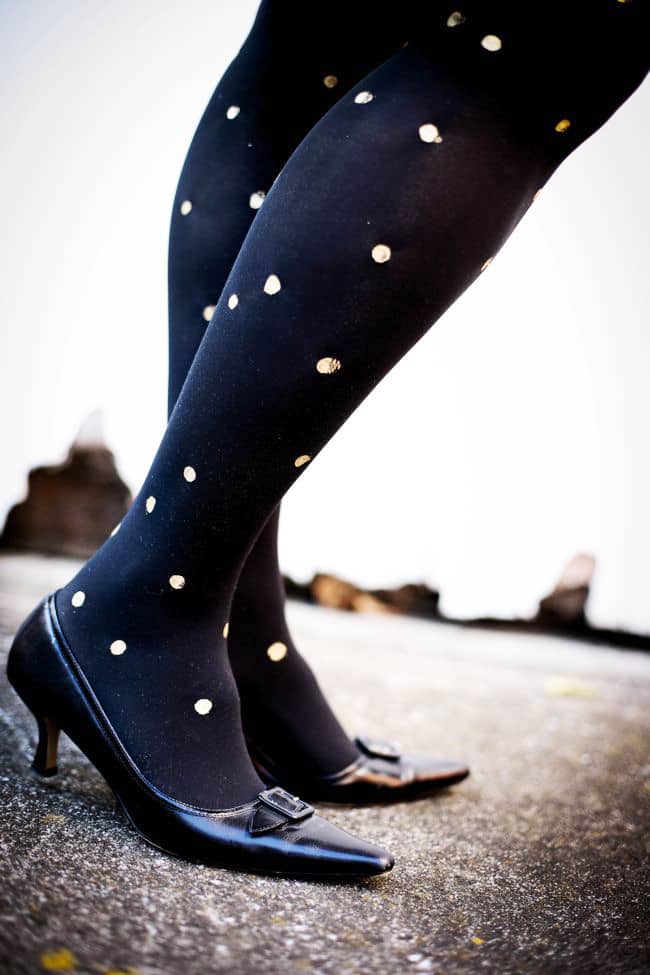 1. Fake Arm Tattoos
If they're skin-tone hose, you can draw on them with markers and slip them onto your arms, legs, neck, whatever, to make it look like you have tattoos for Halloween, or to give your grandma a hernia when she sees you.
2. Puppy-proof your plants
If you've got a pet obsessed with burying toys in your houseplants or just loves the feeling of digging in that nice, fresh soil, make a dog-guard from a pair of pantyhose. Use the pantyhose as a liner and tie them together at the base of the plant. The plants will still get water, but your pup will lose a messy digging spot.
3. Make your own shoe store booties for new shoes
If you can't wear socks with your new shoes, do your feet a favor while you're breaking them in. Cut off the bottom feet of your old pantyhose, just below the line where they are visible. Feel free to use medical tape, especially to wear hose in the closed-toe portion of airy sandals. Just the little bit of hose will help fight chafing.
4. Temporary Mood Lighting
Use a water balloon and a glow stick or those little plastic no-flame fake 99-cent candles to make romantic droplets like it's prom. This makes a great last-minute outdoor light that's very inexpensive and takes seconds to set up and take down.
5. Gentle Clean
Clean records, CDs or other easily scratched valuables with old pantyhose. The static in the nylons will pick up oils, dust and hair better than a regular rag and the soft fabric prevents scratches.
6. Try A Patch Job
If it's just a small run, you might be able to patch it up with clear nail polish to at least stop it from tearing further. You might be able to stretch one more use out of them if the run-area is covered by your clothes, especially now that the seasons are changing and longer skirts and higher boots are coming back around.
7. Keep The Control Top
Trim the legs off your control top pantyhose and voila, it's DIY Spanx. Great for casual dresses where you want to bare legged or for fighting muffin top under pants.
8. Dye Ties
Make a DIY hair net when you're dyeing or highlighting your hair. I have thick, dark hair that takes over an hour to really drink up the color so this has been a lifesaver when I touch up greys and boost my color. (Use caution trying this out if you have fine hair or are making a bold color choice, just in case the nylon absorbs the dye.)
9. Neat and Tidy Dirt
Line the pots of your houseplants with pantyhose to keep the soil from spilling out while letting the roots breathe. This works especially well with hanging plants or a small kitchen herb garden.
10. Slow Your Roll In Your Suitcase
Nobody wants to start a vacation out with the hotel ironing board. Instead of folding your clothes, layer several clothing pieces together and roll them together. Cut the legs of your old hose into tubes and slip the rolled up clothes into the tubes.
11. Increase the the life of your plant bulbs
Since air circulation is one of the best ways to increase the longevity of onions, potatoes and flower bulbs, you can use old pantyhose to create simple storage. After you slip the first bulb into the toe, tie a knot before you slip the next one in. If there's any rot with one bulb, this will help to prevent it spreading before you notice.
12. Check For Snags
If you're sanding a project, particularly wood, use an old pair of pantyhose to check for snags. Since snags are probably the reason they are retiring in the first place, you know they're already experienced in finding things to snag on.
13. Breatheable Lid
If your kid is going through a bug collecting phase, keep the not-so-cuddly critters in their own space by making a breathable mesh lid with a pair of panyhose and a rubber band. This is great for keeping bait crickets alive longer for your end-of-summer fishing trips.
14. Erase the Hanger Marks
When you've hand washed delicate shirts and sweaters, feed a pair of old pantyhose through the sleeves to make a gentle, no-dent hanger. Just tie the ends to the shower curtain or clothesline and the hose fabric will simply absorb the moisture around it.
15. Keep Your Melons To Yourself
Nothing is more maddening that coaxing out the melons in your garden and just as they ripen, Bambi makes herself a snack out of them. Let your large fruits and vegetables (especially watermelons and pumpkins) reach that final ripe stage in safety by encasing them in a pair of pantyhose. Clean out your hairbrush and leave some of your hair in there and the smell will be enough to spook deer away.
16. Detangle Your Wires
If you've got wires you keep in storage, you know there's nothing more maddening than reaching for them and finding them tangled together in a ball. Christmas lights are the most obvious, but extension cables are guilty too and pretty much anything that plugs in will join in the game during a move. To keep them from co-mingling and tangling, slip each cord into its own pantyhose section, tie a knot and work up the leg.
17. Keep your paper rolls tight
If your wrapping paper is sharing a storage space with a lot of other stuff, it can get gross and tattered and generally annoying to store. Store them in a pantyhose leg to keep them pristine.
18. Net your laundry
If you have clothes with beads, fancy buttons or that built-in jewelry that might get yanked out in the wash, stuff them inside the leg of your pantyhose before tossing them in the wash. This will keep other sneaky sleeves from pulling the delicate materials off in the machine. Also great for washing baby socks that tend to disappear into the void.
8