Remember that series I started on finding your style? Yeah, probably not. To jog your memory, first we talked about inspiration and then 10 practical questions to ask yourself.
Today is all about the basics – your wardrobe building blocks. I was lacking a sad number of these when I started my closet makeover – no long-sleeve tees, no black pants, no cute flats – so this is pretty much evidence of my clothes haul. And what I realized is that you can't start remixing your clothes and making lots of different outfits if you don't have the basics.
That was a light bulb moment for me!
18 Closet Basics
The stylist showed me that once you have these basics, you can update your wardrobe seasonally (I'm working on my spring shopping list) and create outfits that you can wear again and again with minor tweaks. After starting my wardrobe from scratch here are my closet essentials that I now wear over and over (and over).
Tops
Let's start with tops. The basics I purchased were mainly solids since I don't wear a lot of patterns (other than stripes). Plus having solids makes it easier to confidently make lots of different outfits. Pattern mixing is a little too advanced for me just yet.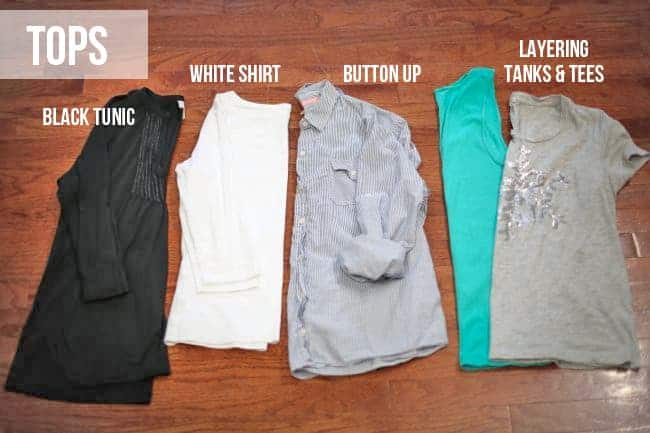 1. Tunic shirts (similar here or here) – Do you like to shop at Ann Taylor Loft? It has been my favorite for years. Something about their clothes just fits right. And they have great basics like this tunic top that I bought in 4 different colors.
2. White shirt – Whether it's long-sleeve, short sleeve or a button up, you need a white shirt. Enough said.
3. Chambray button up (similar here) – Is there anything chambray doesn't go with these days? Stripes, florals, dresses, skirts – everything. Button ups are hard for breastfeeding moms (ahem). But my Target shirts are super soft and comfortable and make good layering pieces under sweaters. For spring I may splurge on a Madewell version.
4. Layering tanks and tees – Having comfortable graphic t-shirts and tank tops has been my new favorite thing. It's like moisturizer; I always put them on first because it's a great place to start and always feels good.
Jackets
Outerwear is important all year round. It's amazing the remixing you can do by changing out cardigans and jackets.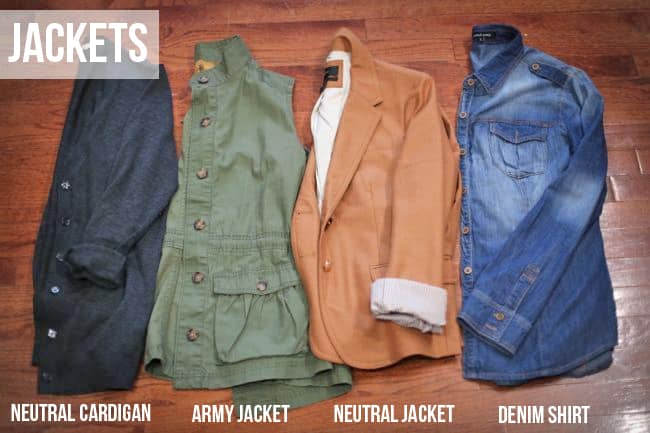 5. Neutral cardigan – I have worn this poor cardigan to death this winter. The dark grey color is amazingly versatile, and the boyfriend style nicely covers the behind. You can transition to a lighter fabric as it gets warmer.
6. Army jacket (similar) – One of the few pieces I owned that the stylist approved of! I like that this jacket is sleeveless. That way I can wear it over sweaters in the fall/winter but it's not too hot to wear in summer.
7. Neutral Jacket – In a moment of shopping insanity I bought this crazy expensive J.Crew jacket. It's hard to pony up serious dough for nice clothes that I know will get worn out/stained so fast (is that the mom in me?). But something that you know is nice gives an extra pep in your step when you pick up the kids. But if I had to shop this one again I'd try Forever 21 or this one from Old Navy.
8. Denim shirt – I got this shirt from Conversation Pieces and was surprised at how often I wear it. The thicker fabric makes a great outer layer alternative to cardigans or jackets.
Pants
Ahhh, pants. I love pants. You'll notice there aren't any dresses or skirts on this list. That's because I don't wear them all that often. But having a nice dress for weddings and such is probably a good idea. And I'm definitely getting a maxi skirt for spring.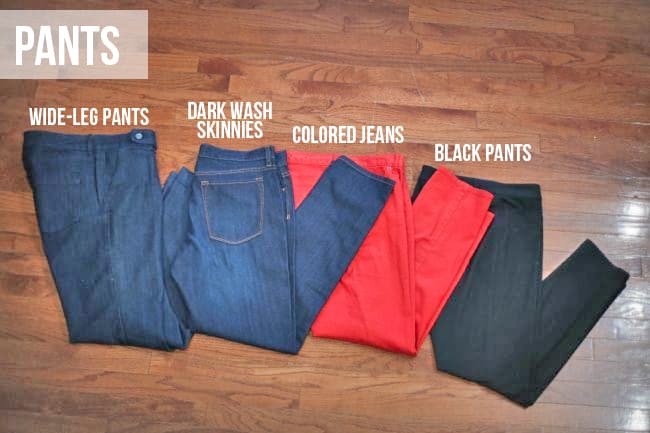 9. Wide leg trousers – Is it just me or does everyone look good in wide leg trouser jeans? I suddenly feel all Rachel Zoe boho. And a dark wash adds a bit of professionalism to average jeans.
10. Dark wash skinnies – I've recently converted from the "boot leg" style jean to the skinny jean. I always thought the wider leg at the ankle would balance out the width at the waist. Not so – it just makes you look wider overall. I also just got a pair Old Navy skinny jeans and they rock.
11. Colored jeans – Whatever your color preference, having some color in your closet is essential. You can mix all of the basic tops and jackets with a fun colored pant.
12. Black pants – An obvious basic! Black pants are so easy to dress up or down. This pair is crazy soft and fits more like jeans than a pair of dress pants.
Shoes/Accessories
While I love shoes, I find accessories hard! It must be because I'm indecisive. There are just too many options. Funny, I never feel that way about too many shoes though.
13. Ankle boots (similar here or here) – Wedges are the only way I can (comfortably) wear heels now. This is my everyday shoe that gives me some height and polish.
14. Knee boots (similar or this great priced shoe) – I see so many moms rocking this look and never could quite figure it out. The secret: skinny jeans and tucking your pants into your socks. Life changed.
15. Animal print flats (similar here or here) – Flats are an easy essential. And these animal prints go with a surprising number of outfits.
16. Black pumps (similar) – Something simple and classic. You also need nude pumps.
17. Colorful scarf – I definitely need to work on simple ways to jazz up outfits. And accessories are the easiest way to do that. That's why wearing more scarves and necklaces is one of my style resolutions!
18. Gold jewelry – A little bit of bling goes a long way. And if you're like me and find accessories a bit scary, going with a basic gold necklace or bracelet is a good place to start.
Okay, that's my list! What do you consider a closet basic?
1