If I had to name my favorite essential oil, it would most definitely be lavender. Not only do I absolutely adore its fresh aroma, but it's also one of the most useful essential oils. From haircare to headaches, there are so many ways to use lavender every day. I add it to most (if not all!) of the blends I make and find myself reaching for it again and again.
I love that it's essentially a natural medicine kit, and it's safe enough to use for each member of my family—children included! It's an incredibly complex and fascinating essential oil that happens to be beneficial for use in most situations—everything from healing burns to helping you fall asleep faster.
13 Ways To Use Lavender Essential Oil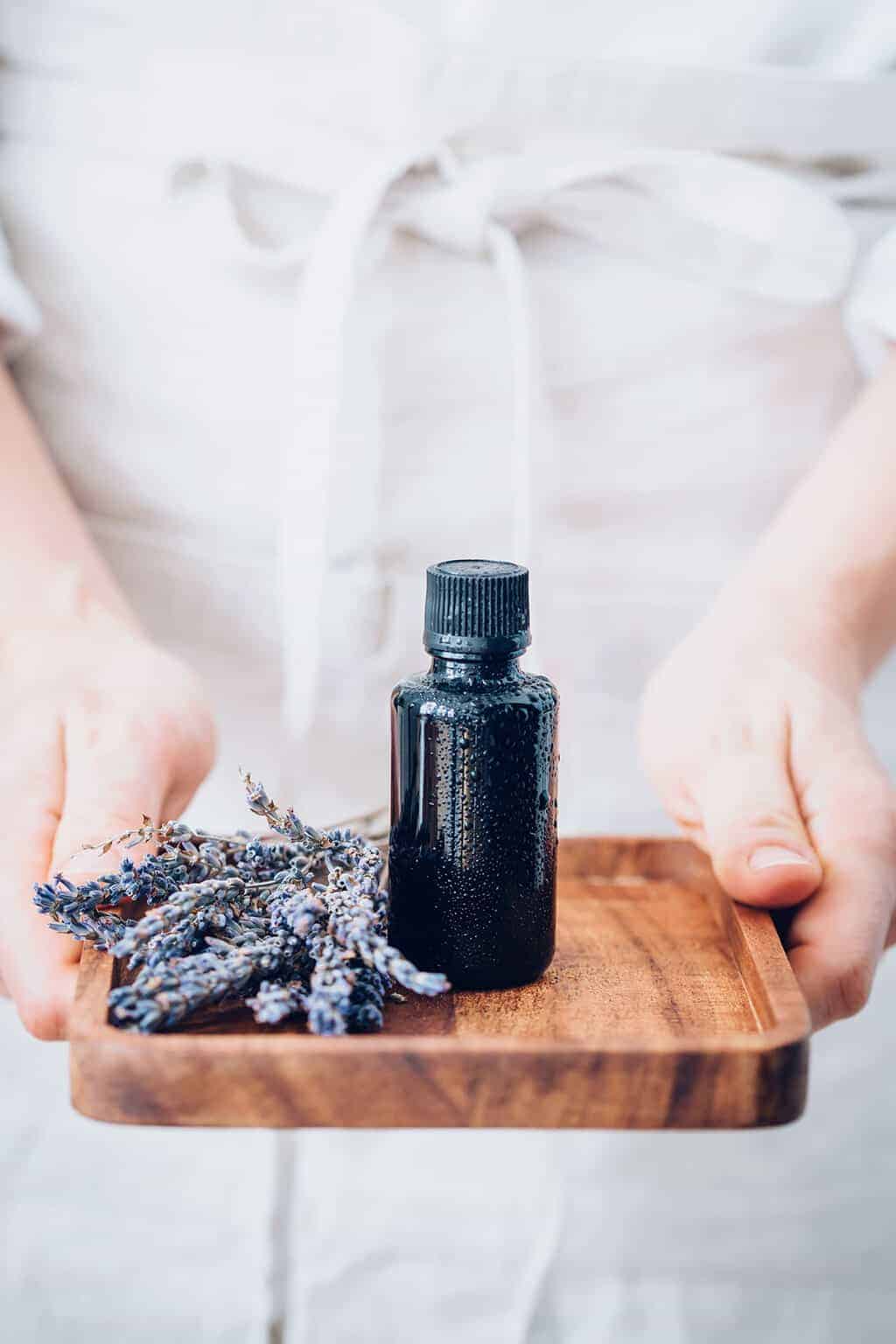 Truly, the sky's the limit for how you can utilize lavender. But today, I'm going to share with you just a few of the many ways that lavender essential oil can be used every day.
1
.
To relieve stress
Lavender is well-known for its calmative properties and helpfulness when dealing with stress and anxiety. It's often used in anti-anxiety blends, as well as other products formulated to help reduce stress. In the past, preparations made from the herb were the go-to option for any issues dealing with nervous tension [source].
If you're having a particularly stressful day, diffuse some lavender, and spend a few minutes enjoying its calming and relaxing aroma, or simply mix a few drops in a cup of Epsom salts and enjoy a nice, long bath. I promise you won't regret it!
How to use it
:
Lavender body wash
The soothing scent of lavender calms your mind while massaging the body wash into tense muscles relaxes you from head to toe.
Add all ingredients into a bowl and mix well. Transfer to a lidded plastic bottle. Swirl before each use to combine ingredients. Squeeze onto a washcloth, massage into skin, and then rinse well.
2
.
To promote sleep
Lavender also contains sedative properties [source]. Not only can it help ease stress and tension, but it can also encourage a good night's rest [source]. While there are several things you can do to promote better quality sleep, utilizing essential oils is one of the simplest and most pleasurable ways to do it!
Diffusing sleep blends with lavender at bedtime or using it in a linen spray is a great way to not only make the room and sheets smell utterly fantastic, but it also helps you fall asleep faster [source].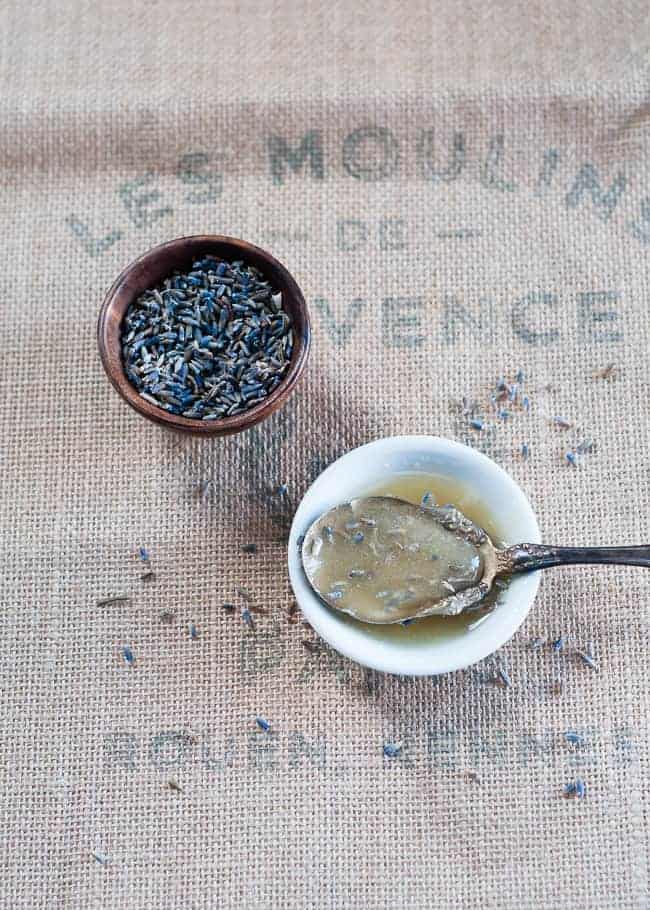 How to use it
:
Lavender honey mask
You could also make a lavender honey mask before you go to bed to soothe your skin and help you relax before bedtime—it's a win-win!
Combine 1-1/2 tablespoons raw honey with 3 drops of lavender essential oil. Apply to clean skin, avoiding the eyes. Leave it on for 15 minutes—though I keep mine on longer, it feels so cool and tingly. Then rinse with warm water.
3
.
To heal cuts
,
scrapes, & bruises
Lavender also happens to be useful when dealing with any number of skin problems. Cuts, burns, wounds, bug bites, sores, inflammation, you name it—all of these are issues for which lavender has traditionally been used.
Due to its antiseptic properties, it is considered beneficial in fighting off infection and is a common ingredient in salves formulated to treat skin injuries [source].
When paired with calendula, lavender can be used to make an effective all-purpose salve to speed healing for various skin issues. Or mix three parts fractionated coconut oil with one part lavender essential oil in a small spray or roll-on bottle to help clear up skin irritation associated with chafing or razor burn.
How to use it
:
Lavender bug bite ice cubes
This anti-inflammatory oil alleviates swelling, and the cold cube numbs nerves to stop the itching.
Add 10 drops of lavender essential oil to 1 cup of water; pour into an ice tray, and freeze. When needed, pop out a cube, wrap it in a paper towel, and hold it onto bites for a few seconds until the pain and itching subside.
4
.
To tone skin
Lavender revitalizes and refreshes the skin, and its antiseptic properties make it a good choice for oily or acne-prone skin. After cleansing, use lavender in a toner or a refreshing face spray.
How to use it
:
Lovely lavender toner
Pour and measure 4 ounces of witch hazel into a measuring cup. Add the lavender hydrosol and essential oil and stir. Using a funnel, slowly pour the mixture into a clean 6-ounce bottle.
Shake before each use and then swipe over the face with a cotton pad. You can also put the toner into a spray bottle and spritz on your face. Let the liquid absorb into your skin before applying moisturizer. Store in the refrigerator for 2–4 weeks.
5
.
To soothe inflamed skin
Lavender oil helps calm the inflammatory response in skin conditions such as dermatitis, eczema, and psoriasis [source]. Add lavender essential oil to lotions, massage oils, and bath recipes to help soften and condition your skin.
How to use it
:
Lavender massage oil
Combine ingredients in a dark glass bottle and shake well before each use. Use the dropper to put about 1 teaspoonful into your hands and gently massage into the skin.
6
.
To soothe a sunburn
If you have a sunburn, turn to lavender to help cool and repair skin.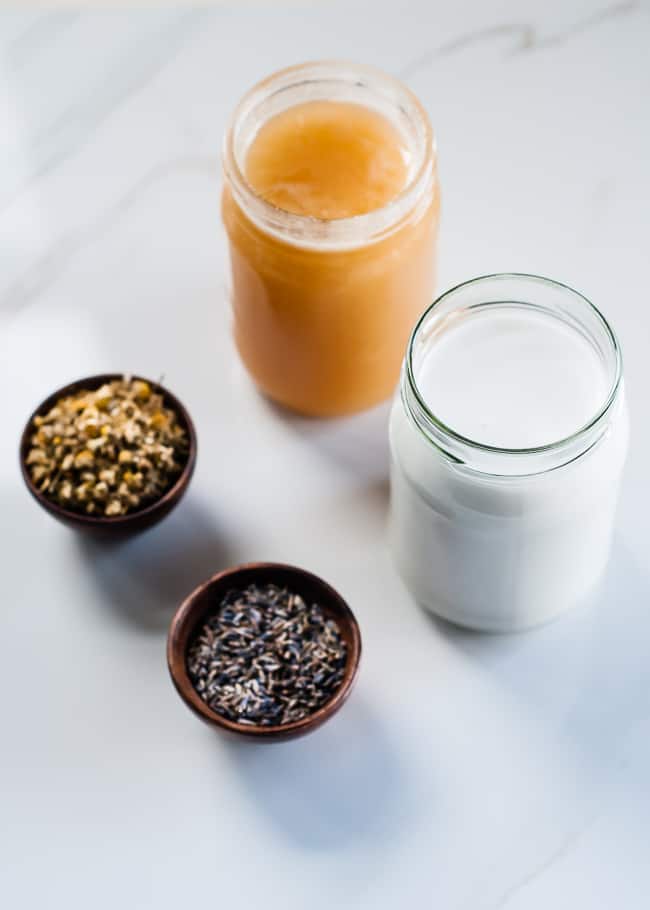 How to use it
:
Lavender bath soak
Whisk the honey with the coconut milk, and then add the drops of lavender essential oil. Add to your bath, and soak up the moisture.
7
.
To combat oily hair and dandruff
Due to its normalizing properties, lavender can also help support a healthy scalp, which in turn, can support healthy hair. As an added bonus, it's also believed to deter lice.
How to use it
:
Lavender cider hair rinse
Rinse your hair with the essential oil mixed in warm water to help combat oiliness and dandruff.
4 tablespoon apple cider vinegar

4 tablespoon water

10 drops lavender essential oil
Combine the vinegar and water in a small bowl, and then add the essential oil. Pour into a squeeze bottle and apply to clean wet hair. Leave on for 5 minutes, then rinse hair thoroughly. Repeat 3–4 times a week.
8
.
To stimulate hair growth
Lavender is also beneficial for natural hair care formulations. Not only was it shown to stimulate hair growth in animal studies [source], but it is also thought to help reduce hair loss—especially when due to stress. Next time your hair needs some TLC, give this scalp oil or a DIY deep conditioner with olive oil and lavender a try!
How to use it
:
Lavender scalp oil
Spur hair growth by massaging in a scalp treatment with lavender oil, which has been shown to improve blood flow to hair follicles.
1/4 cup jojoba oil

20 drops lavender essential oil
Combine jojoba and lavender oils in a bottle. Twice weekly before bed, massage 1–2 teaspoons of the oil over your scalp. Place a towel over your pillow, leave on overnight, and shampoo and condition as usual in the morning.
9
.
To deodorize your feet
Lavender oil is naturally antiseptic, and its antibacterial action is perfect for deodorizing and combating odor-causing bacteria. Lavender is an ideal addition to a foot soak or a massage for tired feet.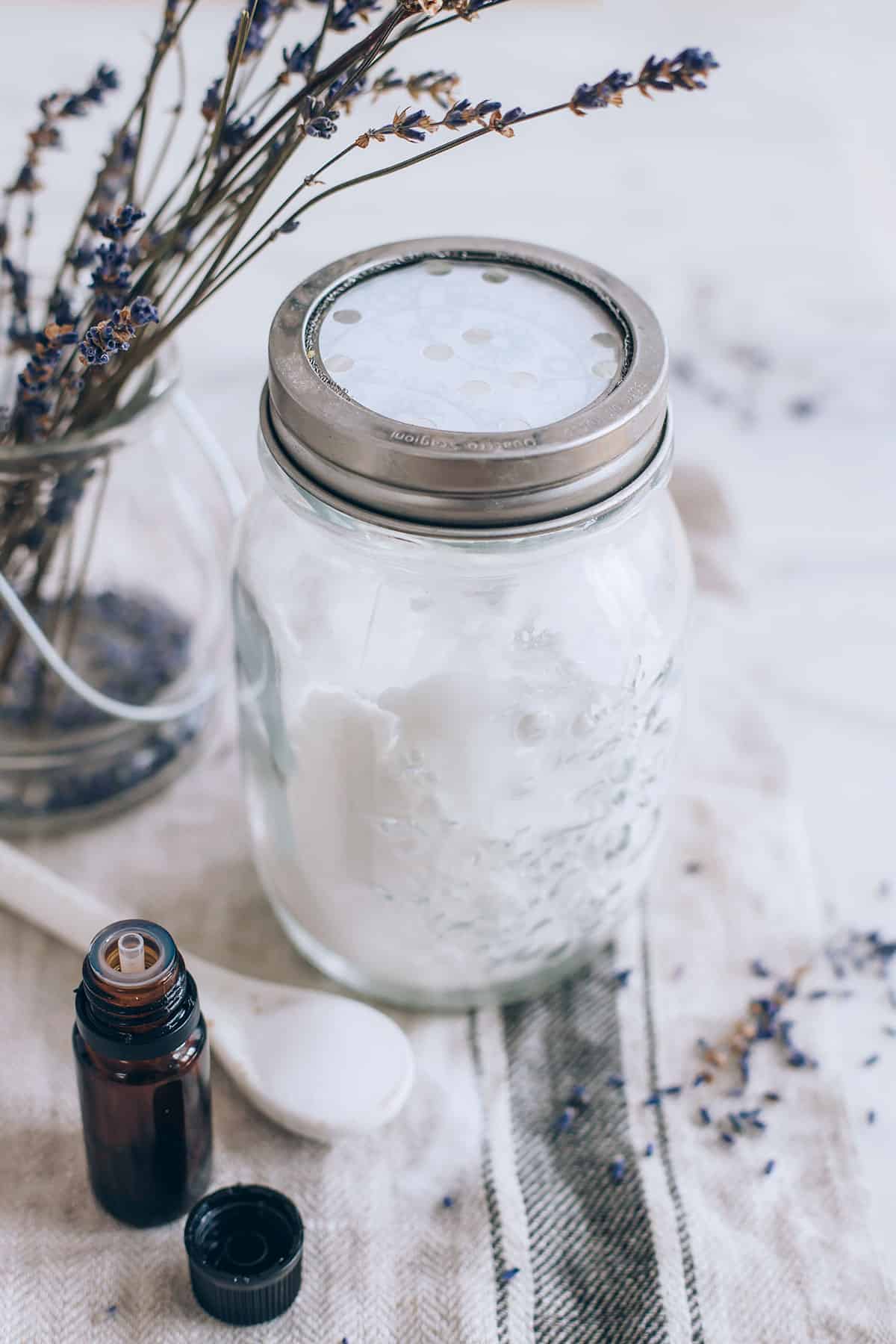 How to use it
:
Lavender foot powder
Combine cornstarch and the essential oils in a bowl, and stir thoroughly to break up clumps, ending up with a fine powder. Apply the powder to clean, dry feet. Store extras in a cool, dry place for 6 months.
10
.
To clean your house
Lavender contains potent antimicrobial properties [source] that make it useful when fighting off germs. For this reason, it is often used in natural cleaning solution recipes for air-purifying blends, cleaning formulas, and laundry detergents.
Combined with other antimicrobial essential oils, such as eucalyptus [source], it makes a great option for purifying the air after someone has been sick. It also happens to be one of my favorite essential oils to use in homemade laundry detergents and DIY dryer sheets.
How to use it
:
Lavender tub scrub
For an all-natural way to scrub away grit and grime from sinks, shower tiles, bathtubs, or even inside your oven or microwave, whip up a batch of this easy and effective lavender paste.
Combine these ingredients in a bowl. Mix together with a fork, apply in a circular motion over the surfaces, allow to rest for 5 minutes, and then wash away with a damp cloth.
11
.
To treat a headache
Often paired with peppermint, lavender is considered to be one of the best essential oils for headaches. It's commonly used when dealing with migraines [source] or nervous headaches as it can help promote a relaxed environment.
For use with headaches, diffuse lavender with other headache-relieving essential oils or apply topically in appropriate dilutions. Try out this diffuser blend whenever your head is throbbing and you need some calming relief.
How to use it
:
Headache helper diffuser blend
12
.
To make your own perfume
Lavender makes a wonderful personal fragrance. It's a timeless scent that has been used in perfume and fragrance blends for centuries. With its distinct aroma, it can be used on its own or paired with other essential oils for a unique custom blend.
I personally like to pair it with ylang ylang for a fresh, exotic fragrance. However, it also combines nicely with citrus, florals, and earthy-smelling oils. As an added bonus, not only will your natural perfume smell delightful, it can help keep you calm throughout the day! Here's a great guide to get you started on creating your own unique perfume.
How to use it
:
Lavender perfume roll-on
Add the essential oils to the bottle and gently swirl to combine them. Fill the rest of the bottle with carrier oil, replace the cap, and swirl again. Apply to pulse points like wrists, clavicle, and behind the ears. Remember to shake the bottle before each use.
13
.
To clear the air
Not only is lavender a great option for a personal fragrance, but it's also delightful when used to scent your home! I use lavender in almost all of my diffuser blends in the home, as well as in homemade room and linen sprays.
I love going to sleep on sheets that have been naturally scented with lavender, and my guests do, too! Not only do the sheets smell wonderfully fresh, but with the relaxing aroma of lavender enveloping me as I climb into bed, I am able to relax and get to sleep faster.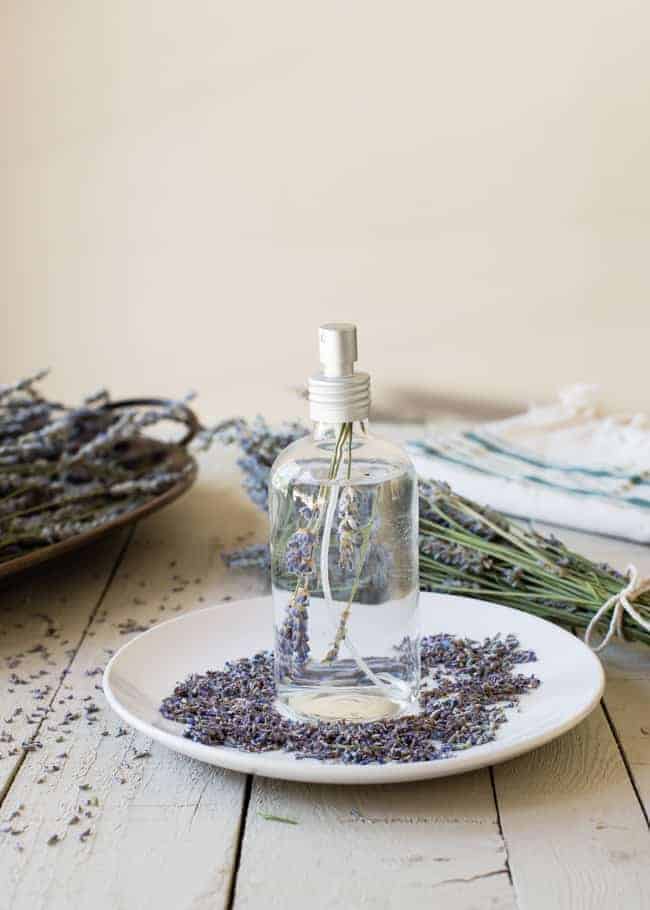 How to use it
:
Lavender room spray
Combine vodka and essential oil in an 8-ounce spray bottle, and let it sit for about 5 minutes. Then fill the rest of the bottle with distilled water. Shake before using.
Do you love lavender? If so, what are some of your favorite ways to utilize this incredible essential oil?
This article was medically reviewed by Dr. Gina Jansheski, a licensed, board-certified physician who has been practicing for more than 20 years. Learn more about Hello Glow's medical reviewers here. As always, this is not personal medical advice and we recommend that you talk with your doctor.
55