Have you heard of activated charcoal and its amazing benefits? Long used for bee stings and poisonings, activated charcoal has the amazing ability to remove toxins from the body.
Now people are using it to treat acne, improve skin, relieve upset stomachs, and even whiten teeth. No wonder there are so many great activated charcoal products available!
20 Best Activated Charcoal Products
Would you put charcoal on your face? If you're willing to give it a try, go the DIY route by adding activated charcoal to your beauty routine or check out 20 of the best beauty buys below!
1. Burt's Bees Activated Charcoal Powder Spearmint // The activated charcoal powder gently removes surface stains, leaving your teeth whiter and healthier-looking.
2. Not Your Mother's Activated Charcoal & Purple Moonstone Shampoo + Conditioner // The shampoo and conditioner set is all about restoring your hair, by helping remove buildup and pollution with activated charcoal.
3. Honest Beauty 3-in-1 Detox Mud Mask // Activated charcoal is mixed with bentonite clay and Jeju volanic ash for a detoxifying mud mask, which minimizes pores, removes impurities, and leaves the skin nice and soft.
4. Yes to Tomatoes Activated Charcoal Bar Soap // A great soap bar for those with oily, acne prone skin, but also for the bathroom sink or shower.
5. Boscia Luminizing Black Charcoal Mask // An incredibly satisfying peel-off masks, which leaves your skin tight and firm by removing excess oil, dirt, and sebum.
6. Serendipity Natural Activated Charcoal Bath Bombs // There's nothing like an activated charcoal bath bomb to detox your skin and body!
7. Evergreen & Birch Organic Charcoal Face Scrub // Nourish and detox your skin with this charcoal, vitamin E, and peppermint essential oil face scrub.
8. BLAQ Cleanse & Exfoliate Charcoal Wipes // The double-sided cloths cleanse and exfoliate, removing dead skin cells and impurities with AHAs such as activated charcoal and glycolic acid.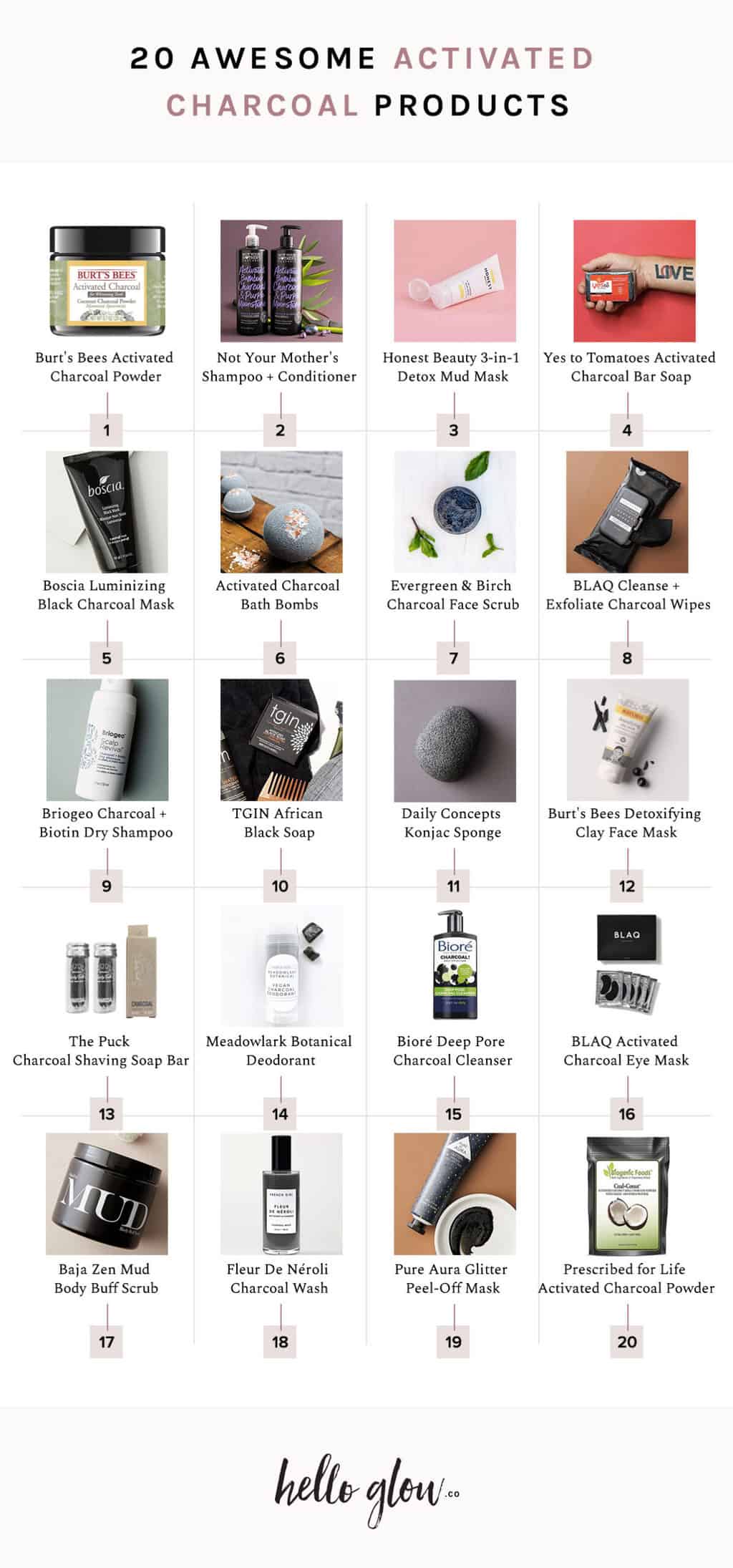 9. Briogeo Scalp Revival Charcoal + Biotin Dry Shampoo // Prolong time between washings with this dry shampoo, crafted with charcoal to draw out impurities, and a blend of clay and starches to absorb excess oil at the roots.
10. TGIN African Black Soap // Formulated with shea butter and charcoal, this African black soap is ideal for oily and combination skin, as well as skin sensitivities such as acne, eczema or psoriasis.
11. Daily Concepts Konjac Sponge // Ideal for oily or blemish-prone skin, this charcoal-infused sponge detoxifies congested skin without cleansers or soap.
12. Burt's Bees Detoxifying Clay Face Mask // For clean, healthy looking skin, try this combination of clay, charcoal and acai oil.
13. Lucky Teeth Organic Bamboo Fibre with Activated Charcoal Floss // Swap your floss for this zero-waste bamboo version, enriched with detoxifying activated charcoal and essential oils.
14. Meadowlark Botanical Deodorant // Activated charcoal absorbs a ton of moisture, as well as bad bacteria, making this deodorant perfect for active women.
15. Bioré Deep Pore Charcoal Cleanser // This facial cleanser will draw out and trap impurities and dirt from your skin for a deep cleaning.
16. BLAQ Activated Charcoal Eye Mask // Remove dark circles and de-puff your eyes with these cooling activated charcoal eye patches.
17. Baja Zen Mud Body Buff Scrub // A nourishing body scrub, formulated with coconut oil, sweet almond oil, and activated charcoal for a healthy glow.
18. Fleur De Néroli Charcoal Wash // Activated charcoal sweeps away impurities without drying the complexion, while vitamin B5 and hyaluronic acid work with tamanu and jojoba oils to hydrate the skin and promote elasticity.
19. Pure Aura Glitter Peel-Off Mask // This mermaid-worthy peel-off mask gently removes excess oil and improves skin elasticity for a clear, smooth complexion.
20. Prescribed for Life Ultra Fine Activated Charcoal Powder // This organic activated coconut shell charcoal powder can safely be ingested or used in DIY beauty products.
61