I love any type of card – handmade, store bought or even on a Post-it. A card itself is such a thoughtful gesture. With that said, I am a bit of a handmade card snob. I won't purchase cards because I already have the supplies to make them and I LOVE making cards! Cards are a short-term, low-commitment craft. You can whip one out in minutes and with just a few supplies. There's still time to make a few extra special handmade cards this year. Check out these 20 beautiful handmade holiday cards to get inspired!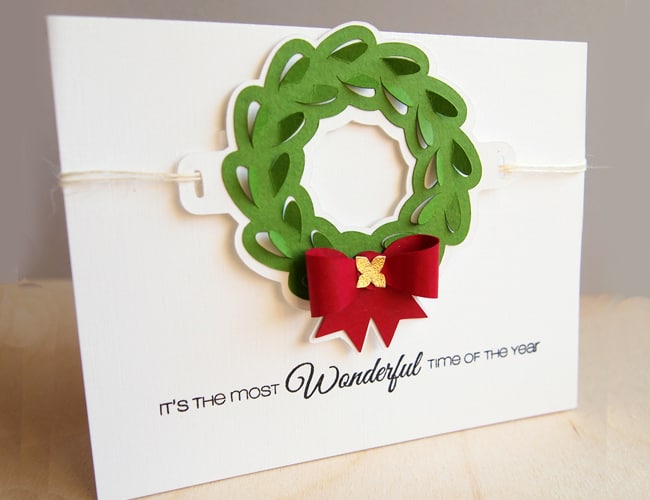 1. 3-D Paper Wreath Card: For the advanced crafter, you can cut out this stunning paper wreath with a personal cutting machine. (by Red Balloon Cards)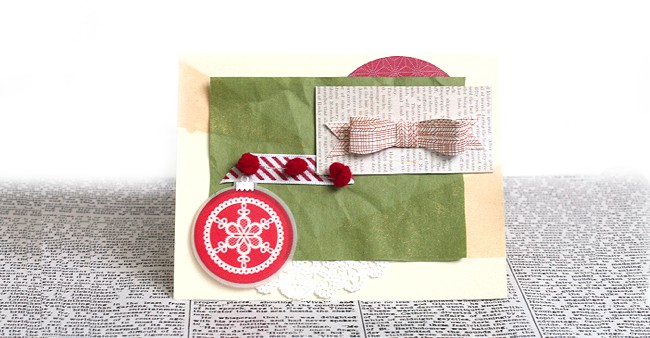 2. Collage card: Mix up the traditional colors with a funky layout. (by Lemon Jitters)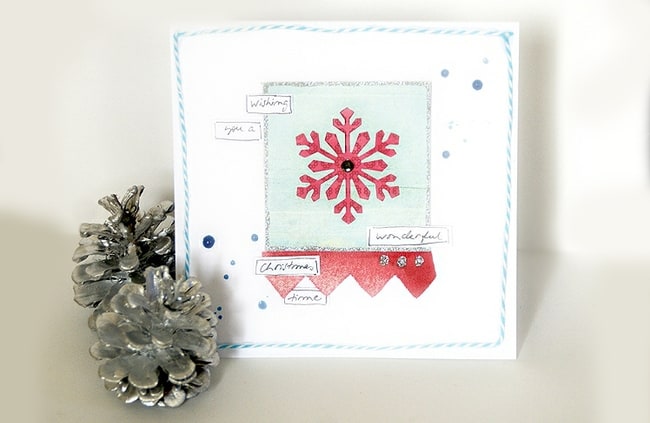 3. Pastel Christmas Card: I love non-traditional Christmas colors! This color palette s perfectly executed. (by SanEli via Two Peas in a Bucket)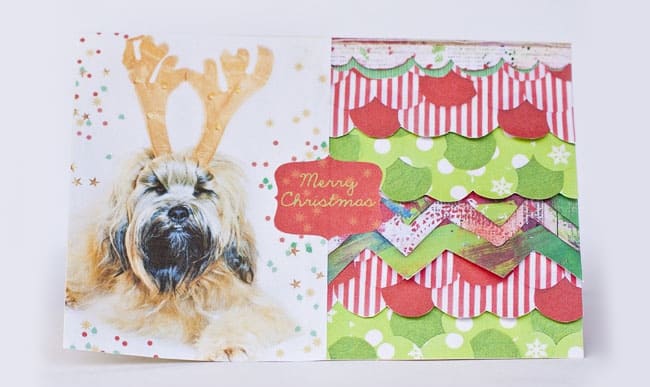 4. Pet Christmas Card: Mix eclectic papers with a photo for a fun effect. (by Stepko's Creative Space).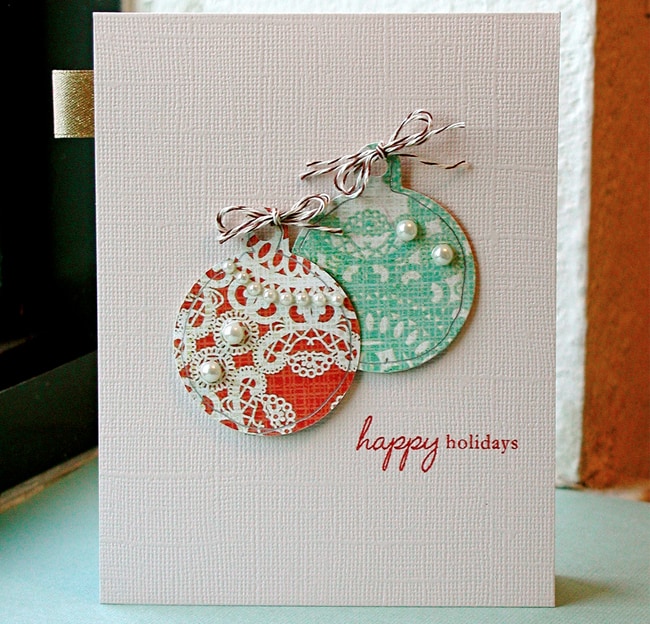 5. Embellished Christmas Ornaments: This card makes great use of mixed media, which creates a nice texture. (by CloudsShadler)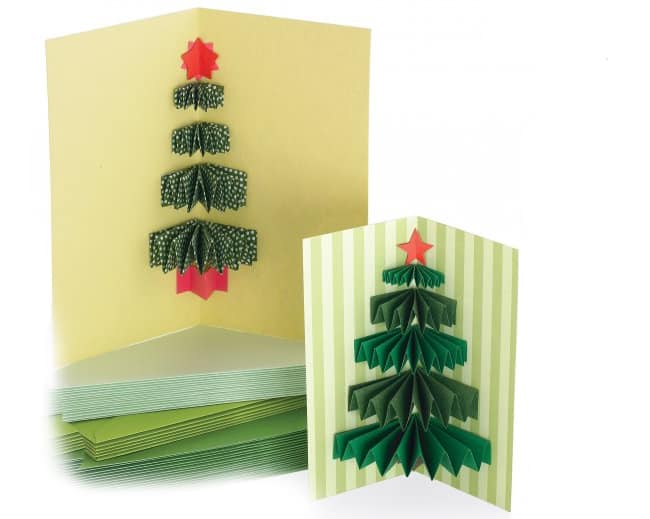 6. 3-D Christmas Tree Card: You could make a variety of shapes with this technique. Let your imagination run wild! (by Martha Stewart)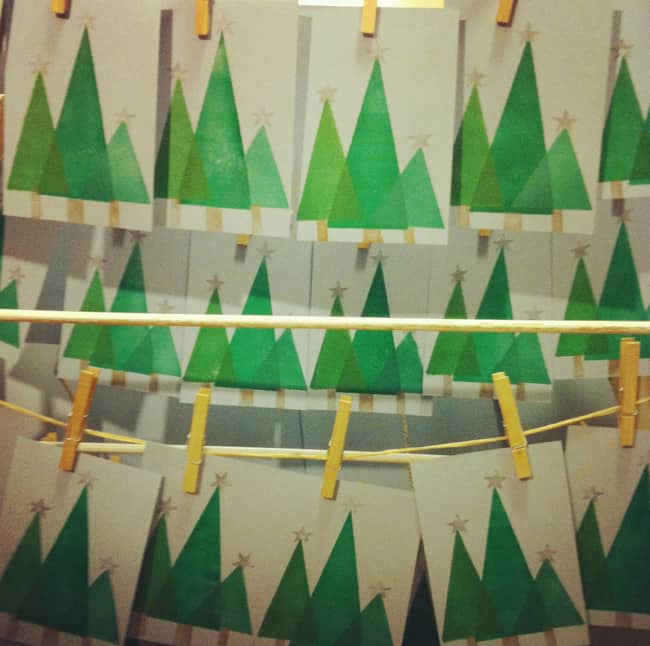 7. Stamped Christmas Tree Cards: Simple, modern and chic. And an easy look for a beginner to achieve. (by K. O'brien Jewelry)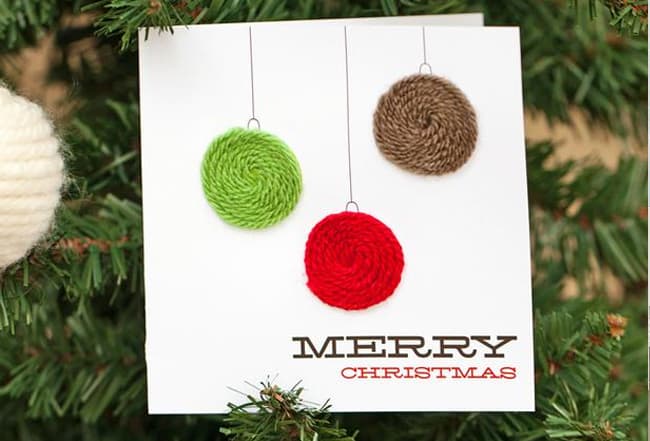 8. Yarn Embellished Holiday Ornament Card: Another excellent use of texture. The simplistic design lets the twine take center stage. (by HGTV)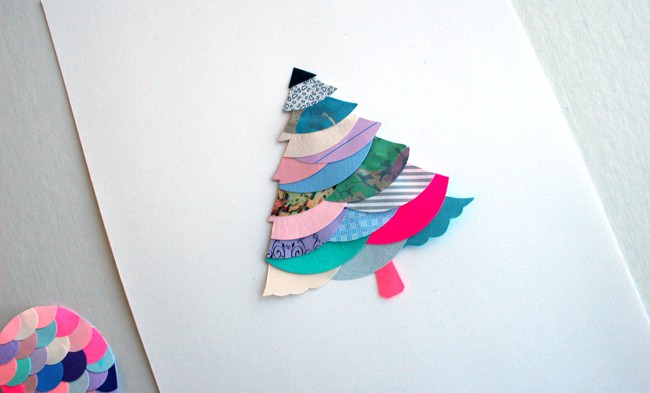 9. Layered Christmas Cards: You have to check out her other designs – I love this layered look! (by Essimar)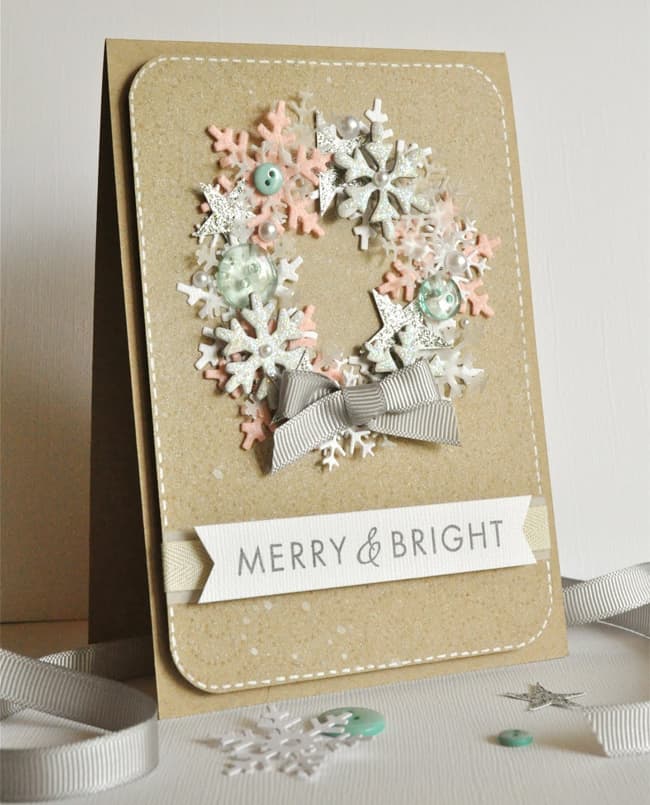 10. Snowflake Wreath Card: So many great things about this card – color palette, details, wreath concept, texture – it's fantastic. (by Happy Stamper)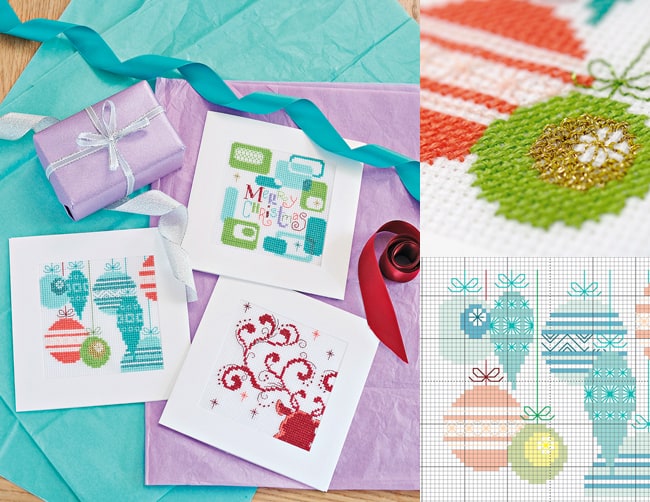 11. Cross-Stitched Card: Although this is incredibly time consuming, the results are beautiful! And the recipient can frame the card as a work of art. (by Craft Foxes)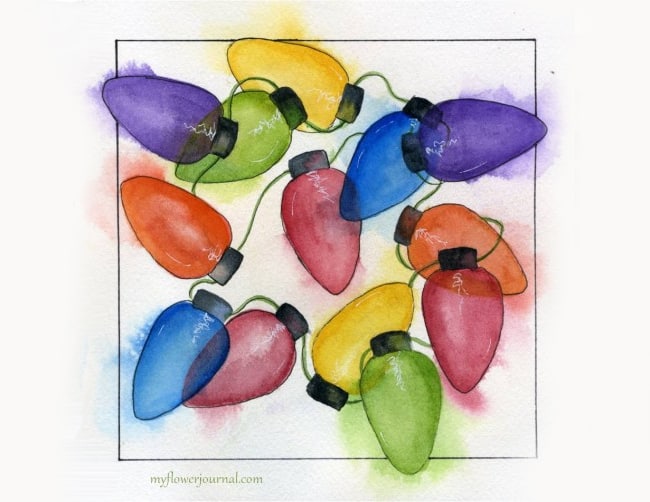 12. Watercolor Christmas Lights: This tutorial makes me feel like I could actually make this card. I think my family & friends would be impressed! (by My Flower Journal)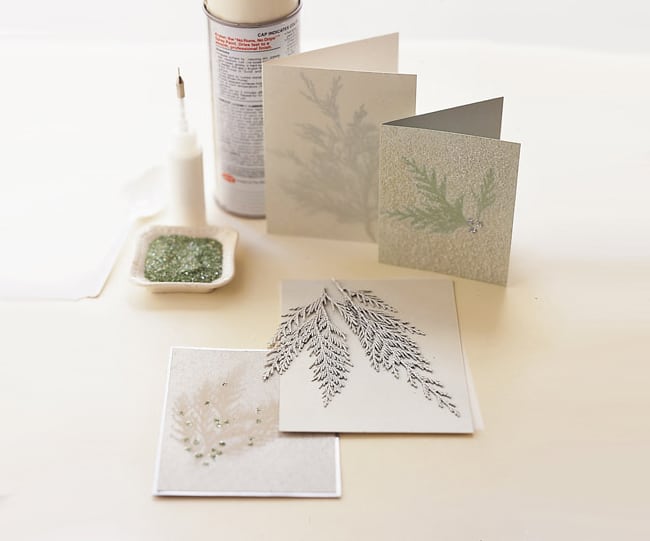 13. Evergreen Cards: I love the understated metallic – so chic. (by Martha Stewart)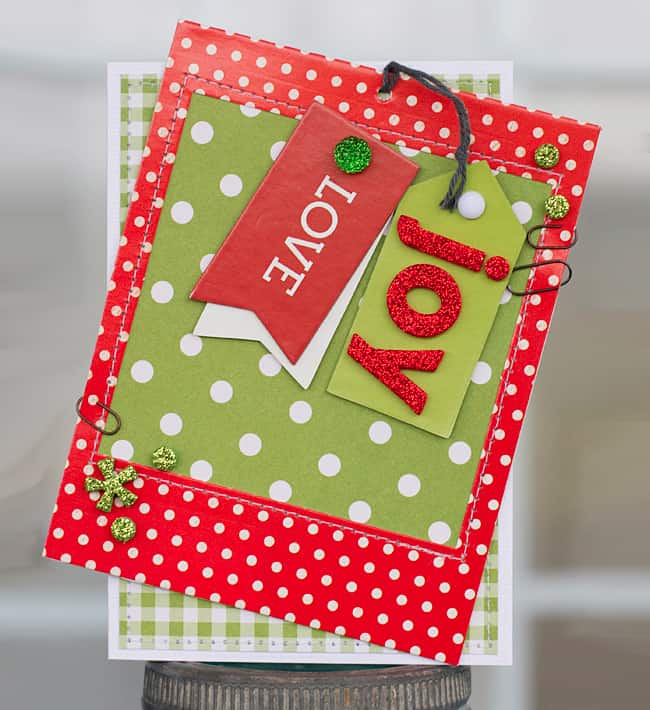 14. Bright Handmade Christmas Card: Excellent mixing of prints without seeming too busy! (by Pebbles Blog)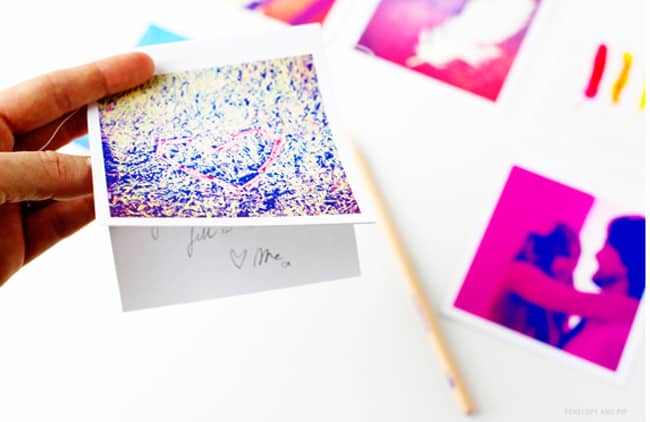 15. DIY Instacards: I love how personalized these are. (by Say Yes to Hoboken)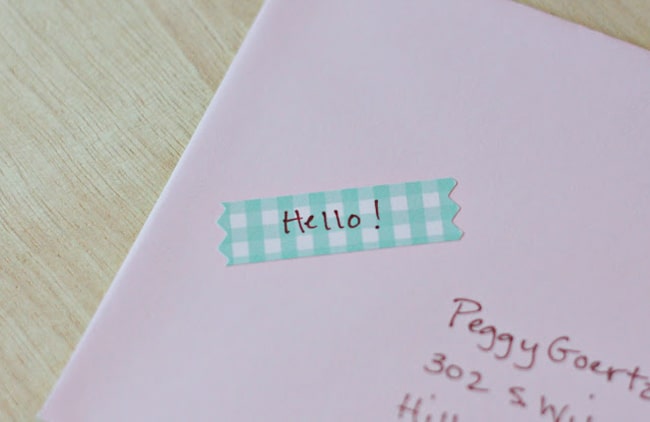 16. Make Your Own Mini Washi Tape Strips: An adorable extra for your envelope. (by Delightful Distractions)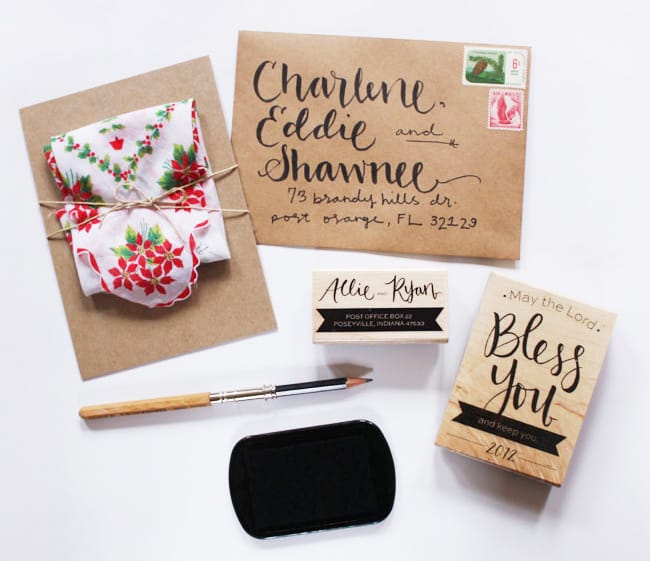 17. Christmas Card Handkerchief: From the card itself to the hand-lettered envelope, this is a card to talk about. (by Allie Ruth)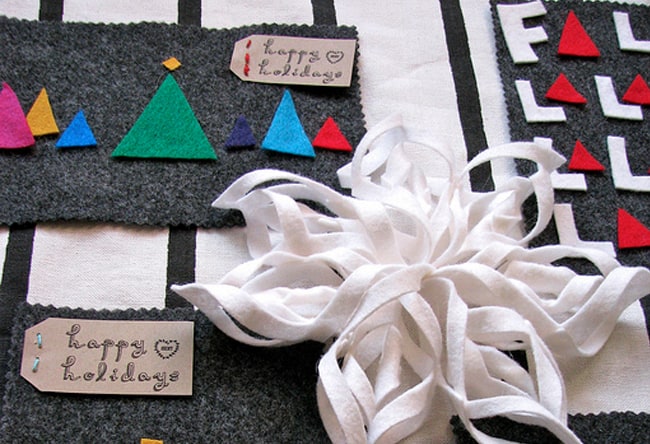 18. Felt Christmas Cards: How cute is this? Felt is a great alternative to paper. (by You Are My Fave)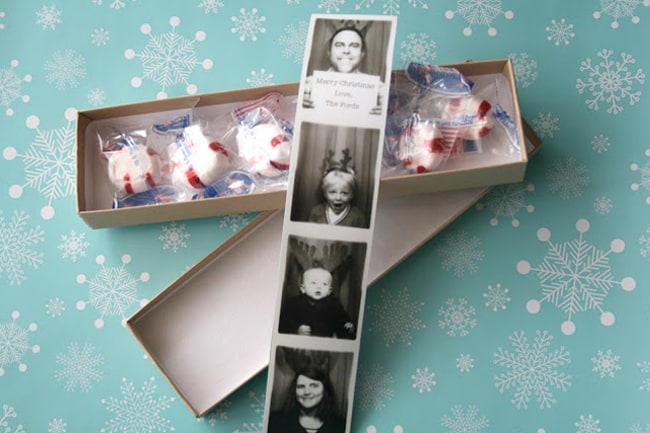 19. Photo Booth Christmas Cards: I really like this alternative to the traditional family photo. (by Simply Radiant)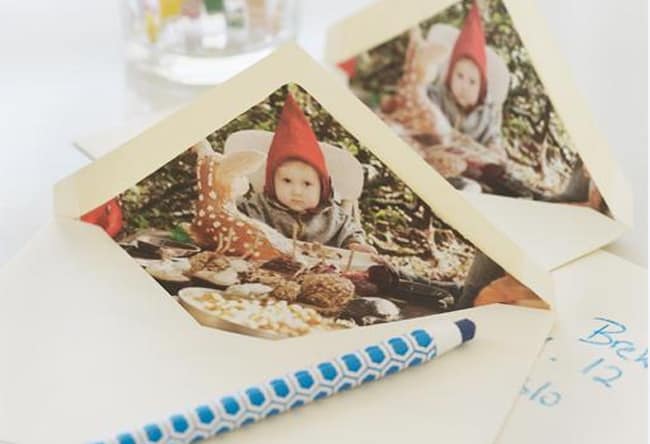 20. Photo-Lined Holiday Envelopes: Adding a photo liner to your holiday envelopes is a really special touch! (by Sweet Paul Mag)
Have you already sent out your holiday cards? If not, what style are going with?
5