No matter what kind of dad is in your life, there's a unique breakfast out there for him. Consult this list to find your favorite Father's Day breakfast and serve up the perfect food for your dude. (After you let him sleep in, of course.)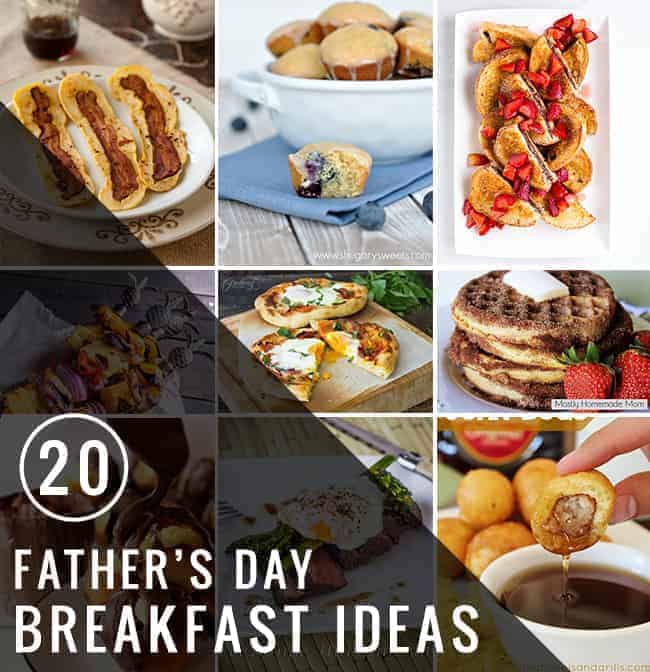 Post by Stacey Garratt
1. Baconator Dad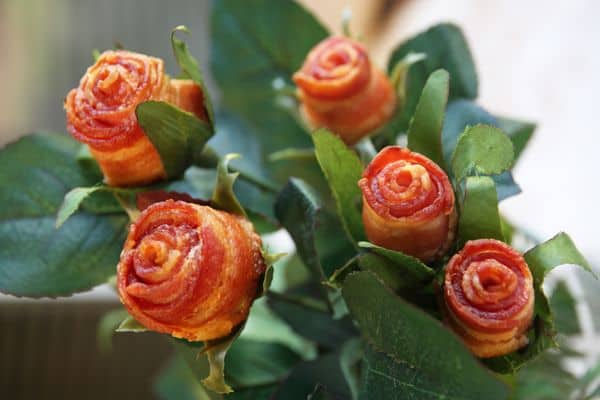 Sure, the Baconator Dad might smile if you bring him flowers, but deep down, you'll know he wishes it was bacon. Why not go all out with showing the pork product-obsessed Dad in your life that you care by giving him a breakfast bouquet of these fun and easy (and just a little hilariously gross-looking) bacon flowers. Serve them with scrambled eggs and toast for a wry take on a classic diner breakfast. Tutorial here.
2. Wicked-Smart Dad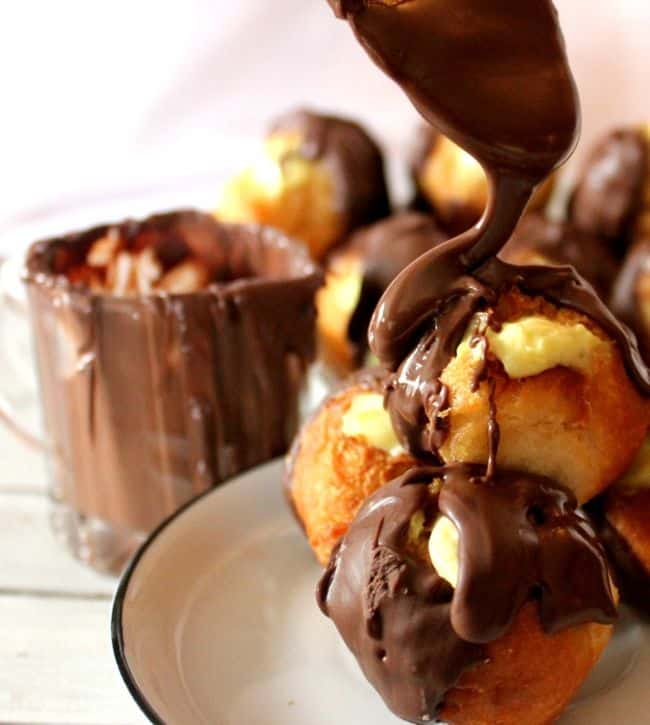 Brew up a bag of Dunkin Donuts coffee beans, turn on Red Sox radio and fry a batch of Boston Cream Donut Holes for the key to a Mass Dad's heart. Recipe here.
3. Dad on the Run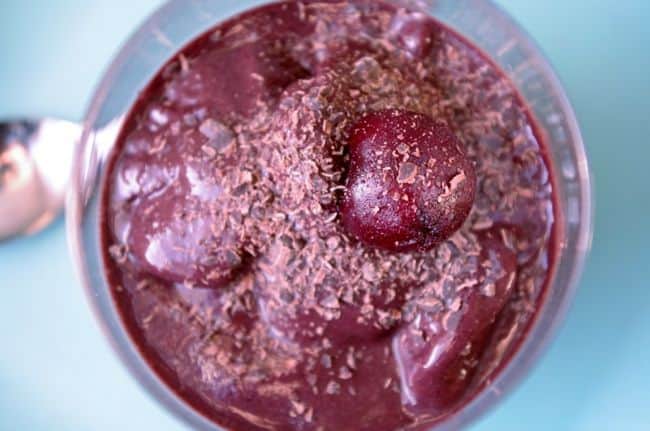 If Dad's perfect day involves hitting the pavement for a morning run, get him pumped with this deliciously nutritious and still decadent vegan Black Forest Blizzard smoothie. Recipe here.
4. Dad to the Bone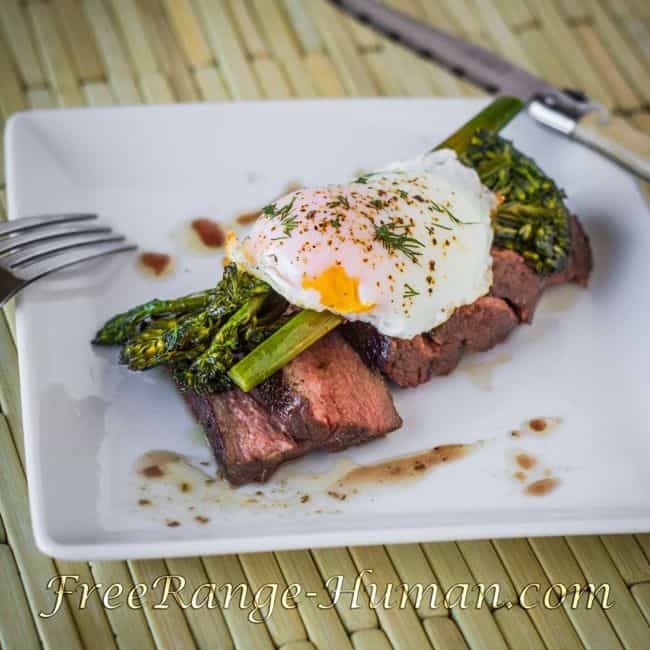 Whether Dad's following the Paleo diet or just describes himself as a meat-n-potatoes guy, a hearty breakfast of steak and eggs is not only easy, but has the ring of a special occasion. You can follow the steak-and-eggs motif in a breakfast sandwich, breakfast taco or Paleo scramble, but sometimes, only the classic will do. Serve alongside rosemary potatoes or with a bleu cheese-topped salad for an extra-fancy affair. Recipe here.
5. Route 66 Dad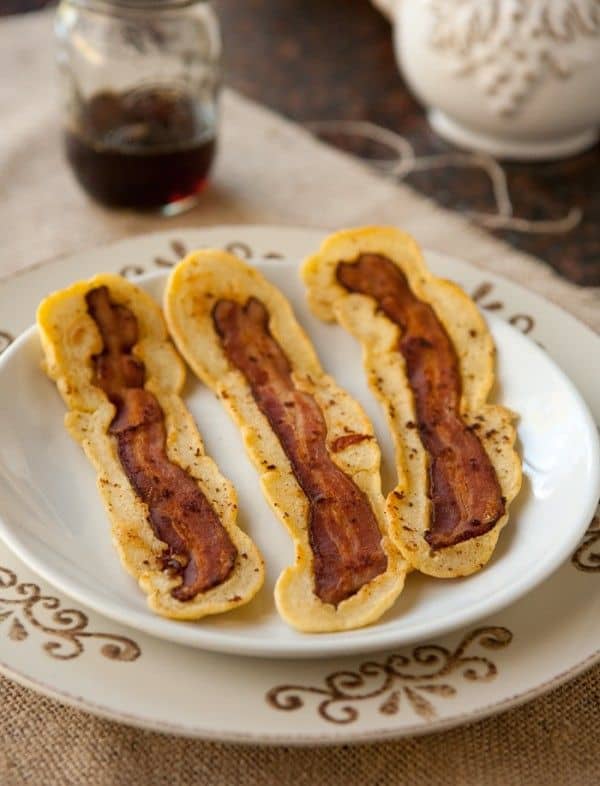 If the open road is a-callin' Dad on his day, these simple, mess-proof breakfast treats are perfect for snacking in the car. Mix in the honey, chocolate or syrup of your choice straight into the batter instead of on top. Get the recipe.
6. Cosby Dad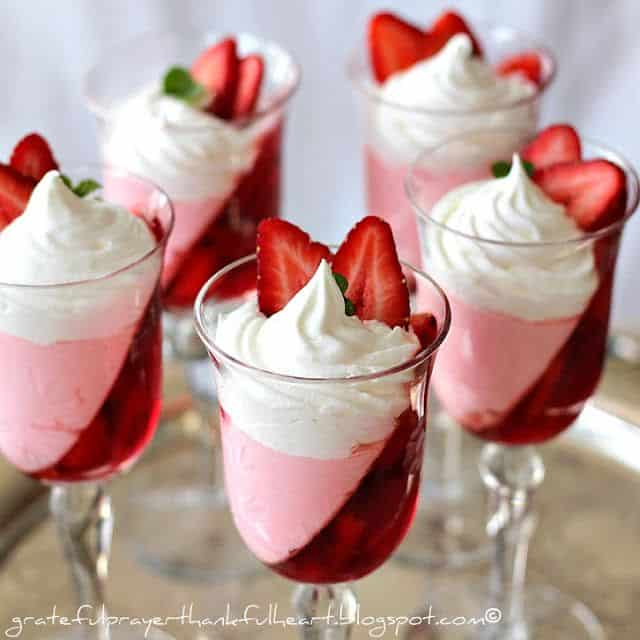 If Dad's sweeter than a pudding pop, or if you're celebrating with the little ones, let this Jell-O Strawberry Parfait set the night before for an easy Father's Day morning. Recipe here.
7. New Dad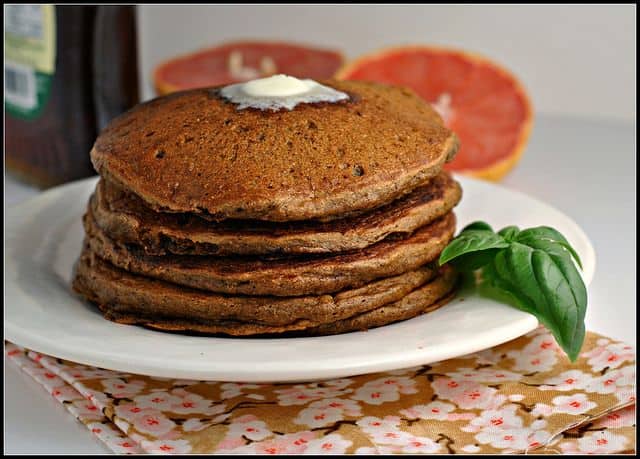 The best gift for the New Dad is plain and simple: sleep. But even once Dad gets up to join the land of the living, he's going to be exhausted by a new baby. Brew a pot of strong coffee and follow it up with chocolately-sweet Coffee Pancakes for an extra boost. Get the recipe.
8. Single Dad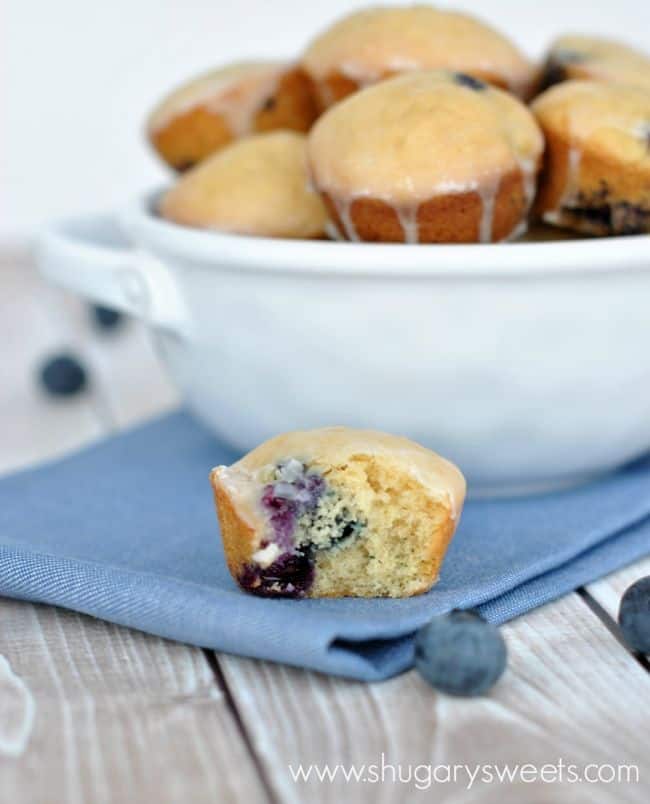 If you're spending Father's Day with Single Dad, you might want to make something ahead of time that you'll be able to leave behind for a treat later.  Whip up a batch of these Blueberry Donut Glazed Muffins to keep a smile on Dad's face for days. Recipe here.
9. Batter Up Dad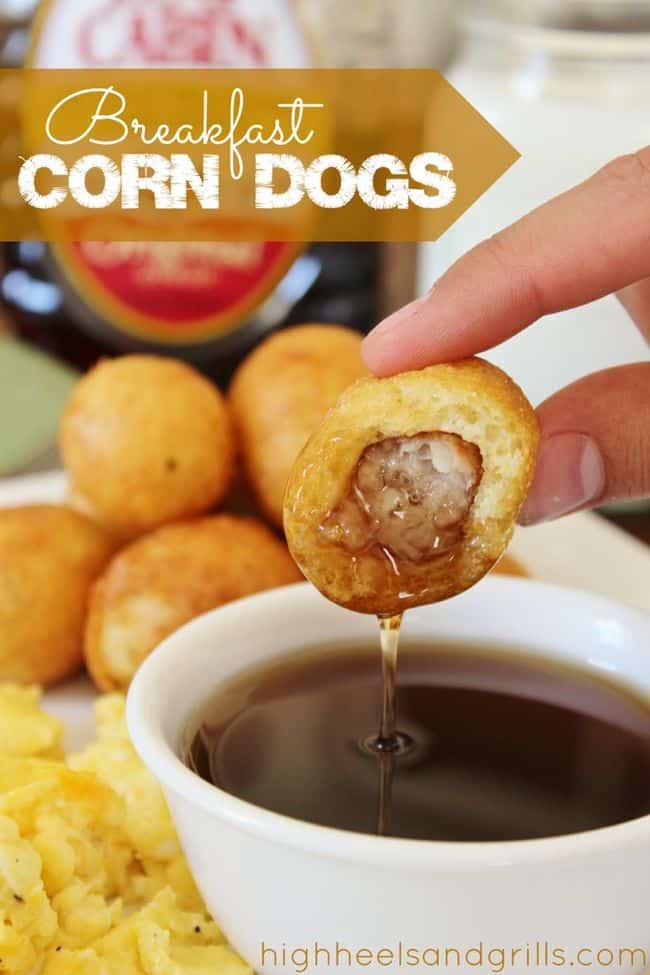 Buy him some peanuts and Cracker Jack and whip up these kid-approved Breakfast Corn Dogs before you take Dad out to the ballpark for his day. Recipe here.
10. Southern-Fried Dad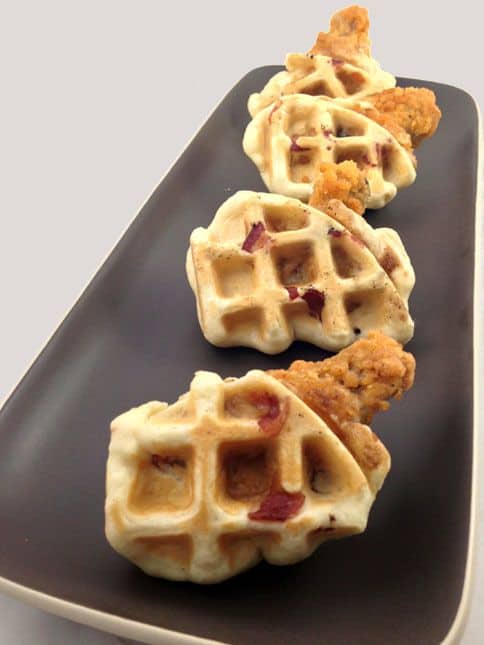 In a rut with Father's Day biscuits and gravy? Dixie Dads do declare these adorable Chicken and Waffle Wings a festive whole-family breakfast to be served with maple syrup or a buttercream spread. Recipe here.
11. Homer Dad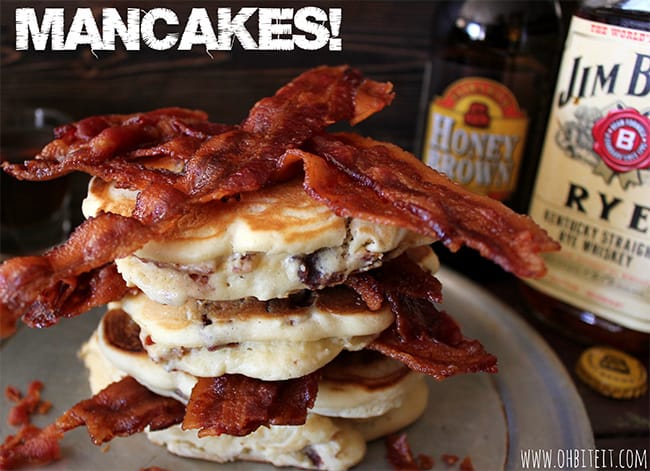 If we're being real, all Homer Dad wants on his day is donuts and beer.  Get his day started right with beer pancakes with a donut-sugary kick. D'oh! Recipe here.
12. Chivalry is Dad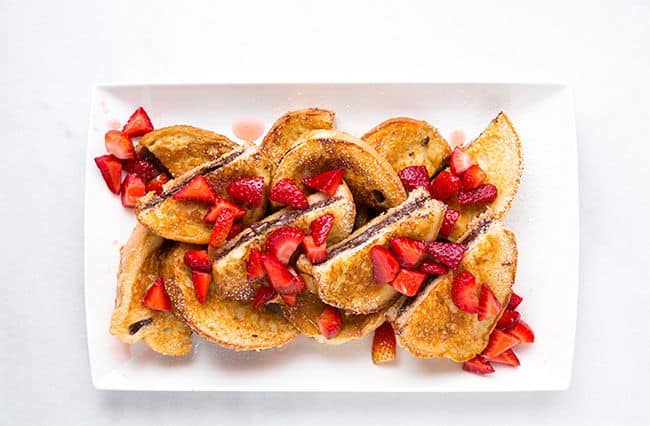 If Dad's a big ol' romantic at heart, show him you love him with some flowers at the table and a sweet serving of Nutella and Strawberry Stuffed French Toast. Get the recipe.
13. Heat-Seeker Dad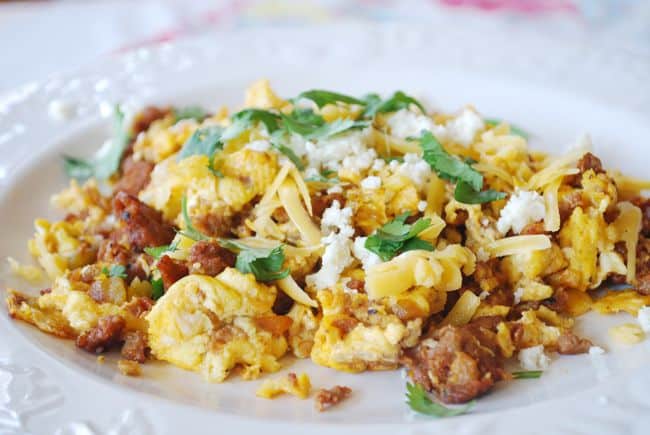 Take the heat up a notch with this easy spicy chorizo and jalapeño breakfast skillet! If you're eating with kids with sensitive palates, try leaving out the jalapeños and using salsa instead. Recipe here.
14. Dad-Jokes Dad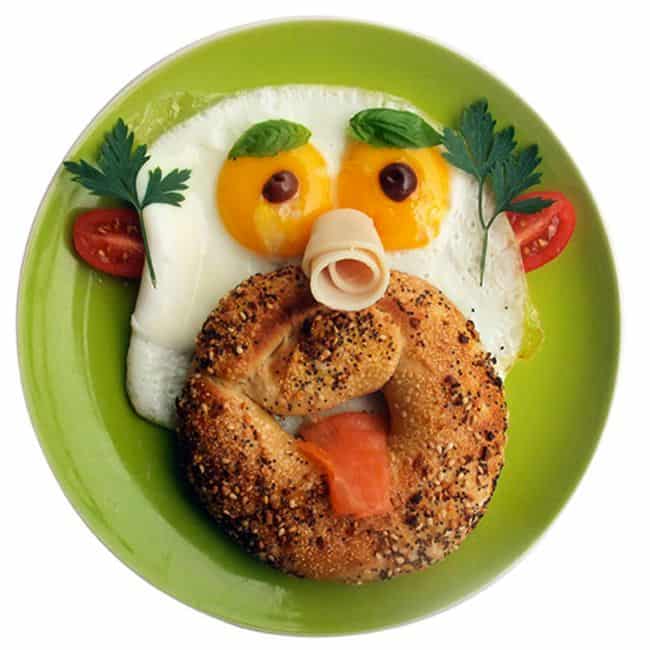 Recruit the kiddos' humor to serve Dad up a smile at his Father's Day breakfast. Make two sunny-side up eggs per plate and have ingredients at the ready for hands-on, interactive egg faces. String cheese, bell peppers, pepperonis and baked beans ready to go in small bowls, with a camera at the ready of course, make egg faces an unforgettable Father's Day breakfast. Idea from here.
15. Kappa Beta Delta Dad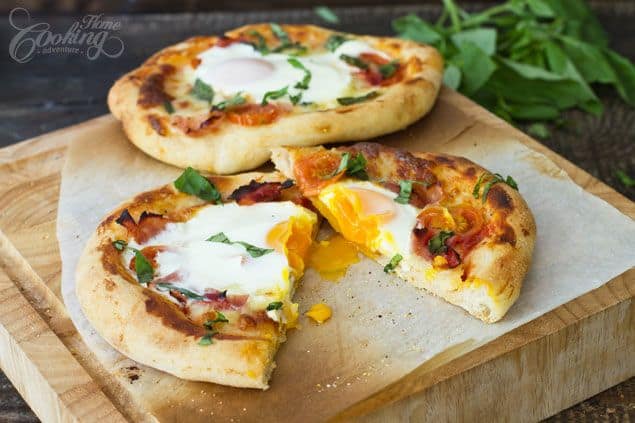 Dad gets that glazed look in his eyes telling stories from the good ol' days? Bring back his college days with a (only slightly) grown-up breakfast pizza. Recipe here.
16. Prairie Dad Companion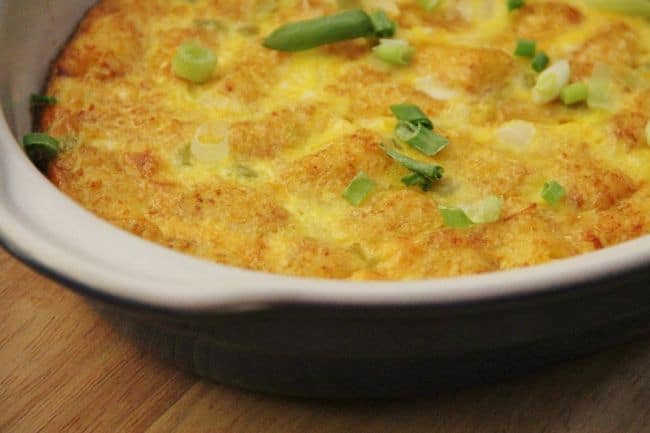 You betcha, Dad doesn't want anything fancy– just an old-fashioned hot dish will do for Midwestern fathers.  This super-simple but totally satisfying Tater Tot Casserole is easy to make and will accept any of Dad's favorite vegetables, spices, meats or cheeses. Get the recipe.
17. Beachcomber Dad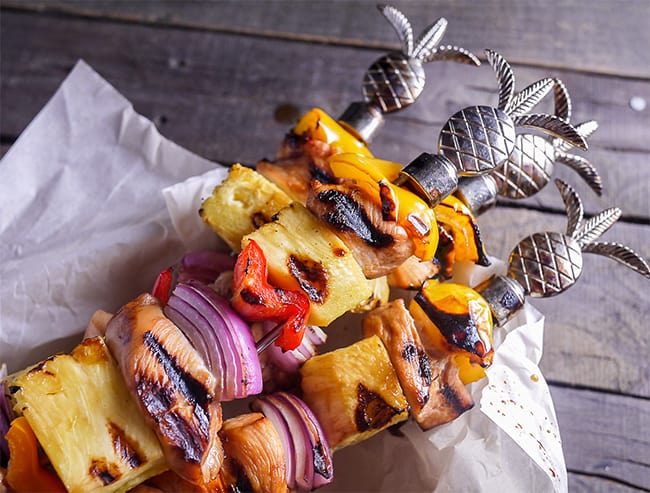 Bring Dad two tickets to paradise by making a tropical beach breakfast.  Sit in the sun, brew some iced coffee (give coconut milk creamer a try for extra points), make a Hawaiian guitar/surf rock Internet radio station and skewer these Tropical Fruit Kabobs.  They're great with scrambled eggs or bagels and lox.  Serve them chilled or fresh off the grill. Recipe here.
18. Tex-Mex Dad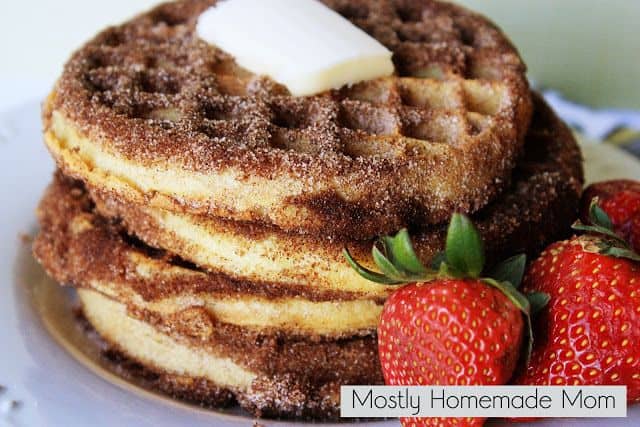 If you've got a Dad with a hankering for Mexican and you're also feeding little eaters with picky palates, try some festive Churro Waffles for a cinnamon-sweet twist. Bonus: these waffles are mind-blowing next to a small bowl of pickled jalapeños and cumin black beans. Recipe here.
19. C'est la Dad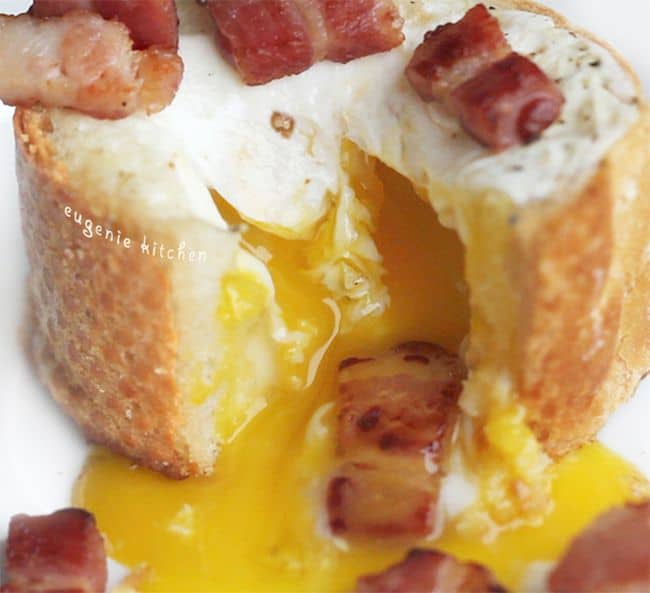 If Dad's dream day would be in a bistro in Paris, turn on the Amelie soundtrack and make these deceptively simple Egg Bacon Baguettes with toasted cheese. They're classy but still kid-friendly; just cook the yolks a little longer or scramble for picky eaters.) Recipe here.
20. Domo Arigato Dad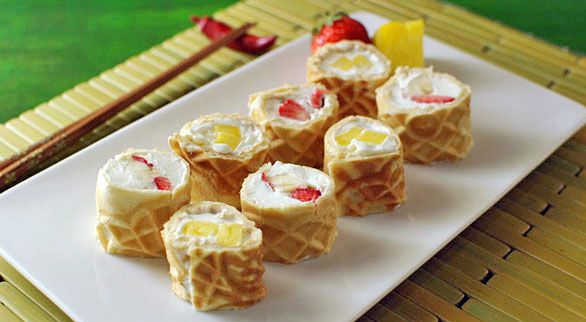 If Dad is dreaming of sashimi lunches, Japanese arcades and saketinis, bring his otaku love to the breakfast table with this adorable and deliciously sweet breakfast fruit sushi. Get the recipe.
2