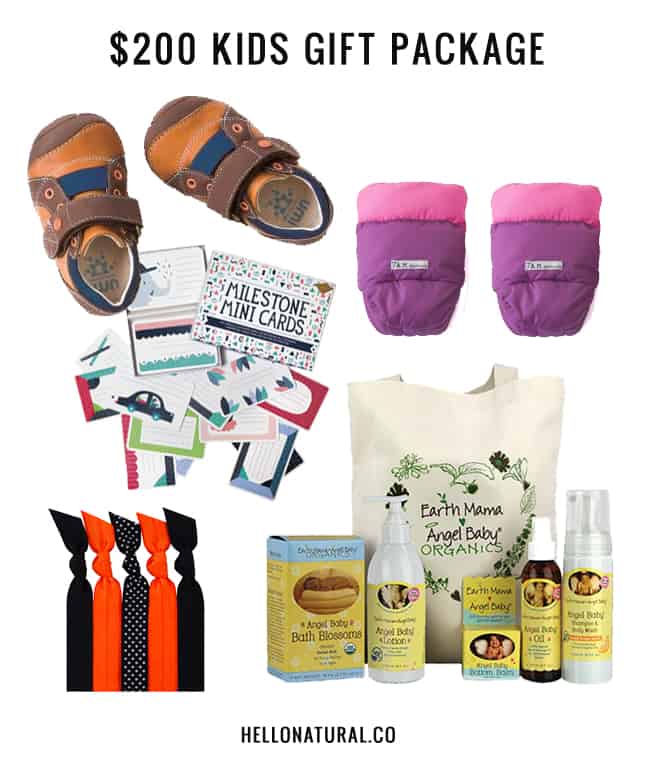 Just in time for the holidays, this giveaway combines 5 great products that will help your child stay warm – in style! Check out this kids prize pack – worth $200 – that's perfect for gift giving (or just surviving the holidays!).
$200 Kids Gift Package Giveaway
Just in time for the holidays comes a new pair of shoes from Umi Shoes. Umi will let our giveaway winner pick the size and style of shoe for their child from their Fall/Winter Collection. Never ordered shoes online before, don't worry: their site has great tools to help you size your child's foot from the comfort of your living room using this printable sizing ruler.
Live in a colder clime that's already seeing snow? Want to stay warm while not looking like the Michelin Man? 7AM Enfant has the solution. Their Warmmuffs add a few inches of sleeve to their mitten, helping to protect the wrist during active outdoor play. Since kids will never admit to being cold, Warmmuffs are a great addition to the winter clothing arsenal. Now you and your sprout can keep warm while coordinating outfits with this chic cold weather accessory. 7AM Enfant is providing both a child and an adult Warmmuff to this giveaway's winner.
Once inside and free of bulky outerwear, it's time to show off your accessories to family and friends. Emi-Jay has several product lines that are great for the holidays. The company name is an abbreviation for Emily and Julianne, the 2 young women who started this business while in their teens. Just as the founders of the company are in their teens, their products will appeal to children a little older than the rest of the items in this giveaway. Emi-Jay is known for its hair ties, and they have graciously offered a set of these Fall color themed Hair Ties to our giveaway winner.
Now that everyone is feeling ready for Thanksgiving and Christmas, it's time to focus on ways to save memories of these occasions for years to come. Milestone Cards provides us with 100 Mini Cards to capture and archive the cute and funny things your kids say to relatives around the dinner table. These will also make for good blackmail material later.
Assuming you're not the host of the festivities and need to travel instead,
Earth Mama Baby Angel
has your back…or in this case, your baby's back, bottom, head and heart. The 5 items in the
Baby Essentials Bundle
are great for stocking up your diaper or travel bag. In addition to baby lotion, shampoo, oil, and bottom balm, they also provide a special herbal bath. The organic ingredients in this bath include the blossoms of several herbal flowers, which will help soothe any fussy baby missing home and their normal routine.
What's on your must-have list to survive the holidays?
0