The kids are going back to school, and that means it's time to start thinking about things like folders, notebooks, pencils and … lunchtime! Packing school lunches can go one of two ways: fun or tedious. I opt to make it fun; I also opt to pack lunches that meet my criteria—healthy, enjoyable and practical.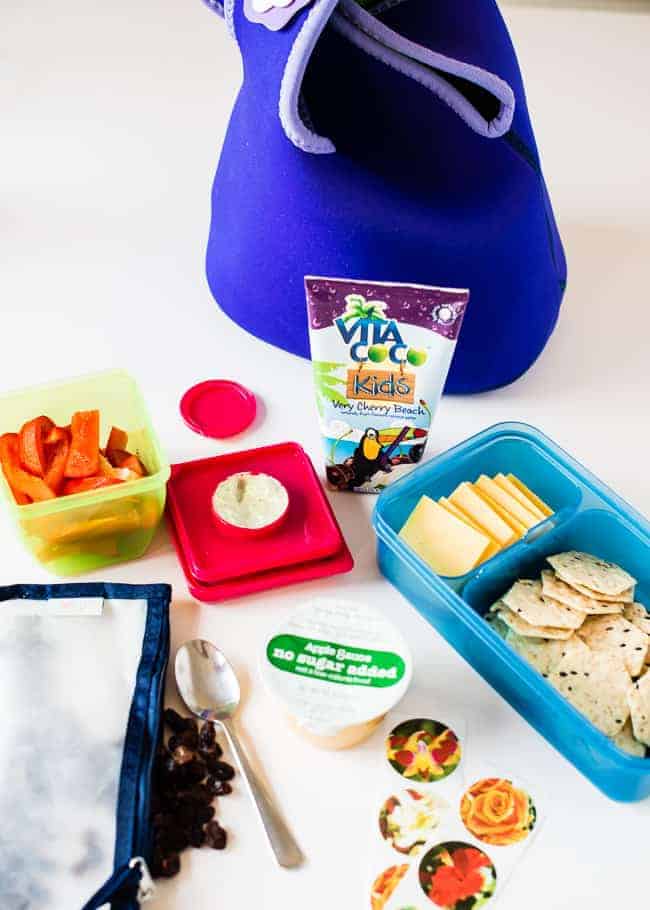 I've got some tips to help you out in the lunch department. After all, we want to pack a lunch they'll eat just as much as they want to like what we pack.
Make it healthy
It's easy to fall into the trap of tossing in salty or sugary pre-packaged food into lunches. Lunch is a great time to give them healthy food that will help keep their bodies and minds going for the rest of the day. Here are some things that have helped us put together a healthy school lunch:
Add a fresh fruit and at least one veggie to every lunch
Balance is key. Pack a good mix of carbs, protein, and healthy fats.
Use whole grain breads and crackers
Limit processed foods and unnatural ingredients—things you can't pronounce, and artificial colors and flavorings
Include natural beverages like Vita Coco Kids Coconut Water, milk, 100% fruit or veggie juice or water
Limit desserts and sweets. We have determined Friday as "treat day" where the kids get a piece of chocolate, a fruit snack or cookie.
Help them remember to eat with clean hands by including a hand wipe in their lunch bag. :)
Add ice packs and/or use insulated containers to keep food the correct temperature until it's time to eat.
Make it enjoyable
If lunchtime is enjoyable, there's more of a chance your kids' lunches will be eaten. My kids get so excited when they know they have an awesome lunch awaiting them in their backpacks. Here are some ways to add a little joy to their lunches:
Variety—or not! Kids are all different. One kid might enjoy a peanut butter and honey sandwich on wheat bread every single day; another might thrive on variety.
Choose fun containers and bags to personalize their lunch. (Don't forget to label everything with their name!)
Pack what they like. Include at least one food (or beverage) that will for sure will be eaten: a favorite fruit, veggie, cheese stick, etc.
Cut sandwiches and veggies with cookie cutters to add some fun: star-shaped cucumbers, heart-shaped sandwiches, you get the idea
Dip it! It's no secret kids love dipping. Add a healthy yogurt-based dip, hummus, salsa or nut butter (if it's allowed in your child's school).
Add other fun element like stickers or an activity.
Write a note to perk up their day: a little word of love, encouragement or just a silly joke to make them smile
Make it colorful. Kids eat with their eyes, too. Add some bright-colored berries, melon cubes, or cut-up veggies
Running out of ideas for what to pack? Change things up by choosing a theme: Italian, Mexican, Japanese, Hawaiian, a favorite sports team, rainbow, and so on
Have kids help plan, grocery-shop and pack their lunch. If they feel invested in it, they'll be more likely to eat it. (You might even be able to get them to try a new fruit or veggie this way.)
Make it practical
Kids don't have much time to eat during lunch; they usually rush through so they can have as much time on the playground as possible. Lunches that are easier to eat means they're more likely to actually be eaten, especially when it comes to younger children.
Cut food into smaller pieces, slices or sticks. I find this is essential for apples, pears and other crunchy whole fruits and veggies.
Include easy-to-open packages, reusable containers and bottles, and don't forget to pack spoons and forks, if needed
Pack what you know they can eat. For example, my younger child might have a more difficult time eating a salad with lunch, whereas my oldest would have no trouble at all.
What do you pack for your kids? Do you have ideas to add to the list?
0