I have a hunch you're gonna love this: 24 Merry Days is back! I'm so excited to be part of the 24 bloggers participating in this year's event, especially since I read and admire them all. In case you don't remember last year's giveaway extravaganza, 24 Merry Days means daily giveaways from December 1 to December 24. Major kudos go to Audrey of This Little Street for spearheading this wonderful initiative that brings together some seriously spectacular brands and bloggers.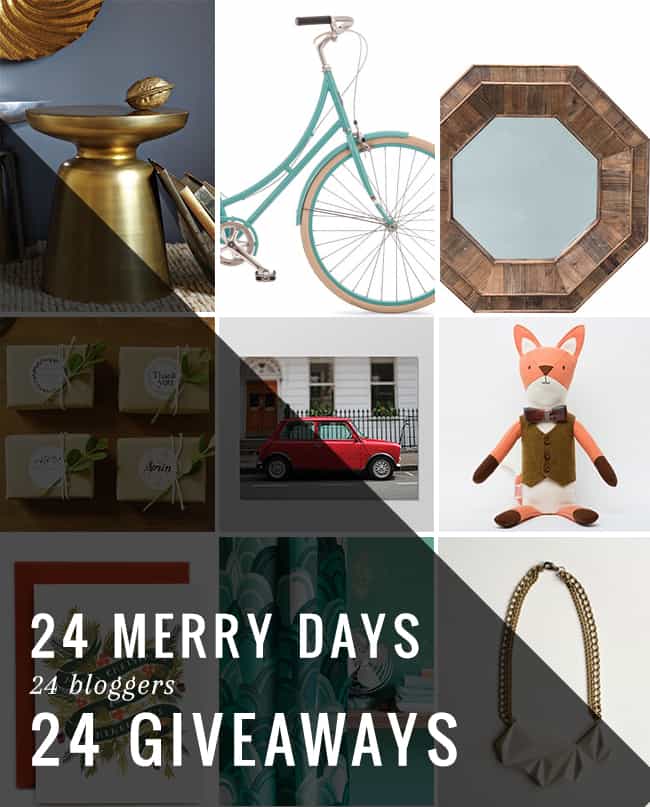 Last year was awesome. And this year? Double that. There are incredible prizes – massive gift cards, a bike from Public Bikes, Swedish Hasbeen shoes, a Lowe's accent chair and even $500 worth of dishes from Mud Australia. Sounds like a dream, right?
I've been sworn to secrecy so I can't tell you who is giving away what when. But you're definitely going to want to find out! Visit the 24 Merry Days website – designed by the talented Gloria – each day in December for information on that day's giveaway.
Good luck! And we'll see you back here soon for our giveaway!
0