One of my very first tutorials was a braided bracelet – and with that my love of a good DIY was born. DIY bracelets are especially close to my heart because they are usually fast, simple and easy to wear. What more could you ask for? Read on for 25 of my favorite DIY bracelet projects.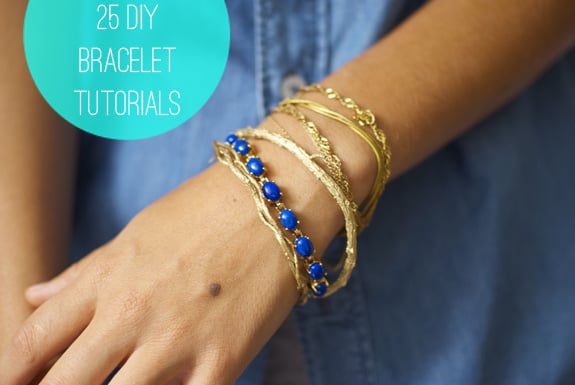 1. Spike rope bracelet – P.S. I made this
Originally made as a good luck charm for sailors, rope bracelets are more fashionable than ever. Make one with spikes for an edgy look.
2. Beaded bow bracelet DIY – Trinkets in Bloom
Make a bracelet that combines pearls, ribbon and a hardware store hose clamp – genius!
3. DIY macrame bracelet – Honestly WTF
The WTF girls have done it again! Get a trendy arm party with macrame and some connectors.
4. Transparent Cuffs – Love Aesthetics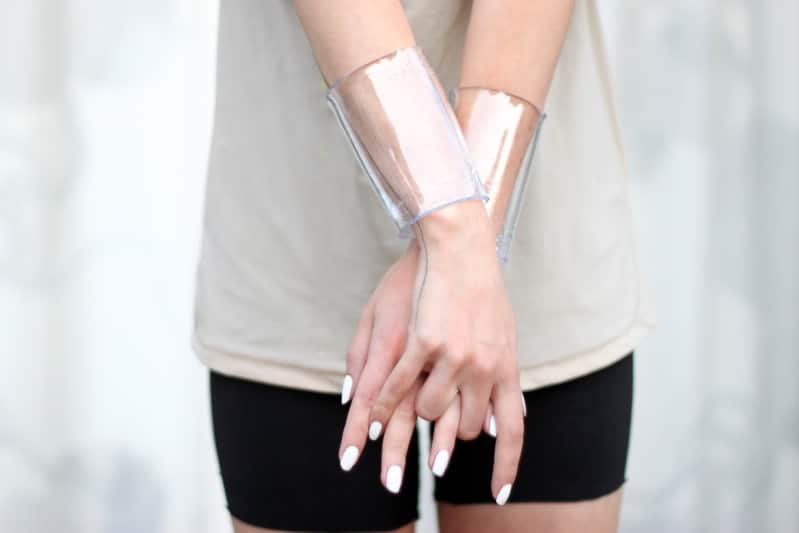 You need some special equipment for this DIY but the amazing outcome is worth the effort.
5. DIY Bungee Cord Bracelet – Thanks, I Made It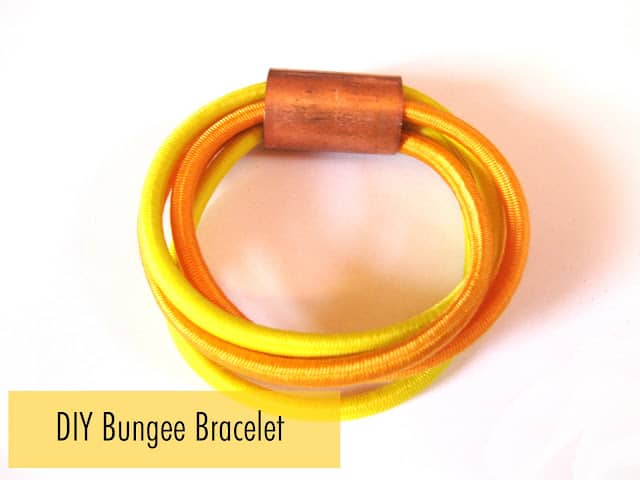 Who knew there was so much jewelry waiting to be found at the hardware store?
6. Striped Bangles – Martha Stewart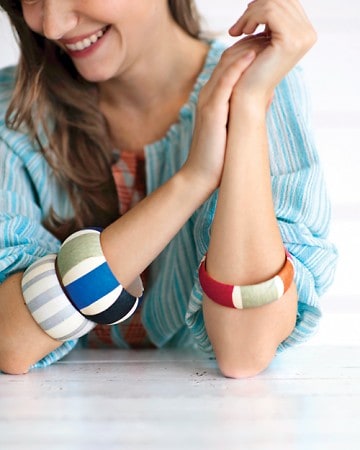 Get the color block effect of these pretty striped bracelets with just basic bangles and tissue paper.
7. Braided Marni bracelet – Who What Wear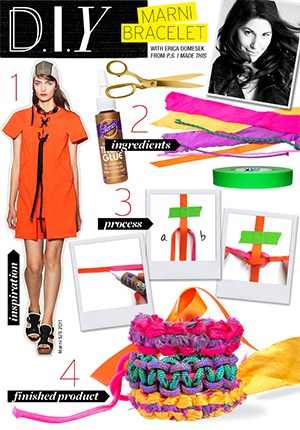 Be inspired by Marni and make some braided bracelets. Cute on grownups and kids.
8. DIY Braided Clay Bracelet – Delighted Momma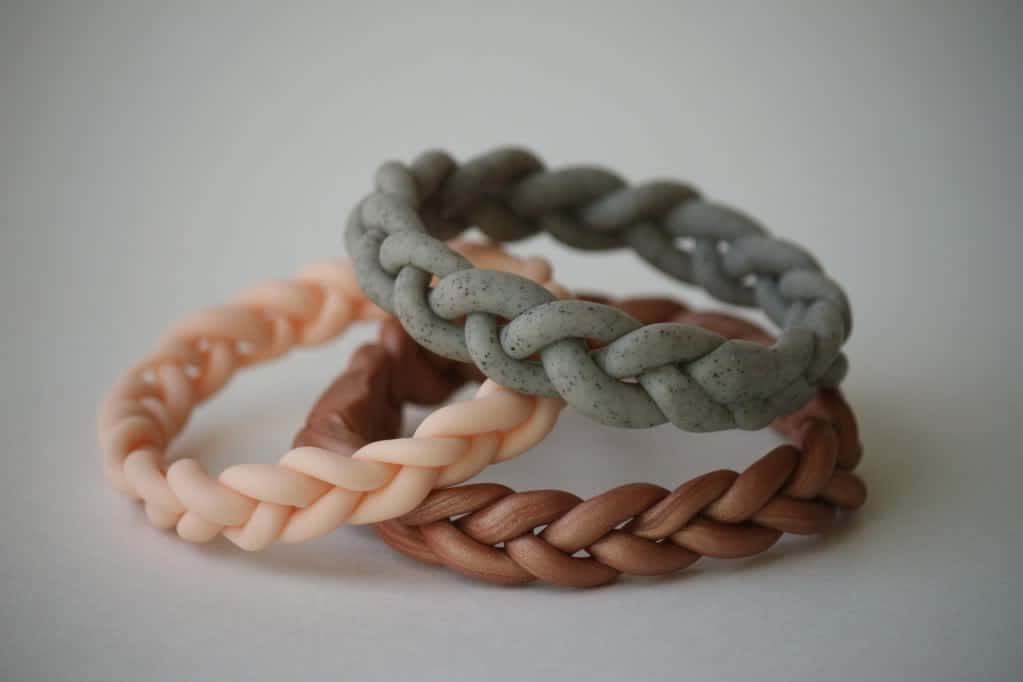 So pretty and delicate, these are made entirely from clay.
9. Dressed up Target sailor bracelet – Under the Sycamore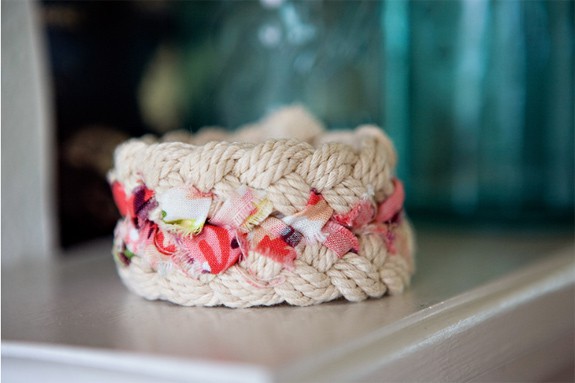 Combine two braided bracelets with some pretty fabric for one statement bracelet that you'll love to wear.
10. Sweater bangle – A Bit of Sunshine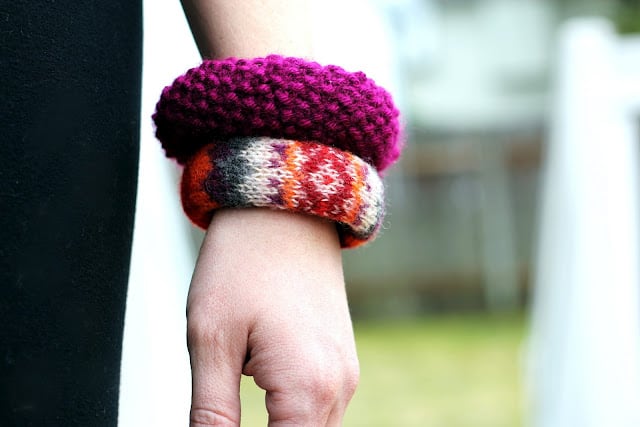 Recycle old sweaters into these cozy accessories for fall.
11. Braided T-Shirt Bracelets – Hello Glow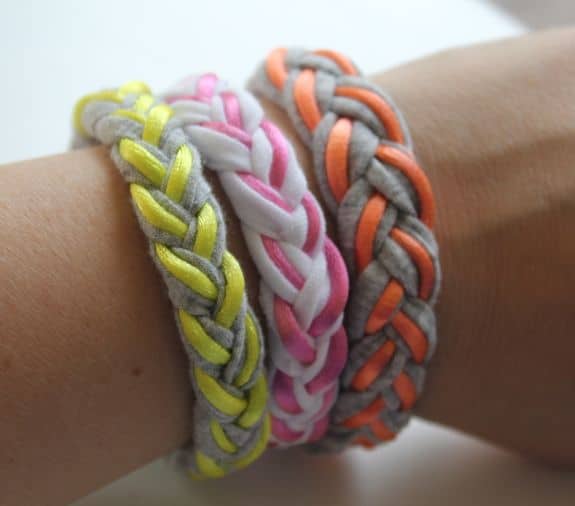 I do love making bracelets! This one is fun to make with old t-shirts.
12. Painted Leather Bracelet DIY – A Beautiful Mess
There are endless color and pattern possibilities with this painted leather bracelet.
13. Willy Nilly bracelet tutorial – Flamingo Toes
Who doesn't like a cute bracelet at a fraction of the price? This Anthropologie knockoff looks just like the real thing and you don't need much to make it yourself.
14. DIY Bead Bracelets – DaWanda Blog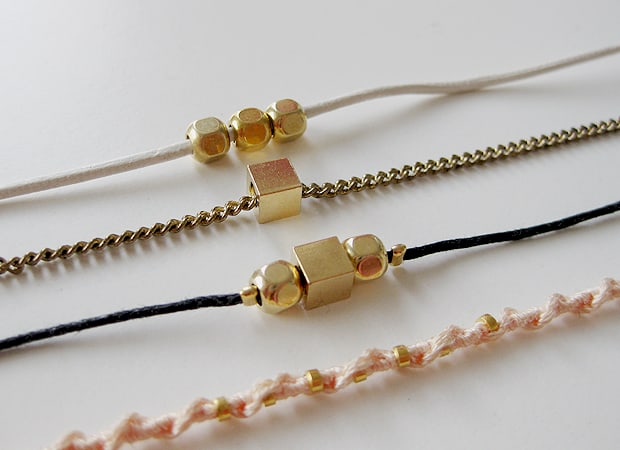 Aren't these gorgeous? So simple and elegant.
15. DIY a killer summer friendship bracelet for you and your BFF – Refinery 29
Remember all those friendship bracelets you made as a child? You gotta love this grown up version.
16. Jersey Knit Bracelets – V and Co.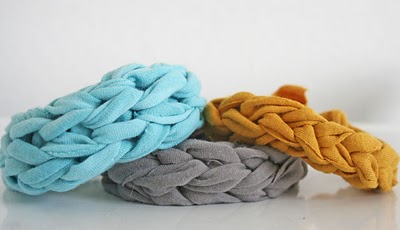 Check out the cool finger braiding technique of these infinity bracelets.
17. Ribbon Colored Bracelets – MondoCherry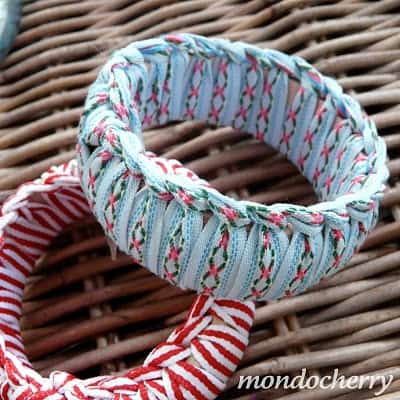 Pretty ribbon wrapped brangles. The red striped version is so nautical chic!
18. Rope Bracelet Tutorial – Sew.Craft.Create.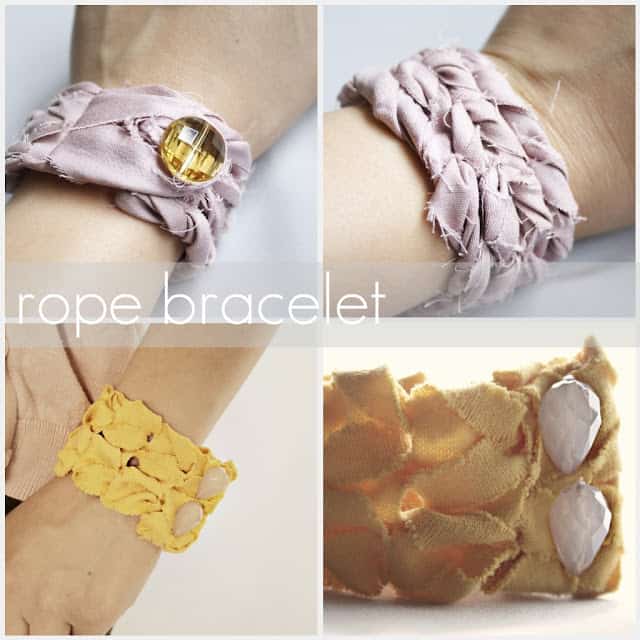 A shabby chic DIY bracelet that allows you to use up your fabric scrap stash.
19. Starfish bracelet – V Juliet
Made from clay, this star bracelet is so chic for summer. Even better, it looks expensive!
20. Leather Bracelet DIY – Lebenslustiger.com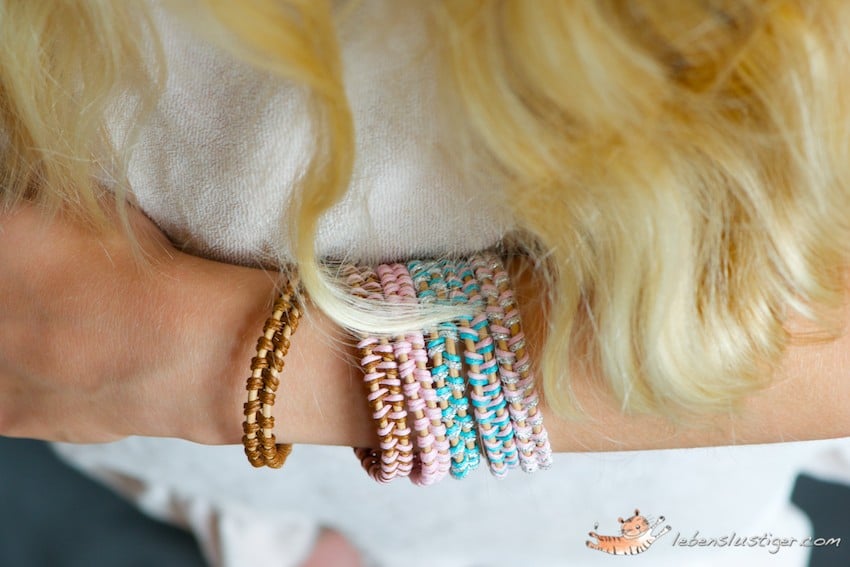 Perfect stacking bracelets for a summer arm party – and they are deceptively easy to make.
21. DIY hinge bracelet with gold chains – Love, Maegan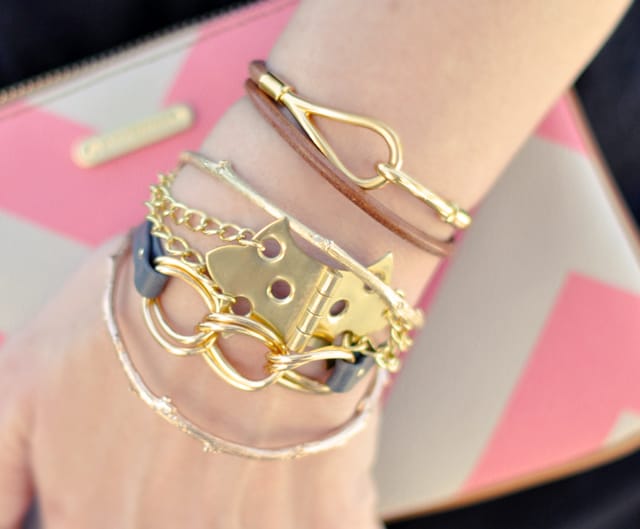 Did you ever consider using hinges as part of a DIY jewelry project? Me neither. But it makes an awesome bracelet.
22. DIY gold twig bangles – A Pair and a Spare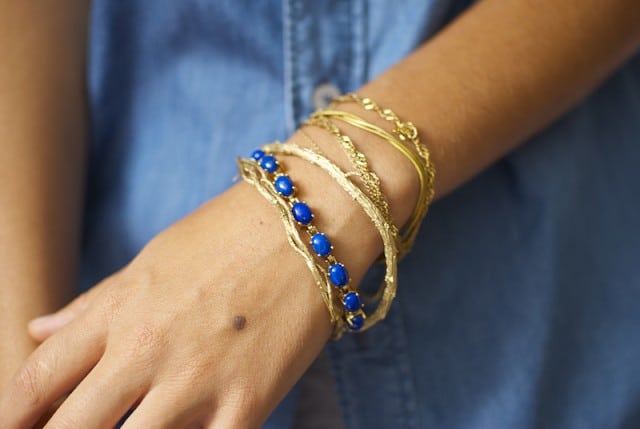 Who knew twigs could be so useful for DIY bracelets? With just some metallic spray paint, you can make them into gorgeous bracelets.
23. DIY leather bow bracelet – Oh The Lovely Things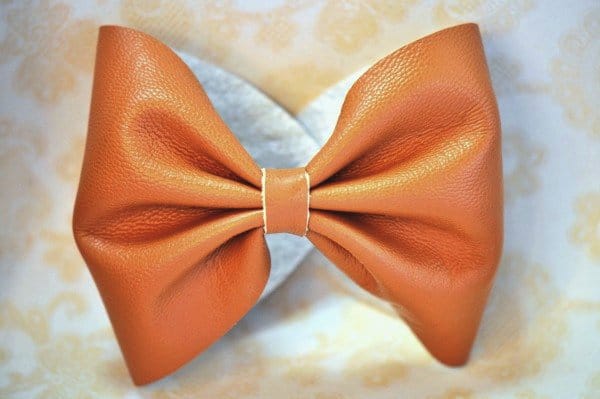 Is anything prettier than a bow? Turn your leather scraps into a chic bracelet with just a couple of supplies.
24. DIY Anthropologie purl one bracelet – Crochet Clouds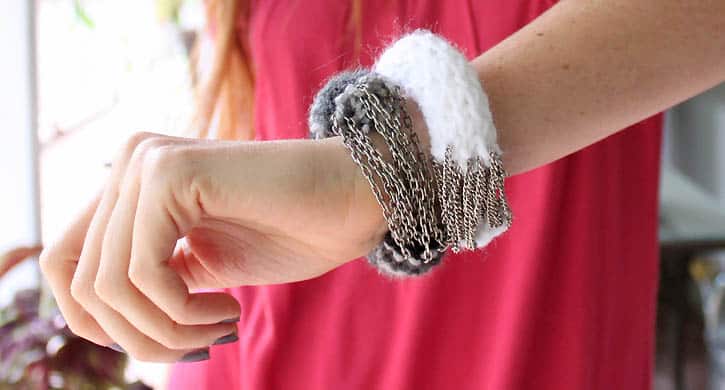 So much cheaper than the original Anthropologie bracelets and so fuzzy! How fun is the combination of chain and crochet?
25. DIY Button Bracelets – Morning Creativity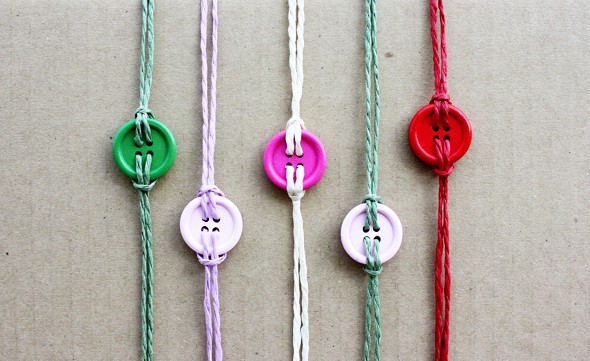 I love how simple and colorful these button bracelets are. A fun project for young girls.
Want more DIY ideas? Find 25 Hair Accessories and 25 Flower Projects.
26