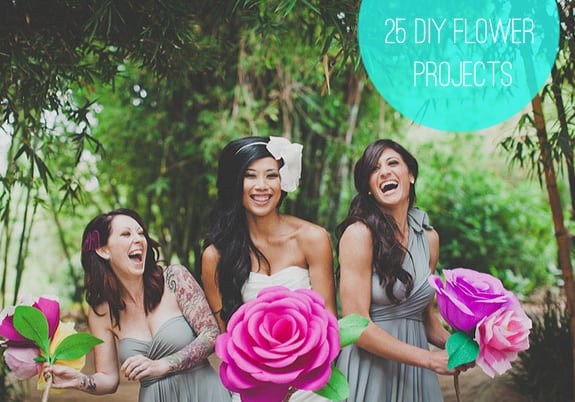 My favorite Saturday morning ritual is visiting the farmer's market to pick up bunches of wildflowers. The bright colors are a cheery way to start day! I've been wanting to learn more about flower arranging, so I went to Pinterest and the next thing I knew I had wasted 2 hours going down the rabbit hole of flower related crafts. You guys seemed to like the 25 Hair DIYs so here are 25 (plus a few bonus!) flower projects to add to your to do list.
1. Flower pin tutorial – Jones Design Company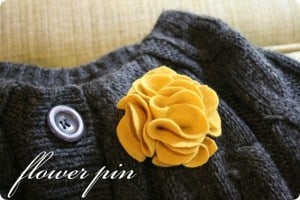 Make this versatile flower pin with just some wool fabric and a few basic craft supplies. You're gonna want to pin it on everything!
2. DIY Flower Crown – Bleubird Vintage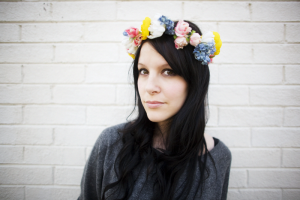 James looks angelic in this DIY flower crown – a great way to celebrate the warm season.
3. DIY flower bracelets – Style Me Pretty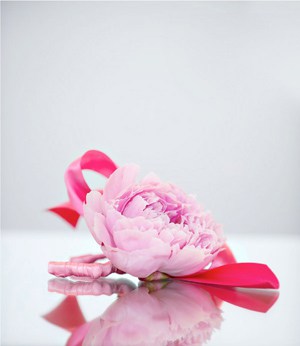 In need of some festive embellishment? This bracelet is a wonderful piece for the flower girl. And maybe even a corsage for prom?
4. Tutorial: springy rings – Mrs. Priss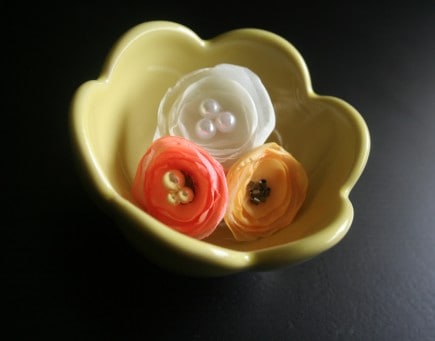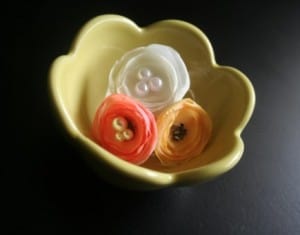 Delicate and sweet, these rings are made of very thin fabric – so light and so pretty!
5. Tuesday tutorial: flowers – October Afternoon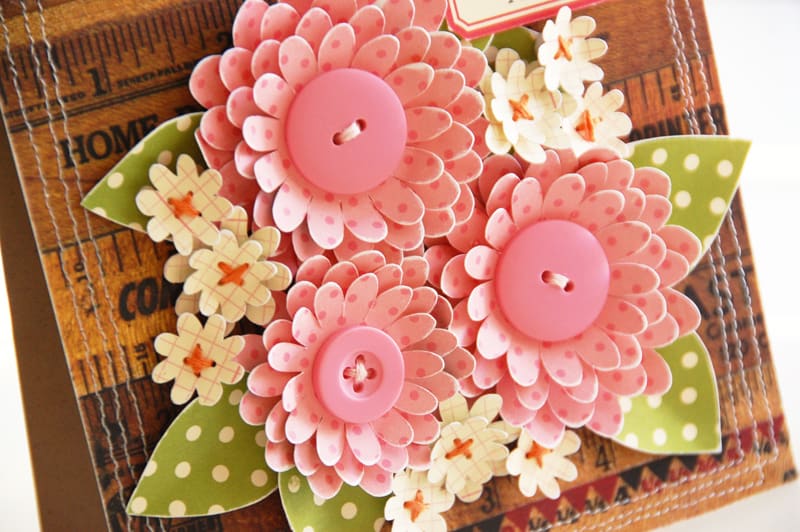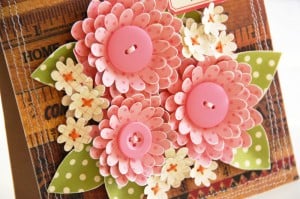 Scrapbooking plans this weekend? You might need some cute flowers to work with, and custom made is always best. Use your favorite colors and prints for a personal touch.
6. Quick floral sandal DIY – Polka Dots Are Love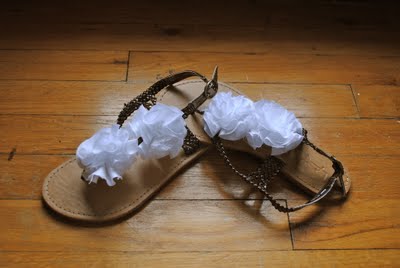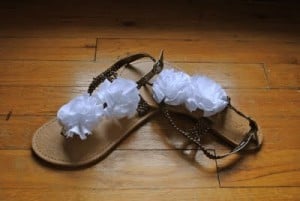 Sandals need a new life? Make fabric flowers in a matching color and just glue them on!
7. Flower headband tutorial – On My Side Of the Room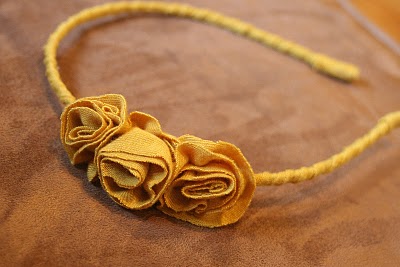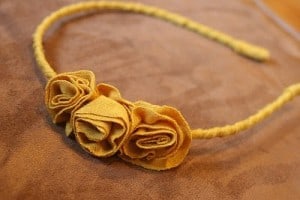 All you need for this project is a plastic headband and some scraps from an old tee. With some sewing and gluing, you'll get the cutest headband around.
8. Fabric flower tutorial – Matchbox Kitchen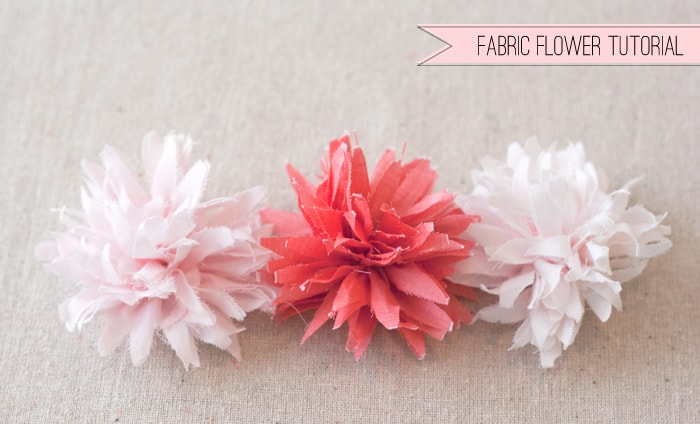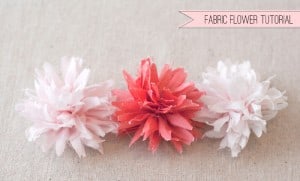 I love how versatile these flowers are – use them in a number of DIY projects, from jewelry to decor.
9. Baby girl flower sandals – Make It and Love It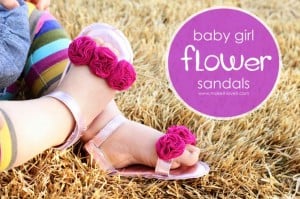 I haven't thought about this before, but making sandals for your little one is actually… doable. They are fun and they keep your baby girl interested if you add flowers, too.
10. Giant paper rose flower – Green Wedding Shoes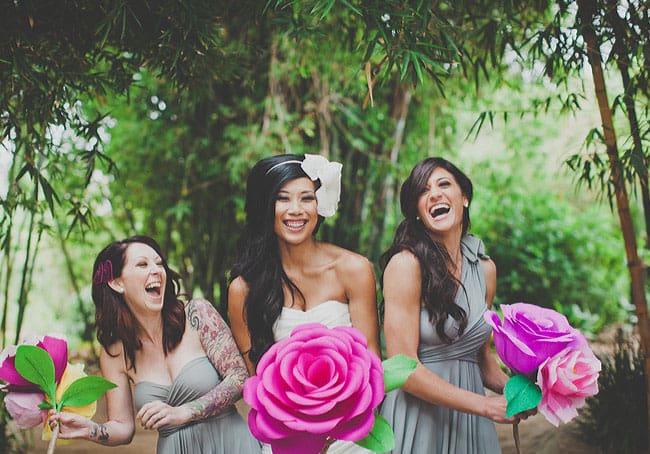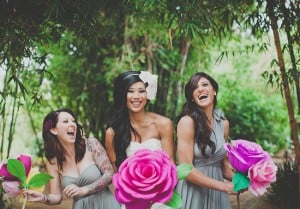 Did you ever consider a single flower as your wedding bouquet? No? What if this flower was… giant? Great for party decor too.
11. Clay petal vase – Centsetional Girl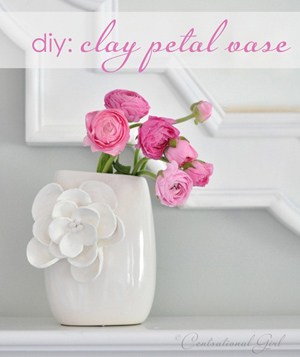 A boring vase becomes a fabulous vase with a touch of stone clay. You can make it your own by picking your favorite color or design.
12. Pom pom bib necklace tutorial – Little Miss Momma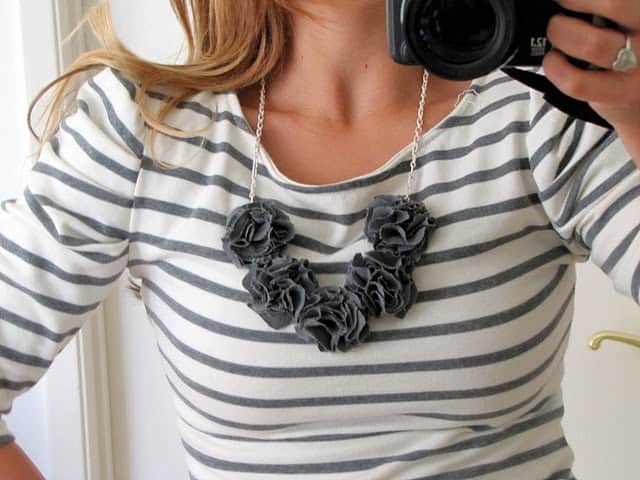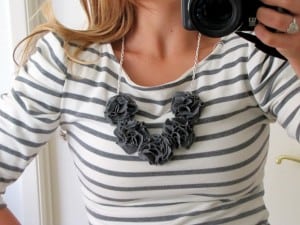 DIY Anthropologie style! Up your everyday look with a floral statement necklace.
13. How to make a pomander flower ball – Pizzazzerie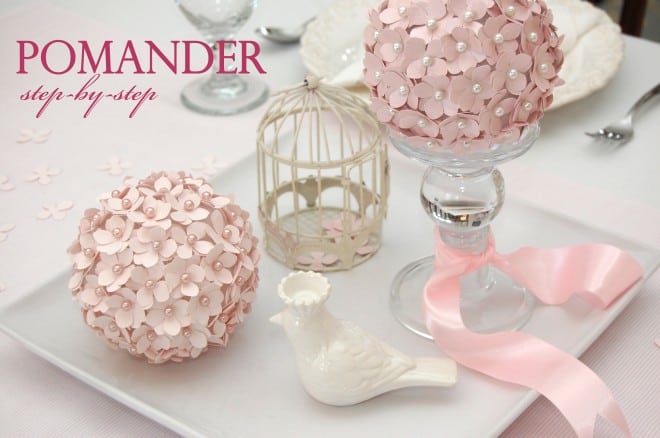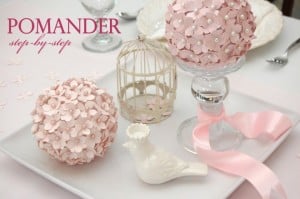 I don't know about you, but I'd like to see these pomander flower balls in the house not just at a wedding table!
14. How to make paper flowers from cupcake liners – Intimate Weddings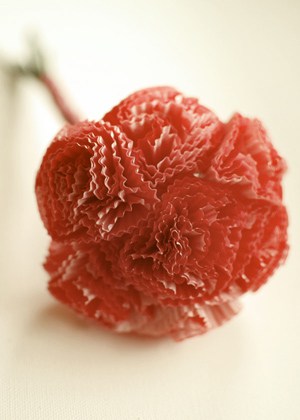 The pleated edges of cupcake liners kind of look like flower petals… So why not use them to make beautiful paper flowers?
15. Paper plate flowers – Creative Jewish Mom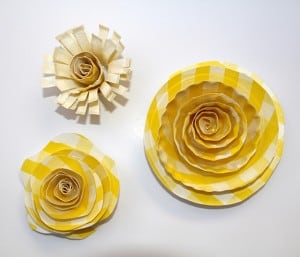 Here's an unexpected use for paper plates: turn them into flowers! They would be lovely as decorations for a girl's birthday party.
16. Ribbon flower pin tutorial – Make It Do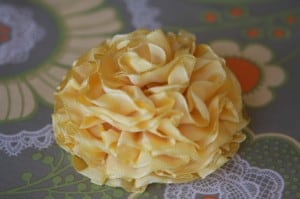 You'll need up to 4 yards of wired ribbon to make one of these flowers, but it's really worth the effort once you see it finished.
17. Bejeweled flower headband – Go Make Me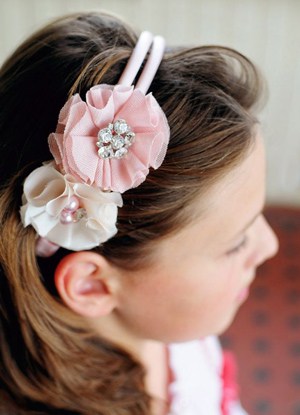 This one is so elegant! Those bejeweled flowers would look amazing as pins, too.
18. Flower topiary – Just Lovely
This is not difficult at all, if you have the right supplies. Apparently there are lots of pretty things you can do with foam balls!
19. DIY t-shirt flower dress – Stars for Streetlights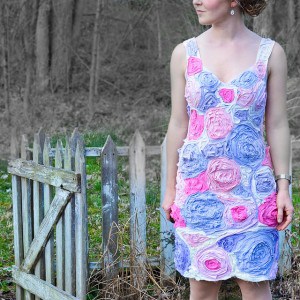 Now this is something else! A flower dress from old t-shirts? Yes, please!
20. DIY billy button flowers – Horray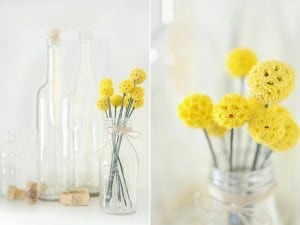 Do you sometimes feel pity for the flowers that you throw away because they're dried out? Just don't. Use ones that are already dry.
21. DIY fabric peony flower accessories – Creature Comforts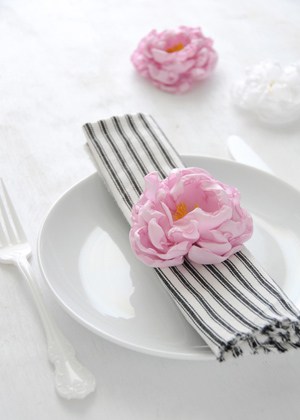 There is something so delicate and beautiful about these fabric peonies. And there are so many ways to use them!
22. DIY Pressed Flower Frames with Esther from Wholly Kao – Pamplemousse1983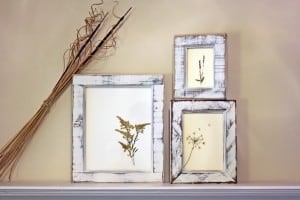 If you loved pressing flowers in books when you were a kid, you will love pressing them as wall art and seeing them all the time.
23. Spring flower lollipops – Sprinkle Bakes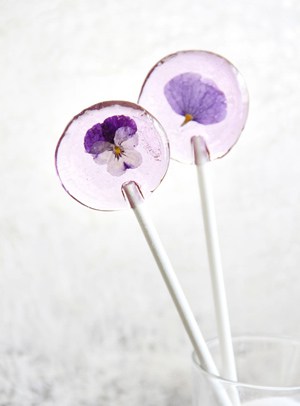 This might blow your mind, but… edible flowers! And you can make them into delicious lollipops that look incredible.
24. Cupcake Flower Lights – Oh Happy Day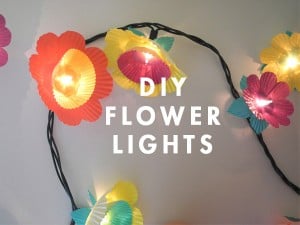 Brighten up your backyard with gorgeous flowers lights lights (from cupcake liners!).
25. DIY Crepe Paper Flowers – Honestly WTF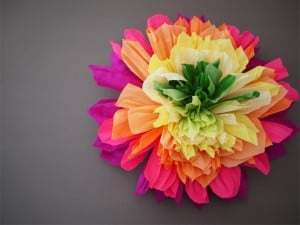 I love how colorful these are – and how easy they are to make!
BONUS!
26. 15-Minute Flower Garland – Oh Joy!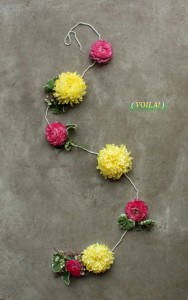 Don't just put your flowers in a vase – make an easy garland instead.
27. Felt Dahlia Flower Brooch – Holidash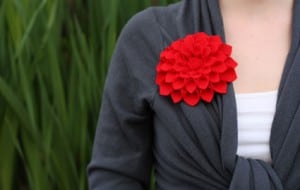 With a little patience, you can make this gorgeous dahlia flower.
28. DIY Flower Wreath – Lovelies in my Life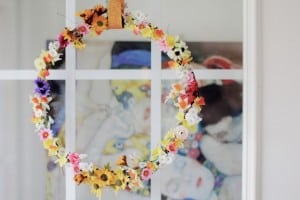 I'm not usually a fan of fake flowers but this wreath is so simple and lovely.
Wouldn't you love to have this in your living room to show off to everyone?
1