Maybe I'm biased but I think DIY Halloween costumes are the best! Why spend money on something new that you're only gonna wear once, when you can make some amazing out of things you already own? Plus the making is half the fun! With this in mind, I went on an Internet hunt to find the best kids Halloween costumes that I can easily DIY at home!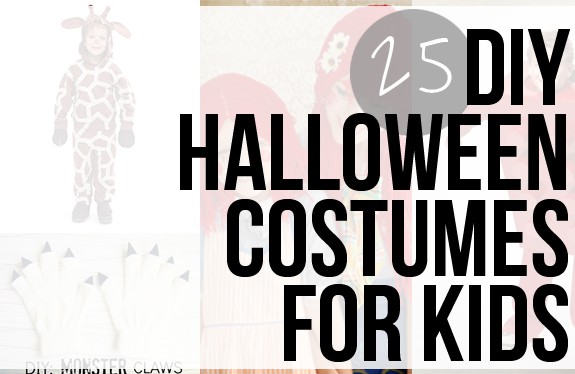 P.S. Don't forget about mom! Here are 25 easy DIY Halloween costumes for women!
1. Masked owl costume – Martha Stewart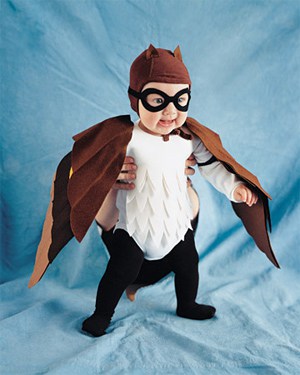 Babies will look cute in any costume, but this masked owl is adorable as can be!
2. Bluebird costume tutorial – Prudent Baby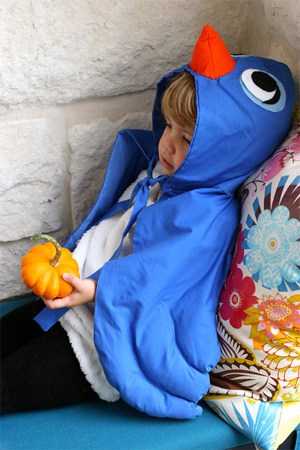 Turn your kiddo into the sweetest bluebird around! Bonus points for being such a comfortable costume, too!
3. Dragon tails – Tatertots & Jello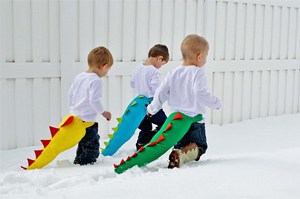 Make this dragon tail for any number of kids! Belted around the waist, it's comfy and goes over anything.
4. Sock monkey baby costume – Grosgrain Fabulous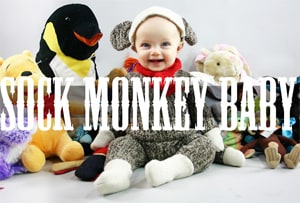 Isn't this costume an absolute cutie? And wouldn't your baby rock it? All you need is an old sweater…
5. No sew cupcake costume – Lemon Tree Creations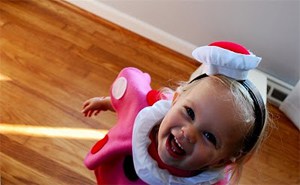 Sweet as a cupcake, your daughter will look adorable in this. And no sewing skills are required!
6. Cotton candy costume tutorial – Craft With Confidence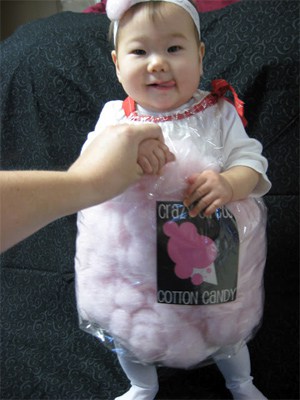 Teach your kid what's delicious from a young age: cotton candy, for example. As a costume.
7. DIY nesting dolls costume tutorial – The Train to Crazy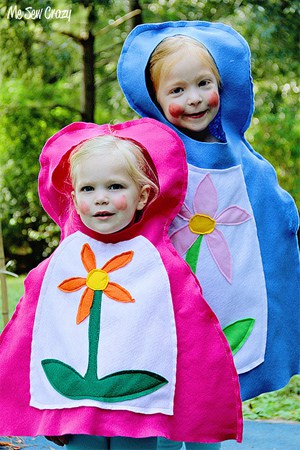 A stunning costume idea for your daughters: nesting dolls! It works extremely well if one is a bit taller than the other.
8. DIY jar head Halloween costume – Thirty Handmade Days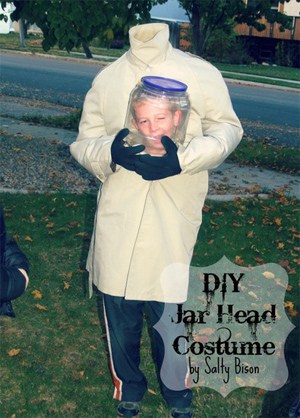 This one is super spooky, but equally fun to make! Plus, it's such an original idea, you won't see other kids in the neighborhood donning the same look.
9. Crayon costume – Parents
This crayon costume is made of a pillow case! Then all you have to do is copy the design from an actual crayon.
10. Pumpkin tutu costume – Craft Passion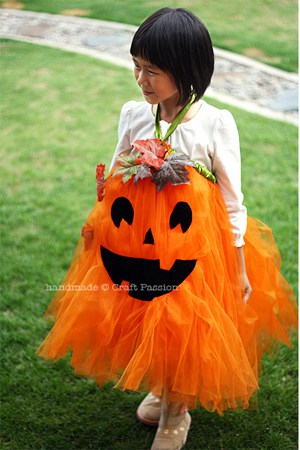 A simple idea made into a wonderful design! This pumpkin tutu doesn't require any sewing either!
11. Gumball machine – Inchmark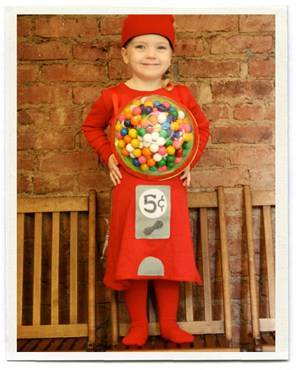 The best thing about this gumball costume – besides being so cute – is that the kiddo gets to eat the gum after Halloween.
12. Rag doll Halloween costume DIY – A Beautiful Mess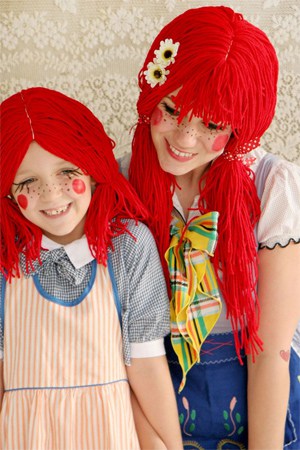 A lovely idea for mother-daughter bonding, or for sisters! The ragdoll inspired looks are easy to make and so much fun!
13. DIY mermaid – The Train to Crazy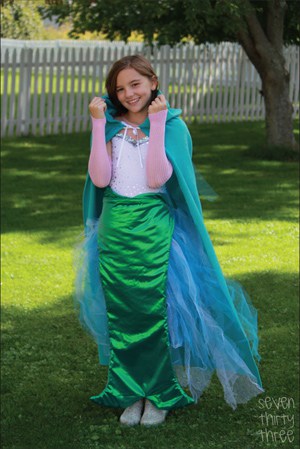 If your daughter is in an Ariel phase, this is the right costume for her. Plus, you can make it yourself – but you need sewing skills!
14. DIY Kid's bat costume – Alpha Mom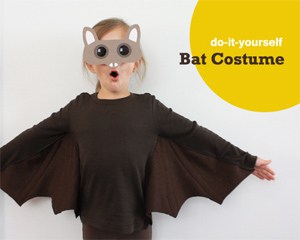 Perfect for beginner sewers, this bat costume is comfy and as spooky as it needs to be. You can download the pattern in the link.
15. Snuggly lion Halloween costume – Fresh Home Ideas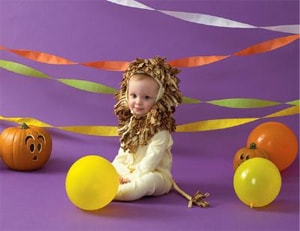 Your baby will look snuggly in this lion costume – picture perfect!
15. DIY owl cap – Say Yes To Hoboken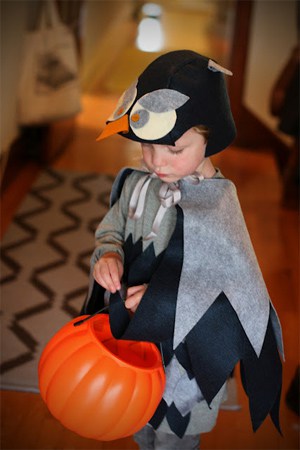 Felt is your best friend in Halloween costume making! This owl mask included.
17. Peacock costume how to – Creatively Christy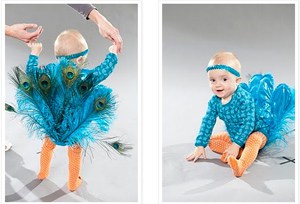 A toddler costume that will blow everyone's mind, just like the real bird will do: the peacock.
18. $1 DIY Halloween costume tutorial: paper doll – Slapdash Mom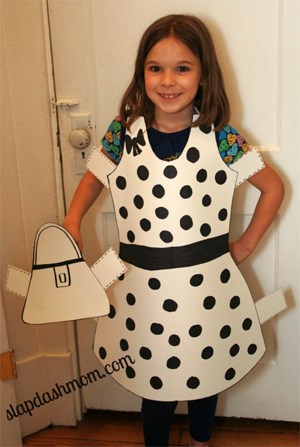 Nothing compares to a costume that you make yourself. Except, maybe, one that costs $1!
19. Lego costume – Country Living
If you have a kid that's excited about trick or treating and a cardboard box, then you already have everything you need for this costumer!
20. Bunny hat and paw mittens – The Purl Bee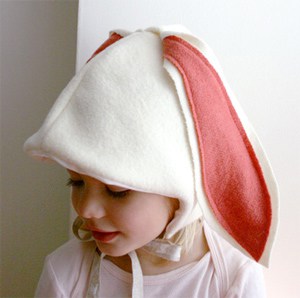 Adorable and fluffy as can be, this set will make your little one into a cute bunny real quick.
21. DIY "The Birds" costume tutorial – The Train to Crazy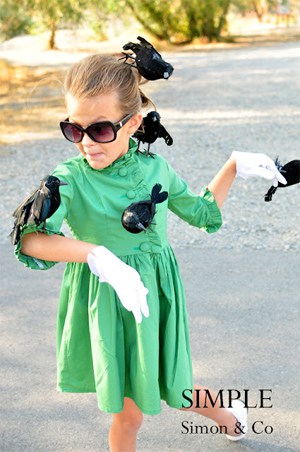 A great idea for your little film fan: a costume inspired by Hitchcock's "The Birds". Very scary.
22. Wee Alphas go DIY for Halloween – Wee Blog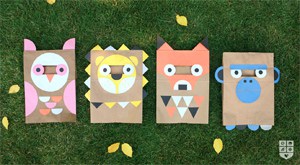 Incredibly easy and incredibly cheap, these paper bag costumes are cute and novel!
23. DIY monster claws – The Southern Institute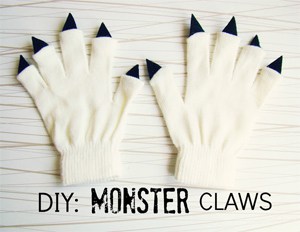 I'm sure you have some gloves around the house, so if you want something quick and easy, monster claws are the way to go!
24. Field of flowers DIY – Oh Happy Days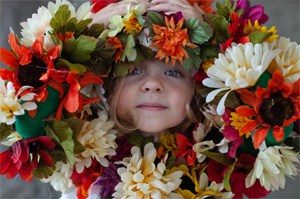 This gorgeous costume will turn your princess into a lovely field of flowers!
25. Giraffe – Spoonful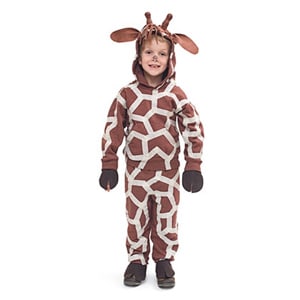 You can use masking tape to create the spots of a cute giraffe. You'll just a sweatsuit and some felt!
1