How much do you love summer camping? We're pretty psyched about it - especially the yummy treats that only makes sense by the campfire! So pull out your guitar and your sleeping bag, and join us on a camping trip that's full on delicious.
25 Ways to Cook on the Campfire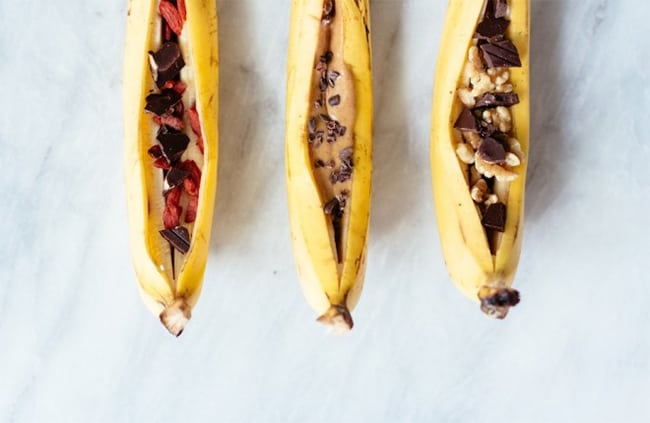 1. Banana boats by Nutrition Stripped. A grownup version of foil bananas, which uses dark chocolate chips, coconut flakes and of course, marshmallows.
2. Smoked rotisserie chicken by The Mighty Mrs. Make your own rotisserie chicken that tastes even better when smoked over the campfire.
3. Toasted cinnamon rolls by Dabbles & Babbles. Simply toast cinnamon rolls on hot embers and you get a deliciously moist treat for kids and adults alike.
4. Campfire breadsticks by Shock Munch. Using your favorite breadstick dough, bake your own rolled around a campfire stick.
5. Grilled s'more calzones by Half Baked Harvest. Cinnamon-spiced pizza dough replaces the crackers in this s'more recipe, plus they close all the goodness in, like calzones.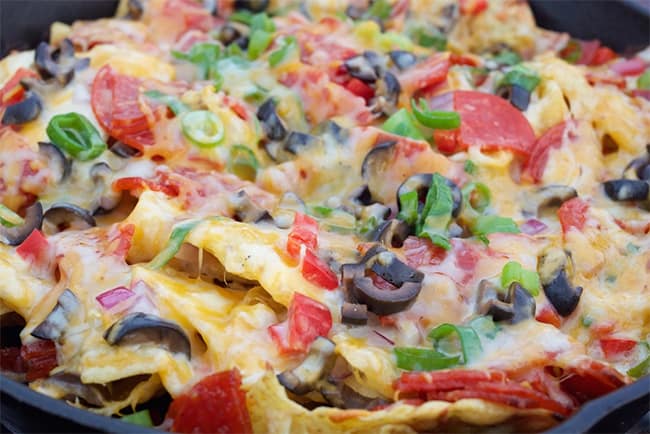 6. Campfire pizza nachos by Cooking with Janica. This is a really quick recipe, which is great for hungry campers! Plus it's comfort food at its best.
7. Campfire breakfast skillet by A Red Spatula. This breakfast recipe requires some at-home prepping, which makes actual camping cooking a lot easier and faster.
8. Ash-roasted potatoes by Happy Foods Tube. Roasted potatoes are a camping classic, and this recipe shows just how easy they are to make.
9. S'mores four ways by La Crema. Looking for ways to upgrade your s'mores? These recipes are all new and delicious.
10. S'more Rice Krispie Treats by The Gunnysack. As if we needed an excuse to eat s'mores for every meal!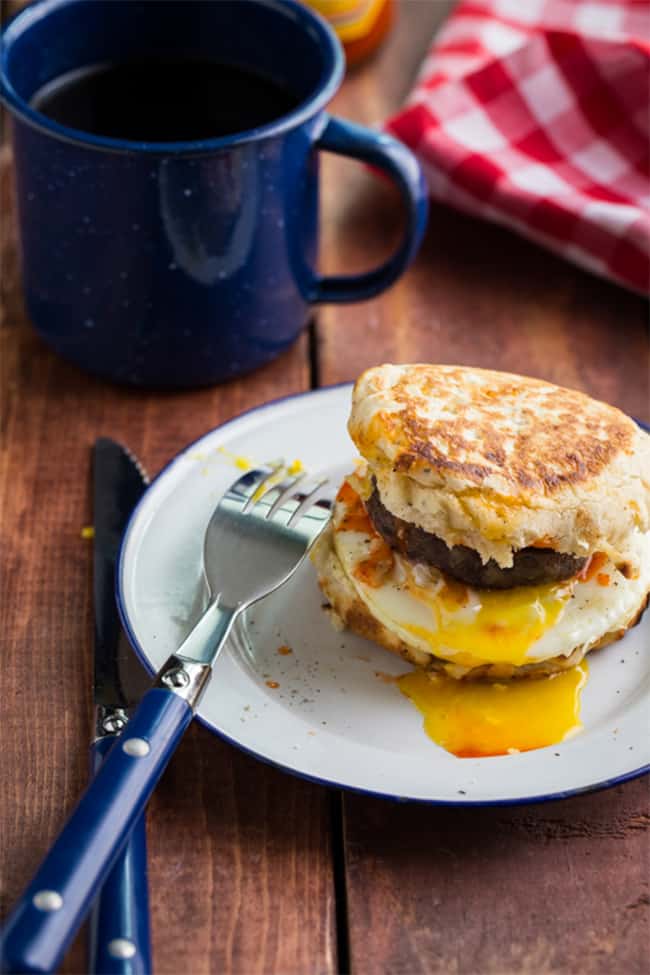 11. Campfire breakfast burger recipe by Jelly Toast Blog. Start your day in nature with a delicious burger made with egg and cheddar biscuits.
12. Campfire bacon by Zestuous. Just put bacon on a stick and enjoy your newly found favorite recipe.
13. Crumbly chili cotija corn by Honest Cooking. Corn is at its best roasted on the campfire, plus this recipe also uses cotija cheese and chili to make it more interesting.
14. Foil-wrapped potatoes by Serious Eats. These flavorful potato packets are seasoned with lemon juice, thyme, shallots and black pepper.
15. Fudgy campfire cakes by Tablespoon. Bake brownie mix in orange orange peels wrapped in foil and enjoy an impressive treat.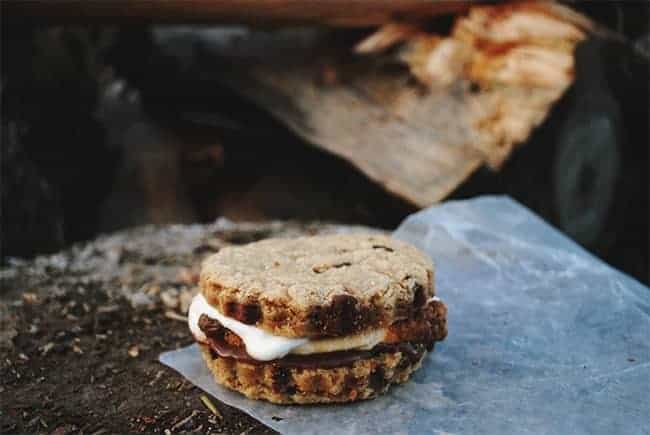 16. S'mores blondies by The Merrythought. The homemade blondies take s'mores to a whole new level of goodness.
17. Campfire bread on a stick by Vegan on Board. Delicious and fluffy, this no-knead baked bread on a stick is what childhood memories are made of!
18. Campfire chili cheese baked potatoes by The Camp Gal. Add just a few toppings to a classic baked potato and you have a satisfying meal!
19. Campfire quesadillas by Dirty Gourmet. Wrap a quesadilla in foil and cook it over the fire for a quick, filling meal.
20. Campfire burgers by Gluten Free With L.B. Full of veggies and lean meat, this burger is easy, quick and light on the waist.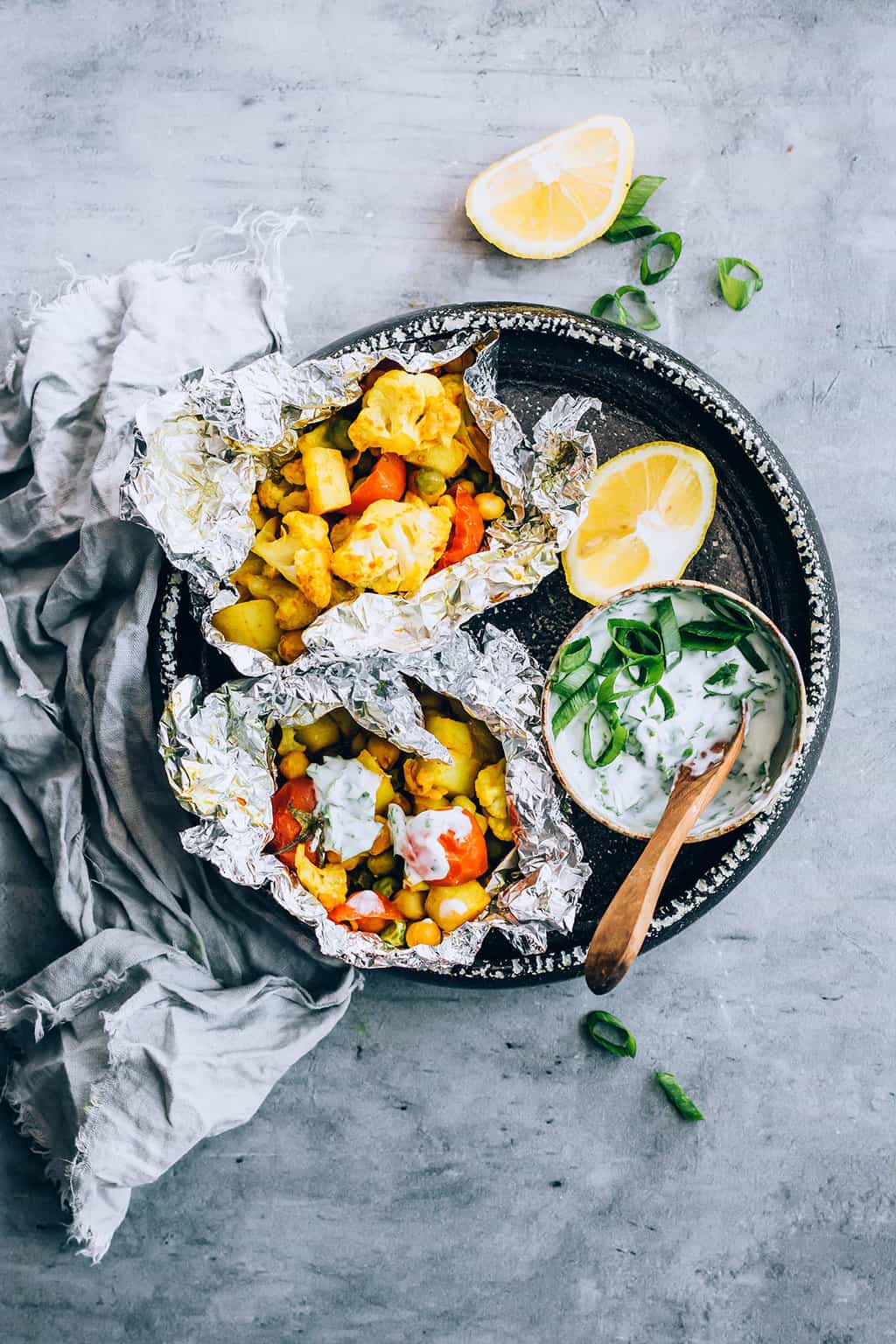 21. Curry cauliflower packets by Hello Nest. Campfire meals don't need to be flavorless, and these curry veggie packets stand as proof.
22. How to grill greens by Hello Veggie. If salad greens weren't on your list of campfire grilling, they are now!
23. Campfire pies by Andrea Meyers. Made in sandwich irons over the campfire, these sweet sandwiches are easy and delicious.
24. Hawaiian chicken stack tin foil dinner by One Sweet Appetite. Enjoy Hawaiian chicken even when you're out in the woods.
25. Campfire paella by Zestuous. Who would've thought you could make something as fancy as paella so easily?
136