Green smoothies are great for skin, thanks to all the antioxidants found in leafy greens. While for some, the color may be a little hard to get over, adding greens to your smoothie is so worth it. It opens a whole new (delicious) door to healthy breakfasts and snacks. Find your new favorite healthy green smoothies here, and if you can't get enough greens, try this super-easy method for making a week's worth of green smoothies at a time.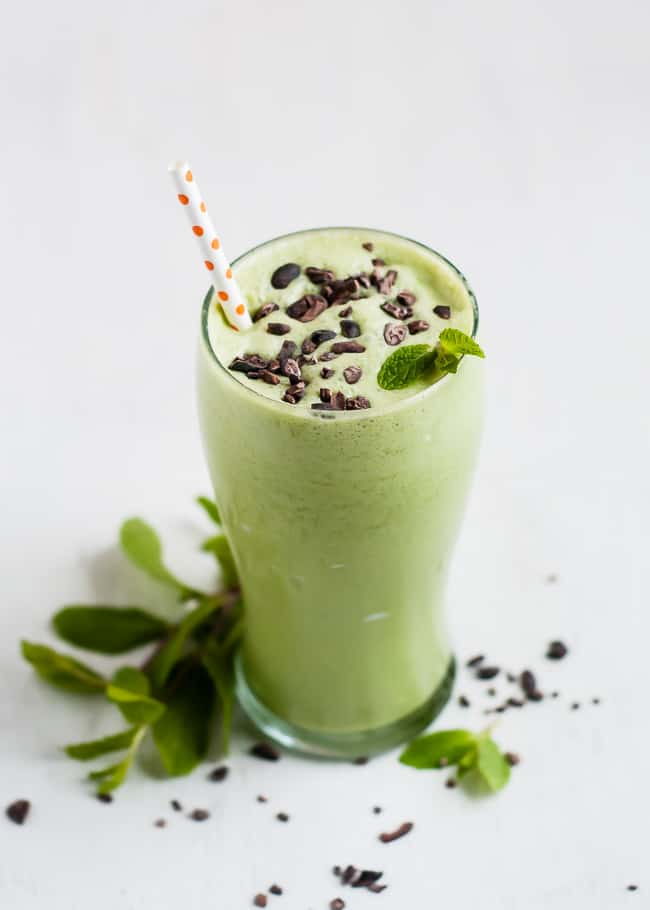 25 Green Smoothie Recipes
1. All-natural Shamrock Shake by Hello Glow. A healthy twist on a delicious classic, made with almond milk, coconut cream and baby super greens.
2. Beauty green smoothie by Nutrition Stripped. A new tool to add to your skincare routine, this green smoothie is filled with vitamins, minerals and antioxidants.
3. Strawberry and banana green smoothie bowl by An Avocado A Day. It's like you're having ice cream for breakfast – sold!
4. Low-carb green smoothie by Low Carb Diet. An easy breakfast smoothie that you can whip together in 3 minutes before work.
5. Green apple smoothie by Seasonal Recipes. A vegan, paleo and gluten-free smoothie that will get you on your feet in an instant.
6. Edamame smoothie with mango kale and green apple by The Muffin Myth. Edamame in a smoothie? Who knew!
7. Strawberry and kale smoothie by Jessica in the Kitchen. Kale is a super veggie and strawberries are just plain delicious. This smoothie has both, and it's packed with antioxidants and vitamins.
8. Green detox smoothie by Live Well Bake Often. A great breakfast or afternoon snack, made with creamy banana and digestion-aiding pineapple.
9. Post workout recovery smoothie by Incredibly Edible. Give your body the treat and energy it needs after a hard workout with this green smoothie.
10. Almond Joy green smoothie by Nosh and Nourish. A perfect after school snack for the kids to keep them full and focused till dinner.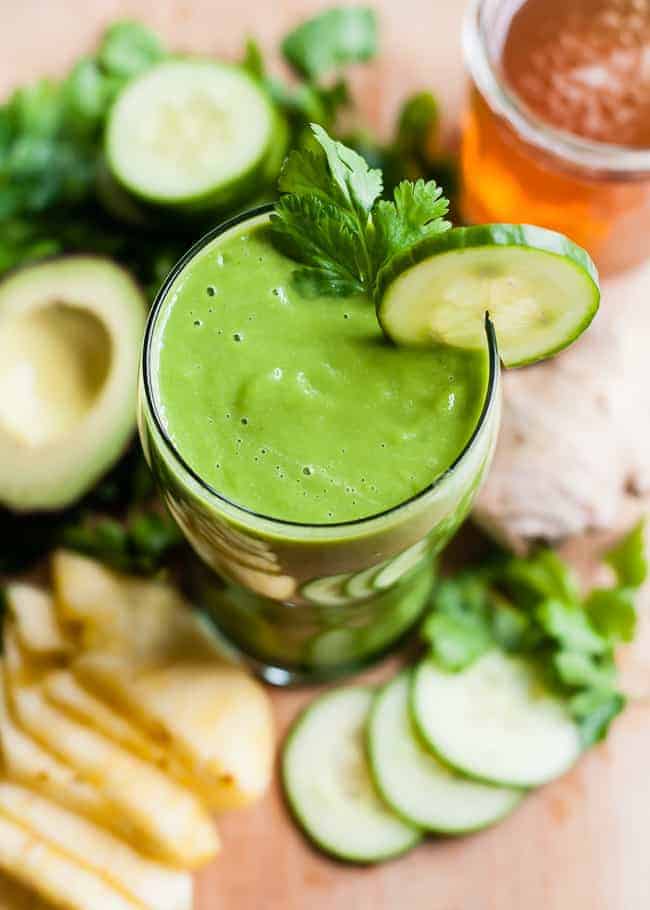 11. Spring Detox Smoothie recipe by Hello Glow. Give your body a boost to last the whole day with this tasty detox smoothie.
12. Green spinach with spinach, peach, blueberries and ginger by Food Porn Vegan Style. A super tasty combination with anti-cancer properties.
13. Spinach, lime and peach smoothie by Dutch Goes Italian. A sweet and sour smoothie with healthy ingredients only.
14. The green thing smoothie by Treats with a Twist. Get your veggies in without even trying – this smoothie is packed with cucumber, carrot, parsley and celery.
15. Kiwi and kale smoothie by Glass Half Smoothie. Two green ingredients that go together like a charm, plus a little banana for creaminess.
16. Chocolate peanut butter banana green smoothie by Cait's Plate. Just because it's a great smoothie, doesn't mean you can't put peanut in it!
17. Detox green smoothie without banana by A Lovely Side Project. A vegan, gluten free green smoothie that replaces banana with pear.
18. Delicious frosty sweet green smoothie by Lunchbox Bunch. This smoothie promises to be the best you've ever tasted.
19. Green smoothie by A New Life Wandering. A nutritional smoothie that both your body and your taste buds will thank you for.
20. Toasted coconut green smoothie by Kitchen Treaty. Toasted coconut adds so much flavor to this green smoothie.
21. Green smoothie by Sweet Freedom. Try the combination of green apple and parsley in this healthy, vitamin filled smoothie.
22. Green smoothie with mango, coconut and pineapple by Simone's Kitchen. A tropical-tasting smoothie that can be adapted for paleo or whole30 diets.
23. Metabolism booster smoothie by Vitamin Sunshine. This is like jet fuel for your metabolism, made with grapefruit, pineapple, green bananas, whey protein, spinach and green tea.
24. Kiwi-banana smoothie with a twist by Roxy's Kitchen. A layered smoothie that even the pickiest of eaters will enjoy.
25. Creamy ginger green smoothie by Nutrition Stripped. A refreshing, creamy smoothie that's light on your digestion but still filling.
16