Salmon is considered one of the world's healthiest foods. Not only is it beautifully colored (thus being great for festive or romantic meals), but it's also packed with good stuff: vitamin B12, vitamin D, omega-3 fatty acids, selenium, protein, phosphorus, and the list goes on. But before we bore you with the technical stuff, let's move forward with the drool-worthy recipes. Here are 25 tasty ways to try salmon tonight.
25 Healthy Salmon Recipes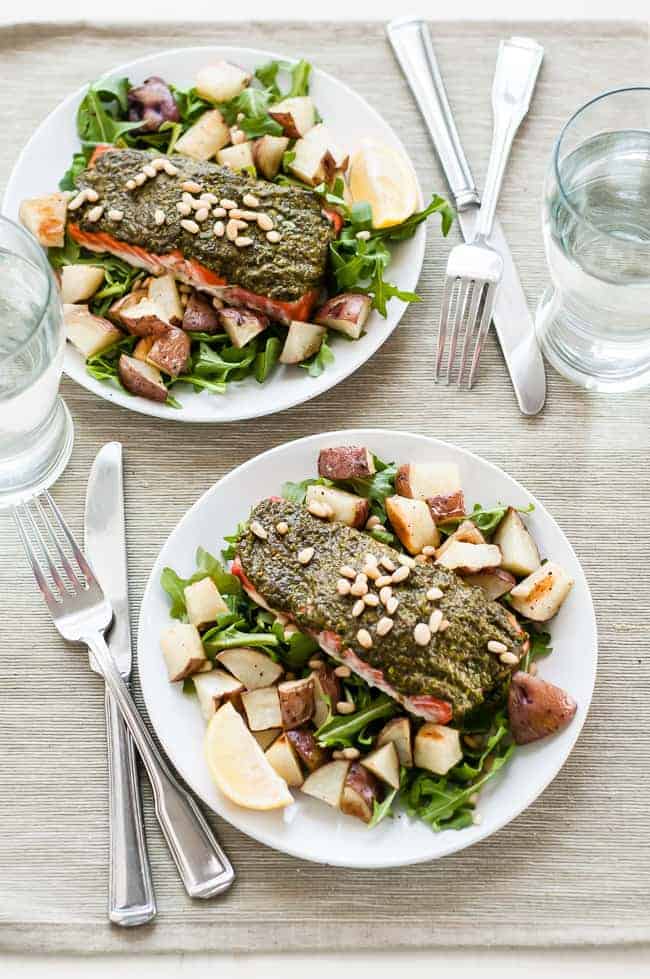 1. Pesto baked salmon by Hello Glow. Baked pesto is ready in just 20 minutes and it's wonderful next to roasted potatoes or any other side dish.
2. Spicy Asian salmon meatballs by MJ and Hungryman. They are quick and easy to make with basic pantry staples, budget-friendly, and sure to be a crowd pleaser.
3. Potato galette with poached egg and salmon by Tatyana's Everyday Food. Start the day with all the protein you need with this excellent breakfast recipe.
4. Masala salmon by My Annoying Opinions. Get your Indian food fix with a healthy masala salmon with ginger, turmeric and tomatoes.
5. Salmon en croute by Sweet Sour Savory. Puff pastry filled with salmon and baby spinach makes the perfect appetizer for even the most pretentious guests.
6. Sriracha and lime salmon by B. Britnell. Combine your love of sriracha with that of salmon to create this refreshing, healthy dish.
7. Cajun salmon sliders with remoulade by Erica's Recipes. With homemade remoulade, these salmon sliders are a whole-family favorite.
8. Salmon stew by Paleo Magazine. Just throw anything in the pot with salmon and broth and you get a delicious, comforting stew.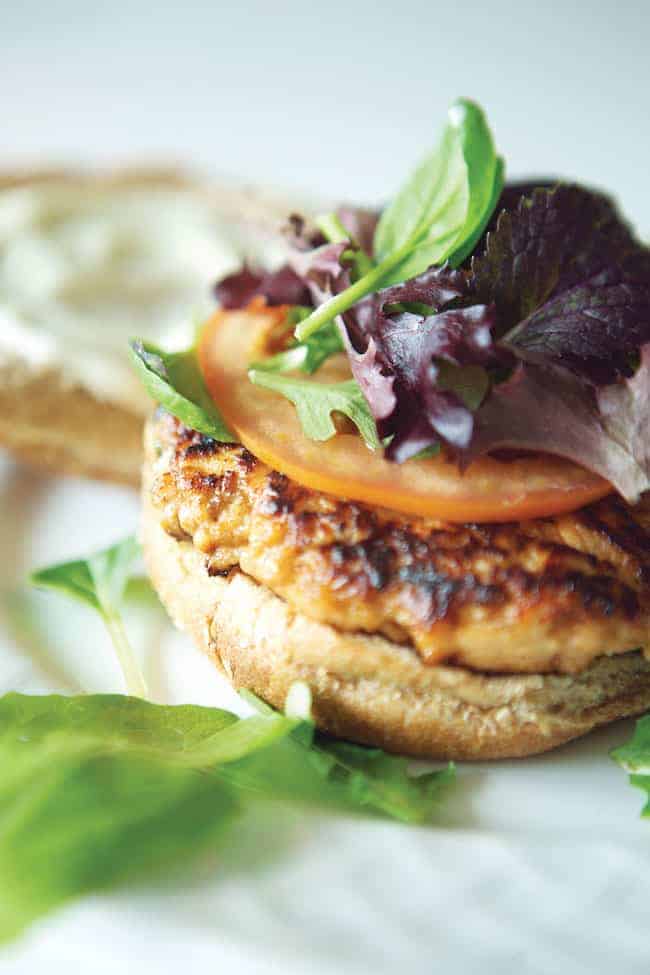 9. Hoisin salmon burger with ginger aioli by Paulette Lambert. Swap the greasy beef for healthy salmon and enjoy your new favorite healthy burger.
10. Crunchy honey mustard salmon with ginger citrus sauce by Jessica Gavin. An impressive combination of flavors, that's sweet, tangy and absolutely delicious.
11. Spicy miso ramen by A Little Spoonful Of. The ultimate comfort food, made a bit healthier with the aid of salmon.
12. Chili lime salmon with avocado mango salsa by Lovely Little Kitchen. A fresh and light dinner that's easy and quick to make – what more could you ask?
13. Smorrebrod sandwiches by Hillary Reeves. Sour cream, horse radish and salmon make this open-face sandwich true comfort food.
14. Dill crepes with smoked salmon by Sweet & Savory. Delicate, thin dill crepes with smoked salmon make absolutely impressive, irresistibly delicious appetizer to jazz up your cocktail party.
15. Salmon fish cakes by A Girl and Her Home. Fish cakes made with beans instead of potatoes, for a perfectly balanced taste and texture.
16. Smoked salmon bits with mustard creme fraiche by Cooking and Beer. If you're into finger food or need to prepare it for your next party, these salmon bits are for you!
17. Chili-lime salmon tacos by The Kitchen Paper. Healthy, light tacos topped with refreshing pineapple-basil salsa.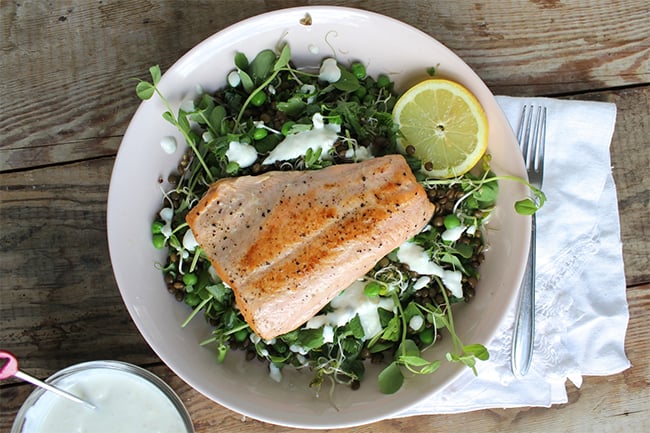 18. Spring greens with pan-seared salmon and horseradish by Chase the Flavors. A light and delightful spring meal with all of nature's goodness inside.
19. Creamy salmon aparagus pesto bowties by NeighborFood. Mix bowtie pasta with asparagus, parmesan, salmon, pesto and tomatoes for a wonderfully easy dinner.
20. Smoked salmon & chive biscuits by A Little Sweet Life. These savory biscuits make a great breakfast, snack or appetizer.
21. Smoked salmon and avocado pizza by Cafe Delites. Take some of the guilt off pizza night by topping it with salmon and avocado.
22. Salmon bulgogi by Korean Bapsang. Salmon is paired with a sweet and savory bulgogi marinade, rice and broccoli for a tasty Korean dish.
23. Smoked salmon canapes by In Search of Yummy-ness. Cream cheese, capers, asparagus and smoked salmon are the ingredients to these lovely canapes.
24. Mini salmon spinach quiches by Leelalicious. Great looking, easy to make and easy to eat, these mini-quiches are perfect straight out of the oven or cold.
25. Asian sesame salad with sriracha salmon by For The Love of Basil. Great on lazy days, this salad is filling yet light and fresh.
3