With Father's Day coming up, grill skewers are more and more on our minds! It's always fun to fire up the grill and thread pieces of meat and veggies onto skewers. We'd go as far as saying it's not summer without them! But if your imagination is stuck, read on for some of our favorite skewer recipes: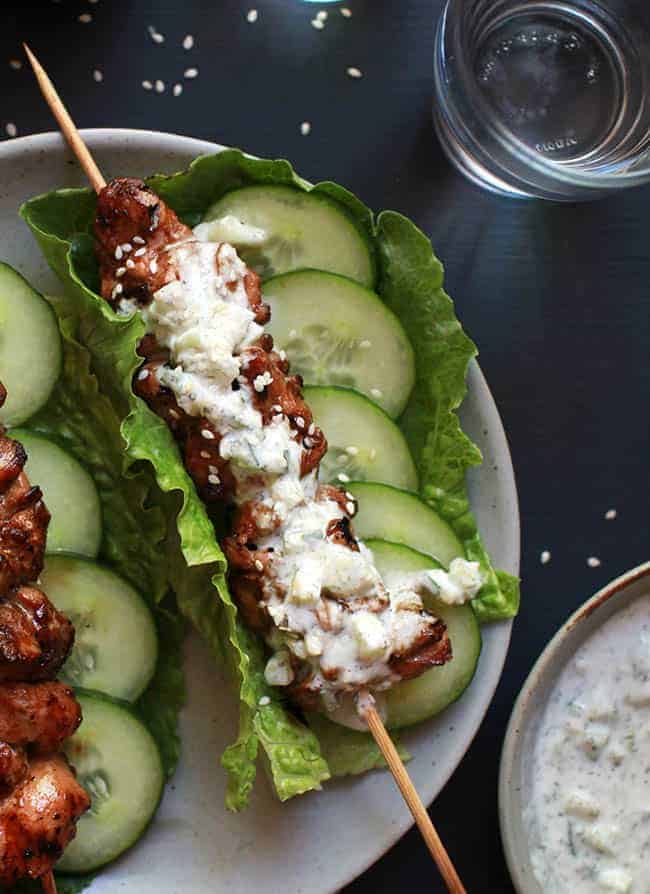 1. Ginger chicken lettuce wraps by Hello Glow. Chicken is marinated in ginger, then grilled and topped with tzatziki sauce for a summertime delight.
2. Teryiaki chicken kabobs with sriracha cream by Homemade Hooplah. Sriracha cream makes these chicken skewers insanely delicious, and just spicy enough.
3. Garlic and rosemary chicken skewers by No Spoon Necessary. Replace traditional skewers with rosemary sprigs to take your taste buds on a very happy journey.
4. Grilled chicken kebabs with pistachio gremolata by Hello Glow. This recipe packs so much flavor into each bite, starting with the yogurt-marinated chicken and ending with the yummiest pistachio-herb sauce.
5. Red, white and blue potato skewers by Fit Foodie Finds. Celebrate patriotically with red, white and blue potato skewers, a filling and satisfying summer meal.
6. Gyro skewers by Impromptu Kitchen. These skewers have all the flavors of a gyro, hot and herbal and garlicky.
7. Chicken skewers with dandelion pesto by Ocean View Kitchen. Have you tried dandelion pesto before? It's really nutritious, and it pairs well with chicken skewers.
8. Hawaiian Teriyaki Shish Kabobs by Kitchen Treaty. Place all your favorite veggies on skewers, marinade them with teriyaki, then serve with rice or on their own.
9. Cilantro lime grilled shrimp with avocado cilantro dip by Julie's Eats and Treats. A gourmet skewer recipe, packed with as much cilantro as you can handle.
10. Jamaican jerk vegetable skewers by Robin Robertson. Enjoy the flavors of the Caribbean with these easy to make Jamaican skewers.
11. Beer-marinated lamb skewers with chimichurri sauce by Floating Kitchen. This beer-marinated lamb is perfectly complemented by the spicy chimichurri sauce.
12. Jerk chicken skewers with pineapple yogurt dip by Erica's Recipes. The sweet and refreshing pineapple and yogurt dip is the perfect complement for the spicy chicken skewers.
13. Paneer and potato tikka skewers by Recipes R Simple. With fresh greenery and crisp vegetables, these skewers are marinated in a unique blend of fresh ingredients.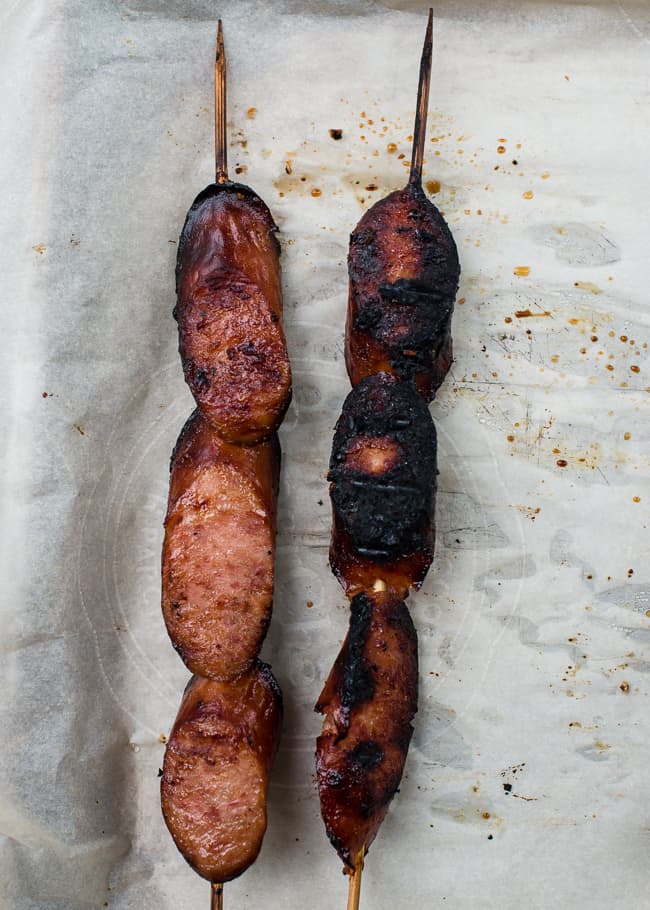 14. Grilled kabobs with teriyaki marinade by Hello Glow. This tangy, salty and sweet marinade goes great with everything from sausages to veggies. How you use it is up to you!
15. Beef kofta with tzatziki by Spoontang. Kofta is made with beef, parsley, mint, garlic and other spicy favorites, and the tzatziki is refreshing as always with cucumber and yogurt.
16. Honey sriracha shrimp kebab by Rasa Malaysia. Crazy delicious shrimp kebab with honey Sriracha butter, a new favorite for summer.
17. Grilled leek, potato & chicken skewers by Feasting at Home. These chicken and veggie skewers are marinated in dijon and rosemary, and they're perfect served with Caesar salad.
18. Flank steak skewers by What's Gaby Cooking. These thinly sliced flank steak skewers with spicy cilantro dipping sauce will probably become dad's new favorite tradition.
19. Yakitori chicken by Panning the Globe. A Japanese recipe with plenty of flavor, including ginger, mirin, sansho pepper and 7 spice.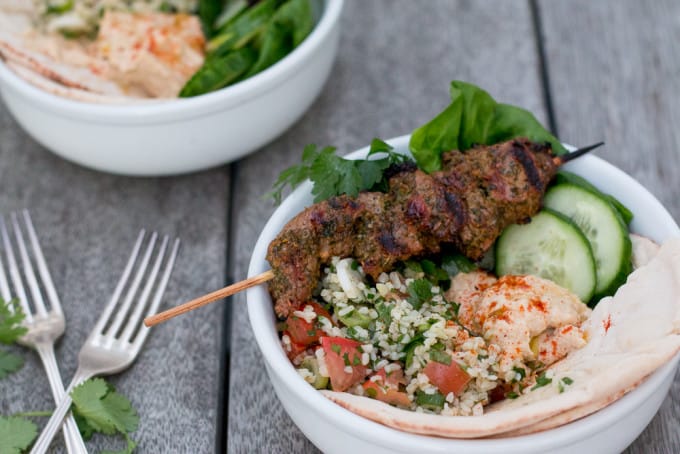 20. Middle Eastern chermoula lamb skewers by The Brick Kitchen. This hearty Middle Eastern skewer recipe is served with tabouli, hummus and pita bread.
21. Tortellini BBQ skewers by A Mummy Too. Tortellini on the grill? This changes everything.
22. Grilled tofu veggie skewers by Laurenda Marie. Grilled tofu meets rainbow peppers and onion and the most delicious vegan peanut sauce.
23. Mexican Yucatan chicken by Gourmet Getaways. Get a taste of authentic Mexican flavors with these chicken skewers made with achiote paste and orange juice.
24. Donut & fruit kabobs by Countryside Cravings. Dessert on a skewer is the best thing ever, especially when it has donuts and berries!
25. Grilled angel better skewers by Living Better Together. Leftover Angel Food cake, raspberries and blackberries in white, red and blue make these skewers 4th of July ready!
9