There's nothing like pasta. Except, maybe… fake pasta? You still get the whole experience, only with virtually no guilt. So don't blame us if while trying to satisfy a pasta craving, we actually started liking faux-pasta. Zucchini, sweet potato, you name it. Here are 25 skinny pasta recipes you can indulge in without fear of carb overload.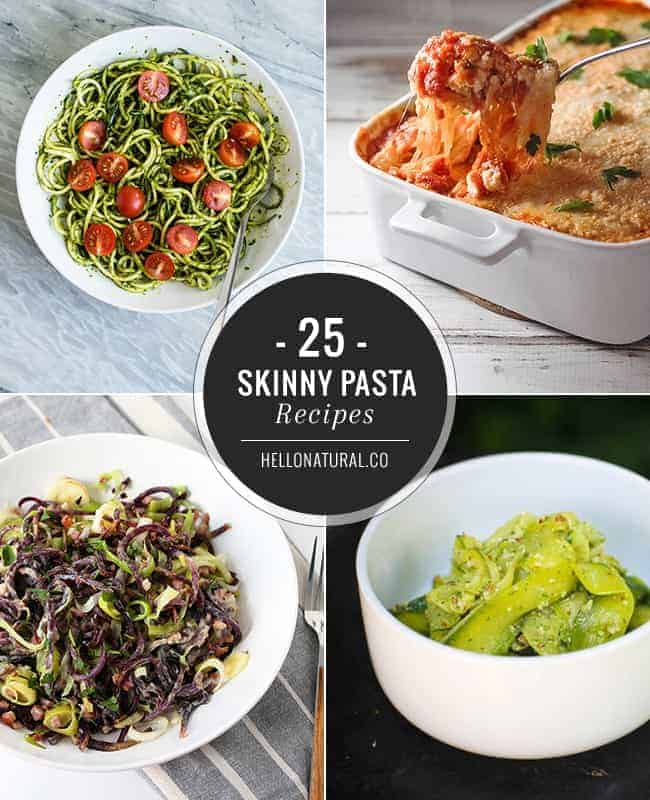 1. Zucchini fettuccine with cilantro pesto by Hello Glow. Cilantro pesto and zucchini fettuccine make a fresh and delicious pair that you're gonna make over and over.
2. Sweet potato noodles with roasted red pepper "cream" sauce by The Detoxinista. A creamy, vegetarian dish that's filling as well as light in calories.
3. Zucchini Noodles with Meat Mushroom Tomato Sauce by Joyful Healthy Eats. This meal is done in 30 minutes and leaves you feeling like you gave your family a nourishing meal!
4. BBQ chicken zucchini noodle casserole by Julie Eats & Treats. There's nothing like a baked pasta casserole… that's lighter than you'd think!
5. Vegan pad thai with zucchini noodles by Food Fitness Fresh Air. A flavorful pad thai made vegetarian, with delicious zucchini noodles.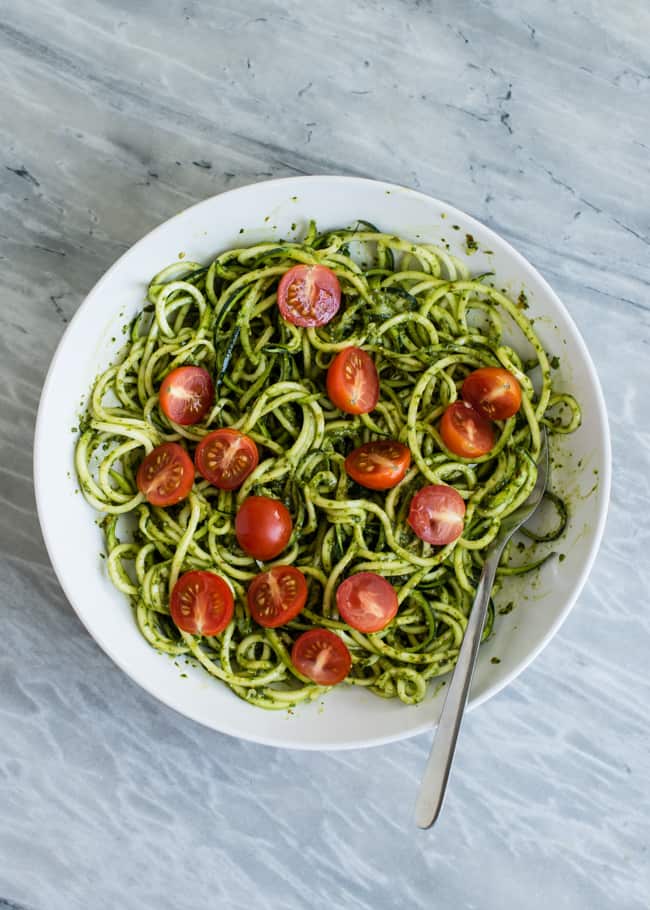 6. Zucchini noodles with pesto by Hello Glow. Just look at the colors on this one! Summer food at its best.
7. Vegan zucchini lasagna with tofu ricotta by Hello Veggie. You can totally make lasagna plant-based, and lose the carbs, too.
8. Spaghetti squash and turkey cheese bake by I Food Real. A comforting casserole, which replaces spaghetti with healthy squash, but still tastes divine.
9. Cottage pie with a twist by The Healthie Foodie. Zucchini spaghetti. Sweet potato slices. Ground meat. Total deliciousness.
10. Creamy lemon herb shrimp on zucchini noodles by A Communal Table. Inspired by Shrimp Scampi pasta, this recipe replaces the carbs with zucchini and the result looks amazing!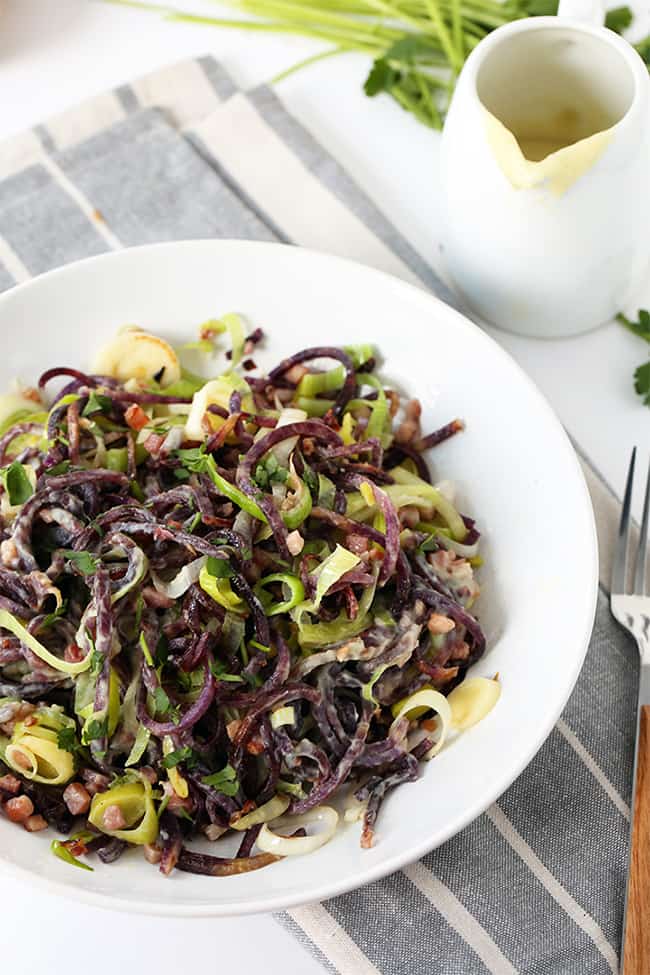 11. Creamy Okinawa sweet potato pasta with leeks and pancetta by Inspiralized. Sweet potato noodles taste delicious, and the color is gorgeous!
12. Spaghetti squash garlic noodles by The Joyful Foodie. The perfect Asian side dish, only replaces real pasta or noodles with just as tasty squash spaghetti.
13. Mushroom zucchini pasta by Grim Grains. Swap the grains for zucchini, and get ready for one of the best vegetarian dished you've ever had.
14. Daikon noodles with red cabbage, spinach slaw and sesame mustard dressing by Gourmande in the Kitchen. Fresh, crisp and tangy, these daikon noodles with red cabbage and spinach slaw are irresistibly crunchy.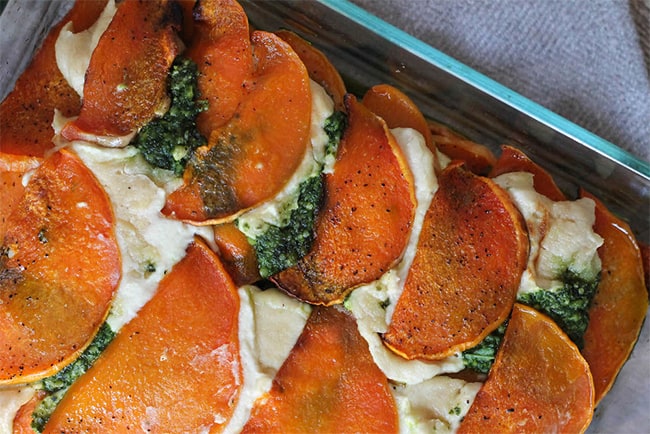 15. Vegan butternut squash lasagna with cashew cheese and kale pesto by Food by Mars. Take the guilt and the meat out of lasagna and you get a comforting vegan dish you're still gonna love.
16. Sausage and kale over butternut noodles by A Whole New Twist. A tasty and hearty meal that is easy enough for a weeknight.
17. Zucchini noodles with avocado sauce by Simple Vegan Blog. I don't know about you, but I could go for some of this creamy goodness right now!
18. Lemon pesto salmon and zoodles by Recipe Righter. A fresh and refreshing meal, with baked salmon and healthy zoodles.
19. Egg drop soup with zoodles by I'm Bored Let's Go. Have you ever considered replacing soup noodles with zoodles? This Asian-style recipe is a game changer!
20. Spaghetti squash carbonara by The Buttery. Can't let go of spaghetti carbonara? With this lightened up recipe, you don't have to.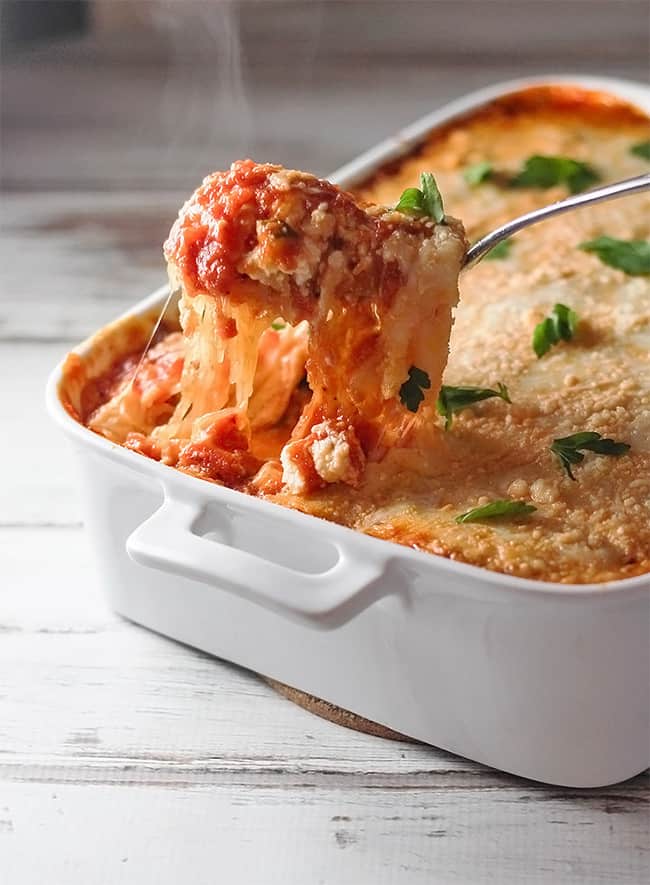 21. Cheesy Italian spaghetti squash by From Calculus to Cupcakes. A low fat, vegetarian, low carb lasagna that the whole family will love.
22. Vegetarian lasagna by Happy Healthy Hunters. With sweet potato and eggplant, you won't miss any of the grains in this vegetarian lasagna.
23. Thai style spiralized veggies with tofu by Hello Veggie. A beautiful, Thai-inspired dish that's packed with protein.
24. Salmon and avocado BLT bowl by Confections of a Foodie Bride. A perfectly healthy combo that's nourishing as well as incredibly tasty.
25. Spicy sweet potato carbonara by Running to the Kitchen. This sweet potato carbonara is made spicy with some red pepper and sriracha for a great, noodle-less version of a classic pasta comfort food.
1