Eating salads may be the healthiest thing to do, but sometimes you just need the comfort of a hot meal. A hot bowl of soup, to be more precise. It's our go-to winter dish, and it has endless versatility. Here are 25 healthy soup recipes that should inspire you to get that pot boiling: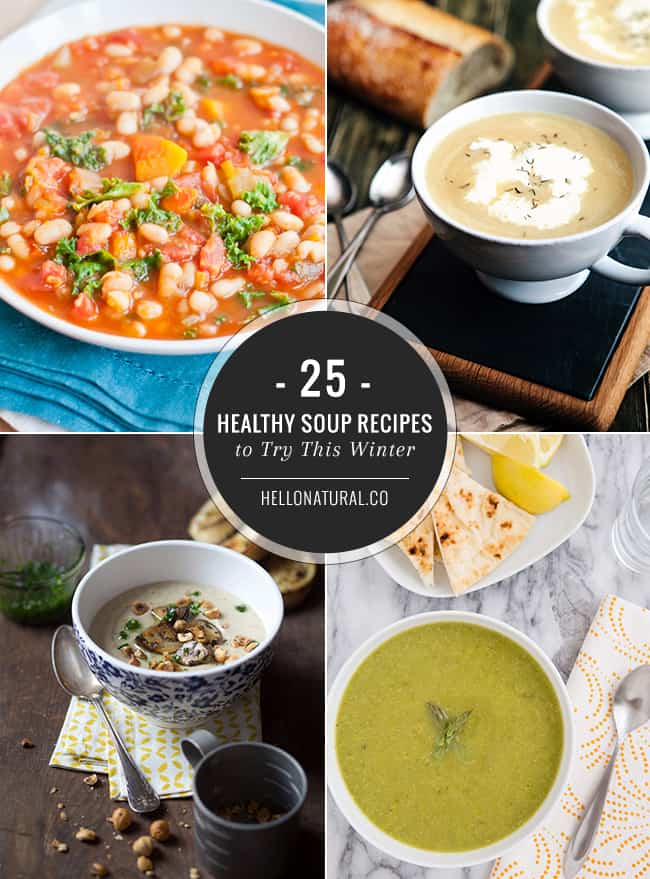 1. Caramelized onion + parsnip soup with chickpeas by Hello Glow. A hearty, rich dinner that sounds fancy, but is actually easy to prepare.
2. Broccoli and potato soup by Kitchen Konfidence. A sneaky way to introduce broccoli in the meals of those who don't want to see it.
3. Spicy roasted red pepper soup by Spinach for Breakfast. A gluten free, dairy free soup that's low on calories but high on spice.
4. Wisconsin cauliflower soup by I Heart Eating. A light version of the creamy, cheesy goodness, made in under 30 minutes.
5. Red lentil carrot soup by Vegan Family Recipes. A spicy soup made with curry paste, lentils, ginger and carrot.
6. Vegetarian pho by Hello Veggie. A nourishing broth that's packed with minerals makes this pho extra special.
7. Healthy broccoli cheddar soup by Two of a Kind. Featuring both broccoli and cauliflower, this is the perfect soup for light meals.
8. Red Mulligatawny by Little Sugar Snaps. A red and spicy bowl of goodies to keep you warm during the cold days.
9. Slow cooker chicken and wild rice soup by Creme de la Crumb. Just throw everything in the slow cooker and give yourself a break.
10. Creamy vegan butternut squash soup by Hello Glow. A creamy, delicious way to use fresh seasonal veggies in your meal.
11. Thick & creamy black bean soup by Love. Bake. Read. Spicy and downright comforting, this soup is also filling and easy to make.
12. Miso soup by The View From Great Island. A Japanese classic that's healthy and delicious, packed with mushrooms.
13. Roasted creamy mushroom soup by Diethood. This looks incredible and probably tastes so, too.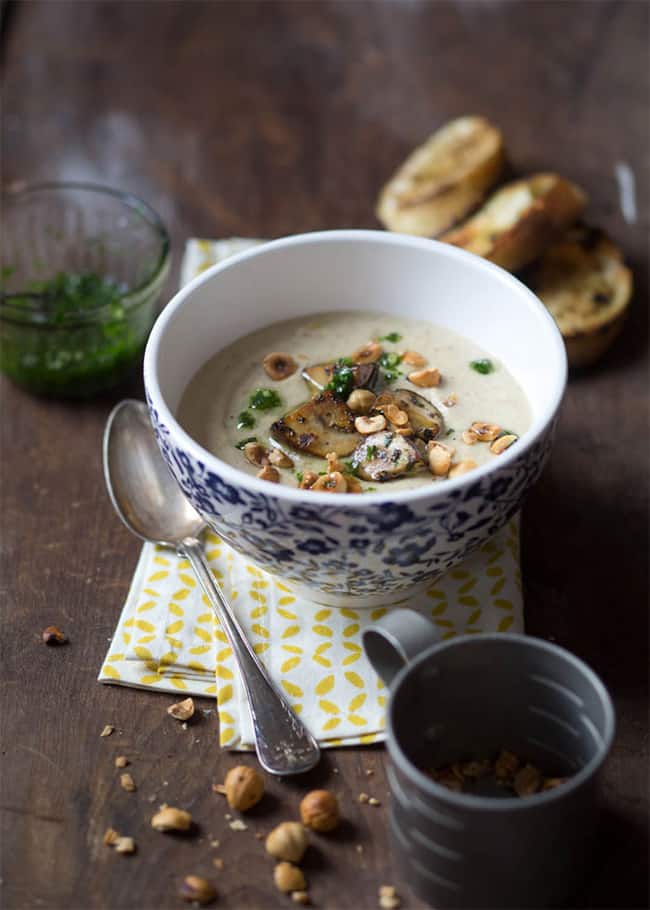 14. Parsnip & hazelnut soup by Cavoletto. The parsnip and hazelnut combination is tastier (and healthier) than you would imagine!
15. Thai hot & sour soup by The Blonde Chef. A good way to introduce seafood in your soups, this mussel dish is delightfully easy.
16. Roasted carrot sweet potato soup by Nourished Simply. A sweet soup combined with smoked paprika for a surprising, savory flavor.
17. Butternut squash soup with fermented vegetables by My Daily Sourdough Bread. Fermented cabbage is the base of this tasty (and good looking!) soup.
18. Detox soup by From Calculus to Cupcakes. Rather than detoxing with cold, raw produce, you can try this comforting, warm soup.
19. Cauliflower apple soup by Bea's Cookbook. An unexpected twist on cauliflower soup, made with apples.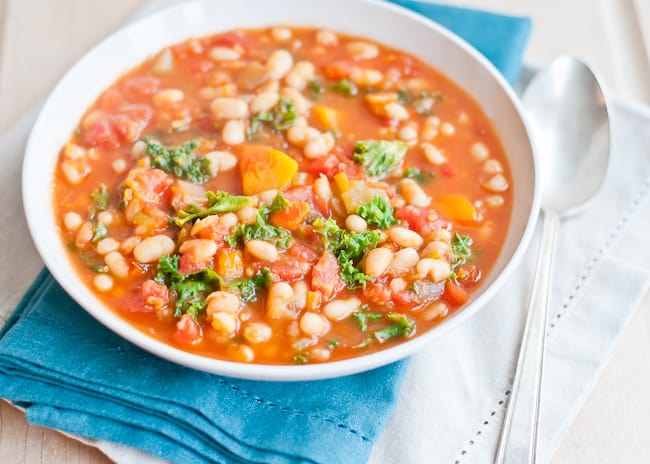 20. Hearty white bean vegetable soup by Hello Glow. An easy veggie soup that you can adapt according to your taste or what you have in the pantry.
21. Roasted carrot and red pepper soup by Cooking up Clean. Carrot and red peppers make a great pairing in this hearty soup.
22. Clean eating alphagetti by IFoodReal. Tomato sauce, herbs and pasta make this a filling, yet healthy soup.
23. Sweet potato soup with peanut butter by Skoraq Cooks. A smooth, delicious soup with a secret ingredient: peanut butter.
24. Kale and caramelized onion soup by Kendall Jackson. Inspired by gourmet French onion soup, but with a kick from the kale and croutons.
25. Skinny chicken and sweet potato soup by Boulder Locavore. A noodle chicken soup that's comforting as well as low in calories.
8