Superfoods have been the talk of every food and health blog in the past few years. Stocking superfoods in your pantry means healthy meals even when you don't have the time to think about such things, and bowls are the perfect way to keep you full and energized through the day. These are some of our favorite sweet and savory superfood bowl recipes, from kale to quinoa to acai.
25 Superfood Bowl Recipes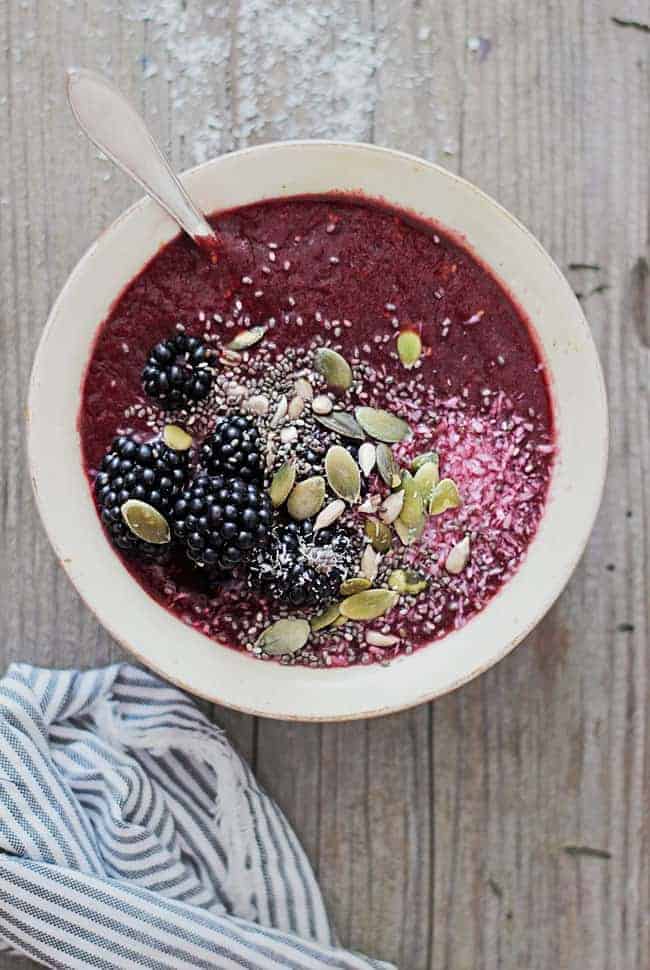 1. Blackberry coconut smoothie bowl by Hello Glow. Kick-start your day and energize the body with this vegan, antioxidant-packed smoothie bowl.
2. Blueberry almond breakfast quinoa smoothie bowl by Food Faith Fitness. This quinoa is made with vanilla almond milk and mixed with a blueberry smoothie for a quick and easy breakfast that is healthy and gluten free!
3. Spring superfood bowl with blueberry ginger dressing by Spoonful of Flavor. Fresh greens are topped with blueberries, quinoa, sprouts, chickpeas, avocado, and almonds to create this terrific superfood bowl.
4. Tropical acai bowls by Sealed With a Whisk. Get all the benefits of acai in your morning cereal with this great recipe for a fruit and granola bowl.
5. Rainbow glow bowl by The Glowing Fridge. Get all of nature's goodness in a rainbow colored bowl, and top with hemp hearts for your necessary dose of omega-3 fatty acids.
6. Immunity smoothie bowl by Pür Body Nutrition. When the cold strikes, strike back! With tons of vitamins plus spirulina, which means the protein and calcium that you lack.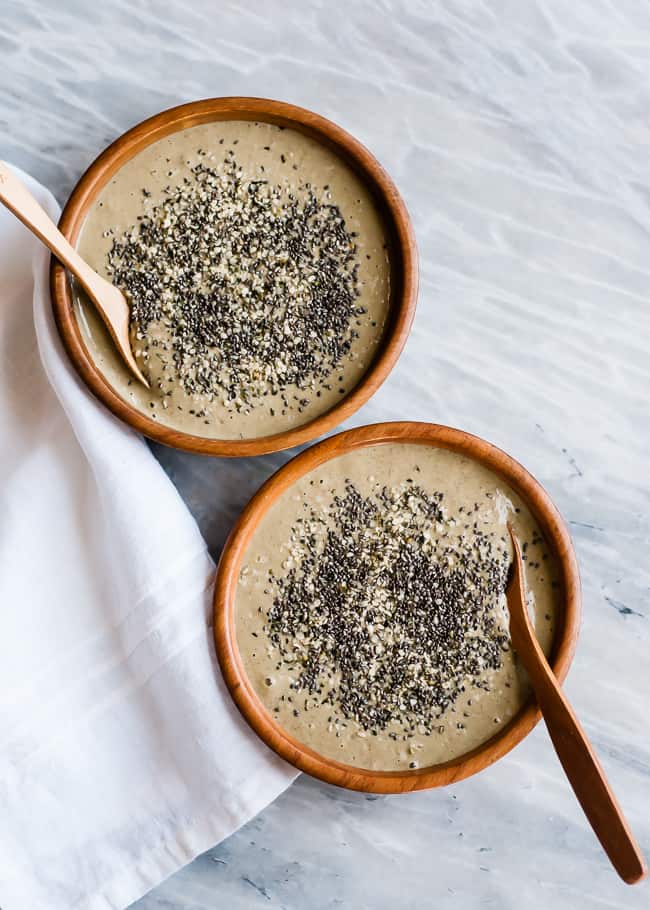 7. Strawberries and cream smoothie bowl by Hello Glow. Loaded with omega-3 fatty acids, fiber, antioxidants, iron and amino-acids, this smoothie bowl will have you up and running in no time.
8. Superfood bowl by The Wellbar Journal. A sweet and sour bowl filled with so much goodness from the pomegranate, dates and goat cheese!
9. The ultimate hippie bowl by The Healthy Maven. Mix all the superfoods you can find in one big, great bowl of health!
10. Vegetarian brown rice bowl by Fit Foodie Finds. With sprouts and hemp seeds, this is not your regular rice meal. It's a super-meal!
11. Superfood chocolate smoothie bowl by Broma Bakery. Enjoy the benefits of superfood seeds and the delicious taste of chocolate in a smoothie bowl that will get you up and running in no time.
12. Superfood quinoa breakfast bowl by The Wheatless Kitchen. Everything tastes better in a bowl, including this quinoa breakfast that is pretty great anyway.
13. Pink smoothie bowl by Naturally Sassy. This pink smoothie looks lovely, but the toppings give it a crunch as well as a superpower!
14. Banana mango green smoothie bowl by With Food + Love. Start the day with a balanced meal that's both a smoothie and a superfood!
15. Cranberry, pistachio, quinoa granola by Hello Glow. Beat the bloat with a protein-filled quinoa granola combined with probiotics, the perfect detox breakfast after a holiday of heavy meals.
16.Quinoa superfood bowl by Linda Wagner. Protein packed quinoa, omega-3 rich flax seeds, calcium filled sesame seeds and more make this the perfect daily breakfast.
17. Superfood breakfast bowl by Camille Styles. Goji berries, chia seeds and quinoa make this a nutritious, healthy breakfast bowl.
18. Acai protein bowl by A New Bloom. Making a healthy breakfast is no longer a challenge with this protein bowl packed with acai, protein powder, seeds and coconut.
19. Cocoa protein bowl by Kiran Tarun. Cocoa powder is an amazing antioxidant, plus it makes your breakfast taste like chocolate!
20. Superfood filled quinoa breakfast bowl by She Knows. This is what you would call the breakfast of the champions, with superfood quinoa used as a base.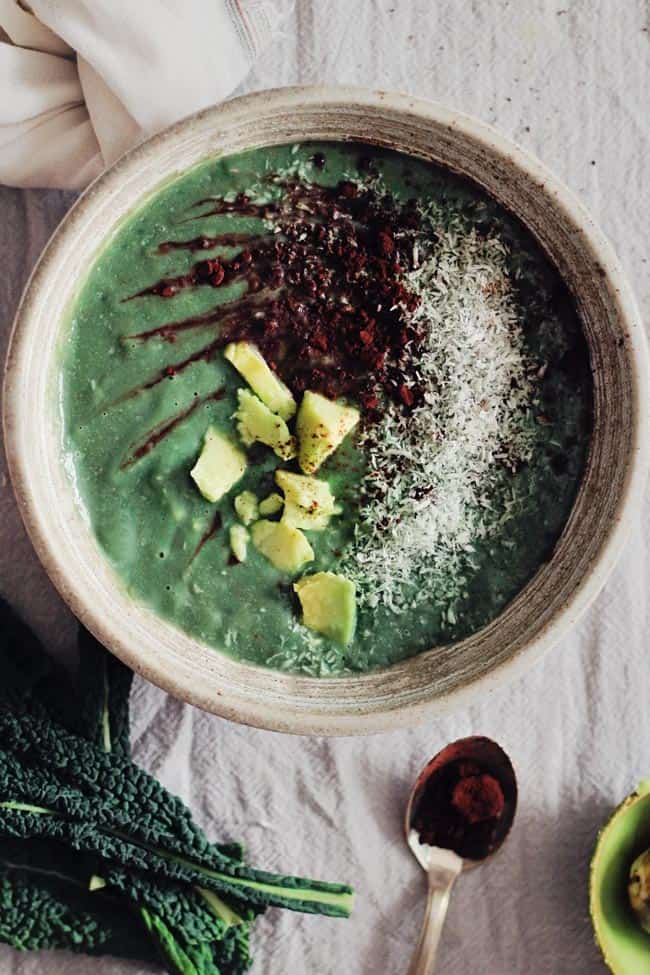 21. Chocolate-mint green smoothie bowl by Hello Glow. Healthy as can be with avocado and kale, but so delicious with the chocolate mint flavor given by raw cocoa and mint leaves.
22. Superfoods smoothie bowl by The Petite Cook. Turn your smoothie into a healthy, balanced and colorful breakfast with chia, dried cranberries and matcha tea.
23. Nourishing quinoa bowl by Simply Quinoa. A vegetarian meal with plenty of veggies, but also the benefits of protein filled quinoa.
24. Butternut molasses smoothie bowl by Dishing Up The Dirt. The best way to turn a regular smoothie into a satisfying meal? Add superfood toppings!
25. Buckwheat breakfast bowls by The True Spoon. Gluten-free buckwheat makes the perfect base for this breakfast bowl, and it's great combined with pumpkin seeds and plums.
10