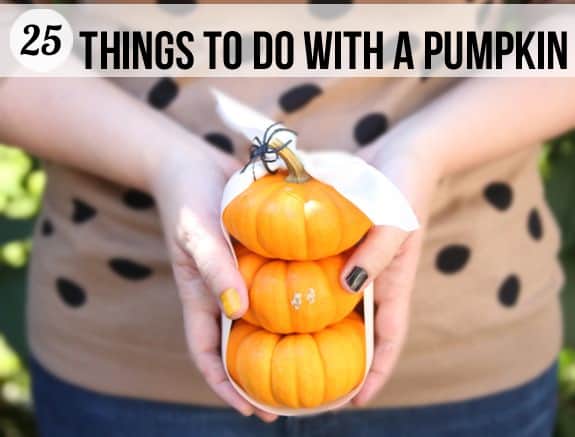 It's no secret that I love October so I thought I would kick off the month with a special week celebrating pumpkins! I've rounded up 25 things to do with a pumpkin, including my new favorite hostess gift idea above. Aren't the mini pumpkins the cutest? Have you started decorating for Halloween or fall? If not, read on for creative inspiration!
25 Things To Do with a pumpkin
1. Fall decor – Vitamin Handmade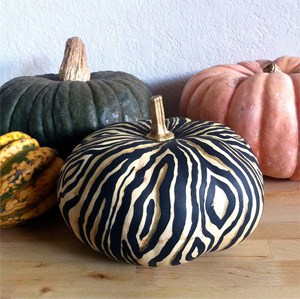 Just a few lines of black craft paint, and you can get a wood grain texture that blends in perfectly with the whole feeling of Halloween.
2. Pumpkins that are blingy (not stingy) – A Casarella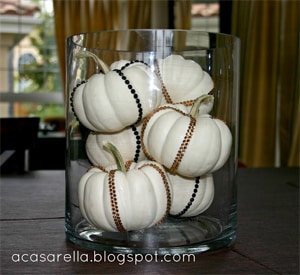 White pumpkins look great embellished, and you can give them some class by adding some embellishments. Simple and chic!
3. Thanksgiving centerpiece: While pumpkins and reindeer moss – Love Maegan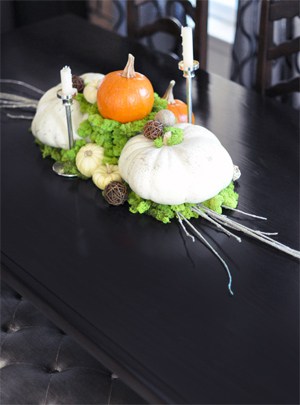 Use the pumpkins you've got left from Halloween to create a stylish Thanksgiving centerpiece.
4. Beautifully different: pumpkin carving – The Blue Brick

This special kind of carving looks stylish and it's quite easy to make. Use the tools that you use for linoleum blocks.
5. Embroidered pumpkins – Green Eyed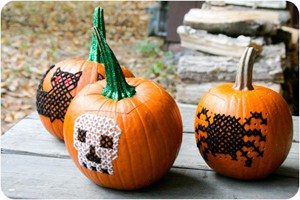 If you're a cross stitch enthusiast, then this DIY is for you! Embroider your favorite spooks on pumpkins!
6. Carve pumpkins with cookie cutters – Fresh Home Ideas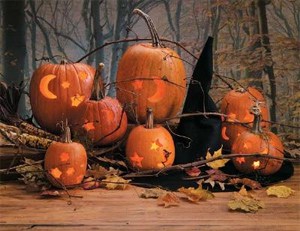 Use your cookie cutters to carve this fall! Your pumpkins will look refreshing and still in the holiday spirit!
7. DIY funky decoupage pumpkins – Pocketful of Dreams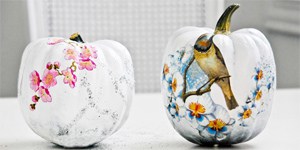 These gorgeous pumpkins were decorated with the simple decoupage technique. You can basically use any design!
8. Pretty painted pumpkins tutorial – Alisa Burke
Who says pumpkins need to be orange? These fresh pastels look lovely even though they're unconventional.
9. Chalkboard pumpkins – Your Home Only Better
This is a great project for the kids! They get to write anything they want, in chalk, on the black pumpkins!
10. Make some black cat o'lanterns – Sunset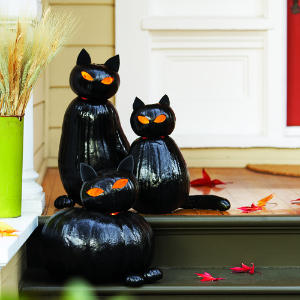 Use different shaped pumpkins and turn them to a cat scene that no neighbor can not notice!
11. No carve polka dot pumpkins – Always Chrysti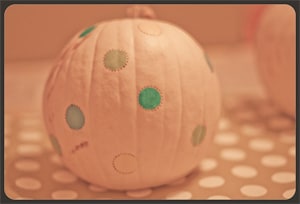 It doesn't really get much easier than this! You just paint polka dots on a white pumpkin and you've got yourself a nice deco piece!
12. Halloween craft for dummies – The SoHo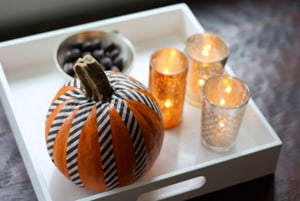 A kid friendly project that just requires washi tape. And, of course, a pumpkin!
13. DIY Thanksgiving pumpkin project – A Beautiful Mess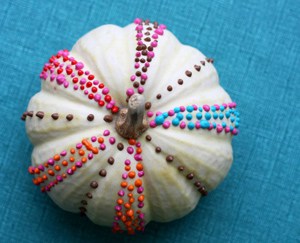 Once again, the white pumpkin makes a great canvas for embellishments. Use paint for the above pictured effect!
14. Cornucopia wreath – BHG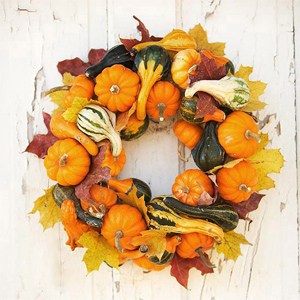 Pumpkins and cornucopia make a great pair, especially in the case of a pretty wreath! Embellish with leaves for a full fall effect!
15. Pumpkin as centerpiece – Real Simple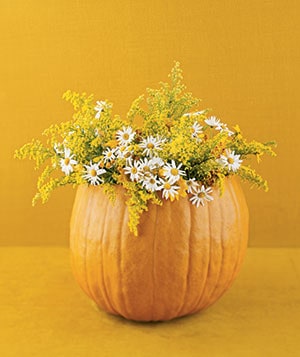 Wouldn't a pumpkin make a great centerpiece? And an even greater one if it's filled with assorted fall flowers.
16. Pumpkin create decor – Crissy's Crafts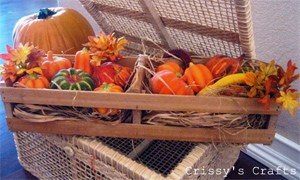 Create a fall display using a small crate and loads of fall-colored things, pumpkins included.
17. Bookshelf tree – Country Living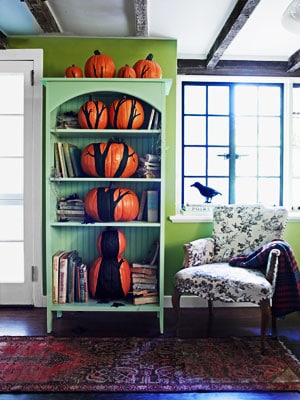 If you have a little extra space on your shelf, you can use pumpkins to create this amazing tree silhouette!
18. Make a houndstooth pumpkin from duck tape – The V Spot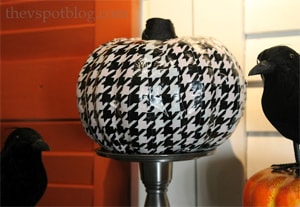 With some houndstooth duct tape and a real or fake pumpkin, you can get a stylish addition to your seasonal decoration.
19. Monogram funkins – Josie Jones
Foam or natural, pumpkins look great with a monogram for each member of the family! Use thumb tacks to get it.
20. Pumpkin decorating: beyond the triangle eyes – Art Club Blog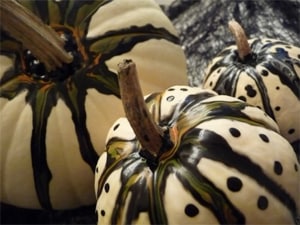 If you need a break from the conventional pumpkin carving, decorate yours using this interesting technique.
21. Easy pumpkin decorating – It's Overwhelming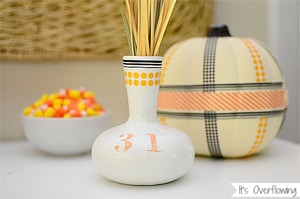 Washi tape can be a life savor when you're in need of a simple way to decorate your pumpkins – and the rest of your fall goodies.
22. Eek button pumpkin – I Love To Create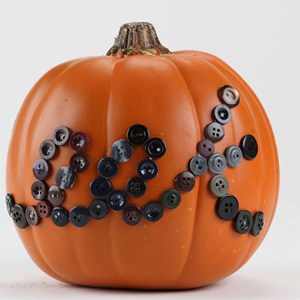 Surely you have a bunch of useless buttons around the house – why not turn them into something useful this Halloween?
23. Painted pumpkins – Lacquer and Linen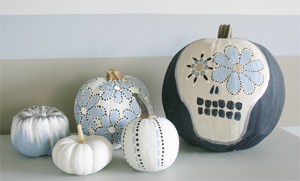 Instead of carved and rotten, how about painted and stylish?
24. DIY framed pumpkin – She Makes a Home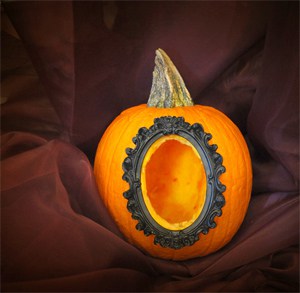 Artful and unusual, this frame carved pumpkin is the perfect deco piece for your Halloween.
25. DIY pumpkin candle holders – Twig & Thistle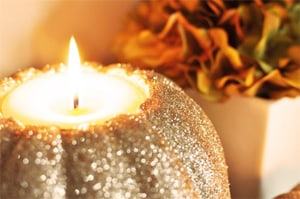 Glitter is so festive! Together with candles and pumpkins, it becomes a perfect fall combination!
4