Recently I gave my office a bit of makeover. Finally I have a bit of space for all of the books and supplies I've been collecting (apparently a blog is a good excuse for library-building). But the best thing about book shelves? Getting to display pretty things! And naturally, a few of them involve scents that make me smile each time I walk into the room. In honor of #EarthDay, try one of these 3 simple DIY air fresheners for a natural way to scent your home with recycled materials. Think of these as Green Works of Art.
1. Recycled DIY diffuser
A recycled spice bottle makes the perfect base for a pretty diffuser. Combine 1/4 cup water with 1/4 cup vodka and add 20 (or more) drops of your favorite essential oils. I used a combination of lemon, lemongrass and rosemary. Then give it a stir to mix it all together.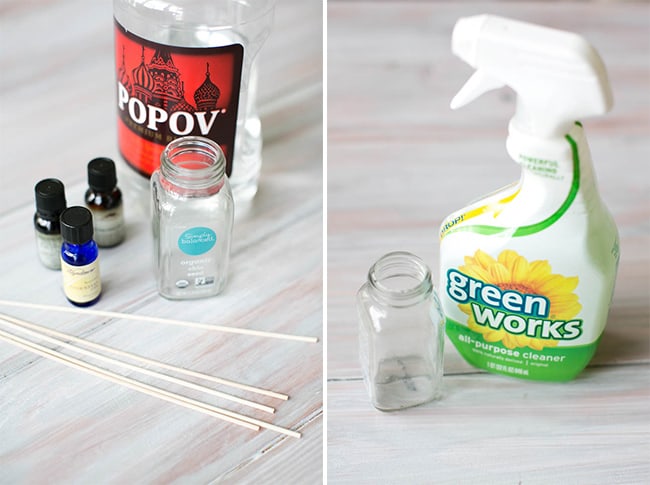 Clean your recycled bottle inside and out. Then add the liquid essential oil combination – with a drop of food coloring if you like a bit of color. You can use bamboo skewers (you might need to cut them down to the right size) or small dried branches if you don't have reeds. All of those natural materials will draw the liquid up, releasing the scent into the air. Add more liquid and essential oils as needed.
2. Scented sea glass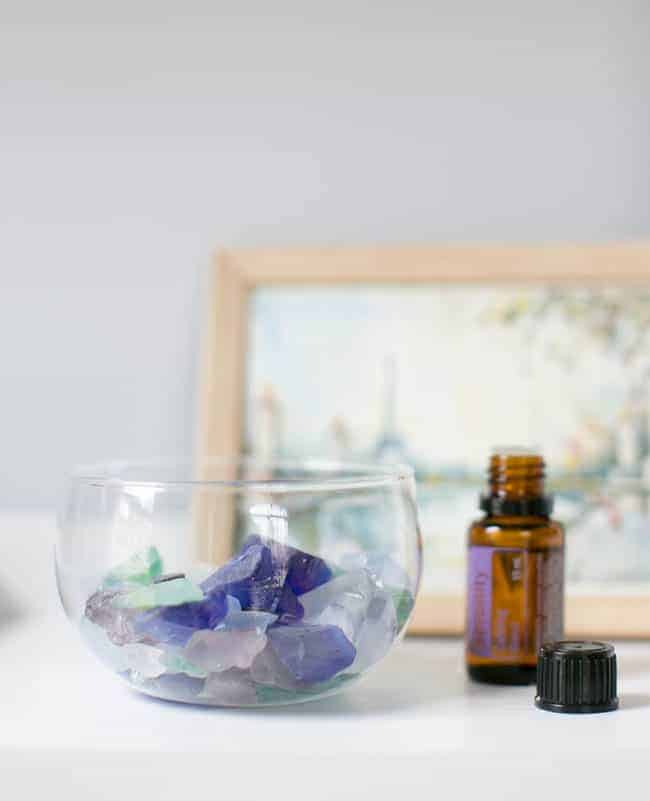 Sea glass is so pretty in a small bowl so put it on display! Add a few drops of essential oil or a handful of dried lavender to give it a calming scent that makes you feel like you're on vacation (almost!).
3. Orange Peel Air Freshener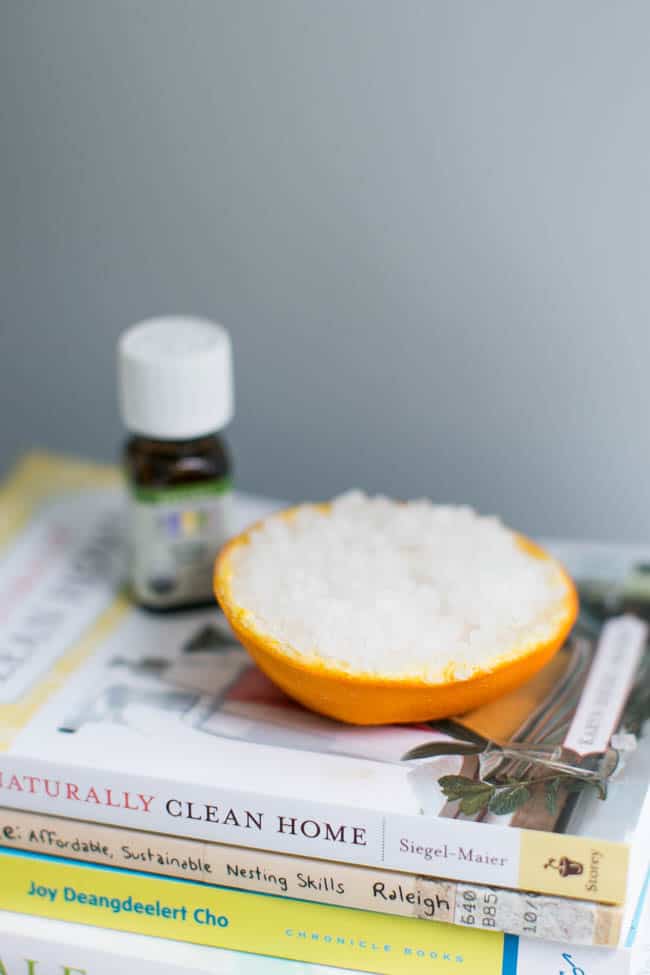 Got a musty space? An orange filled with salt works wonders to soak up the moisture in the air while giving off a fresh scent. Just scoop out the insides of half of an orange and fill it with rock or sea salt. Add a few drops of orange essential oil to enhance the fresh scent.
More Earth Day Upcycling ideas
Looking for more great ways to up-cycle? Get in on the action by watching and sharing sculptor Rebecca Anders at work in an exclusive new video capturing her turning trash into treasure.
Green Works Earth Day Giveaway
The Green Works's #GreenDIY Earth Day campaign wants to help you make the switch to more natural cleaning supplies. Green Works knows a balanced, natural lifestyle begins with a clean home, so to help facilitate your Spring cleaning, one lucky reader will receive the following:
$100 Target gift card
1 Green Works All Purpose Cleaner – This versatile cleaner is 98% naturally derived, so no need to worry about inhaling harmful chemicals.
1 Green Works Glass & Surface Cleaner – An amazing cleaner that's safe for use on glass, mirrors, and appliances, as well as stainless steel and even sealed granite.
1 Green Works Laundry Detergent – Destroys dirt, but still gentle on sensitive skin.
1 Green Works 

Green

Baggu Bag – A versatile tote you can use at the gym, to work, or even the grocery store.
This Promotion is not administered or sponsored by Clorox or its affiliates, but solely by Hello Glow, and by entering this Promotion you agree that The Clorox Company and its affiliates are not in any way responsible or liable for any damages, injuries or other claims you may have as a result of your participation.
28