The holidays are always that time of year where the pace picks up so fast that you can hardly prepare for your schedule to become jam-packed almost overnight. I always find myself wishing for things to slow down and for a genuine chance to relax.
Even just a couple of minutes to myself in peace and quiet is all I crave. Alas, my zen time continues to be one of the few precious moments of solitude I can scrape together—usually, only when I'm in the bathroom or showering after the kids go to bed.
One thing that helps when I do get the chance to unwind is some coconut-infused beauty products that are homemade, of course. I've discussed my love for coconut oil plenty of times on this blog. I talked about how it was my secret weapon for stretch marks during and after pregnancy and other beauty uses for coconut oil that I've found to be useful.
And my coconut love confession continues. Now I have another favorite: coconut milk!
3 Coconut Milk Beauty Recipes
Coconut milk is very good for dry skin, which can be such a drag during the colder months of the year. Because the fat content of coconut milk locks in moisture, it helps treat chapped or dry skin naturally. That's why I love to use it as a cleanser and moisturizer. It helps keep you soft and smooth.
Here are three homemade coconut milk beauty recipes I love to use when I get the chance to reward myself with a bit of "me time!" Now it's your turn!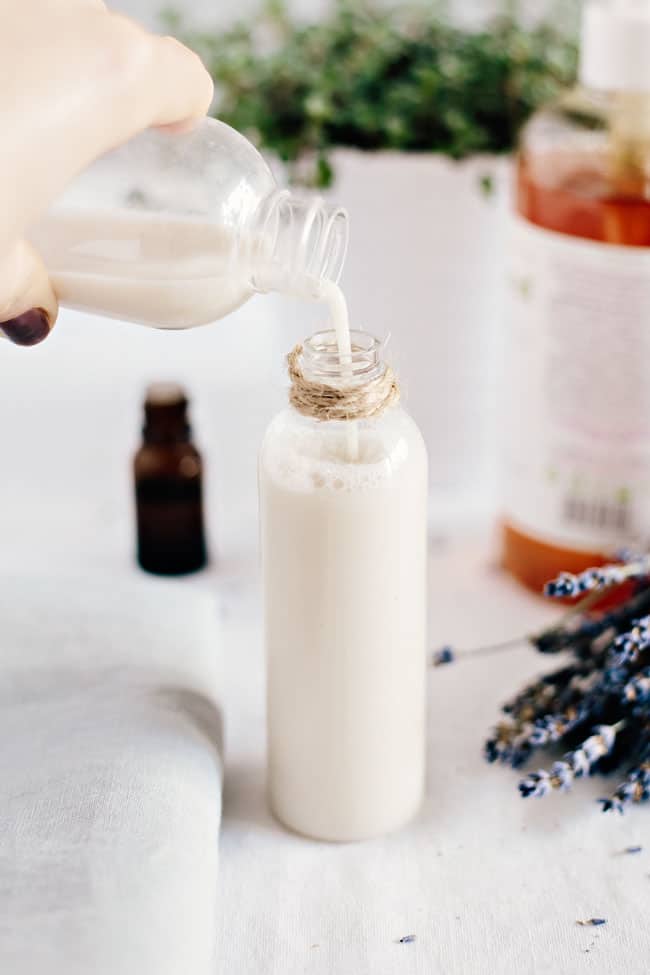 1. Coconut Milk Homemade Body Wash
This is probably the least expensive body wash you've ever used, but it may feel like the most luxurious. And it just calls for two ingredients:
Combine the ingredients in a squeeze bottle and lather up. The mixture tends to separate after sitting for a while, so you may just have to shake it up a bit before using. Oh, and this can also be used as a face wash or even shampoo!
Note: While I personally love Dr. Bronner's Castile soap, feel free to use whichever brand you like. You can use lavender scented soap or add essential oils for a relaxing scent.
Use within 7 days.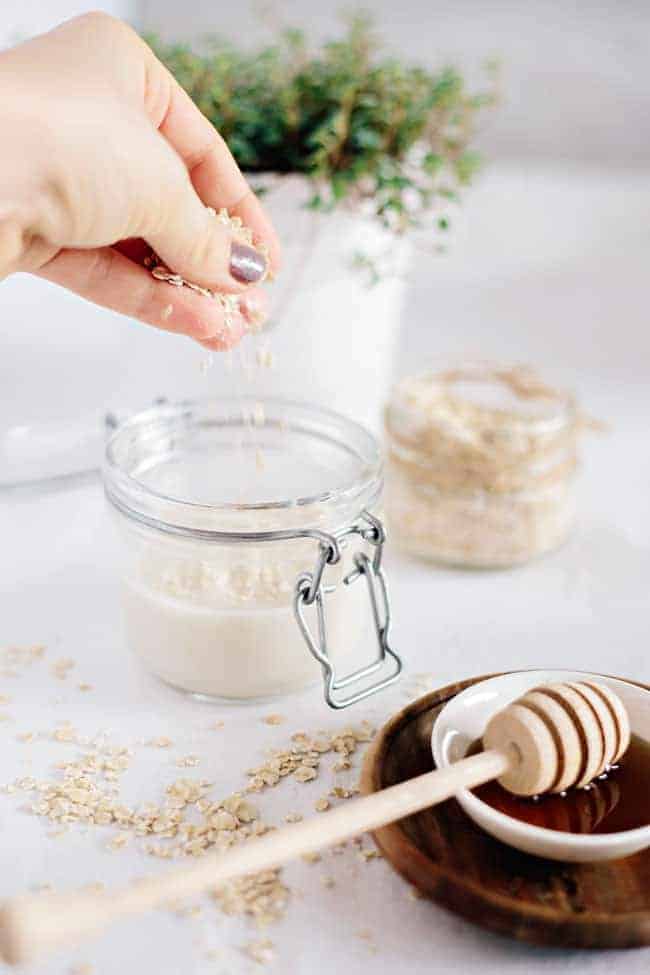 2. Oatmeal + Coconut Milk Bath Soak
We've all heard of taking a milk bath, right? Google it, and you'll see tons of super beautiful, not to mention relaxing, photos of people in baths of milk with floating flower petals surrounding them. Well, it's time to change it up and use coconut milk instead.
Combine ingredients in a small bowl.
Add this mixture (I recommend using the whole thing, but you can use less if you prefer) to your bath, and welcome in the weekend!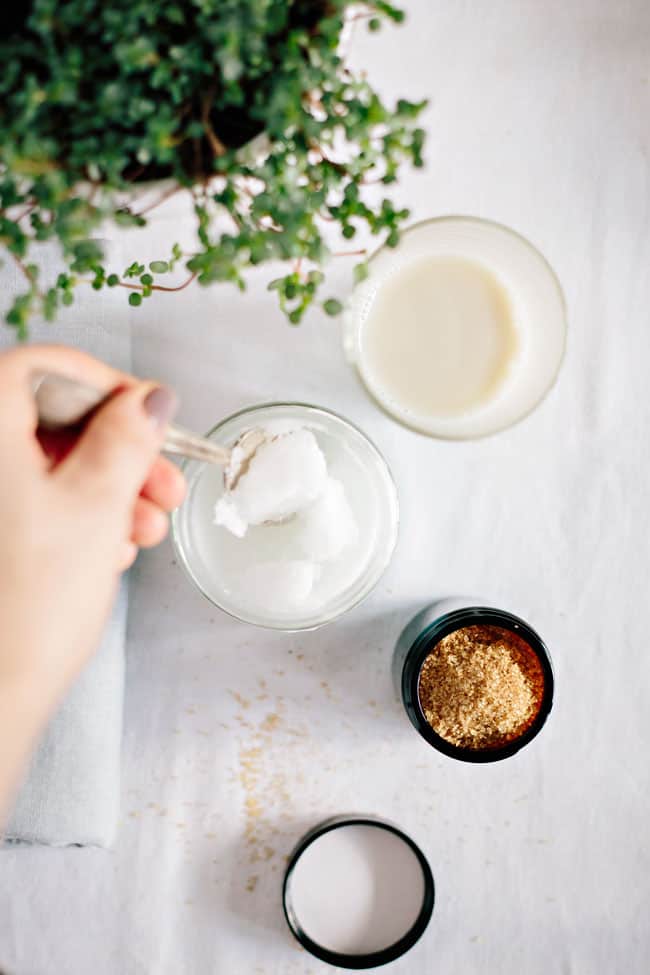 3. Coconut Milk Sugar Scrub
Homemade scrubs are one of my favorite things ever. After use, your skin feels so amazing, and the tropical coconut-y scent is an extra bonus.
Mix everything in a bowl, and go hide out in the bathroom for a while as you scrub away!
Coconut Milk Recipe FAQ
How long do these last? How should I store leftovers?
Canned coconut milk spoils quickly, so you'll want to store your body products in the fridge and use within 3–5 days. You can also freeze leftover coconut milk in an ice cube tray and thaw it out just before making a fresh batch of beauty products.
Can I give these coconut milk beauty recipes as gifts?
Definitely! But since they have a short shelf life, you'll need to use a preservative. Leucidal Complete is my personal favorite, but you can find many different types and brands on Amazon.
Does coconut milk lighten skin or reduce discoloration?
I couldn't find any scientific studies on the subject, but according to Google, it might. Chances are, any skin-lightening effects would be gradual and extremely minimal.
Can I use coconut milk on my face?
Yes, coconut milk is great for the face. Our coconut milk body wash recipe would make the perfect gentle face cleanser. And if you replace the turbinado sugar with either caster or brown sugar, our sugar scrub can double as a face scrub. As always, be sure to avoid the eye area!
Will coconut milk make me break out?
Coconut oil is slightly comedogenic, meaning it may cause some people to break out. And since full-fat coconut milk, which we recommend in these recipes, contains coconut oil, it might also give you an acne flare if used too often.
If you notice irritation or pimples, simply discontinue the coconut milk, and it should go away on its own.
Have leftover coconut milk?
This DIY leave-in conditioner softens, detangles, and improves hair growth.
This article was medically reviewed by Dr. Gina Jansheski, a licensed, board-certified physician who has been practicing for more than 20 years. Learn more about Hello Glow's medical reviewers here. As always, this is not personal medical advice and we recommend that you talk with your doctor.
Photos by Ana Stanciu
366