This is a sponsored conversation written by me on behalf of Starbucks®. The opinions and text are all mine.
This is the time of year when things get fun and festive. You can finally break out the decorations without shame (no need to wait until after Thanksgiving if you don't want to!) and start diving into holiday traditions that make the next couple months feel so magical.
The hustle and bustle of the holiday season can easily take over if you're not setting aside time for rest, relaxation and spending time with loved ones you don't get to see often. For me, that means inviting my favorite people over, snuggling up with a hot cup of coffee and spending an evening making presents while we crack jokes and laugh over good movies.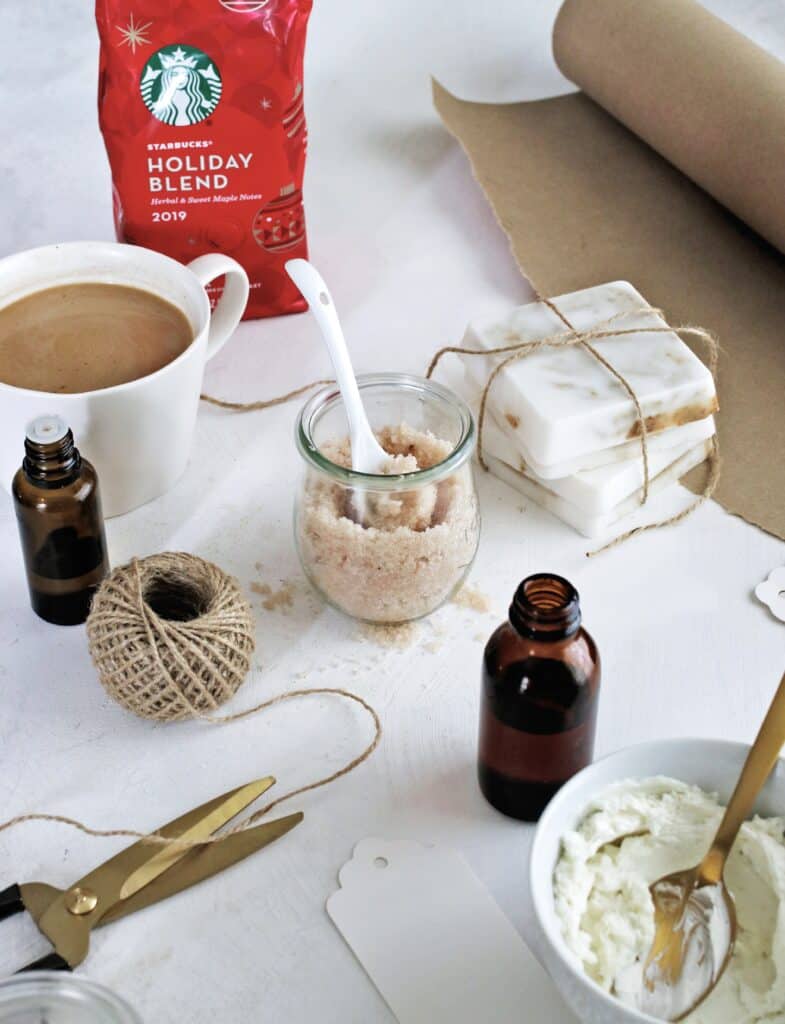 Homemade Holiday Gift-Making
This year during my annual gift-making night, I'm whipping up three cookie-inspired beauty recipes to give to friends and family over the course of the holidays. They make great teachers gifts or stocking stuffers, plus you can make them in bulk to save time (and money!), allowing you to devote the rest of your evening to enjoying family, sipping coffee and soaking up holiday cheer.
There's seriously nothing better than that.
Growing up, one of my fondest holiday memories was sitting around the fire with my parents and siblings and making presents for everyone on our list. Now that I'm all grown up and have a home and family of my own, the tradition hasn't really changed. But now it feels more like my tradition (it definitely helps that I get to pick the movies and snacks and stay up as late as I want). While we used to drink hot cocoa, nowadays I'll whip up some coffee to make a long evening of gift-making that much better.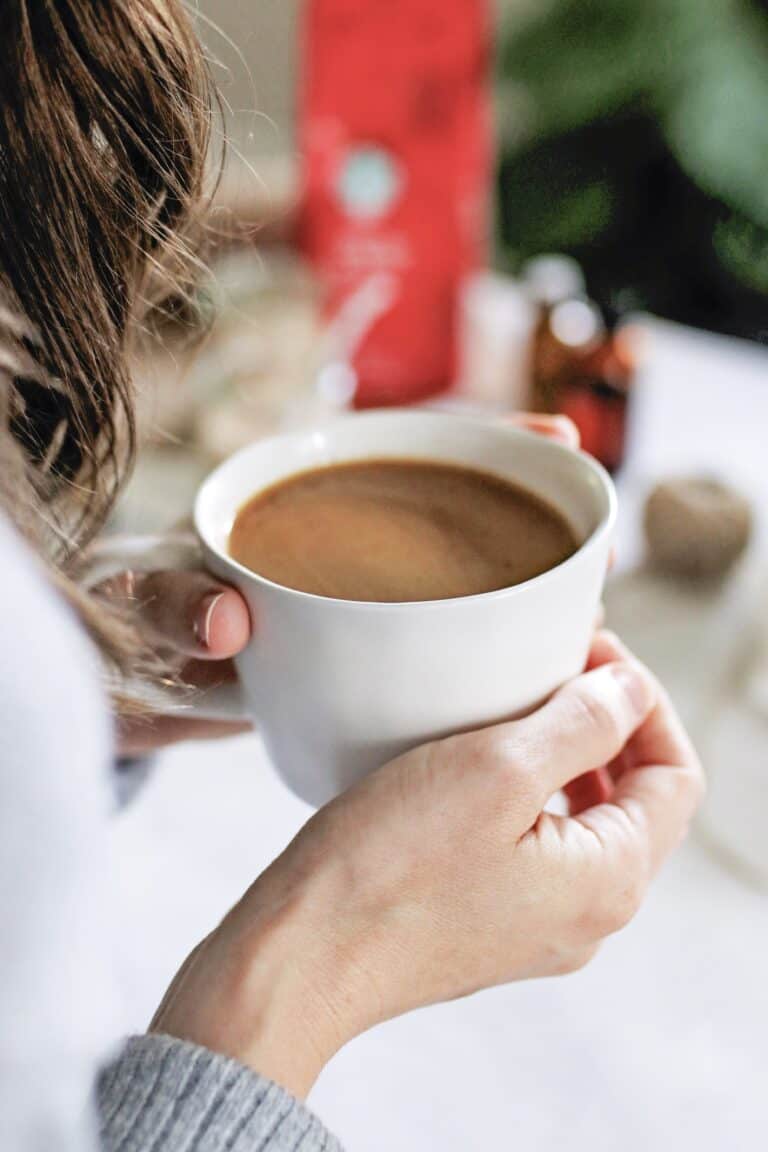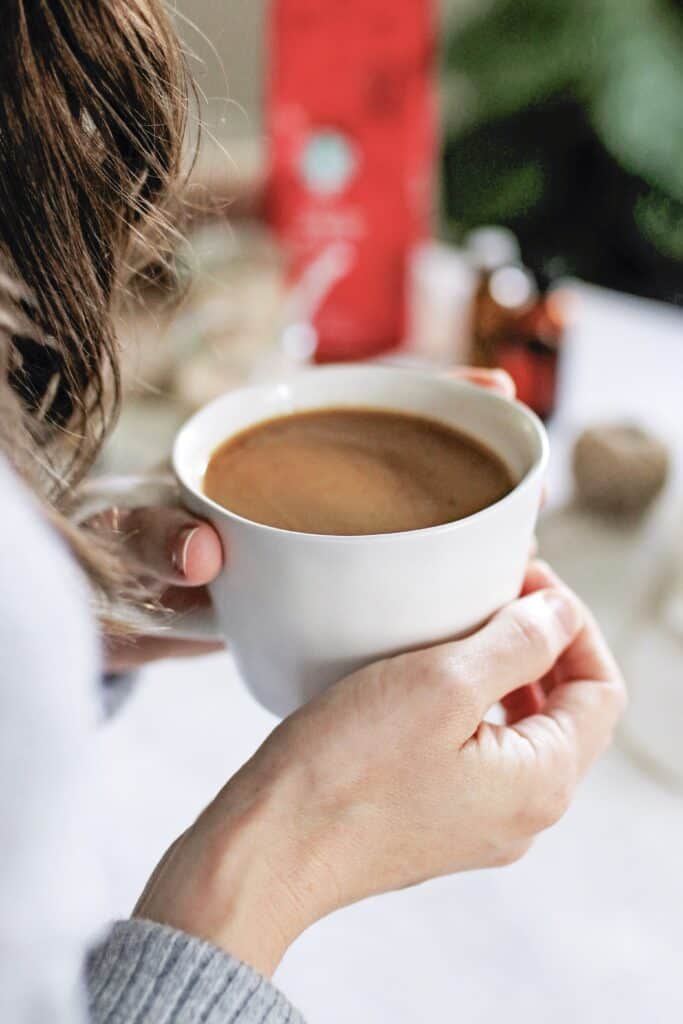 My love of coffee runs deep. For an introvert who doesn't always know what to say (even to loved ones), I've never struggled to connect over coffee. There's something about the vibe at coffee shops that always makes me feel like I belong.
When it comes to my morning routine at home, there's nothing more relaxing than brewing a fresh pot of Starbucks® coffee and being enveloped by the warm, sultry scent of roasted beans and maple flavors. I'm flooded with happy memories of holidays at my grandparent's house, my favorite coffee shop down the street from my first apartment, or that time I traveled around Spain with a couple strangers I hardly knew in college (they became fast friends, by the way, and I chalk it up to the good coffee).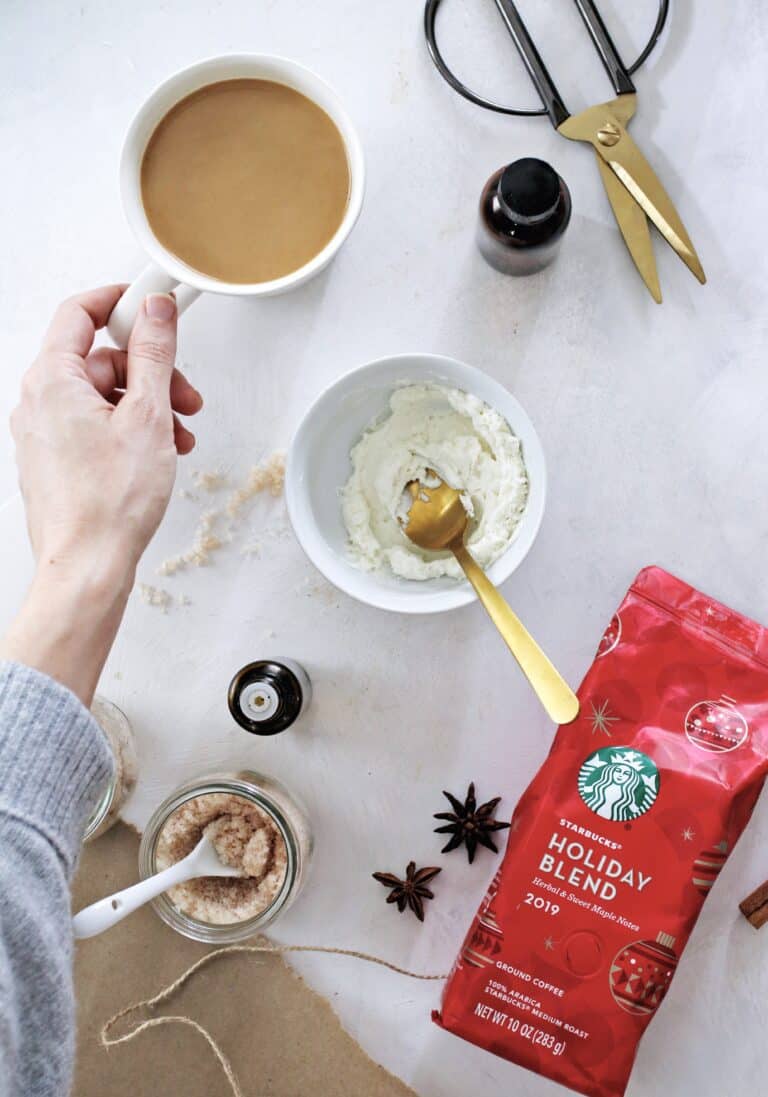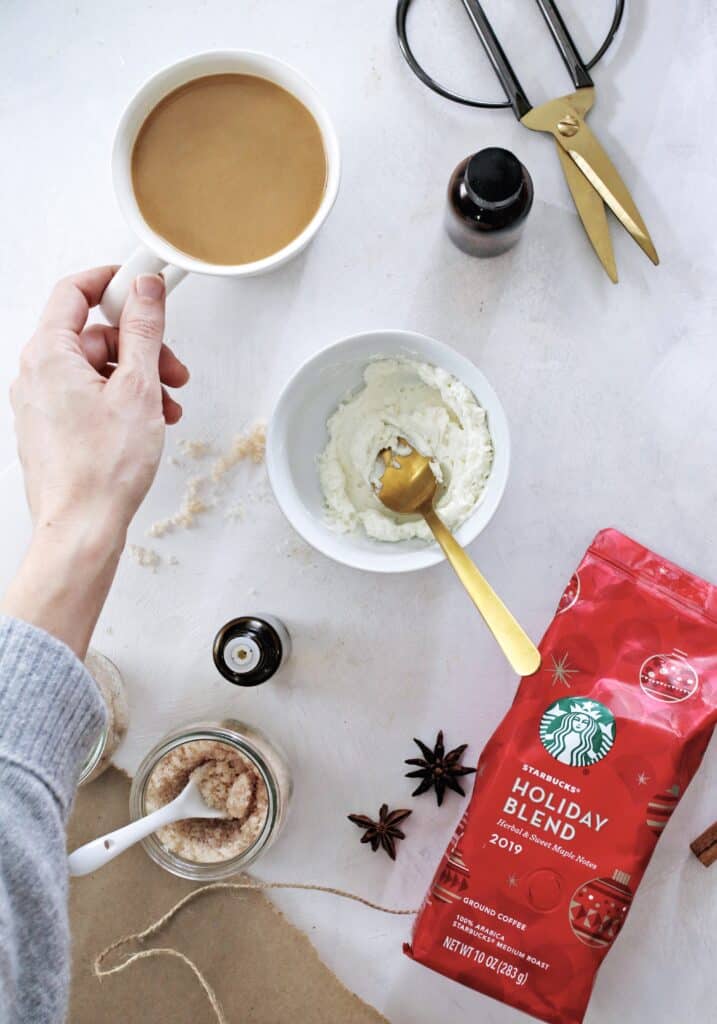 Coffee is a bonding experience, so it's no surprise that a good cup of Starbucks® coffee takes center stage in my holiday traditions. With a focus on maple and herbal flavors, Starbucks® Holiday Blend is light enough for occasional coffee drinkers and layered enough for seasoned coffee lovers. It also accompanies the smells and tastes of the holidays perfectly.
Sugar cookies, cocoa, cinnamon and nutmeg meld seamlessly with, and are even heightened by, coffee. It's what my mother would call a crowd pleaser, for sure, so I make sure to have enough on hand so everyone can pour a cup.
This year I picked up several packs from my local Publix (it's front and center on the coffee aisle) to last me through the holidays. If you're looking to stock up yourself, head to Publix and you can save $1.00 off any one Starbucks® 10 oz. packaged coffee or 10 ct. K-Cup pods® between 11/16/19 – 12/31/19.
I recommend buying at least two bags of the ground coffee if you plan on having guests over, so you never have to worry about running out.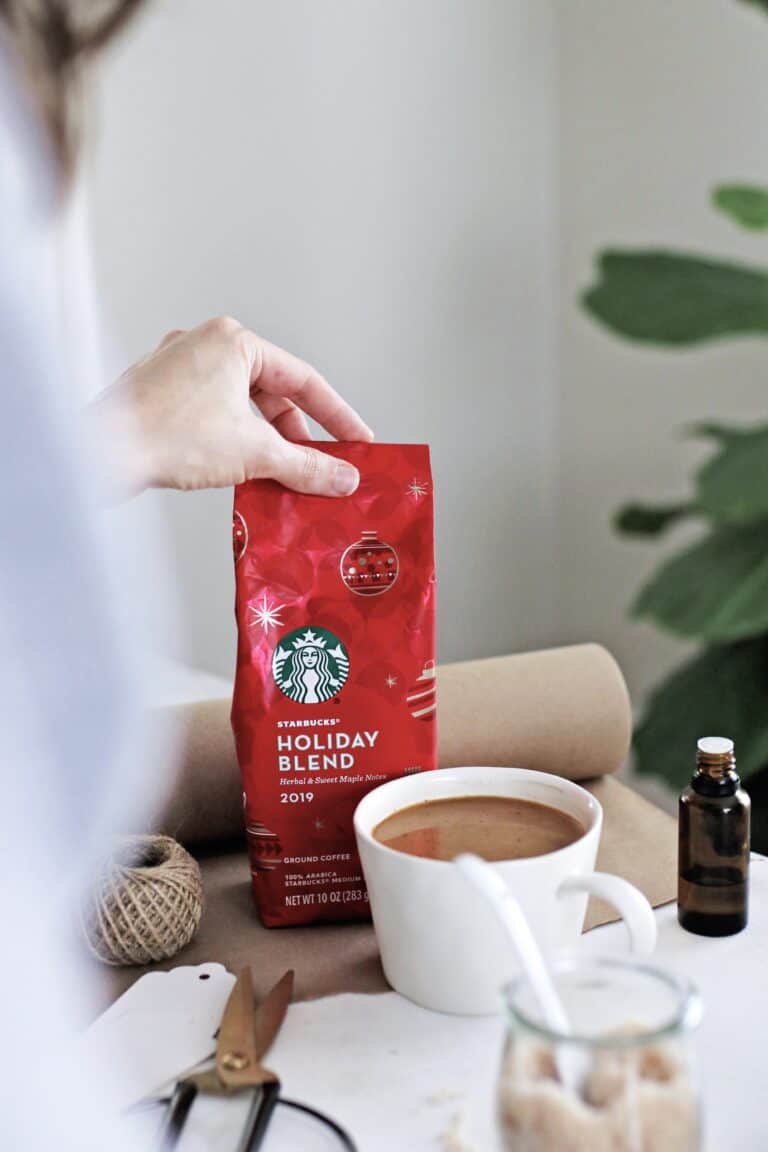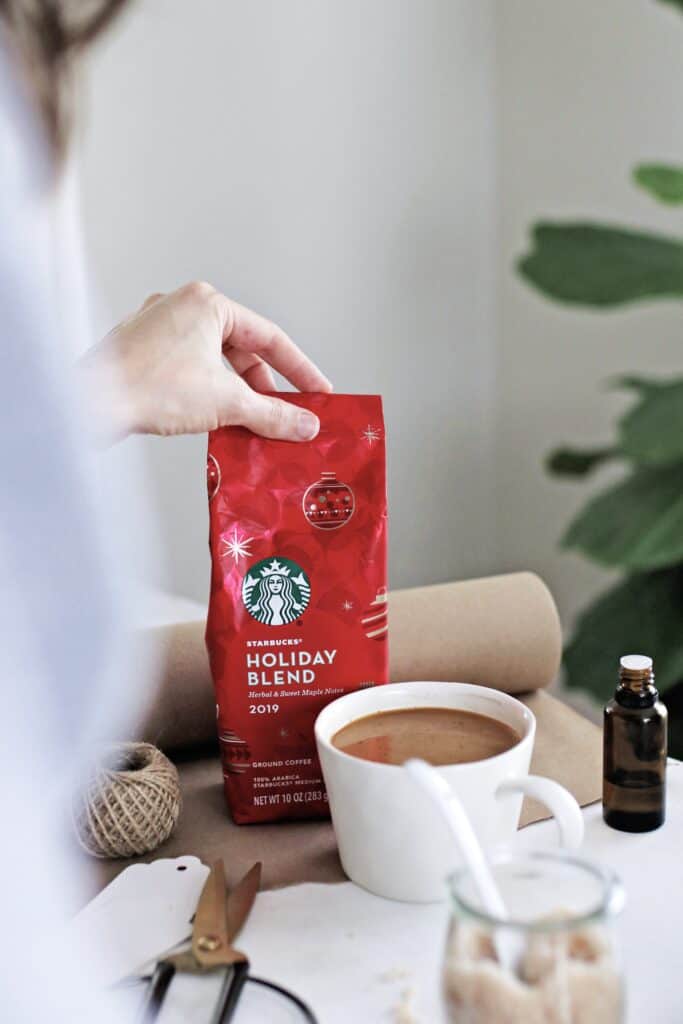 Then once the coffee is brewed, the supplies are gathered, and the movies are picked out, I invite close friends and family over to share in the crafting festivities.
Here's what I'm making this year (note, these recipes are not edible):
Snickerdoodle Cookie Dough Scrub
1 cup white sugar
3 Tablespoons almond oil
10 drops vanilla essential oil
10 drops cinnamon leaf essential oil
¼ tsp cocoa powder
2 4-ounce jars with lid
Combine all ingredients in a medium bowl. Stir well to mix, then spoon scrub into small glass jars with lid. Tie jars with string and add a festive tag. It should keep indefinitely without refrigeration.
Sugar Cookie Soap
1 lb. shea butter melt-and-pour soap base, divided in half
½ cup brown sugar
1/8 teaspoon almond extract
Vanilla essential oil or vanilla absolute
Silicone soap mold
Melt the soap base in a microwave safe bowl. Once melted, stir in the brown sugar and vanilla absolute and stir well. Pour into soap mold and let cool until bars have completely hardened. (Just for fun, I separated my melted soap base into two bowls and added the brown sugar to just one of them. Then I swirled them together in the silicone mold. It's pretty, but not required.)
Gingerbread Body Butter
½ cup shea butter
½ cup coconut oil
2 Tablespoons cocoa butter
10 drops ginger essential oil
10 drops cinnamon leaf essential oil
2 4-ounce jars with lid
Melt the shea butter, coconut oil and cocoa butter in a small saucepan over low heat. Remove from heat, add your essential oils, and place in the refrigerator to cool. After about 20 minutes, the mixture should be solid, at which point you can whip it with a hand mixer until light and fluffy (2-3 minutes). Scoop into a lidded jar. It should keep indefinitely without refrigeration.
Starbucks® and the Starbucks® logo are registered trademarks of Starbucks® Corporation used under license by Nestlé.