Dandruff and thinning hair can be irritating and embarrassing for many people. The good news is homemade treatments can be very effective. To help make bad hair days a thing of the past, we've got 9 homemade treatments for dandruff and thinning hair to balance out your scalp and get rid of the flakes, using ingredients you probably already have!

While the root causes differ (pun intended), these natural treatments address both pesky white flakes and slow hair growth. Why? Because soothing inflammation and nourishing the scalp are steps one and two in practically every hair repair manual.

9 DIY Treatments for Dandruff + Thinning Hair
Just like the skin on your face and body, what works for someone else's scalp might not work for you. Don't be afraid to play around with these recipes until you find the treatment that works best for you.
1. Tea Tree Shampoo
Tea tree is both antimicrobial and anti-inflammatory [source], making it especially effective for treating dandruff naturally. It also ensures there's no funk coming from your scalp, no matter the cause!
Combined with Castile soap, coconut milk, and glycerin, this shampoo will nourish from the scalp up and leave you with healthy, dandruff-free hair.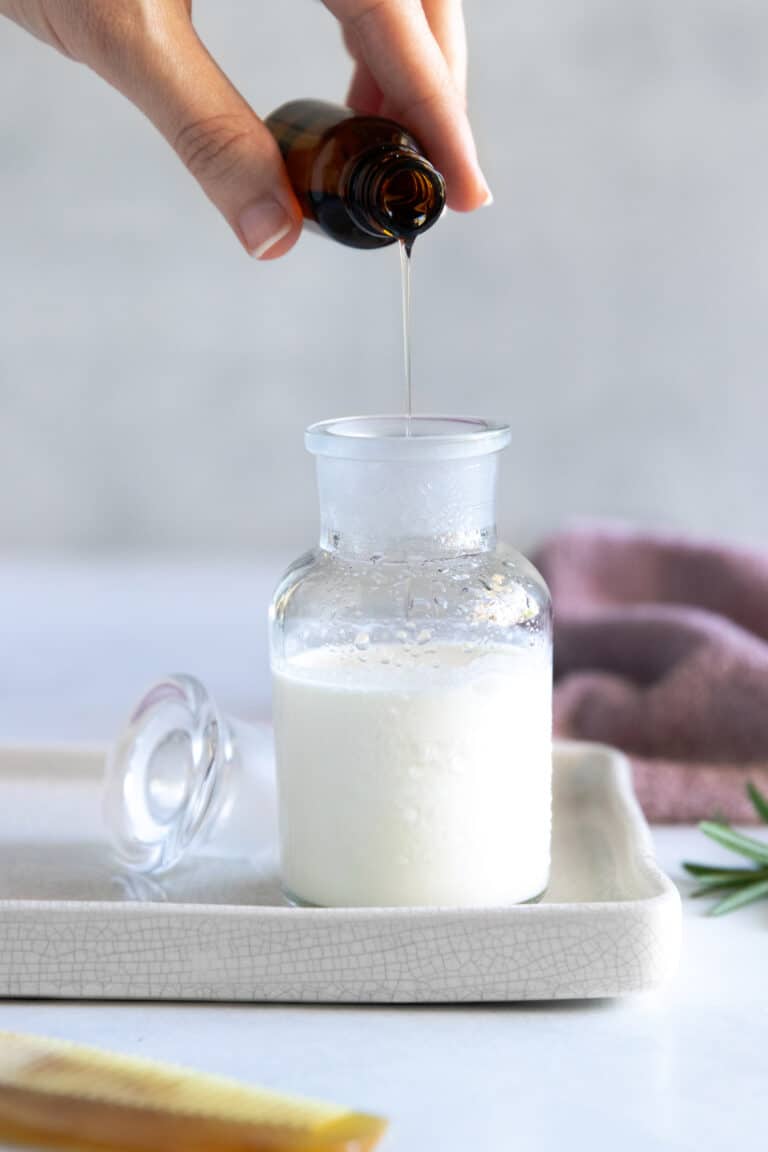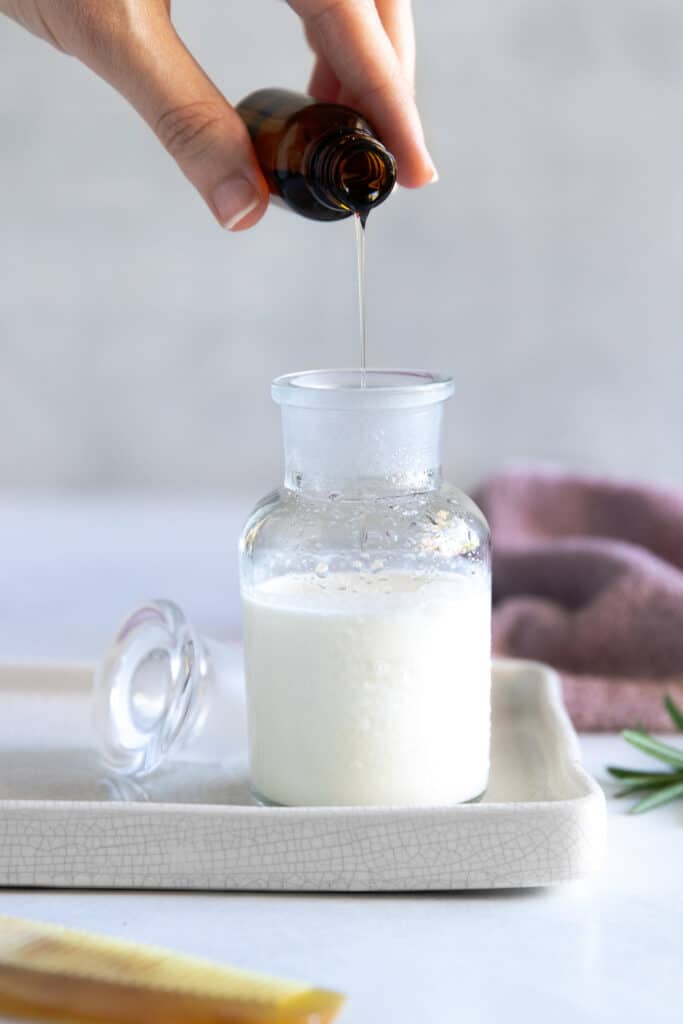 Tea Tree Dandruff Shampoo

—¼ cup canned organic unsweetened coconut milk
—½ cup liquid Castile soap
—½ cup vegetable glycerin
—2 teaspoons almond, grapeseed, or jojoba oil
—10 drops tea tree essential oil
Instructions
Combine all the ingredients in a bottle and shake well. To use, apply to damp hair just like you would shampoo. Rinse well and then condition as usual. Shake the bottle well before each use.
Store your shampoo in the refrigerator and use within 3–4 days.
Also: Tea Tree Head Massage
In addition to washing your hair with tea tree shampoo, you can also massage it right into your scalp. But make sure you dilute it in a carrier oil like olive, argan, or jojoba before applying. For a double dose of anti-dandruff power, coconut oil, with its uber moisturizing properties [source], is also a fantastic option as a carrier oil.
A handy tool for really getting in there is a scalp massager—I know, it looks really pointy and intense, but the bristles are made of super-soft silicone (so it's hygienic!), and they make a huge difference for getting every inch of your scalp squeaky clean and making the most of this shampoo. Plus, it's basically an easy way to give yourself a super relaxing scalp massage!
2. Coconut Milk Hair Mask
If you've noticed that your ponytail seems to be thinning out more and more, then this thinning hair mask is for you. Tackling the issue right at the hair root and giving your hair a rest from tight hairstyling can go a long way to restoring thick, luscious hair.
Coconut milk contains healthy proteins and essential fats [source], both of which boost hair growth. I know what you're wondering—how come we're using coconut milk instead of coconut oil? Coconut milk has more proteins than coconut oil, making it better at helping hair rebuild from the root instead of just moisturizing and conditioning.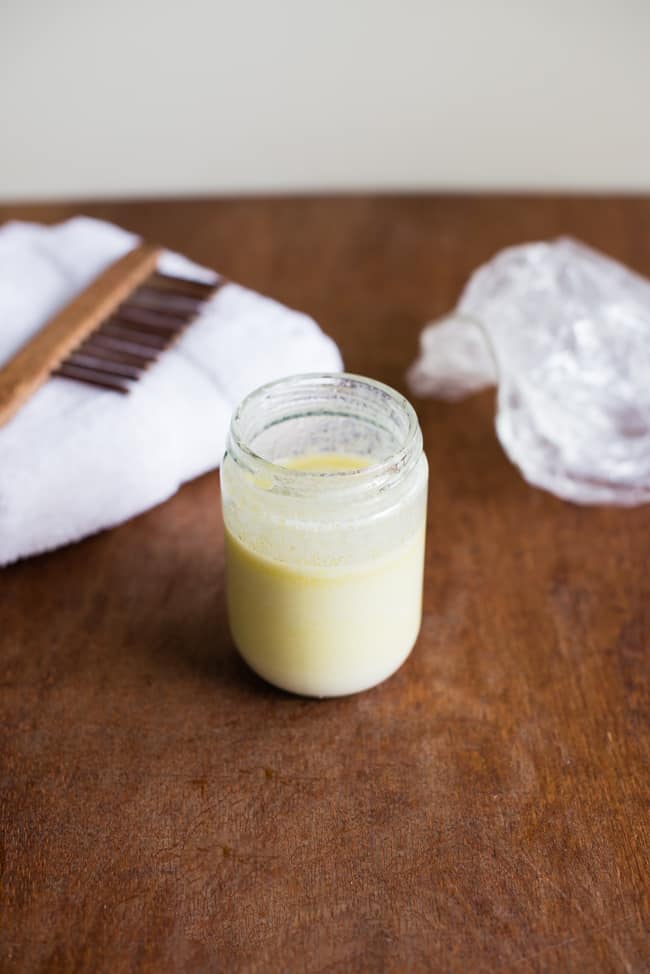 Coconut + Olive Hair Mask
—½ cup canned organic unsweetened coconut milk
—3 teaspoons olive oil
—Hot water as needed
Instructions
Combine the olive oil, coconut milk, and water. Usually, whisking them together works well enough. But sometimes, I use a hand blender to make sure they're well combined.
Apply the mixture to your scalp and work the mask through your hair. Massage into your scalp and bring any extra mask out to the ends of your hair. Leave on for 10–15 minutes and then follow with shampoo to rinse the mask off. Shampoo and condition as usual.
Note: Taking the time to do a scalp massage will make a huge difference—it boosts circulation in the area where hair strands originate, ensuring their roots have a better blood supply for healthier hair. Wear a shower cap to allow heat to penetrate more deeply.
Store in the refrigerator and use within 3–4 days.
3. Hydrating Peppermint Spray
Peppermint is a powerhouse in the DIY dandruff treatment department. Mint cleanses the scalp and helps shed the buildup of dead skin in the hair follicles while stimulating and encouraging hair growth.
Rosemary has been used in hair loss treatments [source]. Plus, this one smells amazing, thanks to the loads of herbs used!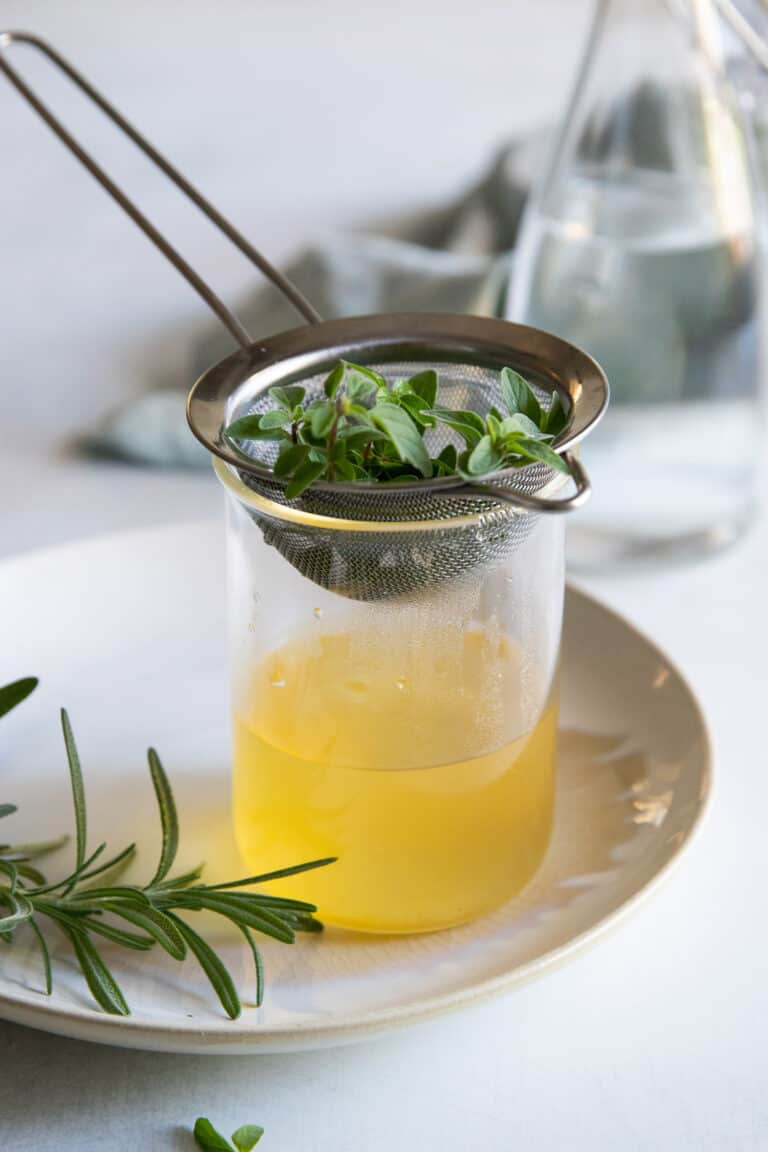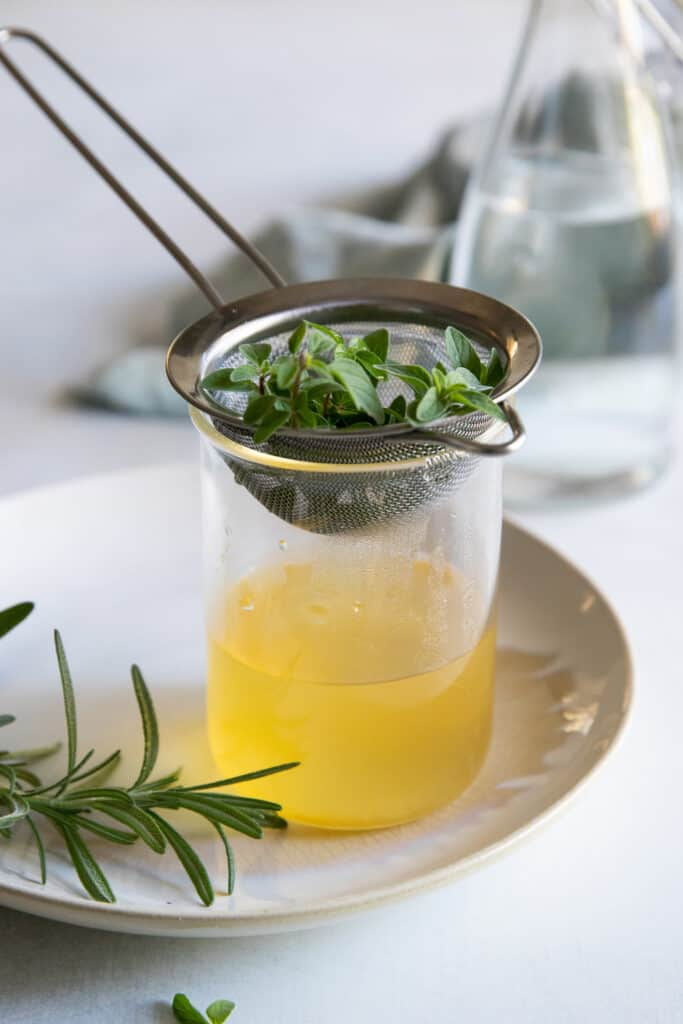 Herbal Scalp Spray
—1 cup of boiling water
—1 tablespoon fresh or dried rosemary leaves
—1 tablespoon fresh or dried oregano leaves
—1 tablespoon fresh or dried mint leaves
—French press or loose leaf tea infuser
Instructions
You can use a French press or loose leaf tea infuser to steep the leaves until the boiling water has reached room temperature. Then transfer to a spray bottle, and after you shampoo, spray the scalp and hair until it is evenly soaked through. Leave the mixture on for at least 5 minutes before rinsing with cool water.
If you have the time to leave it on for longer than that, feel free to. And, as always, giving yourself a little scalp massage helps to really get the most out of this mint-infused hair treatment. Plus, rinsing with cool water is crucial. Cold water closes the hair cuticle, making the hair look super shiny and healthy. Now, who wouldn't want that?
Store in the refrigerator and use within 3–4 days.
4
.
Soothing Essential Oil Repair Serum
Essential oils are one of my favorite homemade treatments for dandruff. They're soothing, nourishing, and moisturizing, all of which are amazing for the scalp (and any skin, for that matter).
Many essential oils also have antimicrobial properties [source], which may help keep dandruff-causing yeast and bacteria at bay. On top of that, some oils (like peppermint) have even been shown to slow down hair loss and promote growth [source].
When used regularly, this essential oil repair serum can help soothe irritation, kill dandruff-causing bacteria, and encourage hair growth.
Essential Oil Hair Oil
—5 drops lemongrass essential oil
—3 drops thyme essential oil
—6 drops tea tree essential oil
—4 drops peppermint essential oil
—2 tablespoons jojoba oil
—2-ounce dropper bottle
Instructions
Combine the oils in a small dropper bottle. Replace the cap and gently roll the bottle from side to side to combine the oils.
I find that it's best to use this serum at night before bed to give it plenty of time to sink in. To use, simply part dry hair into sections and apply several drops directly onto the scalp. Use your fingertips to massage the oil into your scalp and leave it on overnight.
In the morning, shampoo and condition as usual. Use within 6 months.
5. Apple Cider Vinegar Hair Rinse
Raw apple cider vinegar is rich in vitamins, minerals, and probiotics. It's also antibacterial [source] and antifungal [source], making it a great homemade treatment for dandruff. Rinsing your hair with this wonder ingredient can help nix flakes and balance the pH of your scalp and hair.
In addition, diluted organic ACV gently removes any product buildup in the hair that could be causing or worsening dandruff. Combine that with witch hazel and grapefruit oil, which helps soothe inflammation and cuts down on oily buildup, and you're one step closer to clean, shiny, flake-free hair.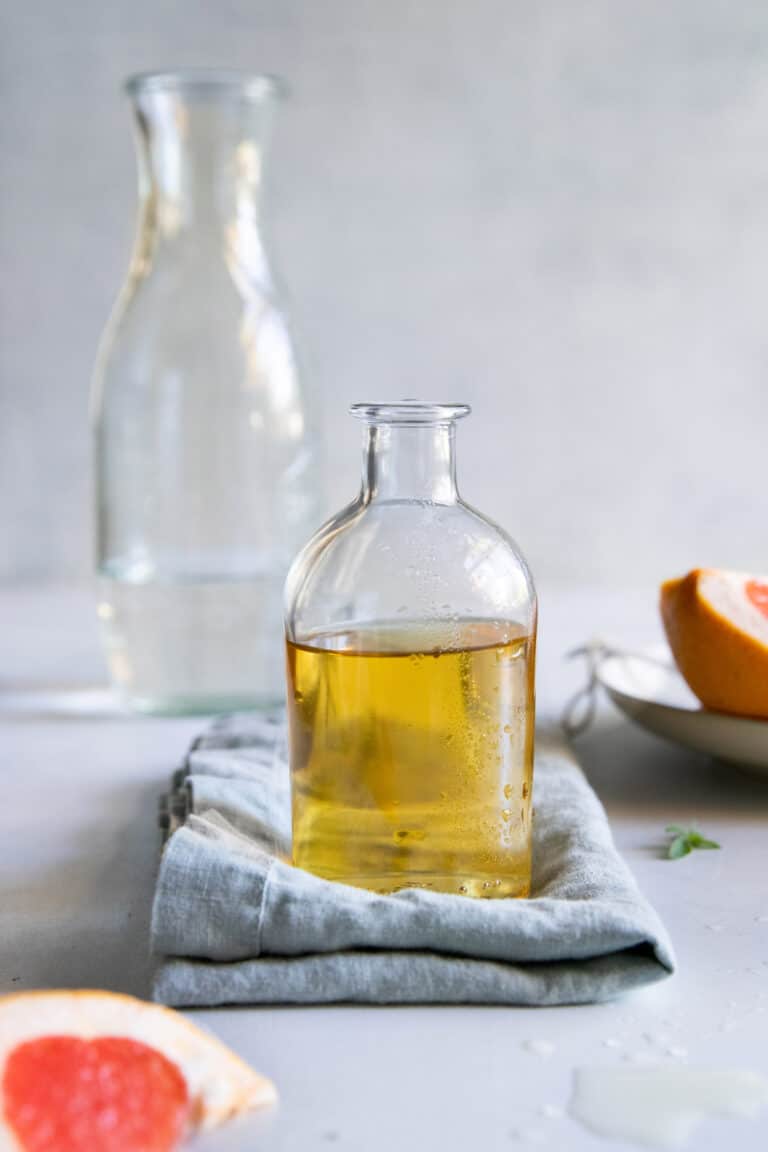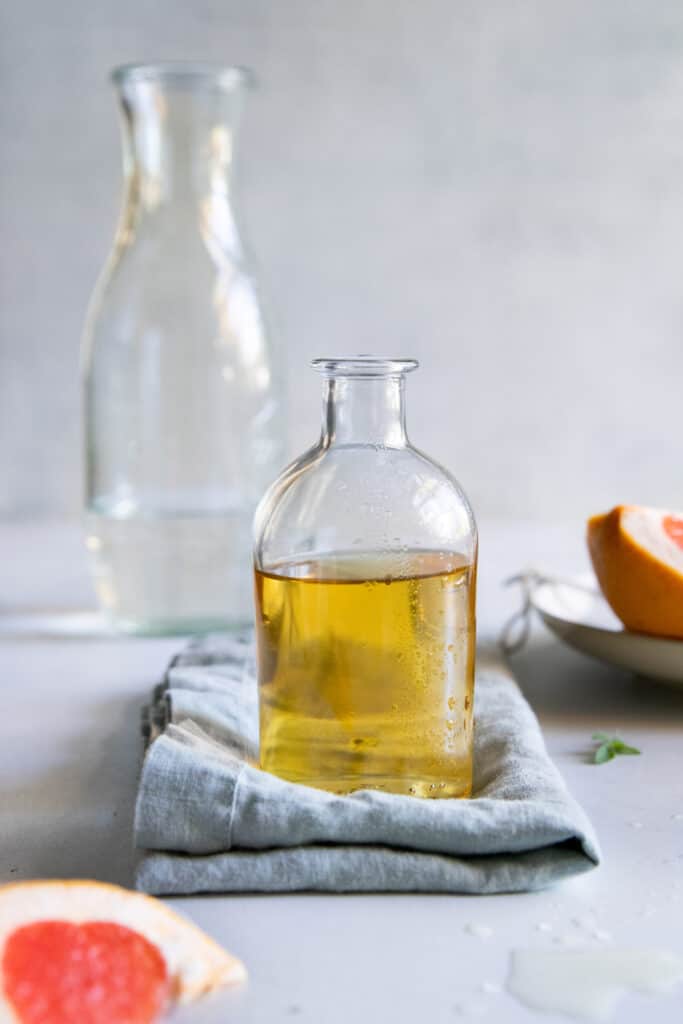 Citrus Vinegar Hair Rinse
—¼ cup raw organic apple cider vinegar
—2 tablespoons alcohol-free witch hazel
—5 drops grapefruit essential oil
—½ cup purified water
Instructions
Combine ACV, witch hazel, and water in an 8-ounce squirt bottle and shake well.
Next time you take a shower, shampoo your hair as usual and squeeze out the excess water from your hair. Use the tip of the bottle to part the hair, and gently squeeze the ACV mixture onto your scalp. Let it sit for about 5 minutes before rinsing out (no need to shampoo again if you don't want to). Follow up with conditioner.
Store in the refrigerator and use within 3–4 days. You can also spritz diluted ACV onto your scalp with a spray bottle, leave in for 15 minutes, and rinse.

6
.
Cleansing
+
Detoxifying Scalp Scrub
Sometimes, all your scalp really needs is a gentle scrub. Not only can it slough away dead skin cells and dandruff, but it also boosts blood flow to the scalp, which is vital for long, healthy locks.
While there are many different exfoliators you can use on your scalp, I recommend sticking with plain old white sugar if you've got it. It's softer than other exfoliators, so it won't over-stimulate the scalp. And it's cheap!
But if you don't have white sugar, you can use coffee grounds, fine sea salt, ground almonds, or baking soda. Finer grains, such as almond flour and baking soda, are gentler, but they won't provide as much exfoliation.
Honey has antibacterial and antifungal properties, and DIY-ing a honey hair mask can soothe seborrheic dermatitis and dandruff, as well as many other skin disorders. It is well known for soothing inflammation and healing tissues [source].
Sugar + Honey Scalp Scrub
—½ cup white sugar
—2 tablespoons sweet almond oil
—10 drops bergamot essential oil
—1 tablespoon raw honey (I prefer manuka honey, but you can use any kind you like)
Instructions
Combine the ingredients in a small bowl and stir well. Hop in the shower, wet your hair, and gently work a big handful of scrub into your scalp. It'll be messy and feel somewhat dry under your fingertips, but just massage it in as best you can.
Rinse your hair really well, then follow up with shampoo and conditioner. Repeat once a week.
7. Overnight Oatmeal + Coconut Oil Moisture Mask
I've battled dandruff off and on for years, especially during the winter months when my skin is parched. But there's one thing I always turn to for relief: oatmeal.
Finely ground oatmeal, sometimes referred to as colloidal oatmeal, has been used for centuries to soothe dry, itchy skin [source]. And since both dryness and itchiness are par for the dandruff course, oatmeal makes for the perfect home hair treatment.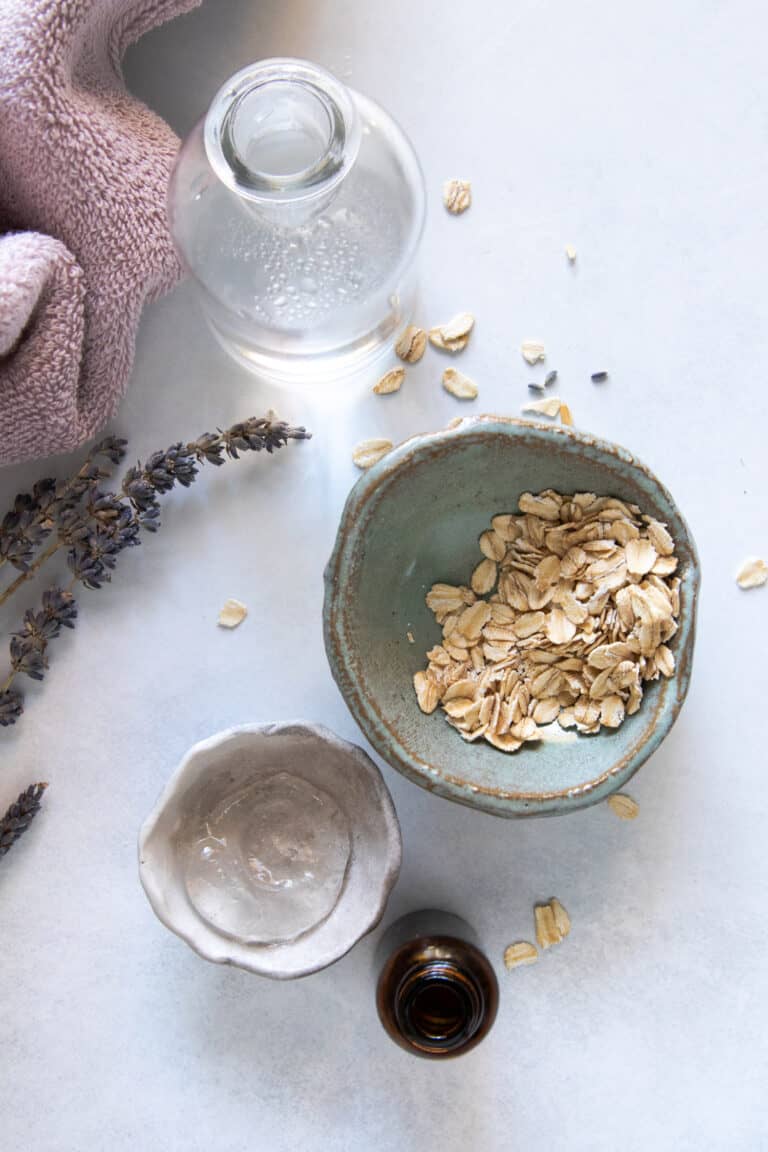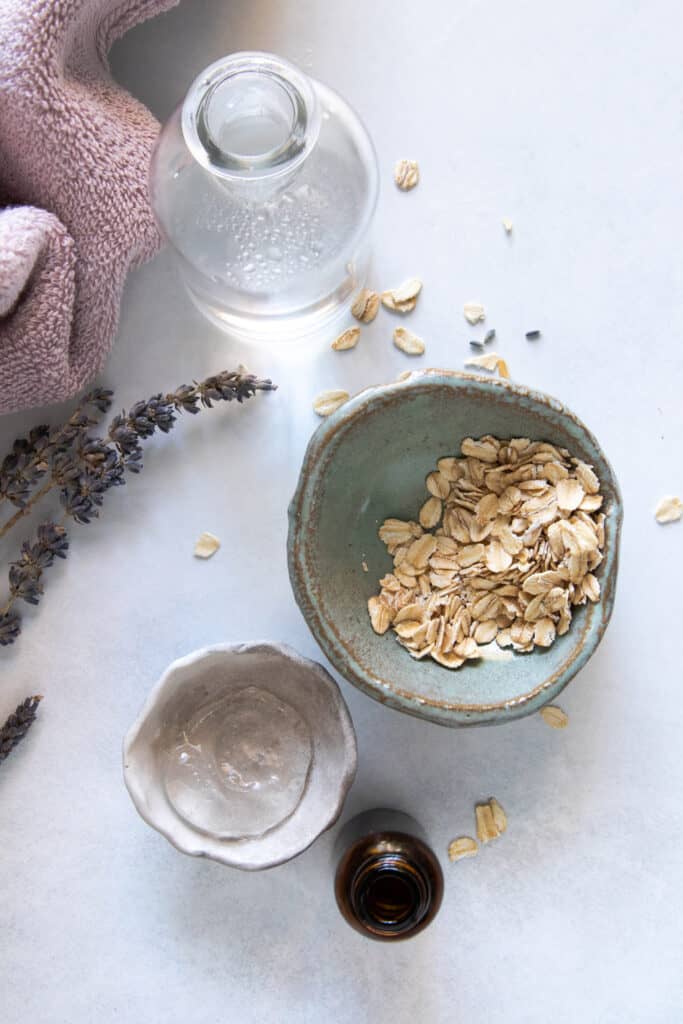 Combine it with fractionated coconut oil and aloe vera for extra soothing power. If itching is becoming bothersome, aloe can treat that immediate symptom (after all, scratching will only make it worse!) as well as balance your scalp's oil production over the long term.
The aloe gel you can buy for sunburns is fine in a pinch, but it's definitely worth having an actual aloe vera plant or two around. Not only are they amazing air purifiers, but the gel is a natural healer for so many skin issues [source].
Coconut oil is incredibly effective at treating two causes of dandruff. First, it intensely moisturizes [source] your scalp. So if your dandruff is caused by plain, old, dry skin, it can help there. Or, if your dandruff is the fungal-induced kind (sorry, but that's literally what it is!), coconut oil is a natural antifungal. And it has been found to be greatly beneficial for a healthy scalp microbiome [source], preventing pathogens of any kind from disrupting the natural balance.
And the lavender essential oil also promotes hair growth [source]. When you're done using this mask on your scalp, go ahead and apply some to any other areas of your body that need some moisture. Leave it on overnight to give time for healing, and then wash it out in the morning.
Overnight Dandruff Hair Mask
—½ cup 99% aloe vera gelly
—2 tablespoons fractionated coconut oil
—20 drops lavender essential oil
—1 tablespoon finely ground organic rolled oats
Instructions
Combine the aloe vera and coconut oil in a small bowl. Using a hand whisk, mix them for about a minute or until they come together in a lotion-like consistency. Add the lavender oil and ground oats and mix again.
At night, before you go to bed, apply the mask to dry hair. Spend extra time massaging it into your scalp, focusing on areas that are particularly itchy. Since this can get a little messy, place an old towel over your pillow before falling asleep.
In the morning, rinse out the mask and wash your hair as usual. Use within 1–2 months.
8. Fenugreek Seed Mask

Fenugreek is an Ayurvedic spice that has been used to treat dandruff and scalp issues for a long time. The seeds can be soaked overnight to enhance their scalp-nourishing abilities. Just don't forget about them, or else you might discover some little fenugreek sprouts in a day or two!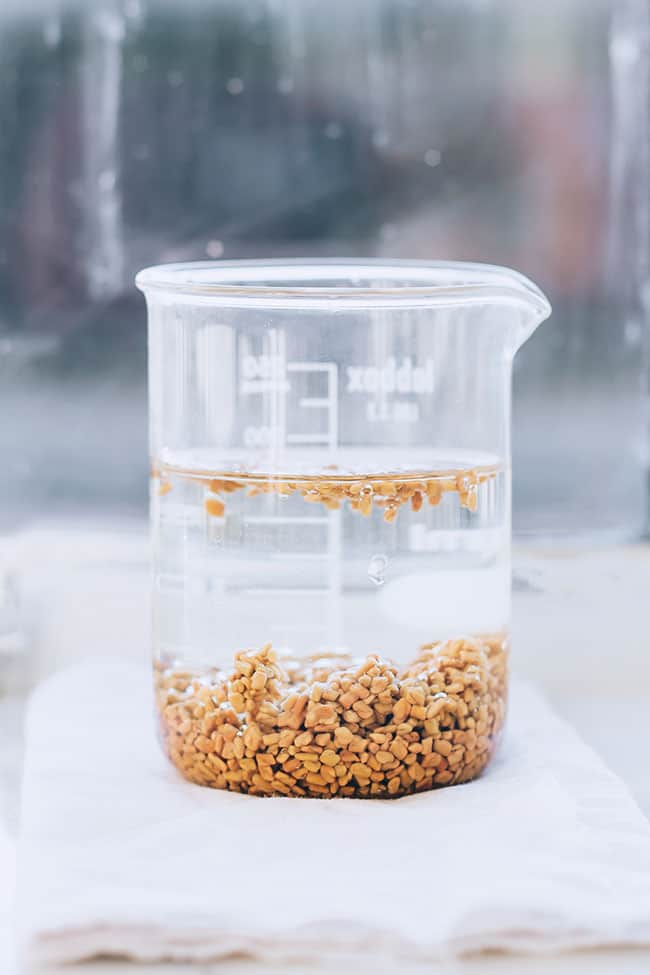 Fenugreek hair mask
—2 tablespoons fenugreek seeds
—Water
Instructions
To combat dandruff, soak 2 tablespoons of protein- and lecithin-rich fenugreek seeds overnight, then grind them into a paste and apply to the scalp.
Leave it on for 30 minutes before rinsing. This remedy can also help with thinning hair.
9. Add in Licorice Root
Nope, not the Twizzler kind! Licorice root is a strong anti-inflammatory that soothes the itchiness in inflamed, flaky scalps, while its amino acids and polysaccharides help protect against a dry scalp [source]. Licorice root is commonly used for hair loss as it also strengthens weakened hair follicles.
To get the benefits, add a bit of licorice root extract to your hair mask or shampoo (or get one that already includes it) and try licorice root tea.
Have you had success with any homemade treatments for dandruff or thinning hair
?
References:
Pazyar N, et al. A review of applications of tea tree oil in dermatology. Int J Dermatol. 2013.
Lin TK, et al. Anti-inflammatory and skin barrier repair effects of topical application of some plant oils. Int J Mol Sci. 2017.
Lima EBC, et al. Cocos nucifera (L.) (Arecaceae): a phytochemical and pharmacological review. Braz J Med Biol Res. 2015.
Panahi Y, et al. Rosemary oil vs minoxidil 2% for the treatment of androgenetic alopecia: a randomized comparative trial. Skinmed. 2015.
Swamy MK, et al. Antimicrobial properties of plant essential oils against human pathogens and their mode of action: an updated review. Evid Based Complement Alternat Med. 2016.
Oh JY, et al. Peppermint oil promotes hair growth without toxic signs. Toxicol Res. 2014.
Yagnick D, et al. Antibacterial apple cider vinegar eradicates methicillin resistant Staphylococcus aureus and resistant Escherichia coli. Sci Rep. 2021.
Yagnik D, et al. Antimicrobial activity of apple cider vinegar against Escherichia coli, Staphylococcus aureus and Candida albicans; downregulating cytokine and microbial protein expression. Sci Rep. 2018.
McLoone P, et al. Honey: a therapeutic agent for disorders of the skin. Cent Asian J Glob Health. 2016.
Pazyar N, et al. Oatmeal in dermatology: a brief review. Indian J Dermatol Venereol Leprol. 2012.
Sánchez M, et al. Pharmacological update properties of Aloe vera and its major active constituents. Molecules. 2020.
Saxena R, et al. Longitudinal study of the scalp microbiome suggests coconut oil to enrich healthy scalp commensals. Sci Rep. 2021.
Lee BH, et al. Hair growth-promoting effects of lavender oil in C57BL/6 mice. Toxicol Res. 2016.
Azadbakht M, et al. Formulation and evaluation of licorice shampoo in comparison with commercial shampoo. J Pharm Bioallied Sci. 2018.
This article was medically reviewed by Dr. Gina Jansheski, a licensed, board-certified physician with more than 20 years of practice experience. Learn more about Hello Glow's medical reviewers here. As always, this is not personal medical advice, and we recommend that you talk with your doctor.
194