Did you overdo it at the pool or lake this weekend? I seem to always start summer with a sunburn to remind me that, oh yeah!, sunscreen and a hat are not optional. With many hot days still ahead this summer, here are three natural sunburn remedies for tender skin.

1. After Sun Aloe Face Mask
My nose and cheeks are always the first to burn. That's possibly why I have more than my share of freckles and age spots in those areas. Later you can tackle reducing the pigment with lemon juice, but for now stick with a soothing mask with healing ingredients like aloe and honey.
Trust me, lemon juice is the last thing you want your skin right now! So let's focus on a skin-healing mask using aloe and honey.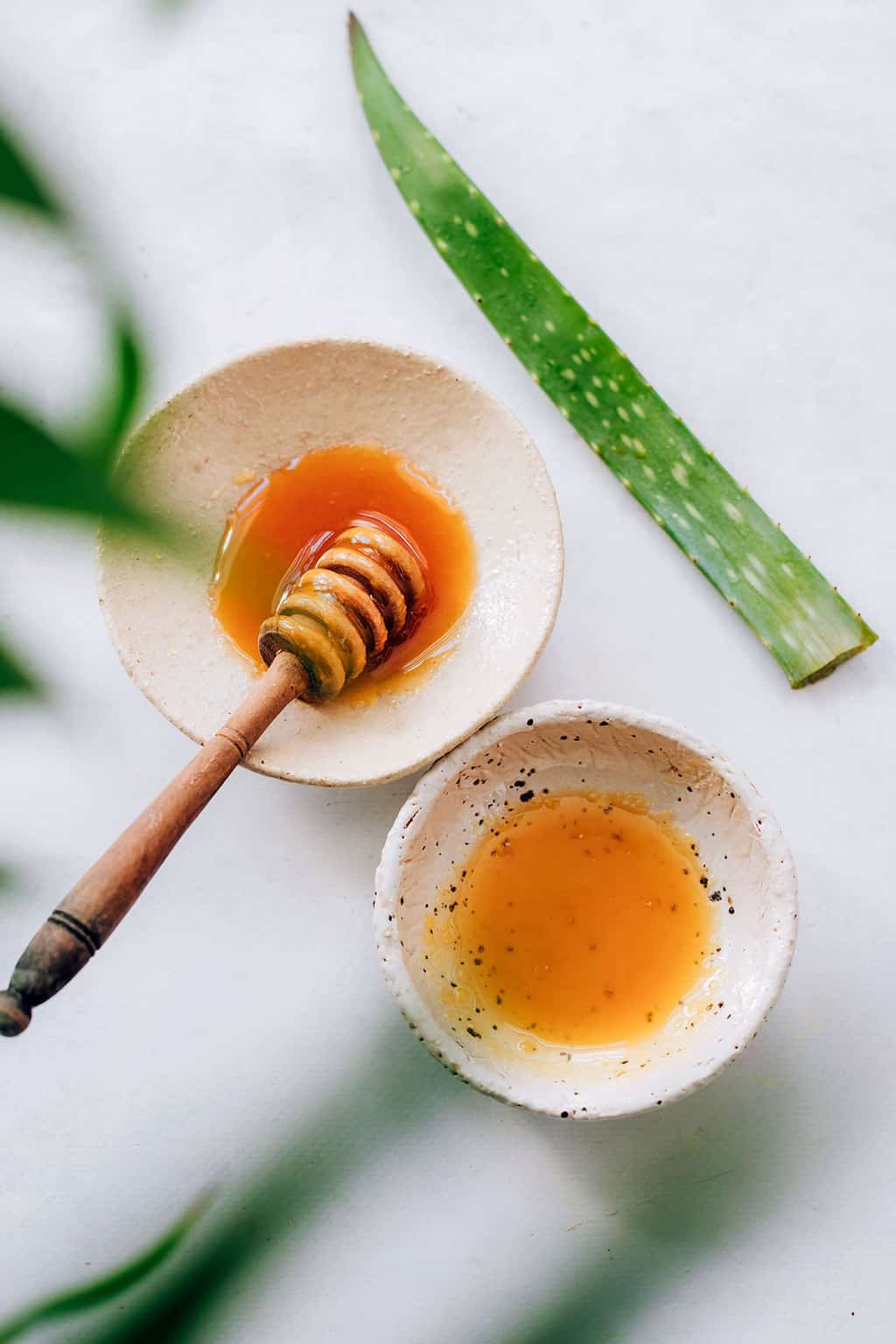 Aloe & Honey Mask
-1 tablespoon aloe
-1 tablespoon raw honey
Combine ingredients and apply to face and any other sunburned areas. Aloe works as an anti-inflammatory on reddened skin and is one of the most commonly used ingredients on burns (plus it provides cooling relief).
Of course you can use prepared aloe vera gel, but having a plant around is always really handy—simply carefully break off the leaf, peel, and put the raw gel into a blender to get a smooth consistency before use.
Raw honey is another natural healer, plus it acts as a humectant to draw in moisture to dry skin. This combination promotes healing in the skin and will calm down your burn in no time!
2. Skin Quencher Sunburn Spray
Applying this spray just out of the fridge feels so good on hot, parched skin. Chamomile, green tea and aloe soothe and help heal tender skin while the peppermint provides cooling relief.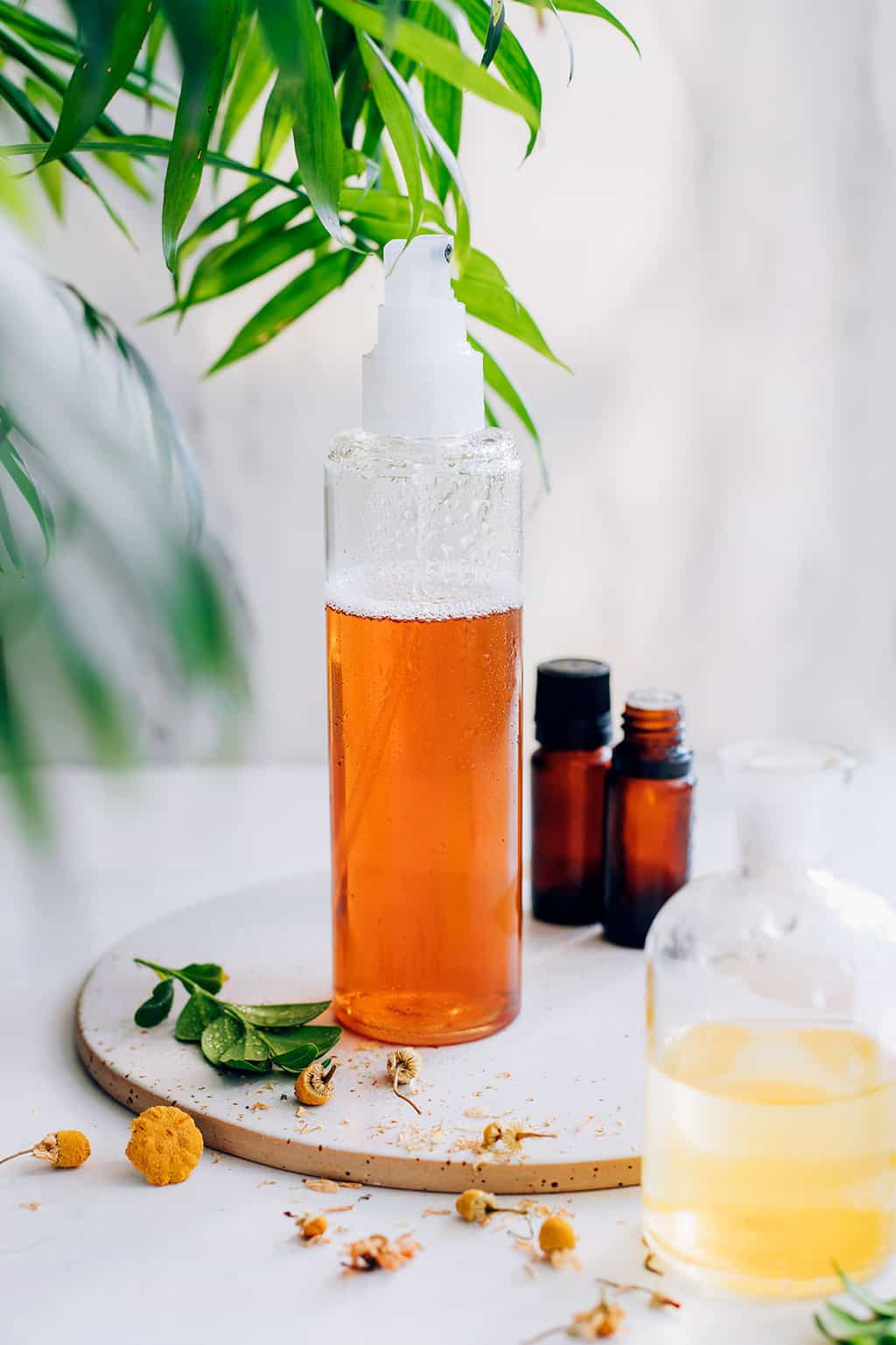 Cooling Tea Spray
-2 bags of peppermint tea
-1 bag of chamomile tea
-1 bag of green tea
-1/4 cup aloe vera gel
-1 tablespoon glycerin or fractionated coconut oil
-1 tablespoon apple cider vinegar
-5 drops peppermint essential oil
-5 drops lavender essential oil
Bring 4 cups of water to boil. Remove from heat and steep tea bags for 10 minutes. Discard used bags and let tea cool completely.
Pour 1 cup into a small spray bottle and reserve the rest in the tea in the fridge for up to 2 weeks. Add remaining ingredients to spray bottle and shake to combine. Store in the refrigerator and shake before each use.
I know what you're thinking—vinegar? On a sunburn? In this soothing body spray, it helps to take down the itching (there's nothing worse than trying to not scratch a healing, ugly sunburn, right?)
Combined with skin-calming chamomile and antioxidant-rich green tea, the redness should come down quickly and heal the skin. The moisturizing ingredients help to minimize peeling, although you may want to top up the moisture with some pure coconut oil on top!
3. Sunburn Soothing Oatmeal Bath
Adding baking soda and oats to a bath eases sunburn pain, itching and inflammation.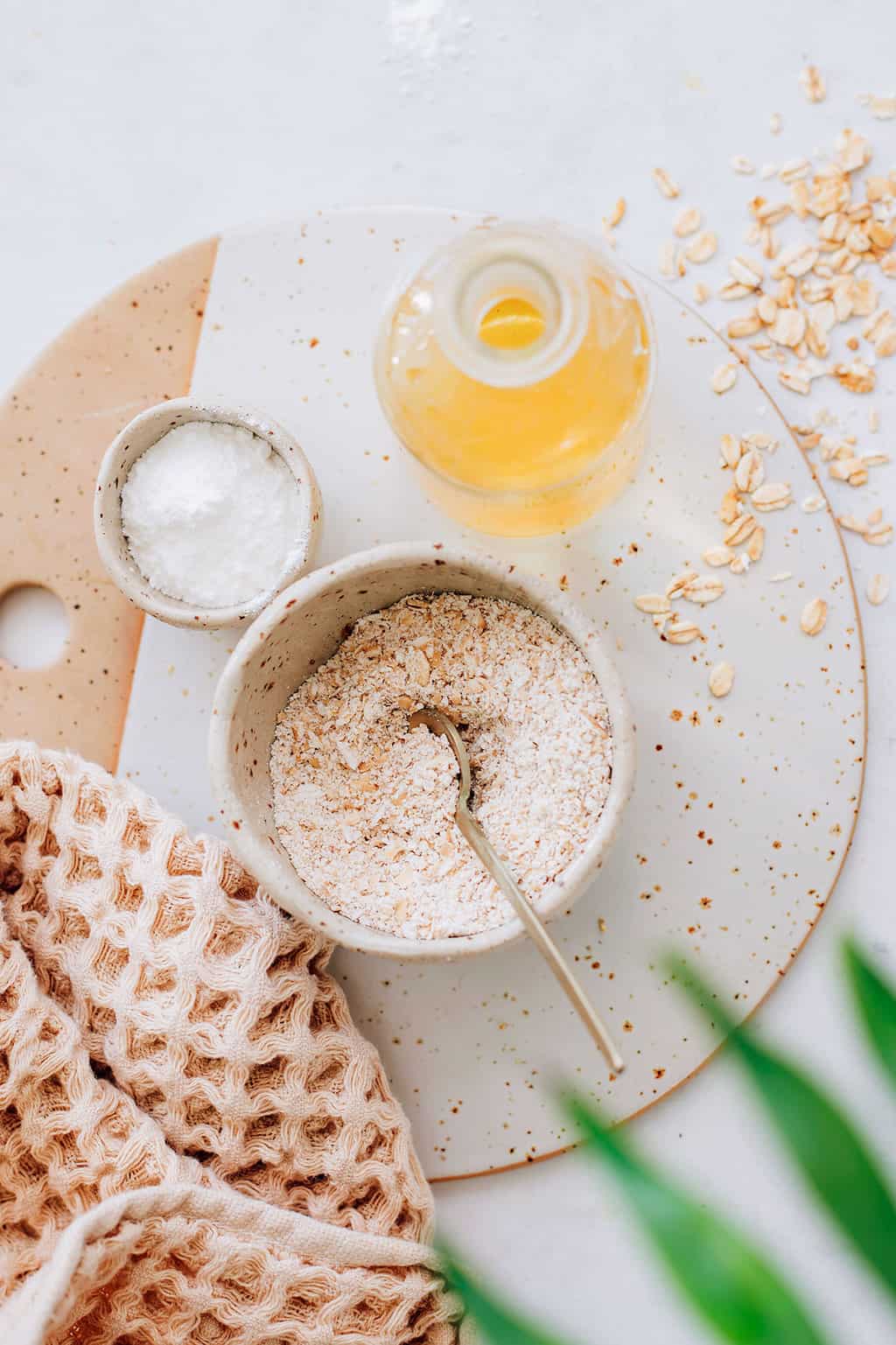 Oatmeal & Baking Soda Bath
-1 cup oats, ground
-1/2 cup baking soda
-1 cup apple cider vinegar
Combine ground oats and baking soda in sealed container. Draw a warm bath (as cool as you can stand) and add 1/4 cup of the baking soda oat mixture along with 1 cup of apple cider vinegar. Relax in the bath for no more than 30 minutes and then generously apply a healing moisturizer like aloe or coconut oil to still damp skin when you get out.
Oatmeal baths are actually a remedy that goes back a long time for irritated skin conditions—usually eczema and psoriasis—but it still works well in this instance for sunburn. Oatmeal is rich in beta-glucan, a super skin-friendly molecule that helps to increase moisture in the skin, supporting it's natural healing processes for a sunburn that goes away faster.
If you don't have oats on hand, try a milk bath to cool off your skin.
There you have it—my three favorite remedies for when you've been a little too brave and skipped the sunscreen for the day.
Photos by Ana-Maria Stanciu
167