As autumn approaches, it's a wonderful opportunity to treat yourself to a simple 3-step at home facial using seasonal produce that's high in nutrients and antioxidants. The fall season also provides an opportunity to re-evaluate your skincare routine. Maybe your moisturizer needs to be a bit richer or it's time to ditch the gel cleanser that's too drying as we enter the colder months.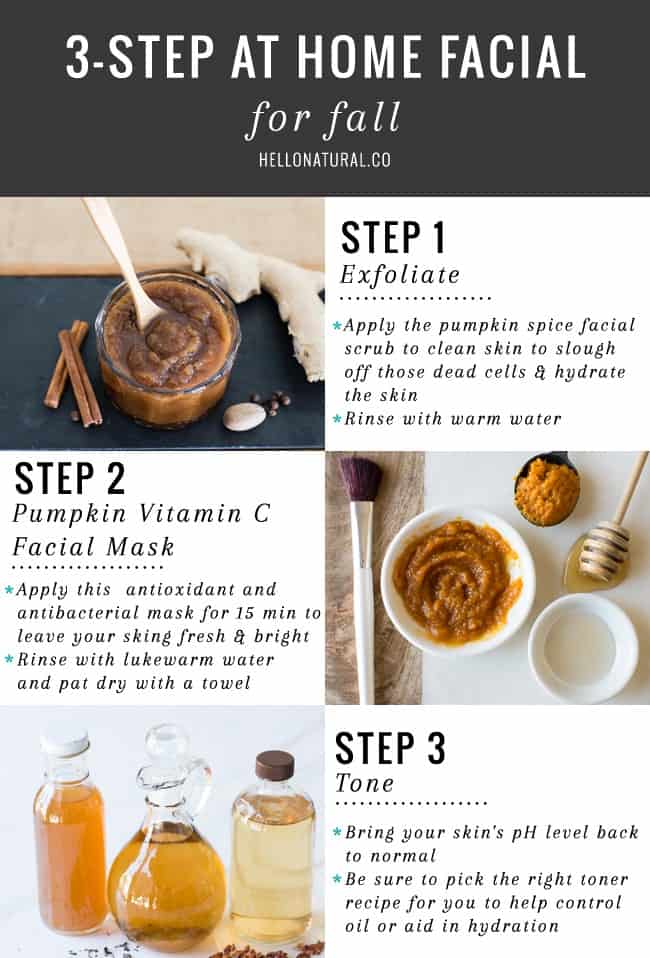 Do this easy 3-step facial this weekend, and kick off this beautiful season with beautiful skin!
Step 1: Exfoliate
Apply the pumpkin spice facial scrub to clean skin, gently using your fingertips to circulate the scrub all over your face and neck, avoiding the eye area. This is a great exfoliant to slough off those dead skin cells and the vitamin E is hydrating. Make sure you use the correct oil in the recipe to adjust for oily or dry skin. Rinse with warm water.
Step 2: Pumpkin Vitamin C Facial Mask
Pumpkin is high in vitamin C, which is a powerful antioxidant that fights pollution in the air and on our skin. This mask also exfoliates, which helps break down the dead skin cells and remove surface dirt, oil and leftover makeup. Honey is antibacterial and beneficial for sensitive skin. All of this combines to reveal a fresh, bright complexion.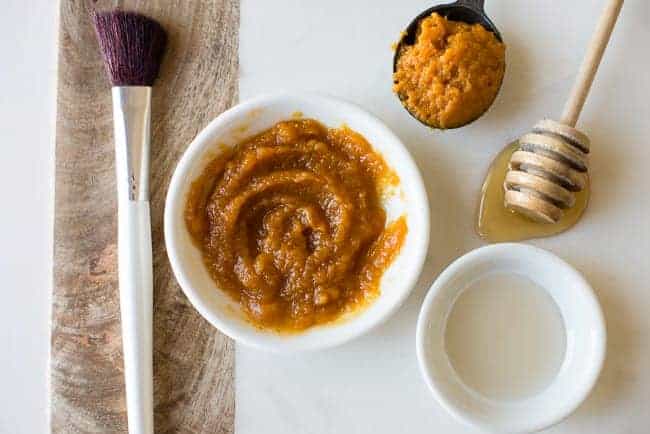 If you find your skin excessively oil, you might want to add that splash of apple cider vinegar. Apple cider vinegar replaces healthy acid levels on your skin and fights bacterial hiding in our pores.
Pumpkin Vitamin C Facial Mask
1 tablespoon cooked pumpkin (or organic canned pumpkin)
1 teaspoon raw honey
1/2 teaspoon apple cider vinegar (optional)
Combine ingredients in a bowl and mix well. Apply with a facial brush or your fingertips and leave on for 15 minutes. Rinse with lukewarm water and pat dry with a towel.
Step 3: Tone
Using a toner is the last step to bring your skin's pH level back to normal and calm skin after the workout it just received. You can make your own toner for all skin types that help control oil or aid in hydration, depending on your skin's needs. Be sure to pick the right toner recipe for you!
Now you are ready for either a moisturizer or sunscreen depending on the time of day. Facials work best when done at regular intervals (I recommend every 4-6 weeks). That means you can give yourself this 3-step fall facial several times, preferably with a pumpkin pie smoothie in hand!
Photos by Lindsey Rose Johnson
7