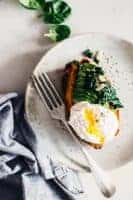 Spinach, Egg and Avocado Stuffed Sweet Potato
Yield 2
Loaded with antioxidants, fiber and good fats, this avocado, egg and spinach stuffed sweet potato compete for the healthiest breakfast recipe!
Ingredients
2 small sweet potatoes
1 ripe avocado, peeled and sliced
1 tsp lemon juice
1 cup fresh spinach leaves
1 tsp Smart Balance
2 free range eggs
1 tsp vinegar
2 garlic cloves, diced
A pinch sea salt
2 cups purified water
Freshly ground black pepper
To garnish: sesame seeds
Instructions
Preheat the oven to 200°C/400°F.
Rinse the sweet potatoes, pierce with a fork all around then onto a baking sheet lined with parchment paper, and bake for 30 minutes until tender, then remove from the oven.
While the potatoes are baking, add the water into a medium sauce pan and bring to boil.
Add the vinegar, reduce the heat to low, break the eggs and add them into the water.
Poach for four minutes, then remove (but save the hot water) and add into cold water and set aside to cool.
Heat the Smart Balance butter into a skillet over low heat, add the diced garlic, fry for 30 seconds, then add the fresh spinach and cook until the leaves softens.
Season with pepper, and set aside.
Cut open the baked sweet potatoes, add the avocado slices and cooked spinach, and drizzle with lemon juice.
Add the eggs into the hot water in which they were poached, allow them a few seconds to heat, then remove.
Top the sweet potatoes with the poached eggs, season with salt, garnish with sesame seeds and serve.
Courses Breakfast
Recipe by Hello Glow at https://helloglow.co/3-stuffed-sweet-potato-recipes/