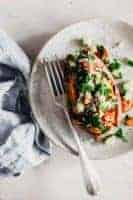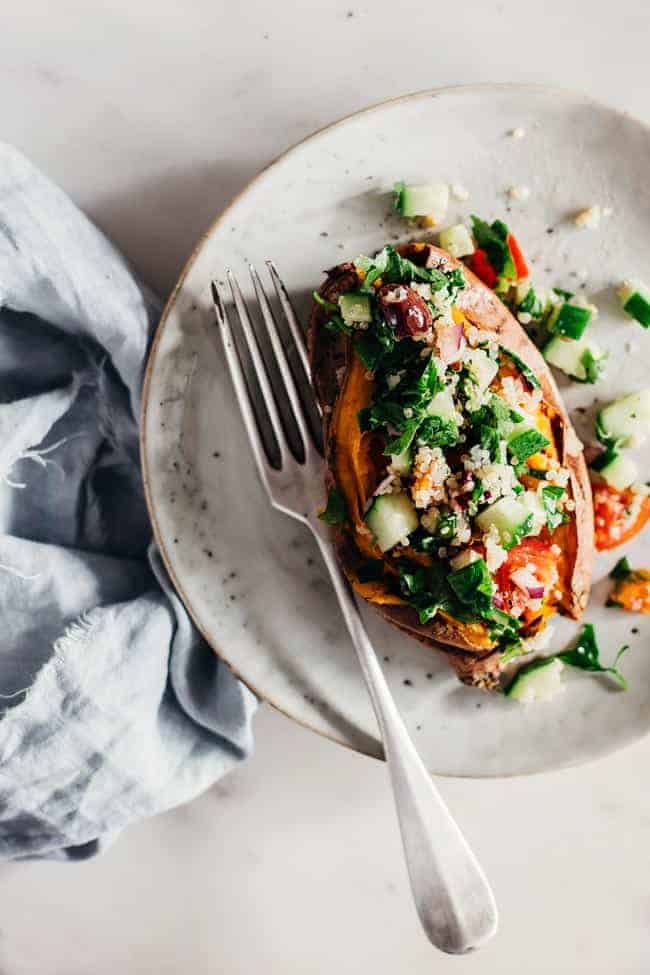 Quinoa Salad Stuffed Sweet Potato
Yield 2
Fresh and satiating, this Mediterranean salad stuffed sweet potato is the perfect lunch to pack for a healthy meal at the office.
Ingredients
2 sweet potatoes
2 tsp Smart Balance
1/2 cup quinoa
4 cherry tomatoes, cut into quarters
1/2 cucumber, cut into small cubes
1/2 small red onion, finely diced
5-6 Kalamata olives, diced
1 small bunch parsley, roughly chopped
1 garlic clove, minced
1 tsp sumac
2 tsp extra virgin olive oil
1 tbsp lemon juice
A pinch sea salt
Freshly ground black pepper
Instructions
Preheat the oven to 200°C/400°F.
Rinse the sweet potatoes, pierce with a fork all around then onto a baking sheet lined with parchment paper, and bake for 30 minutes until tender, then remove from the oven.
Cut the sweet potatoes open and spread 1 tsp Smart Balance butter over their hot flesh, and set aside.
While the potatoes are baking add quinoa into a sauce pan with 1 cup purified water, and bring to boil over medium heat, then simmer for 15 minutes over low heat until cooked. Transfer into a medium bowl and set aside to cool.
Add the cucumber, tomatoes, olives, garlic and onion into the bowl with quinoa, drizzle with olive oil, add lemon juice, season with salt and pepper and toss to combine.
Stuff the sweet potatoes with the quinoa salad and pack to go.
Courses Lunch
Recipe by Hello Glow at https://helloglow.co/3-stuffed-sweet-potato-recipes/