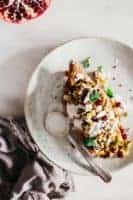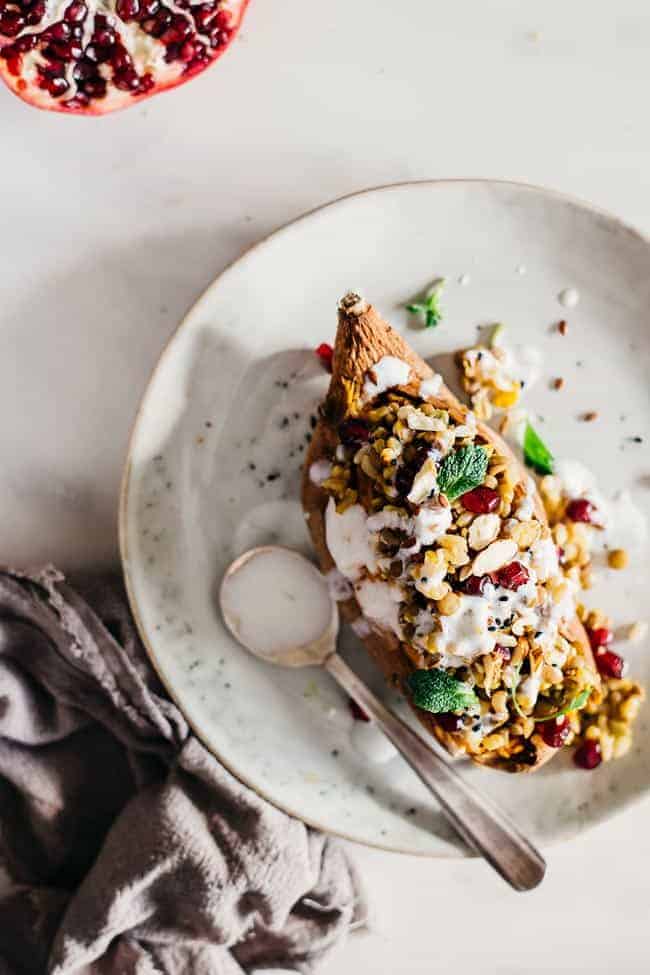 Spicy Moroccan Stuffed Sweet Potatoes
Yield 2
Spice up your dinner with a delicious combination of sweet potato, lentils and brown rice, flavored with mint and Moroccan spices, and bathed in yogurt sauce.
Ingredients
2 medium sweet potatoes
2 tsp Smart Balance
1/2 cup lentils
1/2 cup brown rice
2 cups low sodium vegetable broth
1 small onion, finely diced
2 garlic cloves, crushed
1 tsp turmeric
1/2 tsp ginger powder
1/2 tsp coriander seeds, crushed
1/2 tsp cinnamon powder
1/4 tsp cayenne pepper
The seeds from 1/2 pomegranate
1/4 cup toasted almonds, crushed
5-6 fresh mint leaves, roughly chopped
4 tbsp organic plain yogurt
1 tsp lemon juice
2 tsp extra virgin olive oil
1/2 tsp sea salt
Instructions
Preheat the oven to 200°C/400°F.
Rinse the sweet potatoes, pierce with a fork all around then onto a baking sheet lined with parchment paper, and bake for 30 minutes until tender, the remove from the oven.
While the potatoes are baking, melt the Smart Balance butter in a medium sauce pan, add the onions and garlic, and fry for one minute.
Add turmeric, ginger, coriander, cayenne and cinnamon, mix to combine, then add the lentils, brown rice and vegetable broth, bring to boil then let simmer over low heat until all the liquid is absorbed.
Season with salt, add the pomegranate, almonds and mint leaves, toss to combine and set aside.
Cut open the sweet potatoes, and stuff them with Moroccan lentils and brown rice as cooked above.
In a small bowl mix the yogurt with olive oil and lemon juice, then drizzle on top of the stuffed sweet potatoes and serve.
Courses Dinner
Recipe by Hello Glow at https://helloglow.co/3-stuffed-sweet-potato-recipes/