This post is sponsored by Traditional Medicinals®. All opinions are my own.
A few weeks ago, I wrote about participating in Traditional Medicinals' 3 Teas, 3 Weeks as part of my holiday self-care routine. I know the holidays tend to go by quickly, but I'm pretty shocked by just how quickly the past three weeks went by.
As a self-proclaimed party pooper, I'm usually thrilled when the holidays are over and I can get back to my routine. But this year's been different. Maybe it's because I worked extra hard to make self-care a priority and carved out time for myself each day to really unwind.
I'm pretty sure focusing on my health and drinking Traditional Medicinals teas regularly played a huge role in how much better I feel this year as opposed to Christmases past.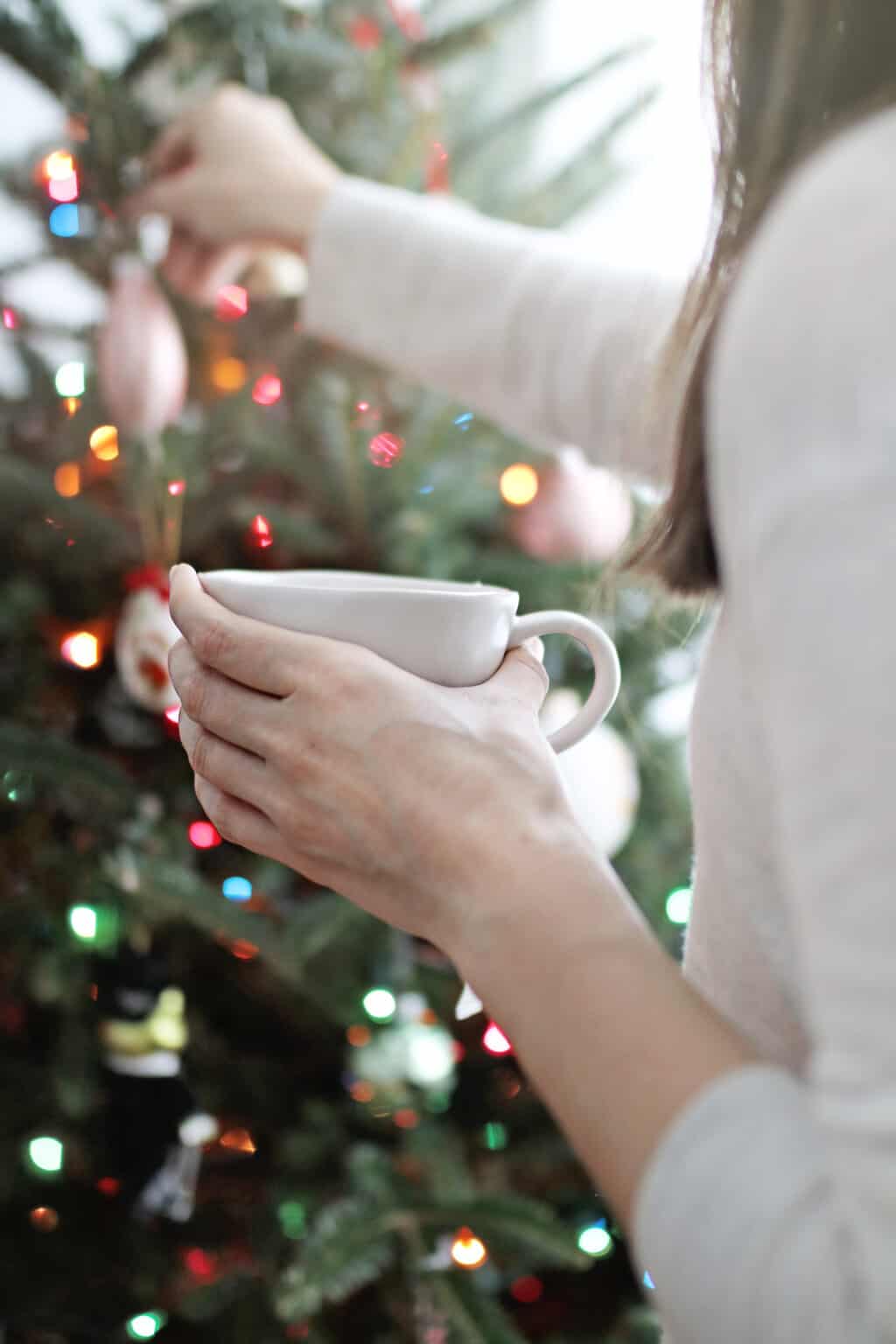 Just to recap, the premise of 3 Teas, 3 Weeks is pretty simple: incorporate three Traditional Medicinals herbal teas into your routine for three weeks and see how you feel. With over 40 years of experience under their belt, Traditional Medicinals has managed to come up with organic tea blends for just about everyone. Whether you're looking for post-workout support, digestive comfort or a good night's sleep, their herbalist-created teas contain just the right amount of support for your day.*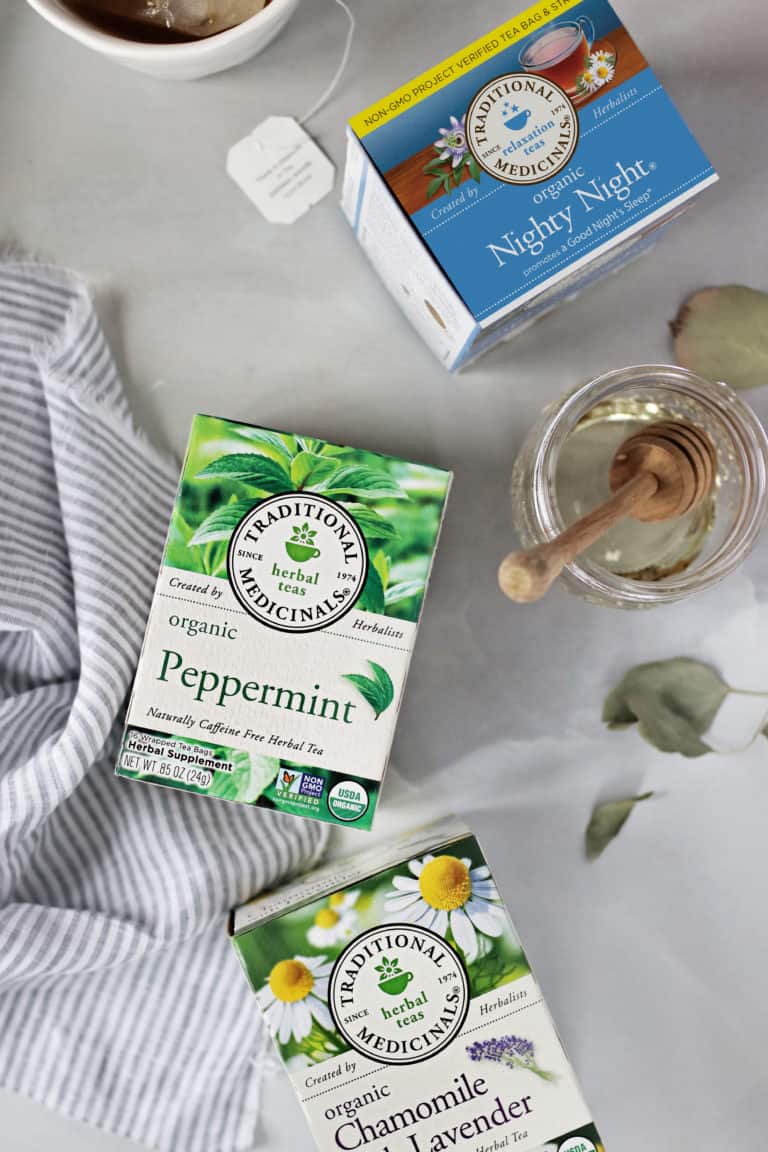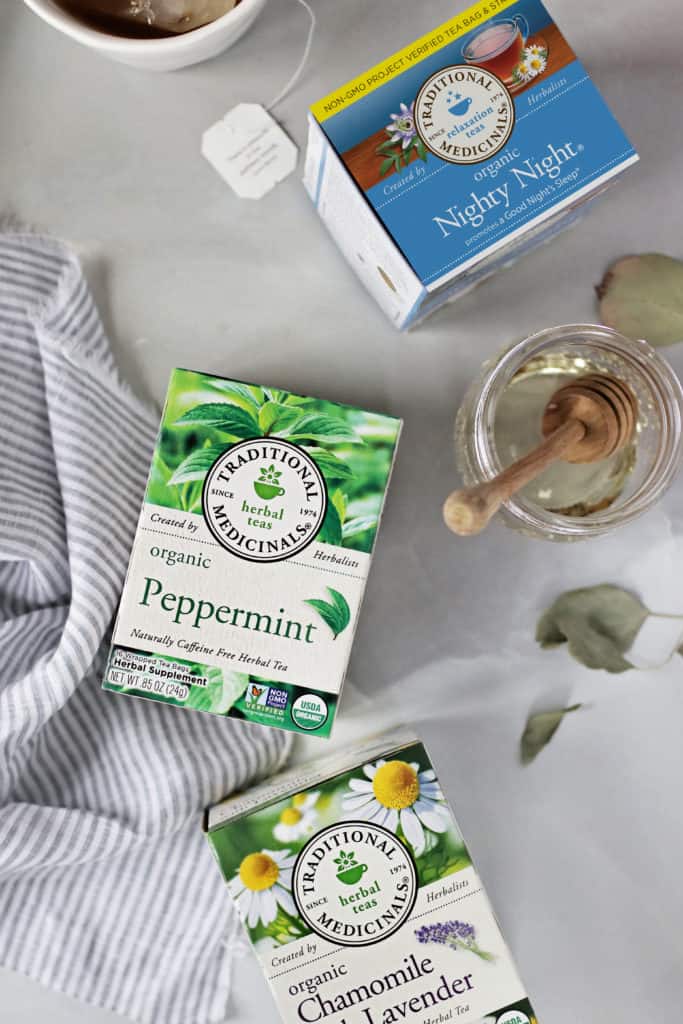 I chose Peppermint, Chamomile with Lavender and Nighty Night® because I love the taste and they fit perfectly into my daily routine. The holidays can be pretty stressful, so I wanted Chamomile with Lavender to help calm my nerves.* It was also important to help moderate things that increase stress, like occasional sleeplessness and digestive discomfort, which is where Nighty Night and Peppermint fit in. But for me, the most important thing was choosing teas that I would enjoy drinking and easily be able to incorporate into my day without feeling overwhelmed or bored.
After three weeks, here's what I noticed:
I felt better in the afternoon
Every day around 3 PM, I usually crash. Either from stress, poor diet, or lack of sleep, I'd find myself taking a nap or bingeing on sugar to get through the rest of the day. Instead, I made it a goal to sip a large cup of Chamomile with Lavender every afternoon. After the first week, I wasn't nearly as reliant on my bad stress-induced habits as I usually am. Afternoon naps also became a thing of the past, and I felt calmer and more relaxed.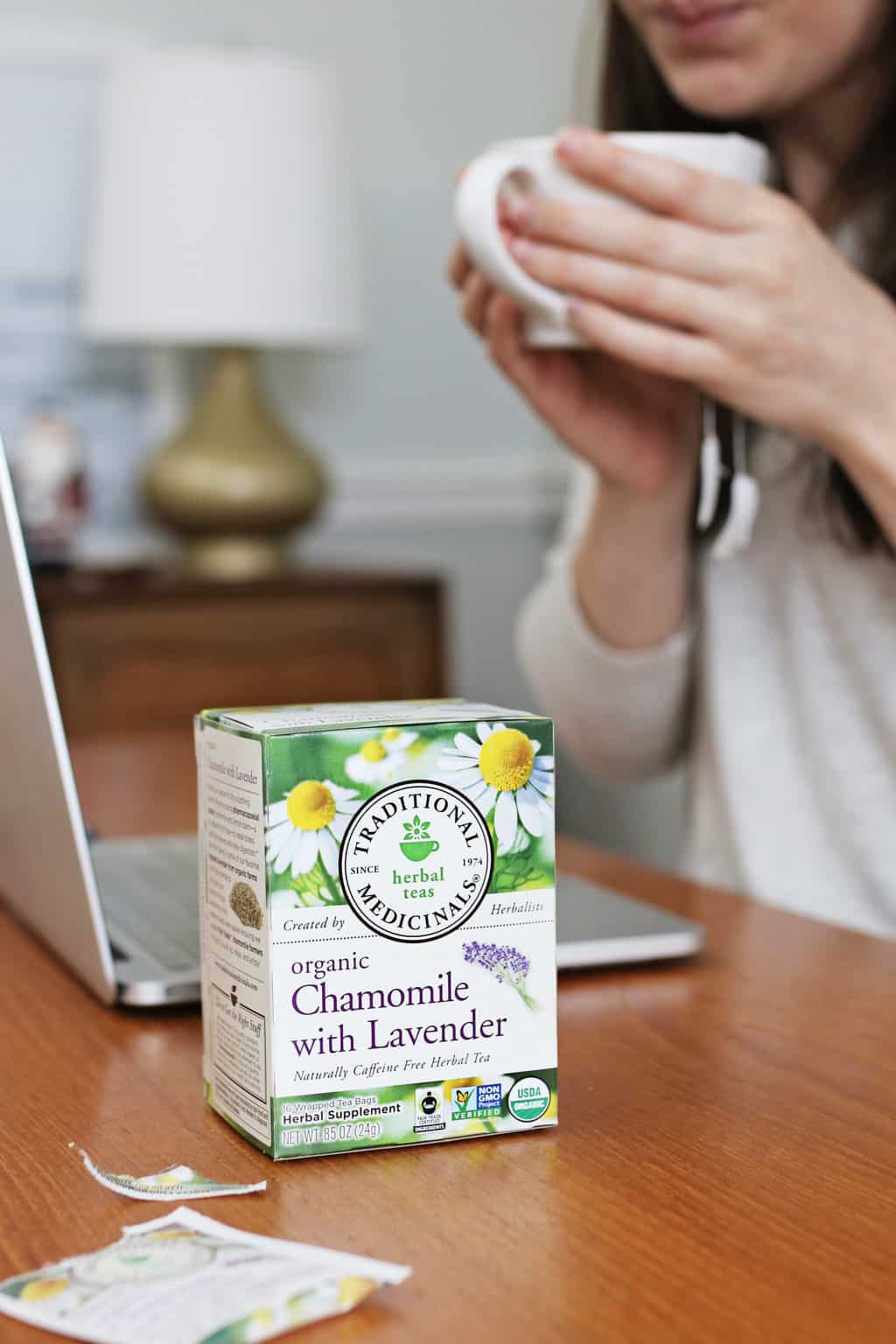 I slept better
Whenever stress gets the better of me, my sleep goes out the window. Although it makes a great everyday tea, I didn't want to feel reliant on Nighty Night tea in order to fall asleep. I was, however, more than happy to keep a box handy in case I needed some support. When I did drink it, I felt much more relaxed at bedtime and I was able to get a good night's sleep.* According to my activity tracker, over the last three weeks the amount of time I spent in deep sleep also improved. I'm not sure if the nightly ritual just helped me unwind, but I'll take it.
I felt invigorated in the morning
Like most people, I need help to get me get going in the morning. Instead of reaching for my usual fix, I opted for a daily cup of peppermint tea. I love that the taste of peppermint is invigorating and uplifting, making it the perfect addition to my morning routine. And because Traditional Medicinals uses only the highest-quality peppermint, their tea contains all the important active minty compounds to support your digestion.*
Post-meal discomfort went away
The holidays are notoriously food-heavy and I have a hard time saying no to sweet treats. Especially after large, heavy meals, I made sure to drink Traditional Medicinals Peppermint tea before digging into dessert. It helped soothe my belly and relieve occasional indigestion, and I enjoyed drinking it so much that I found myself passing on dessert more often.*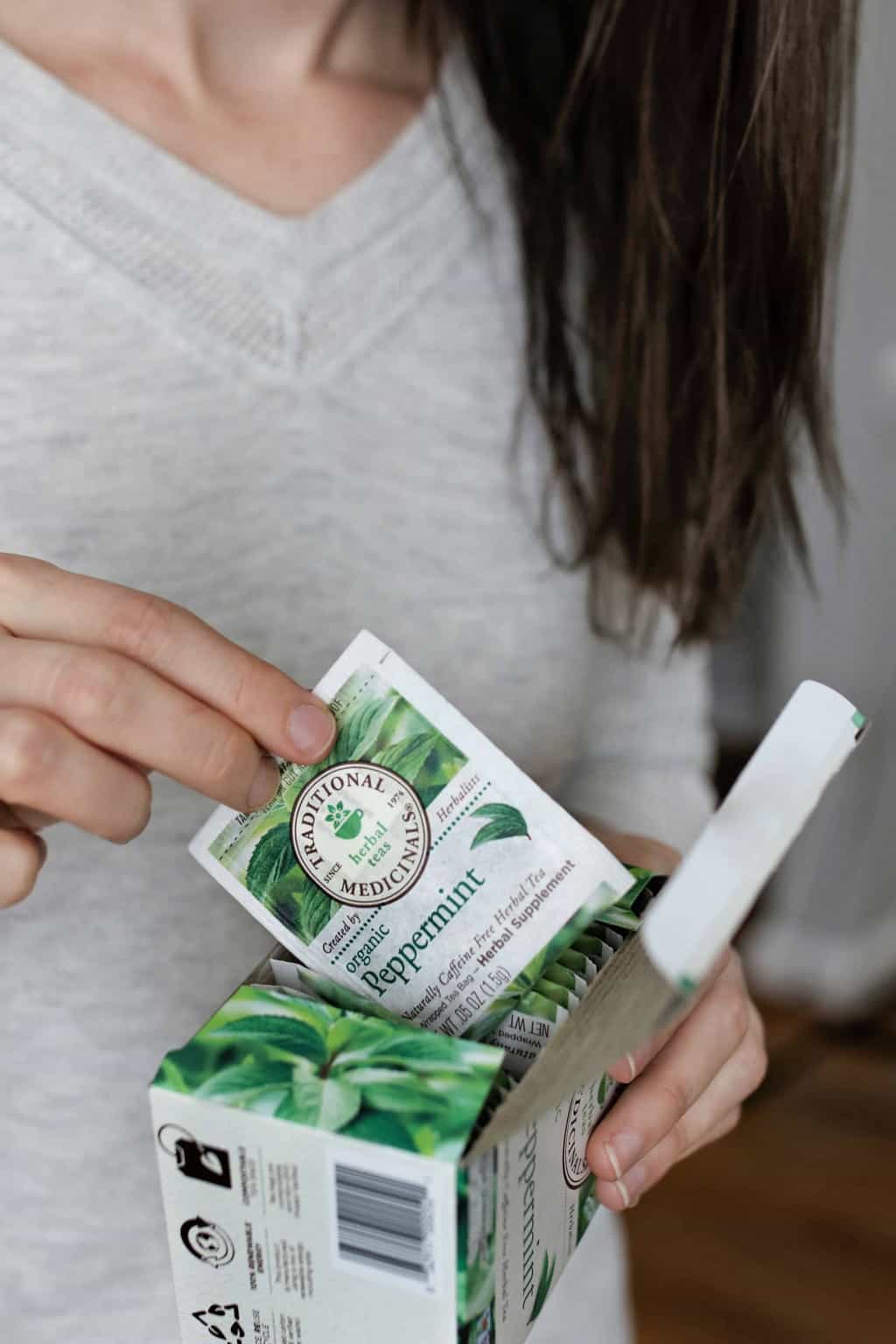 While I was expecting the teas to work their magic eventually, I'm still a little surprised by how quickly I experienced the benefits (no doubt my overall commitment to self-care played a role too). Within the first week, I was noticeably more relaxed and just, well, comfortable. And by the end of the 3 weeks, I had managed to make these teas into habits that helped me survive (and enjoy) the holidays.
If you'd like to join me and see what 3 Teas, 3 Weeks can do for you, pick the teas that work for you and your routine. Turmeric with Meadowsweet & Ginger supports a healthy response to inflammation associated with an active lifestyle or daily workout. Roasted Dandelion Root stimulates digestion and supports the body's natural detoxification processes.* And during the holidays, who couldn't benefit from all of that?
To join, just head on over to Traditional Medicinals and for every two teas you buy, you can get one free with promo code 3TEAS3WEEKS.
*These statements have not been evaluated by the Food and Drug Administration. These products are not intended to diagnose, treat, cure or prevent any disease.
34