Winter weather can leave our skin dehydrated from cold temperatures, wind and the effects of indoor heat. Dehydrated skin lacks sufficient moisture or water, and often this can be in addition to those already suffering with dry skin, which is a lack of sufficient oil. Thus creating a double whammy effect.
Did you know that dry skin and dehydrated skin are completely different? While dehydrated skin is a condition, it can often be remedied by increasing water intake, both internally and in topical water based products.
While dry skin is a skin type lacking oil and usually accompanies dryness all over your scalp and body. Dehydrated and/or dry skin can also lead to irritated or sensitive areas, so nourishing and hydrating products are crucial when combating wintertime weather. But serums and sprays to repair skin can be expensive!
These simple, natural alternatives to store bought products are sure to keep your face glowing and hydrated all winter long. Whether you are treating dryness or dehydration, we've got you covered. Read on for our favorite methods for moisturizing skin in the winter season.
3 Ways To Moisturize in Winter
1. Mist throughout the day with an essential oil mineral mist
bottle of mineral water
essential oil
mist spray bottle
Great for dehydrated skin, this mineral water provides a nice pH balance for our skin and also helps us absorb minerals and needed water. Adding a few drops of an essential oil like geranium or lavender can be very beneficial for hydrating dehydrated skin. Combine and pour into a spray mister and apply throughout the day as needed for added hydration.
2. Apply a Weekly Hydrating Honey Mask
This moisturizing mask is a wonderful treat for dry skin that can be applied while enjoying a nice bath soak. Honey retains moisture, vitamin E is a powerful antioxidant, and the oil in avocados treats the dry patches that sometimes pop up during the winter season. The triple nourishing combination of these ingredients makes it an ideal choice for dry skin.
Mix all of the ingredients in a bowl and apply to your face and neck for 10-15 minutes, rinse off with warm water. Follow with serum and moisturizer.
3. Make a rich Moisturizing Face Oil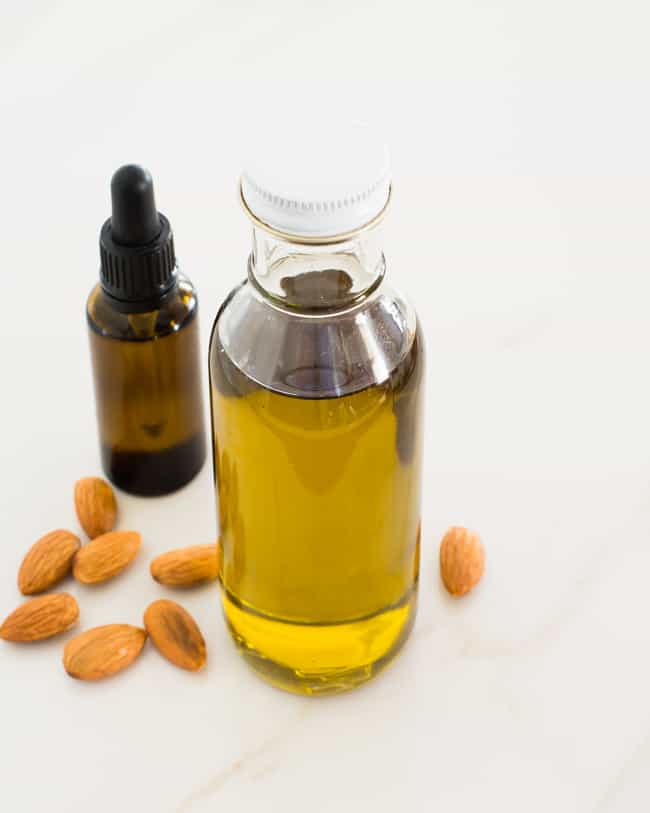 Another DIY for dry skin, this facial oil is easy to make, and extremely effective. Almond oil absorbs easily into the skin and yet is also light in consistency. Even if you feel you have an oily t-zone, and dry everywhere else, it's still a good choice for an everyday facial moisturizer, especially in the dry winter months.
Add about 5-10 drops of essential oil for every ounce of almond oil. Keep the oil in a dark, glass jar to retain its potency. Apply to clean skin 1-2 times a day. Follow with sun protection during the day.
Do you have any remedies to combat winter dryness?
Photos by Lindsey Rose Johnson
72