Since the days of ancient Egypt when women were adding crystals and gemstones such as malachite, onyx, and mother of pearl to beauty elixirs, makeup, and creams, there has been an interest in using these beautiful and powerful stones to enhance skin's radiance and beauty and to heal ailments.
Today, crystals are finding their way into beauty tools, added to tonics, toners, moisturizers, and cleansers, and used in beauty-enhancing energy work such as reiki, massage, and acupuncture. We love the idea of adding the powerful properties of ancient earth healing into our daily beauty regimen, and we hope you will too! Try these crystal-infused beauty treatments to harness their healing powers for both mind and skin.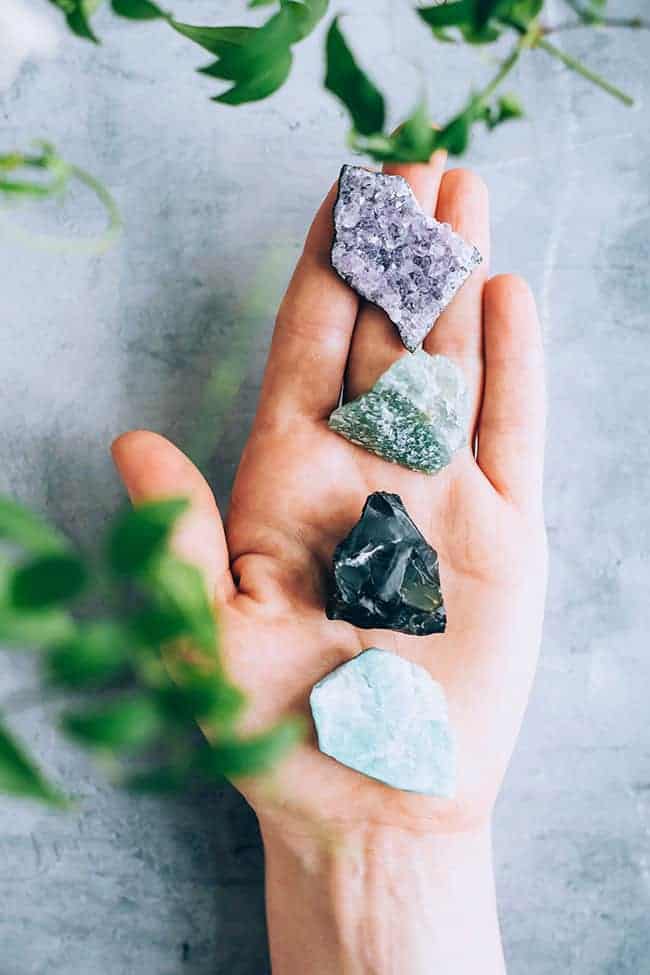 1
)

Crystal-Infused Beauty Water

You can make your very own gem-charged water to use daily as part of your morning routine. While any crystal can be added, we recommend choosing raw-/high-energy stones whose properties align with the purification, protection, or amplification of energy, such as aquamarine, amethyst, clear or rose quartz, malachite, or onyx.

We used both raw aquamarine and rose quartz stones. Having this beauty water around is lovely just because the crystals are so pretty to look at.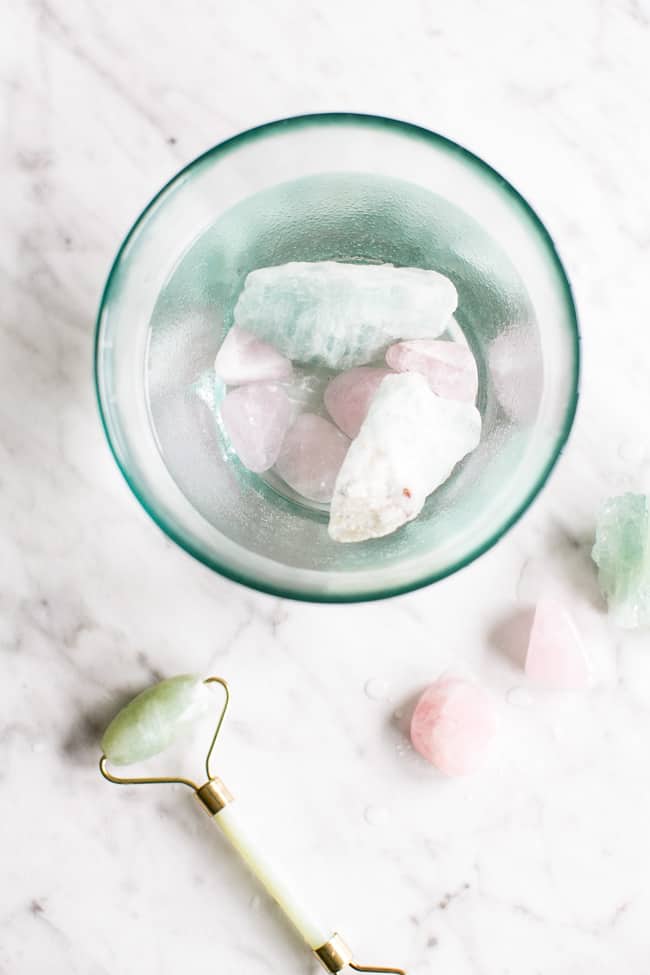 Make your own crystal beauty water
First, before using any stones in your routine, you'll need to cleanse your crystals of choice with warm water. After rinsing them well, place them in a clean bowl or tray made of a natural substance (think glass, stone, or ceramic), and cover them with fresh filtered or distilled water.
Some crystal healers recommend placing the crystals out in sunlight, from dawn to dusk, and others recommend allowing them to moon-bathe overnight, but either will help to cleanse and re-charge them and the water they're in.
After the water has been solar- or lunar-charged by the crystals, decant it carefully into a small, clean, glass mister bottle. Each morning when you wake up, before putting any moisturizers or other barriers on the skin, lightly rinse or mist your face with the water. You might also want to add a positive affirmation to this ritual as a reminder of your beauty and worth.
Use this energy-amplified water in your beauty routine in any way you would otherwise use plain water—for washing your face or adding to your own homemade products.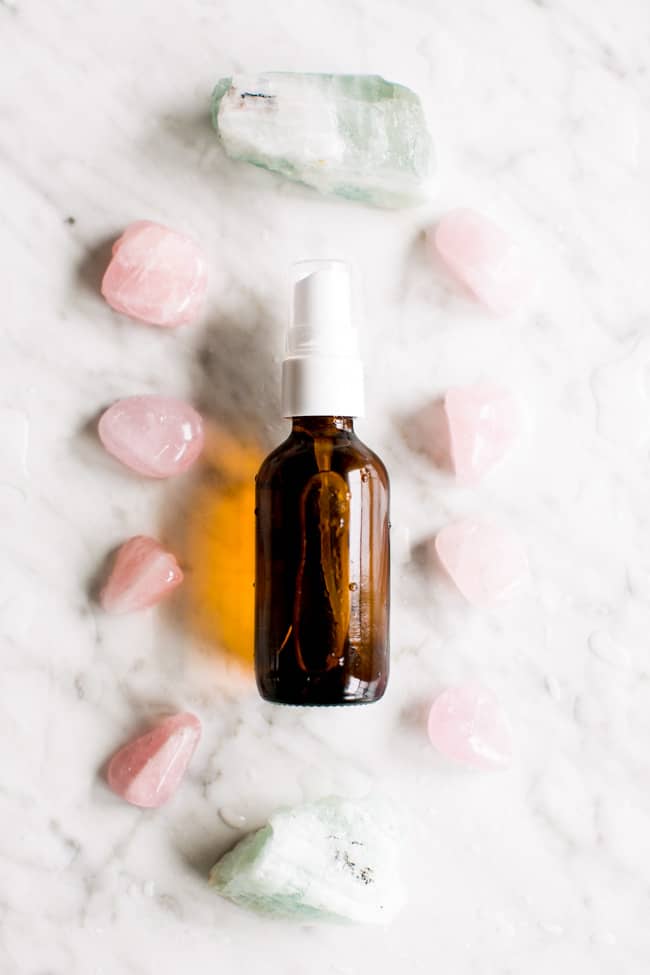 2
)

Crystal-Infused Face Oil Mist

One way you may want to use some of that beauty water is to make your own post-cleansing finishing oil, a facial mist that not only adds soothing, rejuvenating moisture to your skin but—thanks to the addition of frankincense and sandalwood essential oils—smells beautiful and grounding too.

-4 ounces crystal-infused beauty water
-1 teaspoon argan oil
-3 drops frankincense essential oil
-6 drops pre-diluted sandalwood essential oil

Combine the ingredients in a spray mister bottle. Shake well and mist onto your face. Try massaging it into the skin with a crystal roller or gua sha.

3
)

Crystal Face Massage

If you don't already use a crystal roller or gua sha in your daily regimen, we highly recommend you track them down, stat! These cosmetic tools, often sold together in sets, are most commonly made from jade and rose quartz stones.

They have historically been used in Asian cultures to rejuvenate the skin by supporting lymphatic drainage, increasing circulation, and stimulating collagen production, thus reducing the appearance of wrinkles and helping the skin to stay healthy and firm.

Keep your roller and gua sha clean and cool. When these stones get cold, they become even more effective at combating morning skin puffiness. Spritz on some of your homemade crystal-infused finishing oil, and use your tool of choice—jade roller in the morning and the deeper, more targeted facial massage power of the gua sha before bed.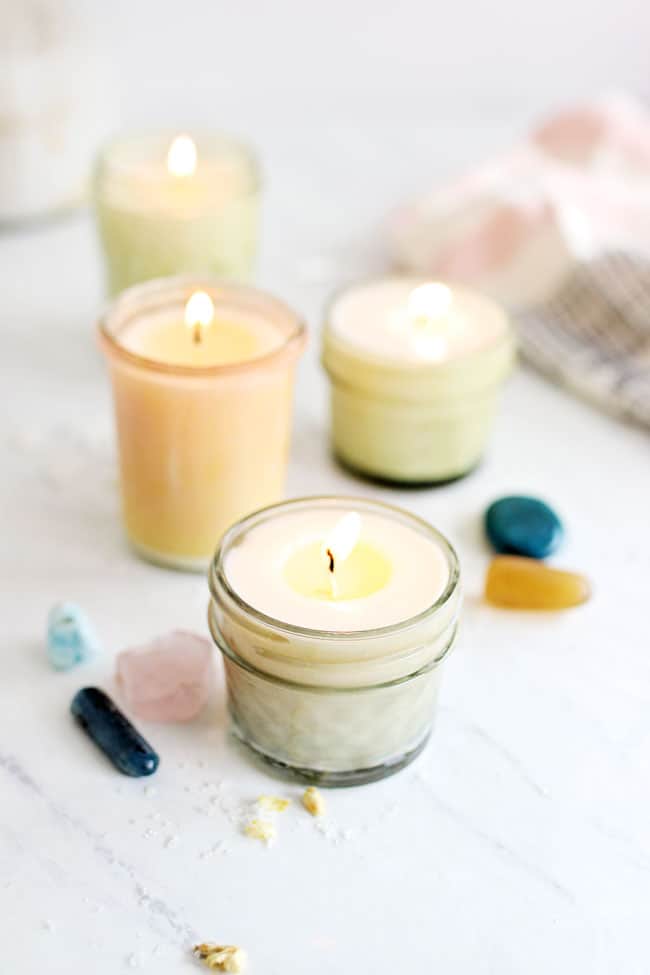 4
)

Cleansing Crystal Bath

Turn your bath into a cleansing ritual by incorporating crystals, candles, and salt. Try this bath soak to coincide with the moon cycle, on a day with either a new moon or a full moon, if possible. New moons represent beginnings and tackling new goals. The full moon is a time of heightened energy and a great time to set intentions.

-Crystal candles
-1–2 cups of bath salts
-Full moon crystals: selenite, moonstone, clear quartz, opal
-New moon crystals: labradorite, black moonstone, obsidian, hematite

First, light your candles and place your chosen crystals around the tub. Then fill the tub with warm water and add pink Himalayan salt, Epsom salt, or another healing bath blend. Then put your crystals on the bottom of the tub. Totally immerse your body in the water (even dunking your head under at least once) and soak for 30 minutes.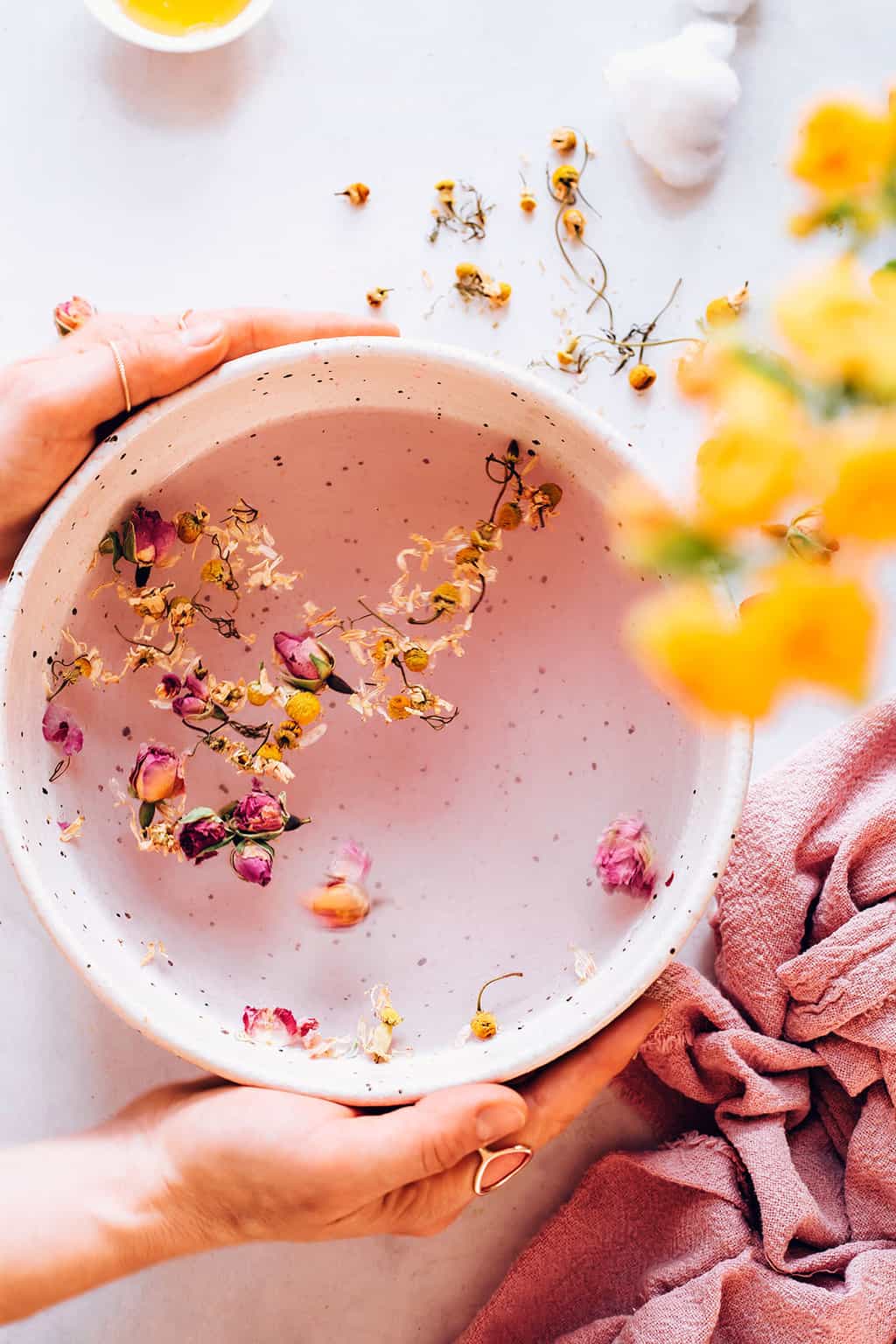 5
)

Rose

+

Crystal Face Steam

Much like adding crystals to energize your bath water, you can also add them to your at-home facial with a quick steam. Let your skin soak up the hydration, botanical benefits, and crystal energy. Just be sure to use water-safe stones.


-2 tablespoons of dried rose petals
-1 tablespoon of dried chamomile
-1 drop of rose essential oil
-1 clear quartz crystal
-1 rose quartz crystal

Bring 4 cups of water to a boil. Transfer to a heat-safe bowl and place on a flat countertop. Add steam ingredients. Immediately drape a towel over your face, shoulders, and the bowl, keeping your face about 10–18 inches from the steam source. Enjoy 5–10 minutes of steam and then follow with a mask, serum, or moisturizer while your skin is still damp.

Be sure you have cleansed your face ahead of time. The steam hydrates skin and loosens debris in clogged pores, so when you're finished, it's a perfect time to follow up with the gentle facial scrub.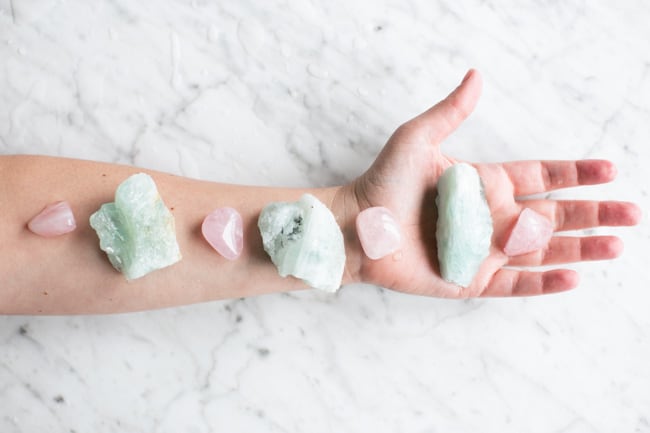 6
)

Mini gem-acupuncture

We love the idea of gem acupuncture facials and skin care, the luxe combination of traditional Chinese needle therapy and powerful crystal grid work. Many of us don't have access to these services near us, and while it may not be wise to work with the needles at home, we do enjoy the crystal aspect of this rejuvenating skincare method.

If you have ever gone to see a professional reiki healer to help you balance chakra energy, you may already be familiar with the practice of laying powerful, charged stones over the body as a way of taking on their particular healing vibrations.
How to use stones on the skin
After cleansing your stones in preparation for the beauty water, they'll be ready to use directly on the skin.
Warm the stones: Rather than working with cool stones, as we do with the roller and gua sha, set the stones someplace warm before using them, so they increase circulation once they are set upon the skin.
Cleanse your body: Cleanse your body in a bath or shower, then lay comfortably and relax with your stones at your side.
Start with your face and chest: One by one, place the stones lightly atop the face and upper chest area in any symmetrical configuration that feels instinctive and right to you.
Add other areas: If there is any other area of your body that could use some crystal TLC, such as along your forearm, atop your thighs, or your lower back, set them in a balanced formation there. Let your inner guide direct you, using the gems where it feels right.
Relax for 15 minutes: After about 15 minutes of rest with the crystals, you can remove them. Their energy is now used, and they've picked up some of yours too, so remember to go back to the start and cleanse them before using them again.
This article was medically reviewed by Dr. Gina Jansheski, a licensed, board-certified physician with over 20 years of experience in practice. Learn more about Hello Glow's medical reviewers here. As always, this is not personal medical advice, and we recommend that you talk with your doctor before using this recipe to determine what's best for you.
254