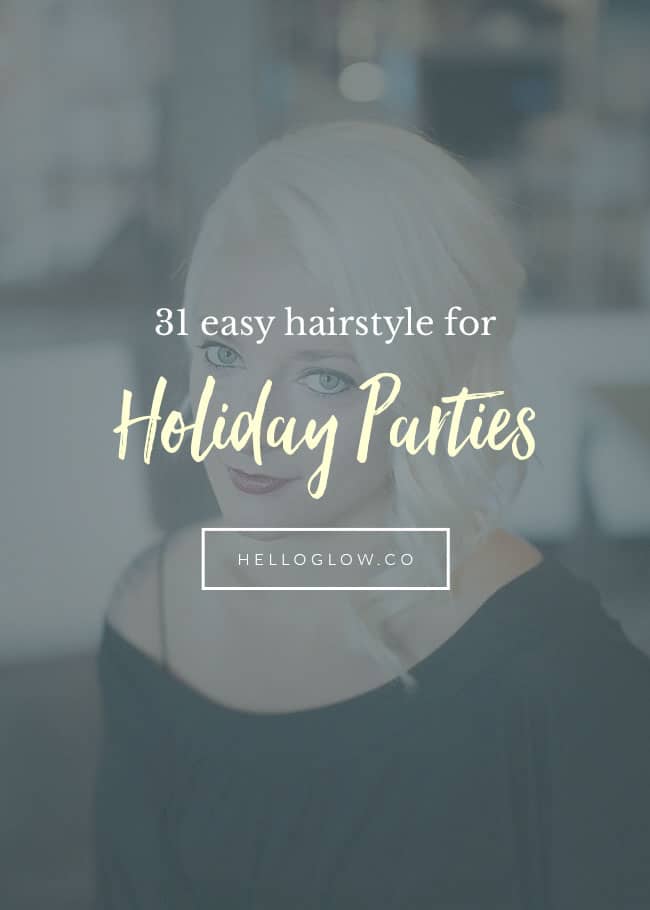 Everyday hairstyles are hard enough already, but holiday hair? That's a whole new level of stress! Whether your hair is short, medium or long, straight or curly, we're pretty sure you've already started thinking what to do with this month. But we're about simple, easy things and holiday hair is no exception. Here are some holiday hair tutorials that take some of the stress off your shoulders:
1. Jessica Alba's chignon by Hello Glow. A simply and sophisticated updo inspired by Jessica Alba, plus the make-up to go with it.
2. The pull-apart side braid by Birdie Shoots. This messy side braid would look super chic at a relaxed holiday party.
3. Braided half-up by Inspired by This. If you're undecided between an updo and leaving your hair down, this is the perfect middle-way solution.
4. Pulled-back fishtail braid by Girl Loves Glam. A small fishbraid on the side makes this simple hairstyle look stylish.
5. Romantic waves by Bridal Musings. Sometimes a classic look is the prettiest – like this wavy hair tutorial that's red carpet-worthy.
6. Simple side swept hair by Hello Glow. Asymmetrical hair creates the illusion of a perfectly symmetrical face. This style will look glam with as little as a red lip.
7. Brass ring hair cuff by Brit + Co. A bit of metallic sparkle can go a long way, even if you simply add it to your low pony.
8. DIY jeweled headband by The Wonder Forest. Wear this stylish headband with wavy hair and your holiday look is almost complete.
9. Twisted half updo by Tessa Rayanne. This simple twisted half updo truly shines if you put a nice hairpin on the side.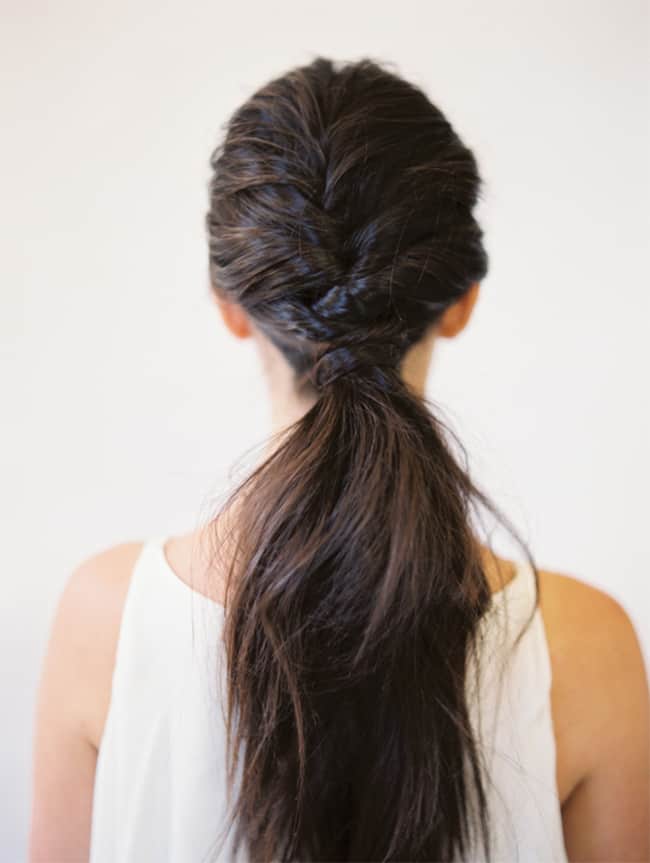 10. Tousled layered ponytail by Once Wed. A laid-back, sexy hairstyle that works on the more casual gatherings you'll be attending.
11. Blingy ponytail wrap by Hello Glow. Make your regular ponytail shine for the holidays with the aid of this sparkly DIY wrap.
12. No heat Kate Middleton hairstyle by Natalia Simmons. Take cue from Kate Middleton when it comes to elegance, even if it's just trying out her hairstyle for the day.
13. Side French braid bun by Stylishly Me. The French braid is taken to a whole new level in this intricate holiday updo.
14. DIY boho crystal hair comb and pins by Jojostatic. Add a touch of boho to any look with this gorgeous crystal hair comb and pins.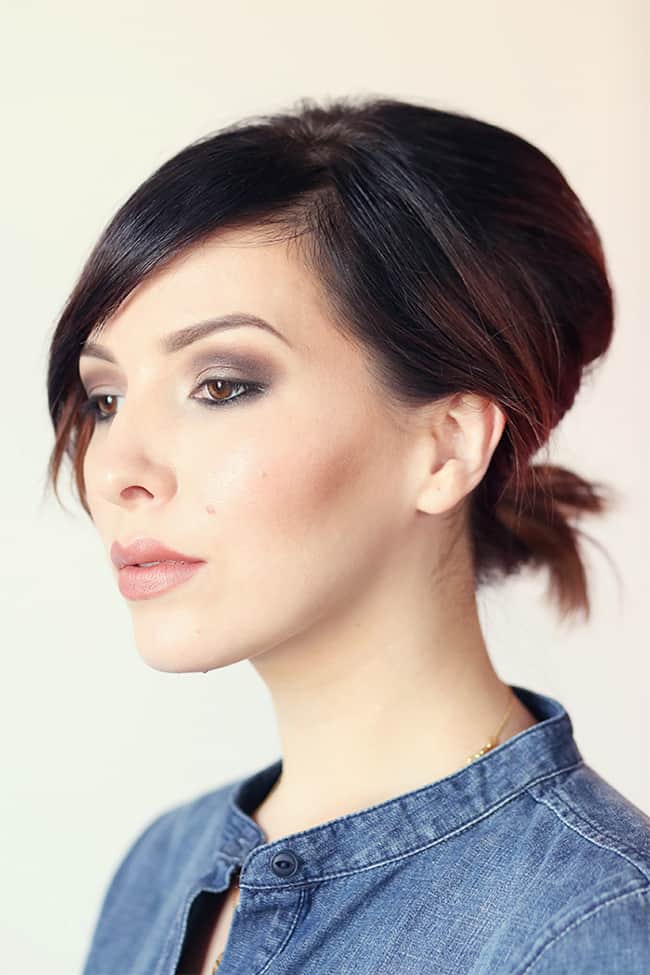 15. Volumized ponytail for short hair by Keiko Lynn. Just because your hair is short, doesn't mean it can't get all the volume it deserves!
16. Tucked braid updo by A Beautiful Mess. Tucking in your braid makes for a more elegant type of hairstyle that you're gonna love wearing.
17. Bun knot by Join the Mood. If you don't want to go neither messy nor perfectly proper, this hairstyle is just right.
18. DIY headband by Hello Glow. The perfect solution to add some bling to short hair: a cute headband.
19. How to style a wavy long bob by Pearls on a String. Your long bob may not be ready for an updo, but it sure is ready for some romantic waves!
20. Hair flower by Camille Styles. You don't need any more accessories when you have (hair) flowers in your hair.
21. DIY Chanel chignon by Hello Glow. Chanel may be the epitome of French elegance, but you can make your own version for a fraction of the price.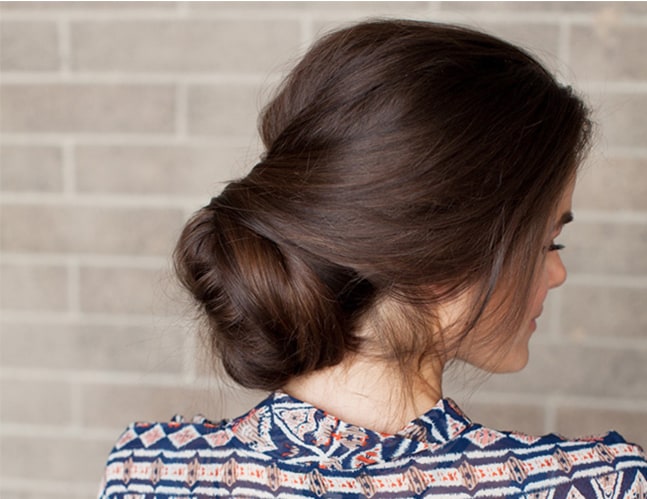 22. Sock bun 2.0 by Inspired by This. Not your average sock bun, this hairstyle looks sophisticated and elaborated, easy as it may be to make.
23. Textured double pony by The Freckled Fox. This hairstyle is inspired by Dolce&Gabbana, so it's probably gonna be a hit at the party you're attending.
24. Flirty New Year's Eve updo by Inspired by This. If you're in need of a hairstyle that takes you from the office straight to a holiday party, this gorgeous updo is the one.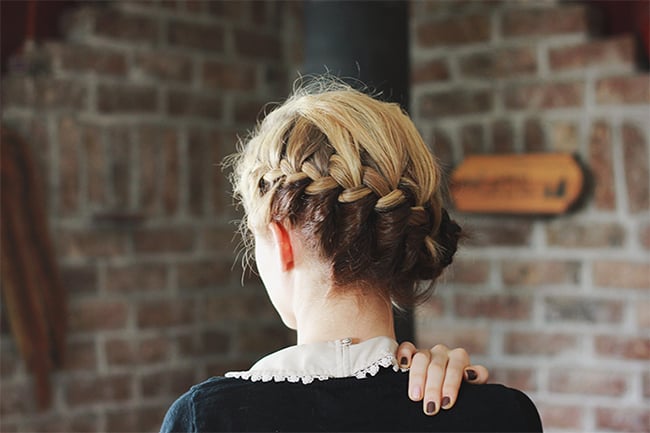 25. French braid bun by The Merrythought. This type of hairstyle really shows off your highlights if you have them.
26. The twisted bun by Once Wed. This looks salon-made, but you can actually make it by yourself at home.
27. Easy jeweled hair comb by Hello Glow. This time of the year, every hairstyle can benefit form a little jeweled accessory.
28. Side braid bun by Stylishly Me. This is both a braid and a bun, which makes it look so flawless.
29. Holiday side bun by Christian Elizabeth. Revive second day hair with this hairstyle – a sparkly headband and some dry shampoo save the day!
30. Holiday hairstyle by The Beauty Department. This mix of braids create a romantic, gorgeous holiday look.
31. Messy braided ponytail by The Wonder Fashion. Make this neat or messy, depending on the event, and it will be easy every time.
27